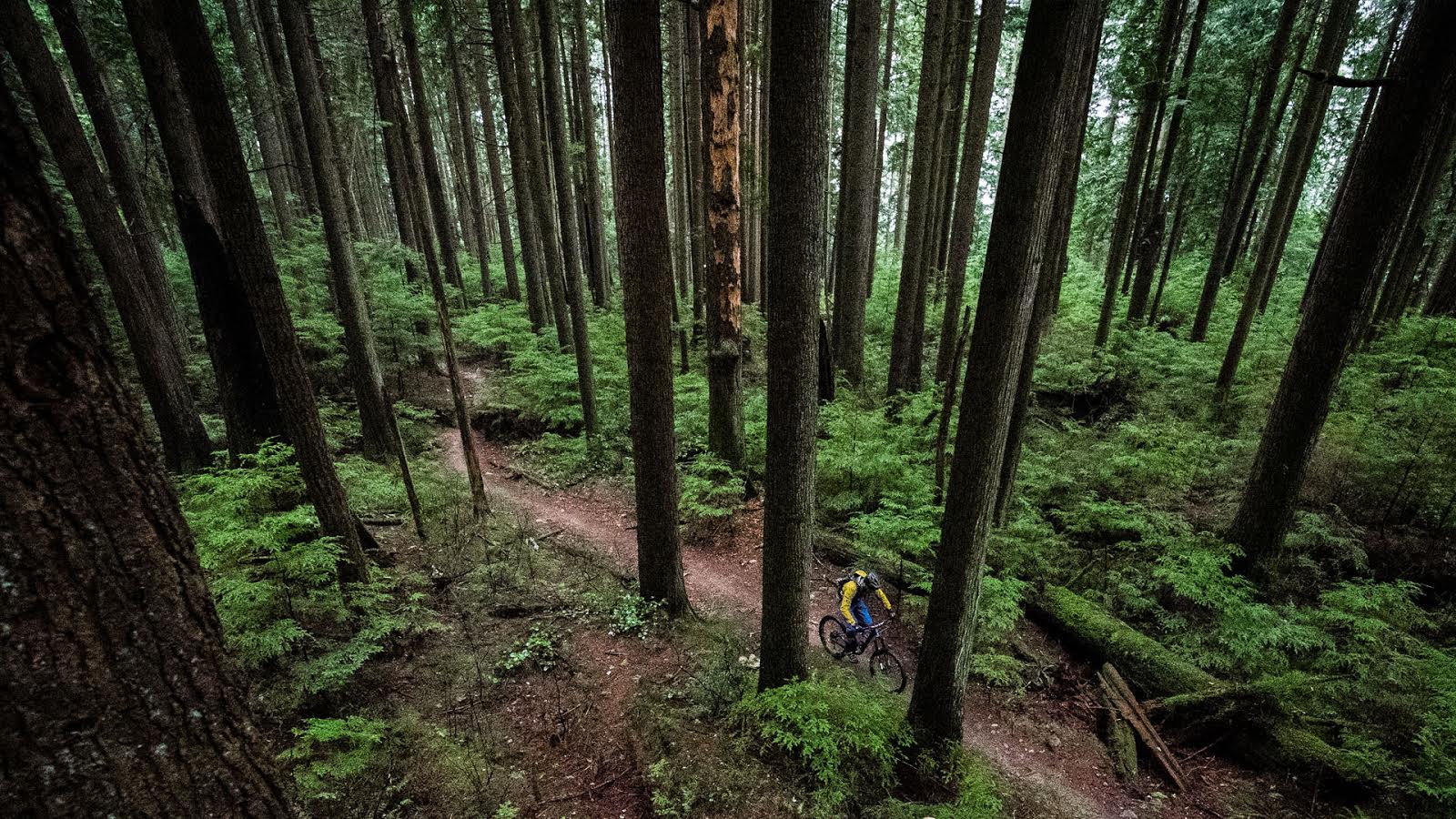 Michelin Wild Race'R Enduro Rear Tire Review
During Crankworx I met with the Michelin folks to test a new tire. Unfortunately the new tires didn't make it in time, but we tested some of the current Michelin range in Squamish. Recap here. Michelin promised we'd get to test the new tire, and to their word the Michelin Wild Race'R Enduro Rear tire arrived at my front door a few months ago.
Mounted to Tim's Norco Range. Photo – Tim Coleman
The tire I tested is 27.5 diameter by 2.35" width in the Gum-X compound. Tire construction seems to be high quality, and the tire weighs in at 950 grams. The casing measures 60 mm wide, with the outer edges of the side knobs sitting a hair narrower at 59 mm. I measured the tire durometer to be roughly 58 Shore A down the center, and 55 Shore A on the sides. I ran the tire tubeless, and it inflated easily on both a Stan's Flow EX and Alex Volair 2.7 rim. In both cases the tire seated up nicely, and ran true on the rim.
The Michelin Wild Race'R Enduro Rear Tire. The Wild Race'R uses many small knobs down the center, with relatively meaty side knobs. Photo – Tim Coleman
After only a few pedal strokes it was obvious this is a fast rolling tire. I felt noticeably fresher at the top of long climbs, and the bike seemed to hold mega speed when the brakes were off. Those characteristics are not unusual for this type of tire.
In these conditions the Wild Race'R Enduro Rear offered up ample cornering traction.
The Enduro Rear initially surprised when on the side knobs, which offered good support and good grip in a variety of dirt conditions. The Enduro Rear would lose traction in a graceful manner, which made it relatively easy to ride fast. I rode this tire through a wide variety of conditions from wet and muddy, through to dry, firm and fast, from new to worn out. When the trails were wet the firm rubber made its properties apparent. While the rolling resistance was low, climbing over wet roots and rocks was tricky, and careful line choice was required. Braking traction was on the low side, as to be expected from a fast rolling semi-slick.
Midway through the test period.
I've had no flats during the review period, and the carcass shows no signs of wear or degradation, even as the tire nears worn out condition. The firmer compound rubber has resulted in relatively slow tread wear, albiet at the cost of traction in wet conditions. Overall I've been impressed with the longevity of the Enduro Rear tire, and while the braking traction has fallen off significantly, the side knob traction remains surprisingly good.
The Wild Race'R Enduro Rear is starting to look a little tired. That said it's now done a few months of hard service.
For an asking price of $76 USD (we couldn't track down pricing in Canadian, but should be similar to other Michelin tires here in Canadaland) the Wild Race'R Enduro Rear tire is an interesting option. If you're looking for a longer lasting, semi-slick type tire, I'd say this is an option worth considering.
Parking lot skid approved.
The tire wore gracefully despite my efforts to smudge off the side knobs at every opportunity. For around these parts where we spend more time on wet, slippery, roots and rocks, I'd prefer to trade off the longevity for a stickier compound. 
Hooked up.
The Wild Race'R Enduro Rear certainly rolled quickly, offered surprisingly strong cornering characteristics and came wrapped in a durable casing. If you're in a drier climate, and spend the majority of your time on dirt, you'll likely appreciate the Wild Race'R Enduro Rear.
---
Need more speed?