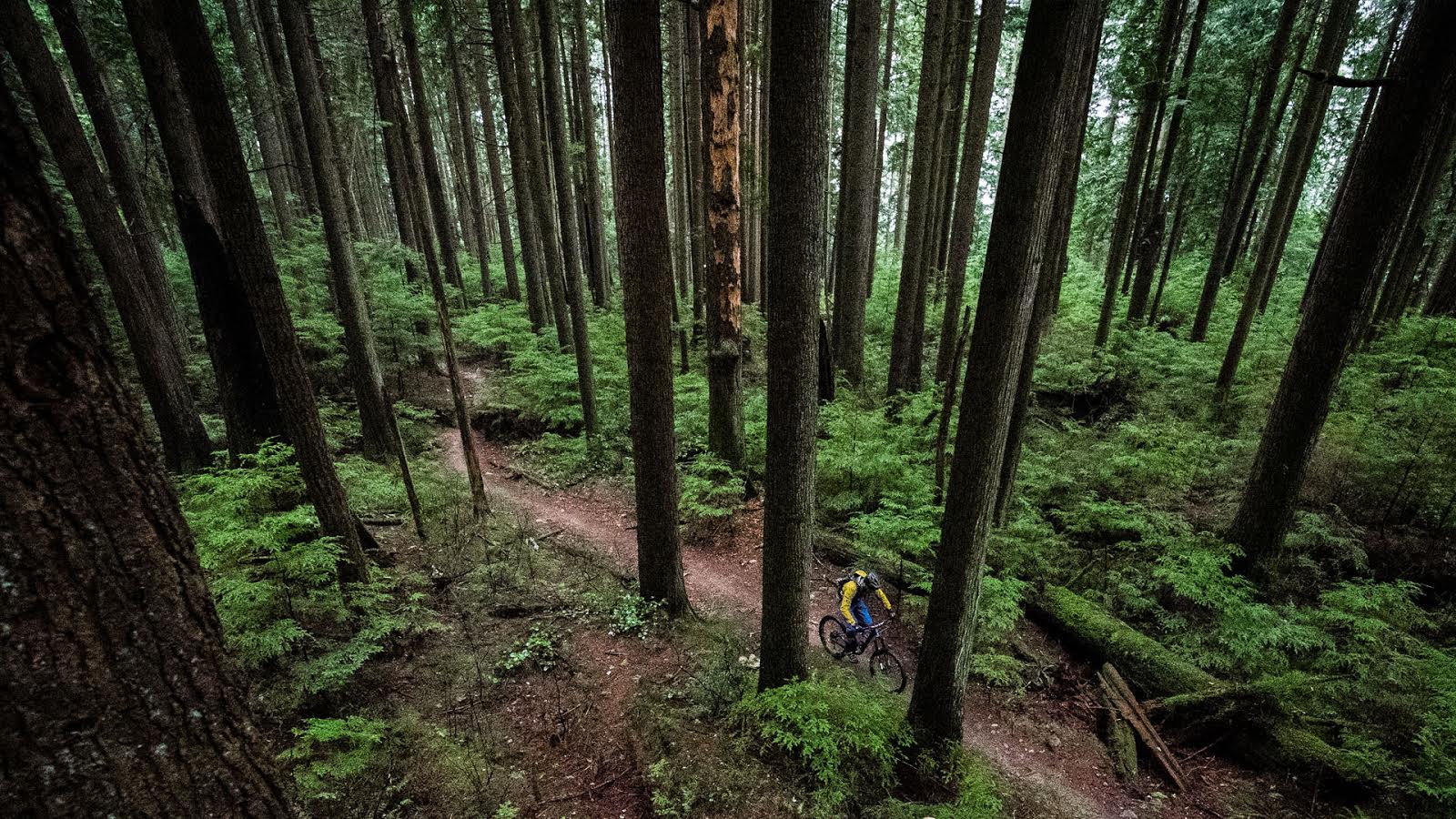 Michelin Tires vs. Squamish Dirt
During the Crankworx week I was invited to join a Michelin Tires Mountain Bike Ride Event. This event was originally planned to unveil and test out some new tires from Michelin. Unfortunately the tires didn't make it across the ocean from France in time. Michelin made the most of a crappy situation and put on a test event in Squamish along with Michelin riders Jérôme Clémentz and Kat Sweet. I appreciate their fortitude.
Michelin had arranged some Rocky Mountain Thunderbolts for us as mules to evaluate a few of their current tires. I tested the Michelin Wild Rock'R 2, Wild Grip'R and Wild Race'R on the rear of the 27.5 Thunderbolt, paired with a Wild Rock'R 2 on the front. I thought it was a little odd to be using a 120 mm trail bike on a shuttle trail like Cakewalk with relatively aggressive tires, but the upside of the shorter travel bike is it accentuated the differences in the rear tires.
The strategy was simple with tire pressure checks before and after each run:
Lap 1: Recon lap to get the bike setup and see the trail
Lap 2: Develop a baseline read on Tire A. After this lap we evaluated Tire A over a number of categories. Remove Tire A. Install Tire B
Lap 3: Ride Tire B. Evaluate Tire B relative to Tire A. Remove Tire B. Install Tire C
Lap 4: Ride Tire C. Evaluate Tire C relative to Tire B
Lap 5: Trail party fun lap
Lap 6: The Watershed Bar and Grill in Squamish
The trail we shuttled was Cakewalk in Squamish; easiest shuttle trail in the Sea to Sky corridor. Cakewalk belies its name for most folks, with a mix of corner speeds, grades, and surfaces, which proved to be a good testing ground.
The three tires I tested were all from Michelin's Advanced line and were all in the Gum-X compound; 2.35" width for the Rock'r 2 / Grip'R and 2.25" width for the Race'R. Tires were set up tubeless and pressures for me on all tires were 27.5 psig front, 30 psig rear, which was checked before and after each run.
Michelin was certainly careful with their testing process, and all their steps seemed to make sense. This type of testing is part of a bigger plan within the Michelin Tire development program. The folks at Michelin explained that they start off with a concept, perfect the concept through computer modelling / analysis, then perform machine testing, vehicle testing with their team riders, and only then perform subjective tire testing with a small set of riders / racers. Once the tire has been developed through that process the tire will finally be released to production. Michelin knows this process is rigorous and as such they usually take two years from first concept to production. It's clear that Michelin feels they produce high quality products as a result.
The stand out tire of the day for me was the Wild Race'R. Based on the appearance of the tire I thought it was going to be a sketchy fast rolling tire, but I couldn't have been more wrong. The Race'R rolled fast, but provided surprisingly good traction on the side knob in the loose conditions. The transition from centre knob to side knob was graceful. Braking traction was better than expected too. Further proof that you can't always judge a book by its cover.
While we didn't get to see or ride the new tires, I can say Michelin made the most of a bad situation. It was great to meet the folks behind the tires, learn more about their development process, ride some tires I hadn't ridden before, and shred trail with Jerome Clementz and Kat Sweet. It was hard to get a good read on how the Michelin tires I rode compare to my current favourites considering the limited ride time, foreign bike, and rather loose conditions. I can say all three Michelin tires seemed to work well, there were no flats in the group, and I was comfortable riding quickly – but more ride time would be needed for a proper review. If all works out NSMB.com should be getting some of those new Michelin tires to try out, and we'll post up our results.
---
Michelin hasn't had a lot of tire hype lately, but maybe that's about to change.