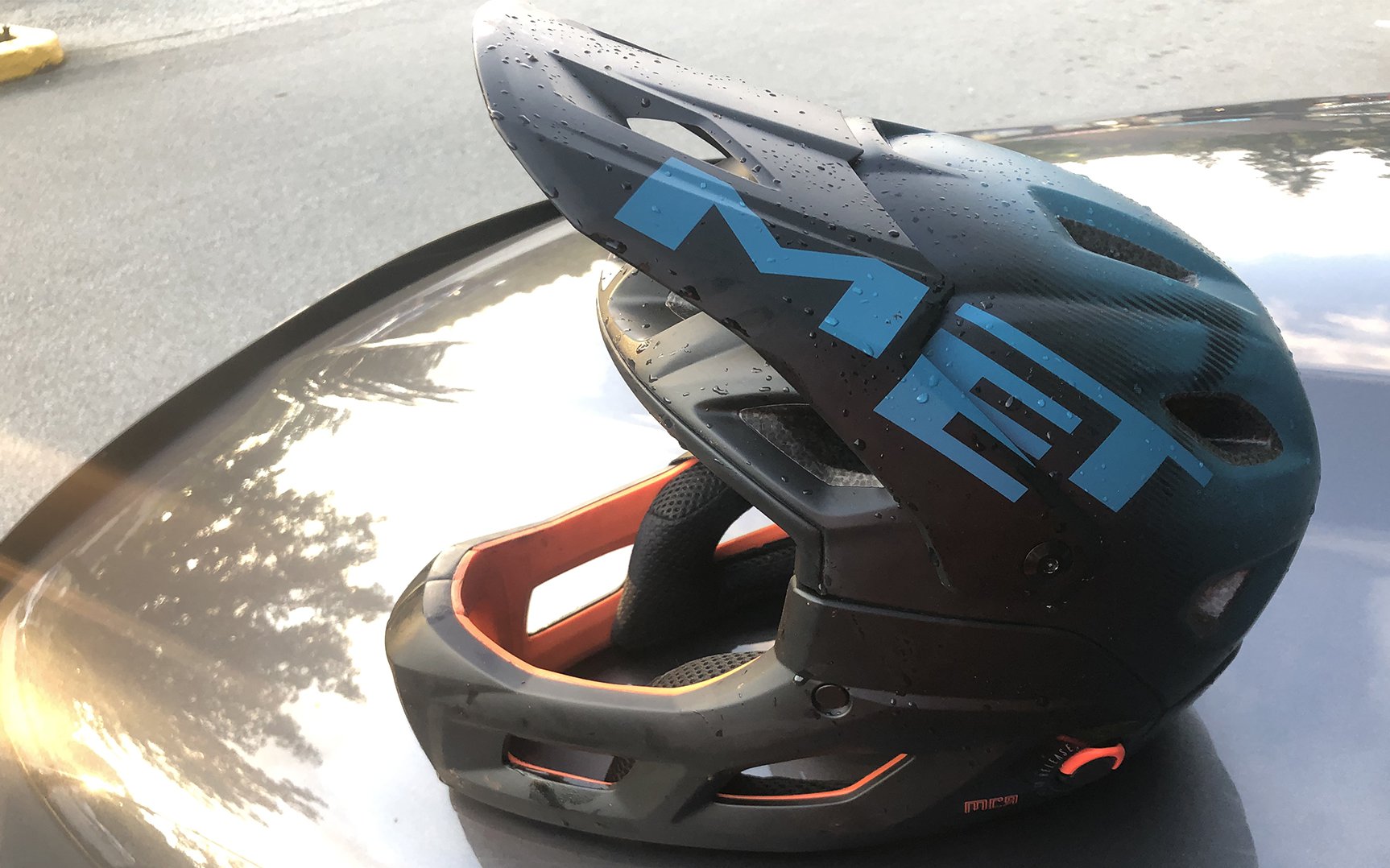 REVIEW
MET Parachute Convertible Helmet
Convertible helmets have surged in popularity recently, in part because ENDURO! and in part because some riders want more protection than a conventional helmet provides but without the warmth, weight, and bulk of a dedicated DH head protector.
Dual mode helmets are used in several different ways. There are riders who never remove the chin bar, those who decide on the chin bar based on the difficulty of the day's ride, others who remove and replace the jaw several times during a ride, and some who use convertibles as travel helmets because of the simplicity of bringing one helmet instead of two.
MET is an Italian helmet brand founded on the Shores of Lake Como in 1987, producing road, mountain and youth helmets. There was a time when production was primarily in Italy but this helmet, and others, are now made in China.
The Parachute MCR is lightweight and highly ventilated convertible that retains a DH rating from ASTM. The unique chin bar fastening is simple and effective and the size medium fits me very well. The MCR has several other unique features that make it stand out in the market
Chin Bar Removal/Replacement
MET worked with Fidlock to create a new interface to ease chin bar removal and mounting. And removal is indeed very easy. The twisters on the sides of the helmet push away from magnets that fasten the bar near the top of your jaw. Once you twist both sides you can easily pull the jaw piece away from the rest of the helmet without removal. Replacement is a little tougher, and takes some practice, but once you figure things out it can also be done without removal. Clicking the twisters into the magnetic holes can be a little tricky sometimes but based on the video above, over time it becomes much easier.
Comfort
Venting is excellent and this is the coolest full face helmet I have worn. 21 vents direct air flow, with five placed at the front of the shell and five at the front of the chin bar.
MET worked with BOA on the retention system and the two way system is easily fine tuned without hotspots, thanks to the belt extending the entire circumference of the shell. Fit can be customized with two sets of removable cheek pads. The thinner pads fit best for me.
The overall weight of the size medium I've been testing is 837g/1.85lbs on my scale making the Parachute MCR feel less like a full face helmet. I find it easy to forget the jaw piece is attached while I'm wearing it. Comfort is also excellent without the chin bar and weight is a respectable 459g/1.01lbs.
The straps are not adjustable where they triangulate to the attachment points, which is probably for the best. I regularly see even somewhat experienced riders with straps adjusted poorly and the set positioning will likely work for most heads in the chosen size.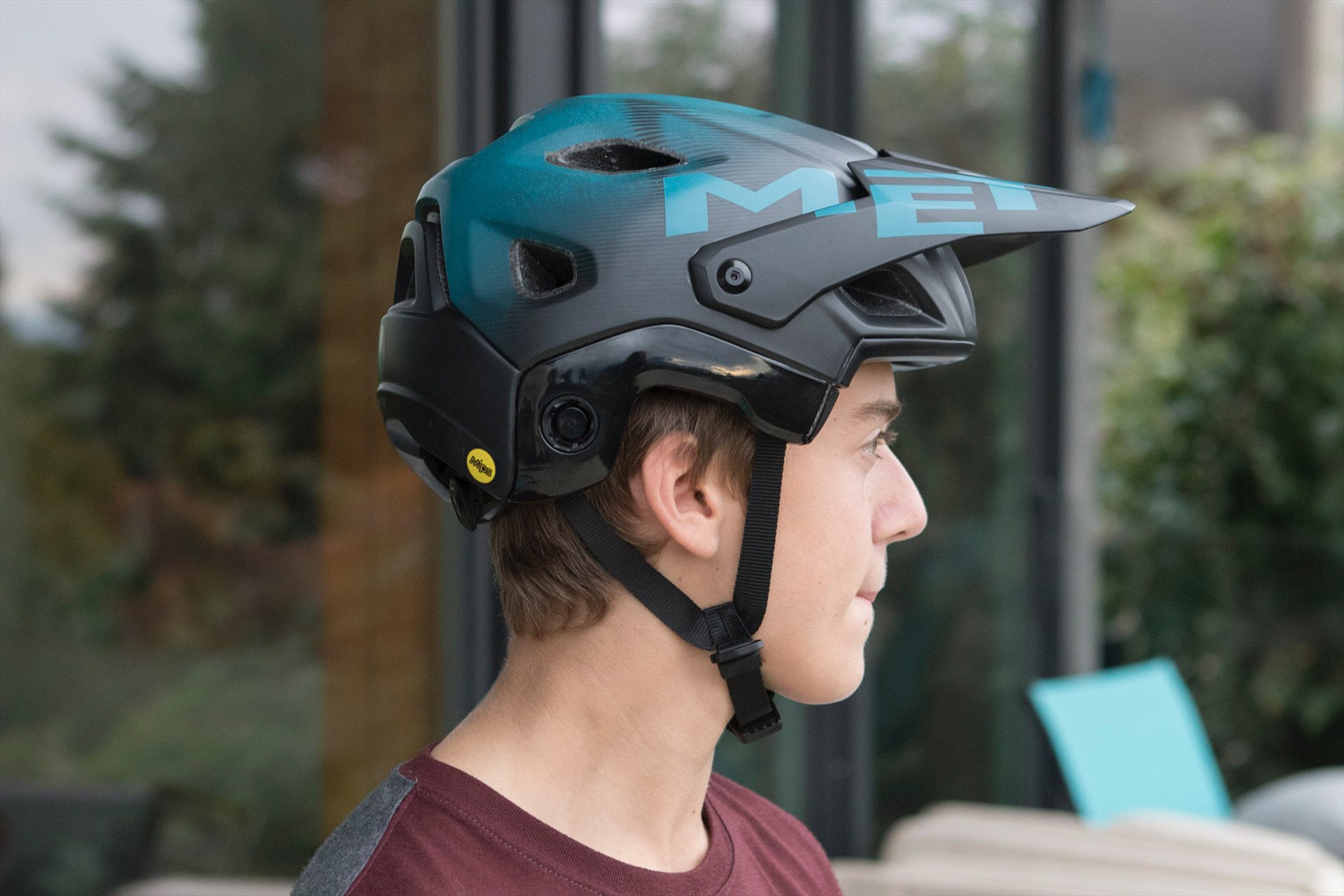 Safety
In terms of protection, the MCR complies with ASTM 1952 which is the downhill standard. Which isn't entirely good news. ASTM, who may need a new copy writer, admits as much stating; "F1952 helmets are heavier than road helmets and their harder foam to meet the more severe impact requirements may affect performance in lower level impacts." Despite testing standards, we are still mostly fumbling around in the dark in terms of helmet safety, particularly in terms of concussion. I have yet to see a study that suggests wearing any helmet reduces the incidence or severity of concussion,* but many riders believe they are wearing a helmet mostly for that reason. A chin bar changes things somewhat because it can prevent facial injuries as well as skull trauma.
*I'm skeptical about a Penn State study, using in-helmet sensors and players wearing soft helmet caps, that makes that claim.
MET paid attention to the details of this helmet and the visor is a good example. Most visors are rigid plastic which is at odds with MIPS and can increase rotational forces. The MET visor bends easily and would be less detrimental in this regard. The visor only has two positions, which is enough for me, and can be positioned high enough to accommodate your goggles.
Many MIPS-equipped helmets are no longer simply conventional shells with a rotational mesh squished inside and, like others I have worn recently, there is no comfort compromise here. Met claims the helmet can rotate 10-15mm in any direction because of the four elastomers that allow the low friction layer to move. Some helmets, like the excellent Bell Super DH, use MIPS Spherical which allows the entire liner to rotate rather than the hairnet style used here. The version Bell uses is much cleaner looking and seems like a more sophisticated solution.
I am impressed by the smooth lines of the polyurethane interior of the chin bar. I once punched a hole through my upper lip while wearing a full face and this detail appears to reduce the likelihood of facial injuries.
On The Trail
Compared to traditional full face helmets, the MCR doesn't seem to interfere with my hearing much at all. Or I don't bother listening to my riding buddies much these days. It works well with both the Smith goggles I tried with them and the Julbo Outline riding glasses I've been wearing. It's such a comfortable helmet that with the chin bar installed, on moderately warm days days, I hardly notice I'm wearing a full face. It doesn't interfere with my vision and it's light enough that the increased weight over a regular all mountain-style helmet hardly registers.
Until the MCR I only wore a full face (convertible or otherwise) in bike parks. And not every time at that. The MCR has me clicking on the chin bar for more challenging rides on days when it's not sweltering and I haven't regretted the decision once.
A shipment just arrived in North America yesterday so these should be arriving in stores shortly. The Parachute MCR retails for 349.95 USD. More info here.