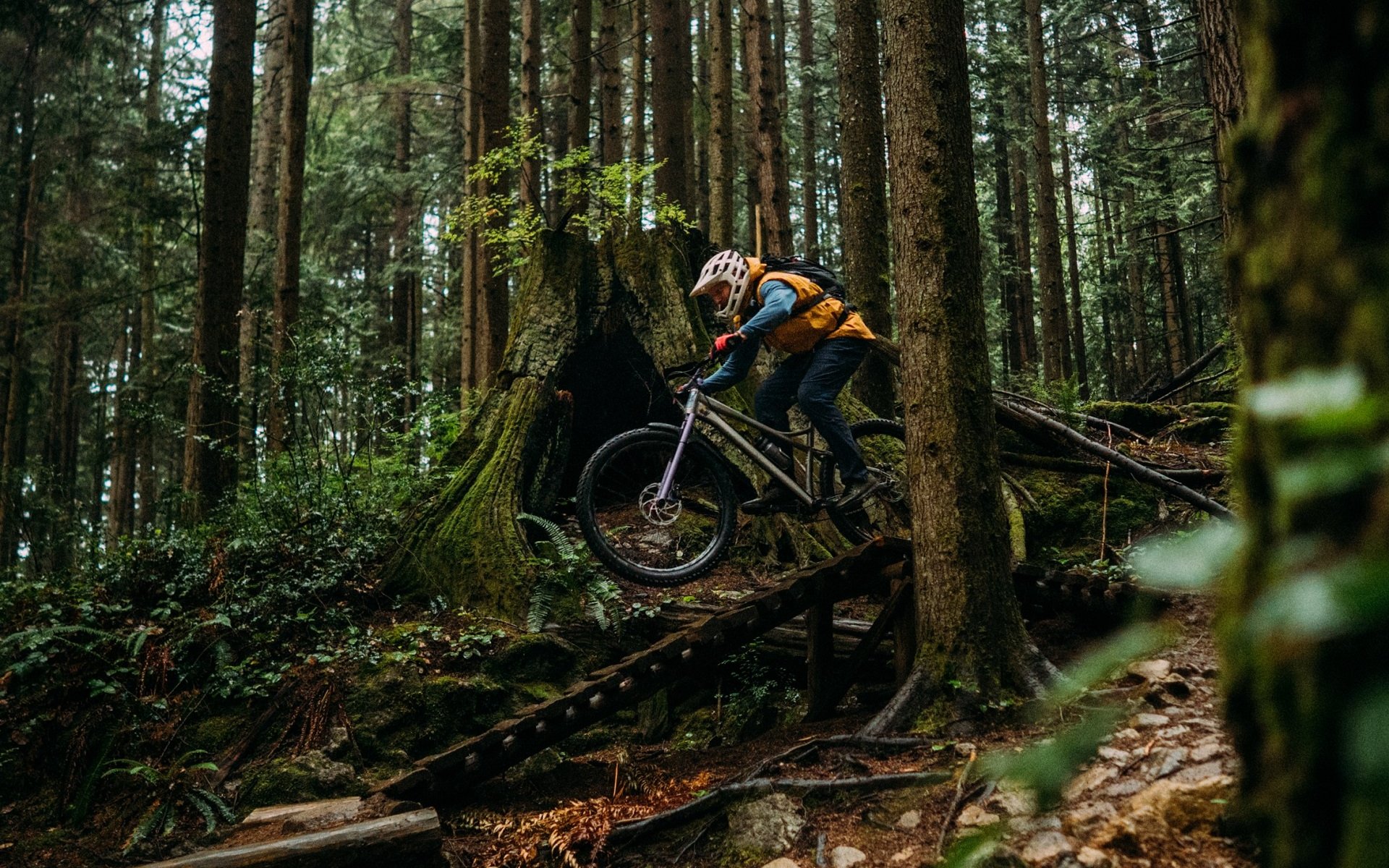 REVIEW | EDITORIAL
MEC Mochilero Stretch Pants: Min-Max?
Min-Max Mandate
I dropped by my local MEC to look at school backpacks. My daughter's lasted four hard years of use and the first of many pending holes had popped through. Time for a replacement. As with every gear concern, they had some excellent discounts. Look at me getting everything squared away well before school started!
Only one problem: there were too many options, so I abandoned buying one without consulting her and rewarded my retail restraint with a Ritter Sport chocolate bar. Mint chocolate.
On my way through I happened to walk by these Mochilero stretch pants on a mannequin, in an eye-catching but not dirt-friendly light blue. Nylon and spandex mix, robust stitching, certified Fair Trade and Bluesign, made in India, available in a ream of sizes. All for $90.
Good for mountain biking?
To be clear, these are not made or marketed for mountain biking. They're certainly not as good as specific gear like my Leatt MTB pants. But I love multi-use gear and the Mochileros, in addition to being good to ride in, are great pants for living in as well. They're also less money, and the most common theme in recent reader correspondence are requests for more min-max material.
I've been pedaling in them a lot. Temperature regulation and stretch are similar to other mid-weight pants I've ridden in. They fit different sizes of knee pads without issue and they're still wearable even when they're soaked through in a proper Raincouver deluge. So happy to have the rain back!
The best feature is the one-pair-of-pants-to-do-it-all factor. After that, the pile of size options is amazing. I'd say they're true to the MEC size chart. I'm wearing a 34/32 but should have gone with a 34/30. I count twenty available sizes. Waist sizing adjustment is accomplished with belt loops.
There isn't a women's version of the Mochilero Stretch but the Terrena Stretch looks like the closest option and sells for the same price. These are made in Indonesia, rather than India, but are also Certified as Fair Trade and Bluesign. They have buttons and tabs to convert them to capris and a different pocket layout but the fabric and construction are very similar. They also sell in a plethora of size options, especially relative to mountain bike-specific pants.
Changes
I wish the legs tapered a bit more in my size 34/32. The bottoms are of course narrower in smaller sizes so thinner riders are going to have a better fit relative to their crankset. I didn't have any interface issues, but it is something that lived in the back of my mind.
There's a zippered cellphone pocket on the front of the right leg. It doesn't bother me when riding on my mountain bike when I'm wearing knee pads. But, it could bother some folks so I'm mentioning it.
If this was a mountain-bike-specific product the gusseted area of the crotch would be larger. Some riders who don't wear a chamois may find that their position on the bike has an uncomfortable stitching interface. I don't have any issue, but I can foresee it being an issue for some.
Finally, for use off the bike I'd like the front pockets to be a bit deeper. I mean, they fit all my stuff just fine but they could be a bit more generous.
With that said, if I lost these tomorrow I'd definitely replace them. I wear the Mochileros multiple times a week in a cycle: a day or two for regular life, go for a ride, wash them, repeat.
The Mochilero Stretch pants sell for 90 CAD in three colours, in the pile of aforementioned sizes.
MEC Core Train Tops
My normal mountain biking tops are lightweight merino wool t-shirts. They do not hide the fact that I get properly sweaty when I ride in the way a cycling jersey will. They don't come in exciting patterns or designs. They represent high value to me despite the upfront cost of a good one because I wear them years past the point most folks would consider them presentable.
But for the past few months I've ridden almost exclusively in these two Core Train tops, one long sleeve and one short sleeve. They're 100% polyester and while they don't run as odour-free as my merino tops they do manage both sweat and rain very well. They're soft to the touch and nice to wear. They're lightweight and they've proven bombproof.
When it rains I've been using the long sleeve Core Train with my Showers Pass weatherproof vest, and it never gets heavy or uncomfortable and the fabric is hydrophobic enough that my core stays dry even when the sleeves are wet.
The fabric is very breathable and I recommend them as tops for folks who run hot. But I will push back hard on one of MEC's Core Train marketing claims:
"The odour minimizing treatment allows daily sweat sessions without daily laundry."
Yeah, this one's complete bullshit. You couldn't pay me to put my Core Train top back on after I'd worn it for any amount of exercise without washing it first. That said, I also don't wear merino tops for multiple days without washing them unless I'm desperate on a road trip. I love a salt-bath, but I'd rather it not be my own salt.
I only them use for riding or hiking, and for whatever reason I always find myself reaching for the long sleeve, and rolling up the sleeves if it's hot, unless I've not done laundry in which case the short sleeve is fine. Again, these are true to the size chart and I'm wearing a large.
The MEC Core Train long sleeve is available in men's and women's cuts for 55 CAD. The short sleeve models in men's or women's are sold for 45 CAD. These are all made in Indonesia and Bluesign certified.
*Mountain Equipment Company
I'd best add some sort of acknowledgment about the fact that MEC used to be a co-op and now it's a corporation. I'm not making claims that the changes at the company couldn't have happened without changing the governing structure, but what is clear is that the new people at the top are doing a much better job than those who ran it before.
I've met former employees who've gone back to work there, and some who stayed through the transition, and all are clearly happier even if they miss the idea of the cooperative. The quality, value, and appeal of their own MEC-branded gear have improved and the product line is streamlined. Also, they've returned to a focus on outdoor gear and they're not bankrupt.
I get it. I previously worked on the local MEC night stock crew part-time for a while as part of my hustle to be a full-time dad and contribute to household income. I worked with some amazing people and made some lifetime friendships, and the turmoil around the change affected a lot of awesome folks I care about.
But it's great to still see a lot of familiar faces when I go into my local store, and it's nice to see the mountains back in the logo.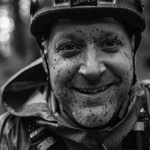 Andrew Major
Height - Steve Buscemi-ish
Wait - Patiently
Ape Index - T-Rex
Age - The same as DOS
Favourite Trail(s) every week - Pipeline (thank you Ken!) to Lower Crippler (thank you Andy!)
Favourite Song(s) this week - I'm Your Man. Nick Cave (covering Leonard Cohen)
Favourite Colour - Cosmic Lilac
Bar Width - It depends
Reach & Stack & ETT - It depends
Crank Length - 175mm except when it's 170mm
Wheel Size - Hot For Mullets