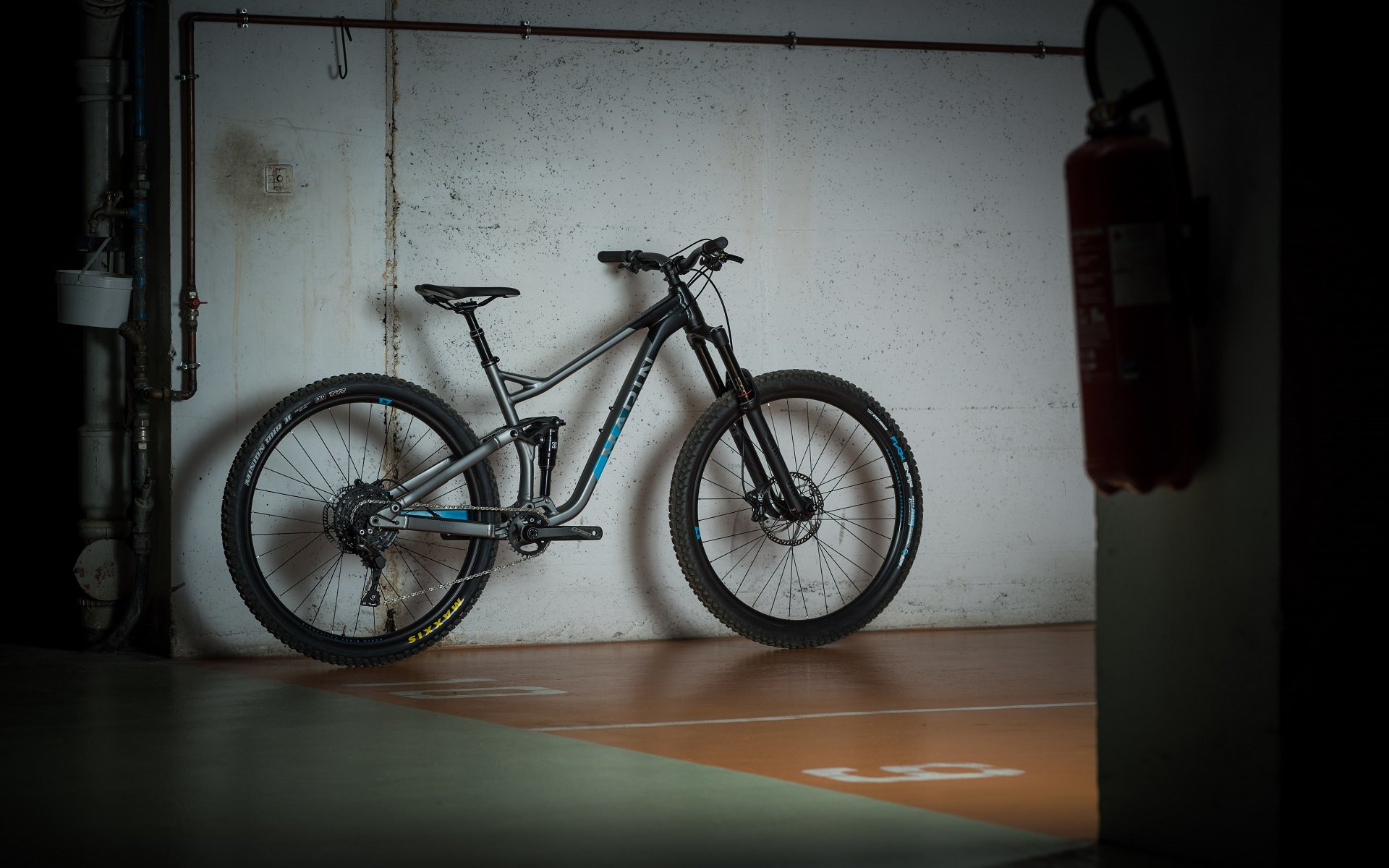 RELEASE | EDITORIAL
Maxing Value - The 2019 Marin Alpine Trail 7
Min-Max-Marin
When you aren't one of the big five* bike brands it can be a battle to carve out a place on shop floors, online shopping carts, and indeed in the fickle hearts and minds of the fashion-forward mountain bike ridership. If you're Yeti that means a lightning focus on the 'Super Bike' category to the point that they put it in the names of all their bikes. If you're Knolly that means a persnickety** focus on premium tolerances that gets enginerds [sic] all hot and bothered. But what about California's Marin Bikes?
*or so, depending on your location on Earth
**I only use this word as a compliment

I admit that Marin had been off my radar from the time my friend bought a Quake hardtail in the 90's until I threw a leg over their 1500 USD Hawk Hill. The Hawk Hill is to date my most fun bike review experience, and it ignited a passion for well thought out bikes that maximize performance and value through smart parts spec and good geometry. 

My own bikes are eclectic and I certainly don't have low end builds: a custom Waltworks hardtail and a custom coil-shocked Marin Rift Zone (basically a 29'er Hawk Hill) that I use as a test mule. But off the top of my head, the bikes I'd love to test right now include the 880 USD Rocky Mountain Growler 20, the 1150 USD Trek Roscoe 7, the 2700 USD Kona Explosif, and now the 2750 USD Alpine Trail 7. That's thanks to my experience with the min-maxed Marin.  
As they did with the 1500 USD Hawk Hill, the folks at Marin have maximized every dollar going into the Alpine Trail 7. Key highlights: The 150mm X-Fusion Manic dropper post* punches above its price in terms of performance and reliability. The Tektro (TRP) four-piston Orion brakes are only a pair of Shimano M810 sintered front brake pads away from being the top spec on any bike at this price point. I've had great results from the e13 TRS+ cassette, which Marin combines with Shimano SLX to get an Eagle gear-range from the best-value drivetrain on the market. I've also had awesome experiences with the RC versions of RockShox's Pike and Revelation forks so I think the Boosted Yari is a great spec choice in this price range.
*My review of the 125mm version is here but I've also ridden the 150mm.
Marin Series 4 Frame
The Alpine Trail represents a higher level of aluminum manufacturing than the Series 3 frames I have extensive experience riding. The simple MultiTrac suspension layout continues but there are significantly more forged-and-CNC-machined frame elements, the tube set features much more manipulation, and the pivot points appear more refined. 
The most obvious reflection of the increased design and engineering over the Hawk Hill and Rift Zone / B17 frames is the one piece linkage and the lack of a seat stay bridge which allowed Marin to boost travel to 150mm, without losing stiffness or extending past a 430mm rear center. 
Geometry is conservative as 160mm/150mm 29'ers go. A 65° head angle joins a 465mm Reach and the 430mm rear center for a 1229mm wheelbase on the size large. What would have been a good sized large just a couple years ago now has the Reach and Top Tube numbers of some companies' medium frames. 
That makes this a great time to remind prospective buyers, that frame sizing is more meaningless today than ever before. Test ride if you can, compare numbers to bikes you have ridden if you can't, and ask for advice if you aren't certain. 

Effective seat angle is measured with the saddle level with handlebar height so it is stack height dependent. The small, with a 90mm headtube, is listed as 76.41° and the effective angle decreases to 75.39° for the XL with a 120mm headtube. 
Standards With Cips
I'm not a fan on 'Onion Mount' but as it turns out there are layers to this sh*t. While it certainly would have been possible to achieve all their design goals with a regular shock on the larger sizes, Matt Cipes - MTB Product Manager for Marin - is quick to mention how the Trunnion is crucial for hitting targets with the small Alpine Trail. This allows the small to achieve the desired suspension kinematics in a package with 710mm standover, while fitting a water bottle inside the main triangle. Fair enough. It looks like Trunnion is fast becoming the industry standard anyway, just be extra careful when installing them folks because stripping those blind threads in the shock eyelet assembly is an expensive screw-up. 
Suspension-wise, the Alpine Trail is designed to be used with a coil shock or linear air shock. I have an old, updated, Cane Creek CS Coil shock in my Rift Zone and I love it. I haven't tried my bike with a higher volume, more linear, air shock like a Fox with an EVOL air can or the new X-Fusion 02 Pro RXC that comes with the Attack Trail 7. 
Speaking of standards, I also asked Matt about two of the big talking points for 2019 mountain bikes: fork offset and Super Boost Plus rear spacing. 
On the Alpine Trail's 51mm offset:

"At the end of the day, we need to judge a bike on the complete geo package – all the numbers matter. While the shorter offset is trending right now at the end of the day the true benefit to the rider is yet to be defined in the eyes of Marin. Especially as it relates to the geo as a whole and how the bike rides. We have been testing with different offsets but the complete geo package and ride we wanted could be achieved using a 51mm offset."
On Super Boost Plus 157mm Spacing:
"At Marin we are going to take a calculated approach to new "standards" (or lack thereof). We want to make sure Marin is delivering the best product we can all while staying within the realm of component compatibility based on current market trends and acceptability as well as balancing performance increases. It seems currently the benefit of SB+ is lost on the end consumer. All comments on the 157 SB+ hub width are driven by people who are so stoked they can now run their old DH hubs, which have flange widths that hark back to 135mm days. It all has to be for the right reasons and with this bike we stuck with 148."
While I had Matt's attention anyways I also hit him up for a few comments about the Attack Trail 7 & 8 bike build kits.
On The Choice of Rear Shocks:
"We did take a lot of time to custom tune the Fox and XF shocks so the current ride quality is quite amazing. It will be exciting to do the same exercise with a coil shock. I am working with Fox now to get the best coil shock valving."

On the Tektro Orion brake on the AT-7 vs. the TRP Slate* on the AT-8 :
"The Orion is the top of the line Tektro 4 piston offering. It shares some similar characteristics to the TRP Slate but it is not the same brake. The Slate T-4 has a different lever assembly with reach adjust as well as a different caliper. Both brakes are compatible with Shimano pads and use mineral oil, which is great on the shop floor or when on a bike vacation across the world.
The Orion is the best 4 piston that we could find for this bike level [AT-7]. We made sure to test them heavily on our side. There is less power than the Slates but it is still a really great brake for the money and the modulation is really good."
*TRP is Tektro Racing Products. AJ recently tested the Slate T4 here. 
Final Thoughts
There's really no cost to trickling down good geometry and suspension kinematics. If anything, in Marin's case, sharing the design and engineering with the lower end models that will sell more numbers helps spread out those costs. So why does it seem so many 'budget' bikes aren't up to date?
To boot, the Alpine Trail 7 delivers good suspension products, with an easily upgradeable fork for the rider who can't get the RC damper to work. SLX is the 2-stroke motor of drivetrains. It works great, it's very easy to adjust, and it just goes. Combined with the e13 cassette, there's no shortage of gearing. Marin recommends running a 30t or 32t ring on the Attack Trail but the 30t/46t low combo on the AT-7 should work for most riders. The Tektro four-piston brakes are fully serviceable and can use Shimano pads, and the Formula hub and Marin-branded 29mm internal rims aren't light but have proven durable in my experience. 
Frankly, I think the creative effort to mix-match brands to maximize performance and deliver them on a great looking frame with good geometry on the AT-7 makes the effort behind bikes in a similar price bracket look lazy. The creative effort to mix-match brands to maximize performance and deliver them on a great looking frame with good geometry throws shade on many bikes in the AT-7's price range. 
If you agree, check out all the details on Marin's website here.