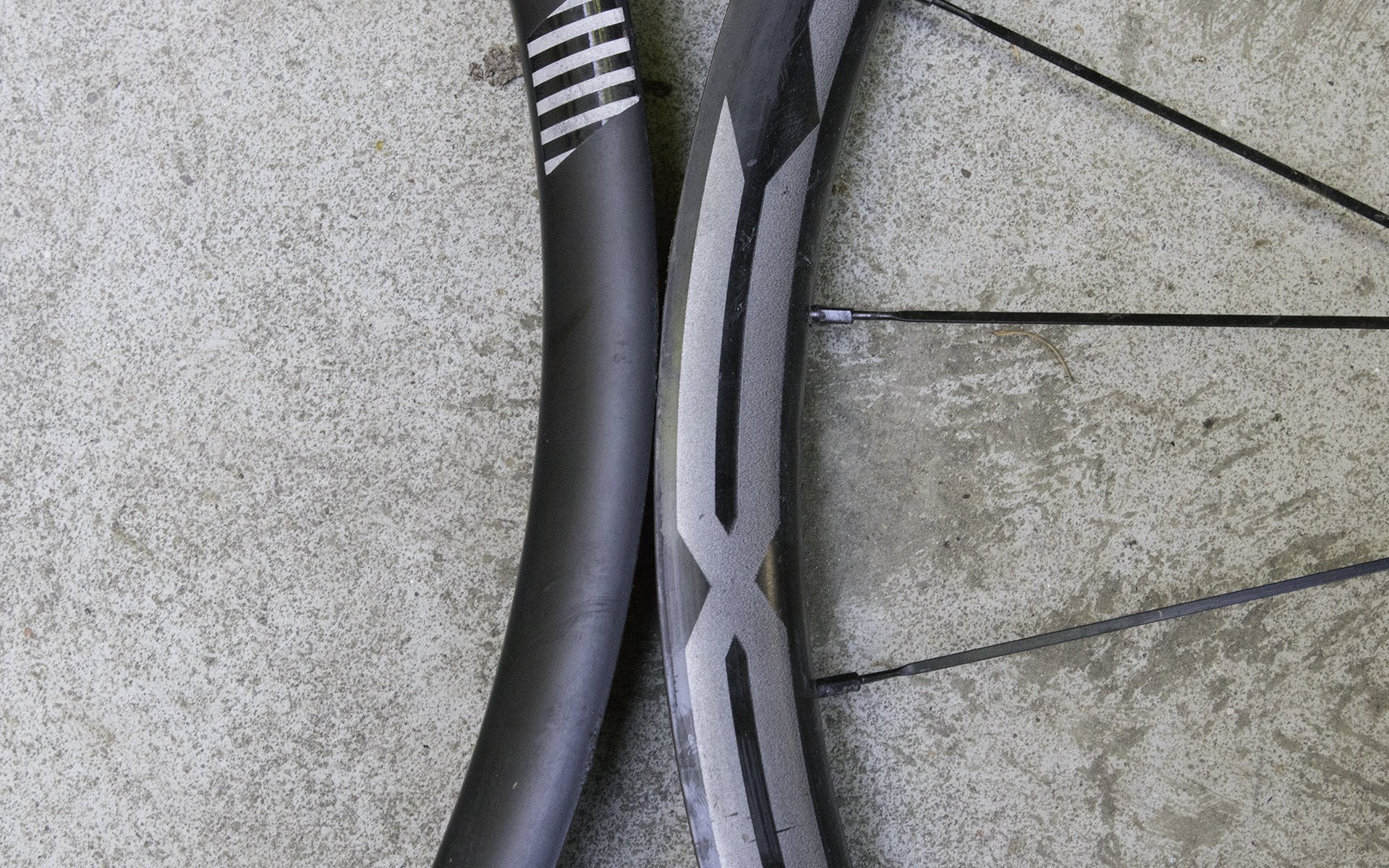 Mano A Mano
Mavic XA Pro VS. e*thirteen TRS Race SL Carbon Wheels
Mano a Mano is something new we are trying. We often get asked by readers how products compare to one another, which makes a lot of sense, so here we go.  I'm taking two products that have some similarities, without being an exact match. The goal won't be for us to pick a 'winner' because our winner may not be your winner. Instead we'll compare features and let you know how we think they measure up after some significant time on the products.
---
Testing carbon wheels isn't easy. Generally internet audiences want to hear about all-the-things when they are new, but you can't fast forward durability testing. So we have sacrificed urgency in order to be thorough and test the crap out of these wheels.  To that end we have ridden the hell out of both sets of wheels for a year or so under more than one rider. Most of the riding has taken place on a Yeti SB 5.5 or a Specialized Enduro 29, for four seasons of hard riding. 
Product Stats 
Mavic XA Pro Carbon 29
Price - 1800 USD
Weight - 740g front/860g rear 1600g (29")
Rim Width - Internal 26mm External 32mm
Intended Use - Trail and Enduro 
Spoke Count - 24 spoke 2 cross (bladed straight pull double butted)
Hubs - Mavic 6-bolt only. Choose between XD/traditional.Boost (front 110, rear 148) or Non-Boost (front 100, rear 135/142) 
Engagement/Freehub - 7.5º/traditional pawl system with 2 sets of 2 pawls
Included - Rear 12x142mm adapters, Tubeless rim tape, Multifunction adjustment wrench, Front QR adapters, Rear QR adapters for TS4 and TS2, UST valve and accessories, User guide, BX601 quick releases. (it seems tires are no longer included with this wheelset)
Warranty - 2 years against manufacturers defects only. Details here...
e*thirteen TRS Race SL Carbon 29
Price - 1500 USD
Weight - 800g front/940g rear 1740g (29")
Rim Width - Internal 28mm External 32mm (claimed) 34mm (measured)
Intended Use - All Mountain
Spoke Count - 28 spoke 3 cross Triple butted (j-bend) Conventional nipples
Hubs - e*thirteen TRSr 6-bolt. Choose between XD/traditional. 12x142, 12x135 and QR via interchangeable axle plugs, OR Boost 148
Engagement/Freehub - 6º/traditional pawl system with 3 double-toothed pawls

Included - Tubeless tape, tubeless valve, spoke x3, nipple x3, nipple washer x3, 12x142, 12x135, QR endcap plugs (142 wheels only)

Warranty - Lifetime failure warranty - details here...
The whole carbon rim question isn't a simple one, unless you put an economist on the job. I can't imagine the Freakonomics guys suggesting there is good value in pair of $2000+ spinning hoops, when high quality aluminum versions, that are often more comfortable to ride, can be had for one quarter that price. I talked about the pros and cons of carbon with some expert help in an article earlier, and I remain dubious of the value proposition, despite loving many aspects of laid up rims.
So here are two pairs of luxury wheels. You can spend more and you can spend less so we can call these moderately-priced carbon wheelsets.
Mavic XA Pro Carbon
Why Mavic came so late to the carbon game is anybody's guess. The company went from being a leader in wheel design, pioneering tubeless systems, pushing the envelope with straight pull spokes using alternate materials and using advanced machining to reduce rim weight to... Well to nothing really. And then at around the time Mavic finally joined the carbon party, they doubled down by purchasing ENVE Composites. 
You'd be wrong to think that these wheels are re-badged ENVEs however. I was told that while there was some information sharing early in the relationship, in the end it was decided that internal competition would be better for both brands so this is a Mavic product. Unlike ENVE, spokes are accessed externally, rims are not symmetrical, Mavic's wheels are significantly less expensive and the hubs are not third party. The rim profile is similar but that's about it; these are a Mavic product all the way through. 
Considering this wheelset is aimed at "Trail and Enduro" and the 29" version weighs  1600g (3.52lbs), the XA Pros are very light. Mavic claims these are the lightest but ENVEs M630s with DT hubs and 30mm internal width are right around 1500g, but let's not quibble. These will keep aggressive riding weenies happy. 
Mounting Mavic Quest tires on these rims wasn't bad at all, even using Cushcore. Mounting other tires, specfically E13s, exposed a weakness of the rim shape. The inner channel is extremely narrow making it difficult to squeeze the bead into this space while mounting. After the struggle, they aired up tubeless easily and I had no issues with seepage between rides.
The first thing many riders notice about carbon wheels is how precise they are because of torsional stiffness. The Mavic's score high in this category and they are quite good compared to most of the wheels I've used in terms of vertical compliance as well. That said they tend to give a high strung impression when riding gets more intense. Regular loud pings and twangs are disconcerting and a significant amount of noise is transferred even when the banjo isn't being played. This seems to only be a nuisance since I never noticed any damage after these mini concerts. 
The slightly narrower width produced a rounder tire profile with a little less sidewall support, even with 2.35" tires. Build quality and toughness however turned out to be excellent. The Japanese NGK bearings remain incredibly smooth and the wheels spin as freely today as they did when new. The rear hub engagement was fine for me, but others might like something quicker. I did however really appreciate the muted hum of the rear hub. It's a satisfying hum that becomes even more soothing as speeds increase. 
After months of bashing, including a wet and snowy winter, these wheels are dead true. Perfectly straight. Incredibly round. They are a clear winner in terms of durability and an excellent example of the main benefit of carbon wheels. There is much to like here. 

e*thirteen TRSr SL Carbon Wheels
One of the elements that distinguish e13 wheels from most others is the wide hub flanges. The idea is a high bracing angle and slightly shorter spokes for increased strength and durability. Otherwise things are more conventional here when compared to the Mavic's; 32 j-bend spokes laced 3x to a rim profile that could be reproduced in aluminum. 
Like most modern hubs the TRSr SL wheels roll on cartridge bearings but there was no brand I could identify on the covers. The freehub is one of the loudest I've used and it winds into an oddly pleasing whine as speeds increase. Some freehubs don't change much when you pin it so this feels like a reward for going fast. Unlike many loud rear hubs, higher viscosity lube doesn't seem to deafen things much. 
Because of an incident with a hot tailpipe, the front rim had to be replaced mid test and was rebuilt. The rear wheel was abused all year long (likely getting  more miles and abuse than the Mavics) and recently was in need of a true. It didn't have any big wows or flat spots but there was enough of a shimmy to be addressed. They trued up beautifully.  
I enjoyed the ride of these wheels and found them a little less stiff torsionally than the Mavic's and I thought I noticed a compliance advantage as well (more on that later). 
Mano a Mano
After a time on the Mavics it was time to swap while preserving other variables. I used the same bike, (Yeti SB 5.5) tires (e*thirteen TRSr) and pressure (24 rear and 22 front) and rode the same trails on consecutive days with (luckily) similar weather conditions. 
To be frank, I wasn't sure I'd be able to notice a difference in the wheels. Maybe my spidey senses aren't acute enough? Maybe the wheels are too similar? My fears were unfounded and the difference was quite remarkable. The first thing I noticed getting on the E13 TRSr SLs was how quiet they seemed. It wasn't just the absence of pinging, and the freehub is actually much louder, they simply transmitted less sound from the riding surface. The difference in feel was quite remarkable as well. The Mavic XA Pros have gained a reputation for compliance, and they are certainly respectable in that area. The e*thirteens however take that level up. They felt pleasantly soft, as though there was a loam coating over everything. And this softness didn't hamper my control, in fact it felt like I was less likely to go off line because the wheels were more likely to roll over obstacles than bounce off.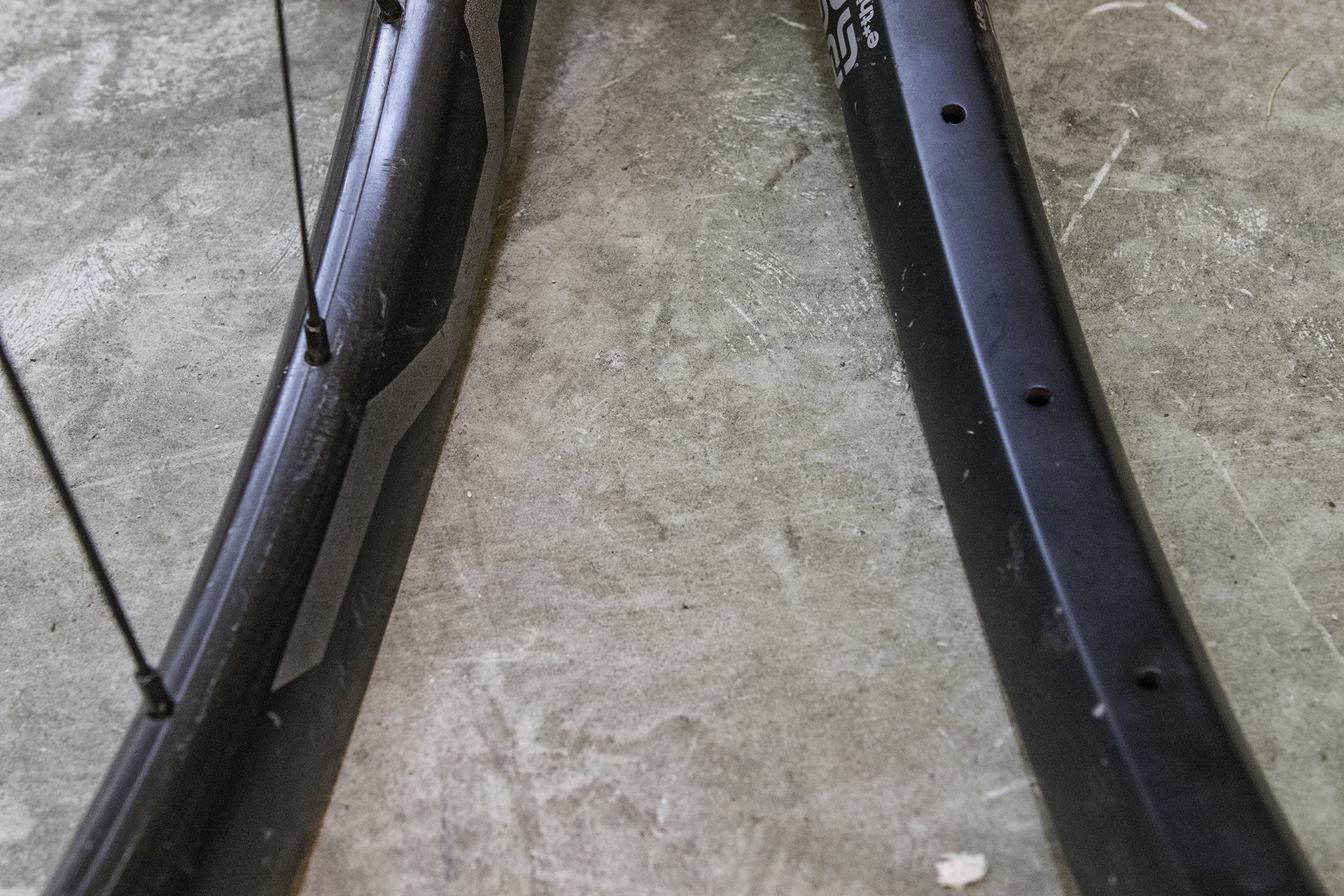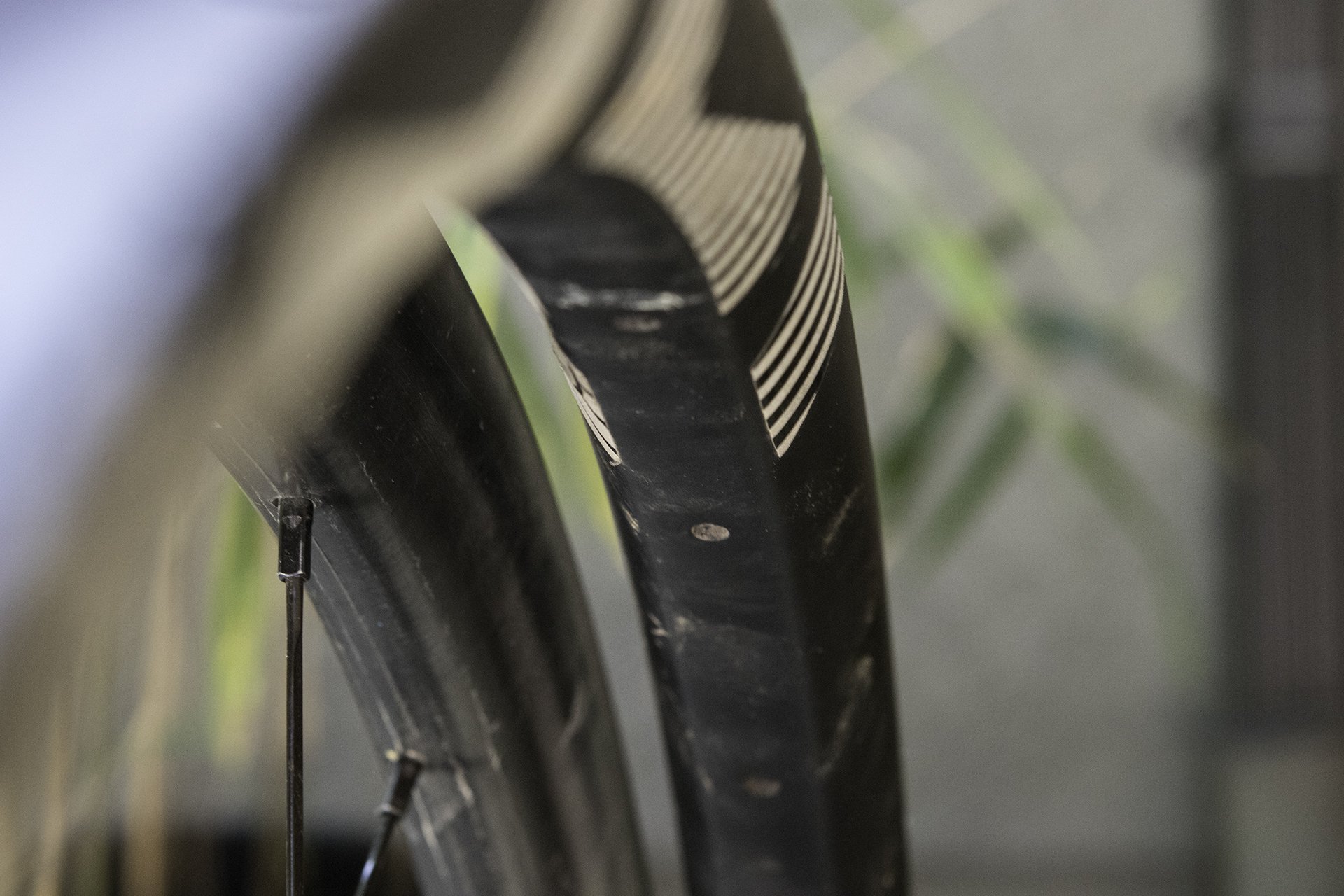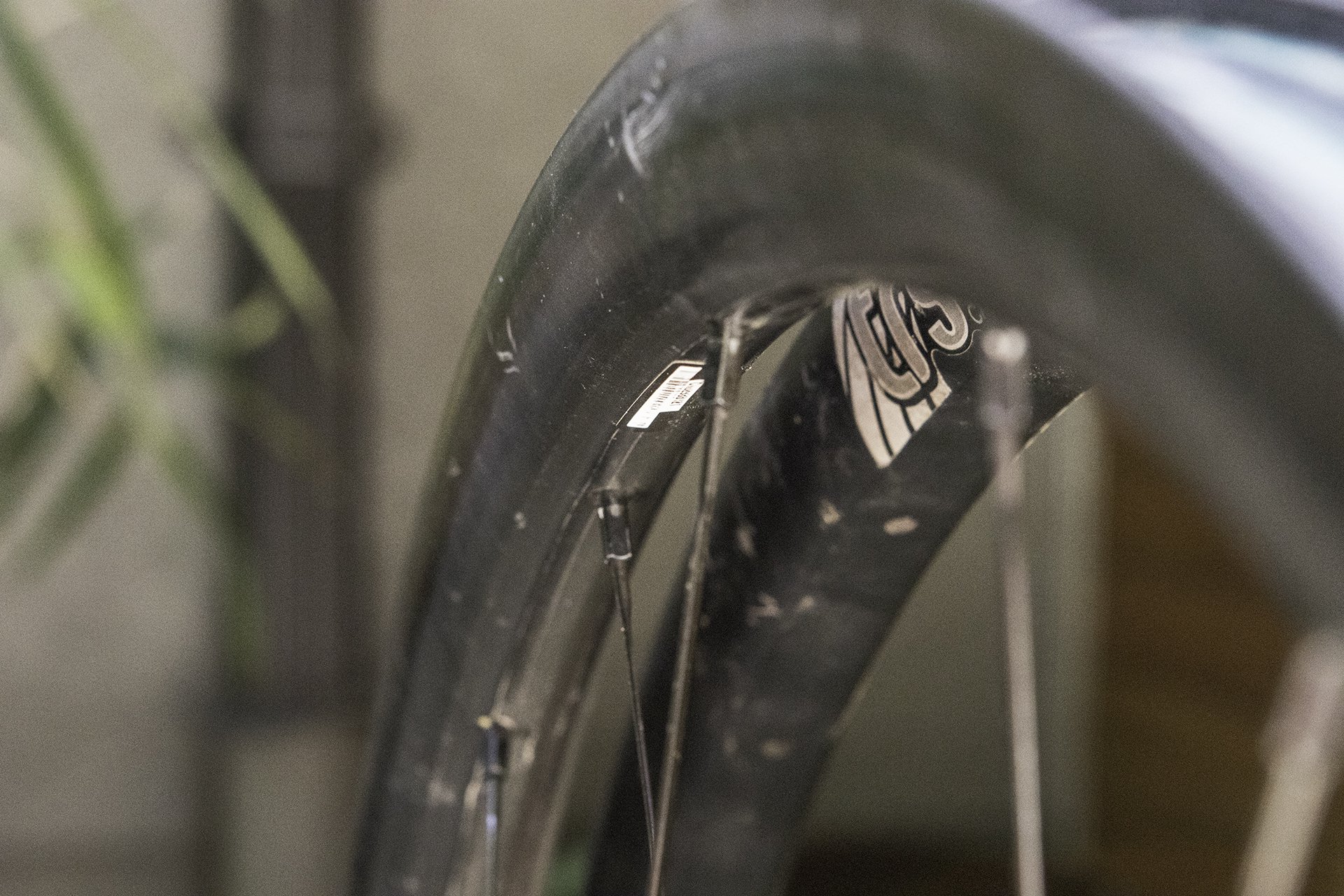 This difference makes sense looking at the profile of the rims. While the E13s are shaped almost like a trapezoid, the Mavics form a gentle parabola, a structure more likely to resist bending forces. This improved compliance helped technical climbing and most descending situations, while the Mavics seemed to provide more cornering bite, as long the trail wasn't too rough.
Toe to Toe
Weight - Mavic
Durability - Mavic
Aesthetics/Refinement (both when new and after a year of use)  - Mavic
Price - e*thirteen
Compliance/Trail Feel - e*thirteen
Freehub - Mavic (I prefer the low key sound and the reduced drag - if I was fussy about engagement I'd take the e*thirteens)
Tire Mounting - e*thirteen - the wider channel eases mounting substantially
Tubeless Set Up -  Mavic gets the nod here because of the durable and reusable rim tape included. No need for messy Gorilla tape
Cornering/Acceleration - Mavic
Width/sidewall Support - e*thirteen
Hubs - Mavic (simple because of the minor friction issue with the front e*thirteen hub)
Warranty - e*thirteen
In the end I think I'd choose between these two wheelsets based on the riding I was doing. On rough trails I'd take the superior comfort and compliance of the e*thirteens, along with the improved sidewall support for larger tires. For smoother trails and longer tougher climbs I'd take Mavic and save a little weight and rolling resistance while gaining some snap. Because the Mavics remain perfectly true to this day they would likely get the nod for some sort of adventure as well. 
For more info on Mavic XA Pro Carbon Wheels click here...
To geek out on e*thirteen TRSr SL Carbon Wheels click here...