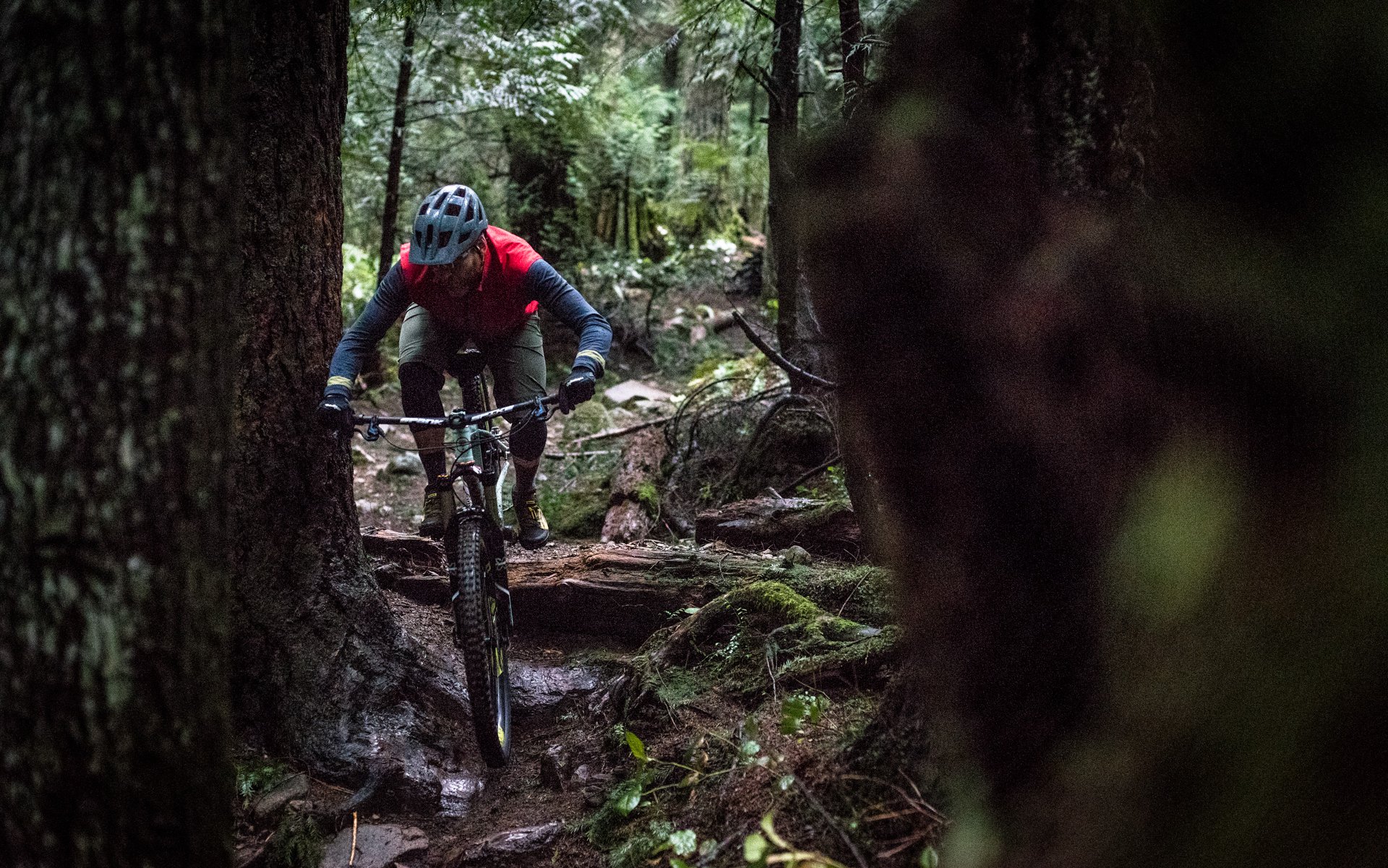 REVIEW
Mavic Deemax Pro Shoes
Rider Specific!
Yep - these shoes are Enduro-Specific! The term 'Enduro' requires product-specific unpacking to determine what it really means. It could be a narrowly focused product designed for Enduro racing, like a super light fixed chin bar full face, looking for a broader market. It could be a product like a hydration-pack-spine-protector that would have previously been sold in the now uncool 'Freeride' category. It could be an awesome mountain bike product in general - sure it could be used for Enduro racing but really it's just an awesome piece of rider-specific kit.
Mavic's Deemax Pro shoes are absolutely the last. They are comfortably stiff for pedaling and comfortably rockered with an aggressive and fairly grippy tread for hiking. Protection for the highest wear parts of a shoe in order to enhance durability. Inside ankle protection. The cleat pocket is oriented such that there is actually a range of usable cleat positions. Nice.
Critically Speaking
I have a lot of positive things to say about the Mavic Deemax Pro shoes. They're easily my favourite all-around mountain bike shoes and I've tried a lot of different footwear. I've been enthusiastically recommending them to friends looking for new clip-in shoes this year.
I think it's important to review product critically. That involves calling a turd a turd, no matter how nice a tiara it is wearing, and it also involves saying that great products are great as long as either assessment is backed up critically.

Appearance
I like 'Mavic Yellow' but I'm not the least bit surprised that many riders do not. The Deemax Pro shoes came with two sets of laces - yellow & black - but neither option quiets them down so Mavic also ships the shoes in black.
It took a couple of rides for the yellow shoes to mellow out a bit. Once the uppers were suitably thrashed through mud, rocks and roots the brightness factor was matted down a few levels. That's not to call into question the durability of the shoes - they've been holding up great - it's just the nature of nasty spring riding on the North Shore.

Laces
I've tried most every ratchet system on the market and I'm positive that BOA is the best. Still, for me nothing is as good as plain old laces. They're easy to fix if they break in the middle of nowhere and spread pressure more evenly over my feet.
In addition to the laces, Mavic uses a wide velcro backed strap to secure the upper of the Deemax Pro. On many shoes using a similar configuration the velcro strap really just functions to keep the laces in check. in this case the strap is an integral part of the fit. The laces cross in a wide-spaced 'X' under the strap which definitely puts less pin-point pressure on the top of my feet.
The rectangular lace grommets are another intelligent feature of the lacing system. These work exceedingly well with the flat laces and I'm surprised how little wear there is on the laces so far compared to shoes I've used with conventional round grommets.

The combination of the laces and strap do an excellent job of pulling my foot into the reinforced heel pocket both pedaling and during hike-a-bike sections.
Cleat Pocket
I set up most clipless shoes, especially ones from Euro brands, the same way. I start with the cleats as far back and they go in the cleat pocket and then move them forward as required. On most shoes the cleats remain as far back as they go and I often wish they could go a few more hairs in reverse.
In this regard, the Deemax has a very rearward cleat pocket which gives a broad range of settings that should satisfy every rider. I moved the cleats forward significantly to get to my preferred position. Mavic credits Fabien Barrel with helping to develop the Deemax Pro.
The sole is nicely stiff for long rides and punchy out of the saddle climbs. None of the hot spots I get in similar shoes with too-much flex were present. This is usually the reason I opt for carbon soles for my single speed but I've been very happy with the Deemax Pro shoes combined with a set of Shimano M540 XC pedals.
If those lugs could be reliably manufactured from a stickier rubber compound without massively increasing wear, that would be an improvement but I have yet to seen it done reliably (looking at you Diadora) with a lugged sole. In all but the greasiest situations, I prefer lugs on my clipless shoes vs. the sticky flat soles of FiveTen's shoes.
Weather & Protection
I haven't had the chance to wear the Deemax Pro shoes on a blazing hot day but the construction seems as breathable as the similar shoes I've been wearing. On truly wet days I definitely go with my Goretex socks inside as the uppers are combination of perforated synthetics and mesh.
The area of my shoes that are the most trashed - and most repaired - are well protected on the the Deemax and the high inner ankle protection has been appreciated this spring with an abnormal number of awkward crank and frame contact moments.

Mountain Bike Shoes
I don't follow racing closely but when Enduro fiercely attacked the attention of the average mountain bike consumer I was really excited. Like Freeride before it, to me Enduro meant a massive investment by the industry in new product for exactly the kind of riding I like to do. Long days in the saddle pedaling up tough climbs to ride down awesome technical single track.
The Deemax Pro shoes are the perfect blend of stiffness hammering up climbs or down technical trails while at the same time being very comfortable when hiking becomes a neccesity.
Assuming the fit works for you, they are my recommendation for an ideal clip-in mountain bike shoe.
The Mavic Deemax Pro generally sells for $200 (USD) | $250 (CAD).

---