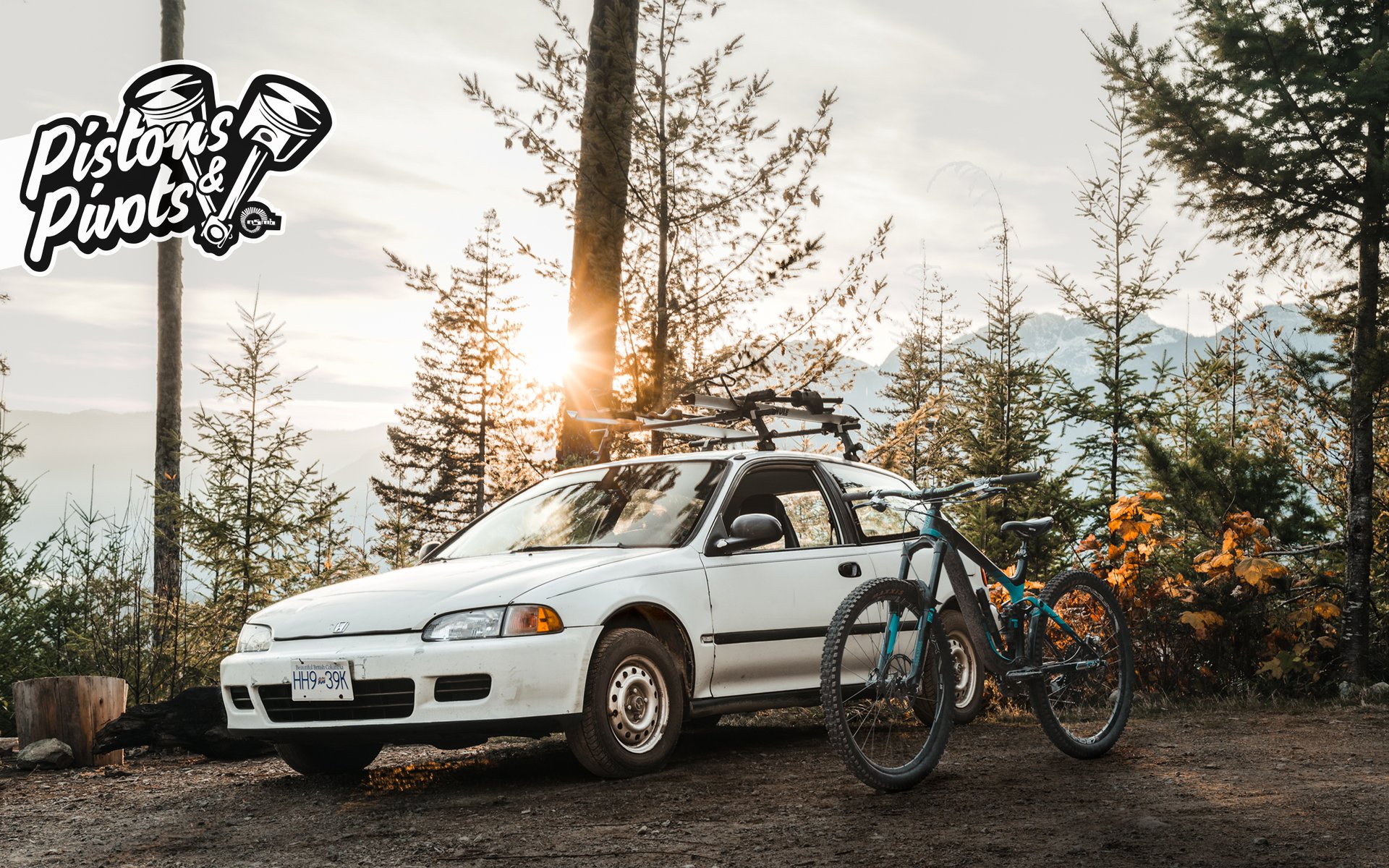 Pistons & Pivots
Matt Henn's Well Used '92 Honda Civic & Special Giant Reign
Presented By
Pistons and Pivots is presented by Maxxis. Every second Monday, we'll present a new round of Pistons and Pivots which features cool vehicles with character, and a little about their owners and the bikes they ride.
If you've got a vehicle and bike that fit the series, you can submit your photos and articles to pistonsandpivots@nsmb.com. Make sure to include 'Pistons and Pivots' in the subject line. Once a month, we'll pick a winning submission and feature it on the site, and the person that submitted it will earn a fresh set of tires for their bike, courtesy of Maxxis. At the end of six months, we'll pick a grand prize winner, who will walk away with Maxxis rubber for the vehicle they submitted for Pistons and Pivots!
---
Not all Pistons & Pivots subjects can be glossy vehicles; that's not how all mountain bikers are. And not everyone cares about the latest and greatest products either. Matt Henn is a fine example of each; his car is old, used, costs very little to maintain and gets driven hard. His bike is the same and he doesn't need brand new gear to go fast. Matt finished just off the podium at the Squamish Enduro EWS Qualifier earlier this year, an event filled with fast riders. That may not sound impressive but when you compare Matt's bike with what his competitors were riding, his result comes into focus.
Matt's knowledge of the Squamish trail network probably contributed more to his success at the Squamish Enduro than his bike. He's part of the Squamish Trail Crew and he spends his summers sculpting dirt, filling holes, and assessing the state of his home trails. Anyone that's spent time walking their local trails knows that alone grants great insight, and it increases when working on the trails and spending more time on them, away from the bike.
When Matt's not playing in the dirt, he's playing with water for Northwest Hydraulic Consultants, mainly as a hydrometric technician. What he may refer to as his 'real job' has him gauging streams, building weather stations, and several other tasks that have to do with managing water resource data. Hailing from Mill Valley, California, he first landed in the area while attending UBC. Soon he made friends, secured his job and made Squamish home. Four years after finishing school and he hasn't looked back but he enjoys some California time during our long, wet winters.
Matt's 1992 Honda Civic CX
Matt doesn't conform to trends, which is clear from his vehicle choices. But I can't really say he focuses on what's practical either – not completely. Before the Civic, Matt owned a Ford Ranger and to be honest, that seems like a more practical vehicle based on his summer job. He hasn't let the Civic hold him back on the access roads and he gave me a sample on our way to the shoot location. Many use a relatively smooth upper road that drops down to the access road these images were shot on. To show me what the Civic was capable of he chose a lower access road covered in sharp, baby-head sized rocks. There was a bit of spinning but he and the little car made short work of it.
Matt didn't buy the Civic as an off-road vehicle, that's just the life it's been part of since he took ownership. Unless he needs to carry a lot of tools he often jumps on a KLX 250 when commuting on the dirt roads around Squamish. The Civic was originally purchased as a commuter for his regular trips to North Vancouver – where Northwest Hydraulic Consultants have an office. Two frugal co-workers recommended the car for its ease of maintenance and low running cost.

The car has been blissfully light on maintenance considering it was $1,100 and made in 1992. – Matt Henn
It's worked out. The car cost him $1,100 three years ago and he's since put an estimated $1,500–$2,000 into it, which includes bike racks, roof box, snow tires – items that quickly add up, even if purchased from the second-hand market. The largest repair he's undertaken involved a loud exhaust that he didn't like. Matt tried to replace the muffler on his own with one he found at Pick-A-Part in Chilliwack, B.C. but made it louder in the process. A gap between two pieces of the exhaust was the problem. It took a year of driving the Sea To Sky highway with earplugs and a complete failure, making the exhaust go from "loud truck volume" to "unlimited class tractor pull volume" to send Matt to OK Tire for the final repair.

Perhaps the proudest Civic moment was passing a shiny, built Tacoma up the road to Full Nelson – Matt Henn

Unfortunately I ended up making the vehicle louder as there was a small gap between the two pieces of exhaust I had tried to join, so I drove with earplugs on the highway for about a year. As a quick side note, I discovered that earplugs are actually a very cheap and effective upgrade to shitty speakers as it cuts out the sharper, higher frequencies relative to the mids and bass. – Matt Henn

Apparently you can put the suspension from the same generation Accord into my Civic without needing to modify anything, and it gives it a ~2" lift. A buddy was also saying he saw one with a winch on the front of it the other day. – Matt Henn
Matt's 2015 Giant Reign Advanced 0
This may be a four-year-old bike (gasp!) but it's as unique and used as the Civic. Matt bought it second hand and has since proceeded to ride it into the ground, something he tends to do with all of his vehicles. And while it isn't the fanciest bike out there, Matt likes how it rides. He enjoys it so much that when he noticed a crack in the downtube, he got excited about trying to fix it. I don't think I'm alone when I say I would initially be gutted, followed by possible excitement if covered by warranty.
Instead of moving on to a new bike, Matt began learning how to apply a carbon wrap to the frame. He had a friend who'd performed similar home job fixes to busted Yeti bikes and together, the two of them got to work in his kitchen. He told me that laying carbon is similar to fibreglassing; soak and coat the material in a two-part epoxy and lay it into the desired shape. Curing the material proved more challenging and Matt feels this is where there's some creativity and R&D happening in bike companies. Matt battled with a leaky seal in their vacuum around the repair, thanks to a bad tape job or underpowered pump – he's not sure. To finish it Matt's solution was to wrap the repair tightly with electrical tape and set the frame in a room with a space heater cranking. He hoped that the tape would provide enough compression to let the work cure without bubbles and it appears to have been a success – he's been riding it in this state for roughly three years.

I could flex the carbon with my fingers, but the tube wasn't deformed and I wouldn't have noticed it if it wasn't right next to my face on the gondola. The crack was almost certainly caused by the crease in the tailgate pad I had on the truck leaving the bike's downtube exposed to the edge of the tailgate while shuttling. – Matt Henn

Upon unwrapping it and sanding/angle grinding down the extra epoxy I was left with a new and improved frame. – Matt Henn

I'll probably ride it until I get on a new bike and it feels like a completely different beast, in the way that I went from the Nomad 2 to this bike and it felt like a new type of machine. So far, most of the bikes I've ridden since feel fairly similar, and they don't even have as much carbon on them. – Matt Henn
It's clear Matt inflicts a hard life on his conveyances but it's refreshing to see someone focused on having a good time rather than how good his possessions look. These are merely Matt's tools, whether for a good time or transportation and he isn't afraid to take on a challenge in order to keep his vehicles running. I'm going to leave it at that because I don't want to jinx Matt.
Has anyone else fixed their broken carbon frame in the kitchen?