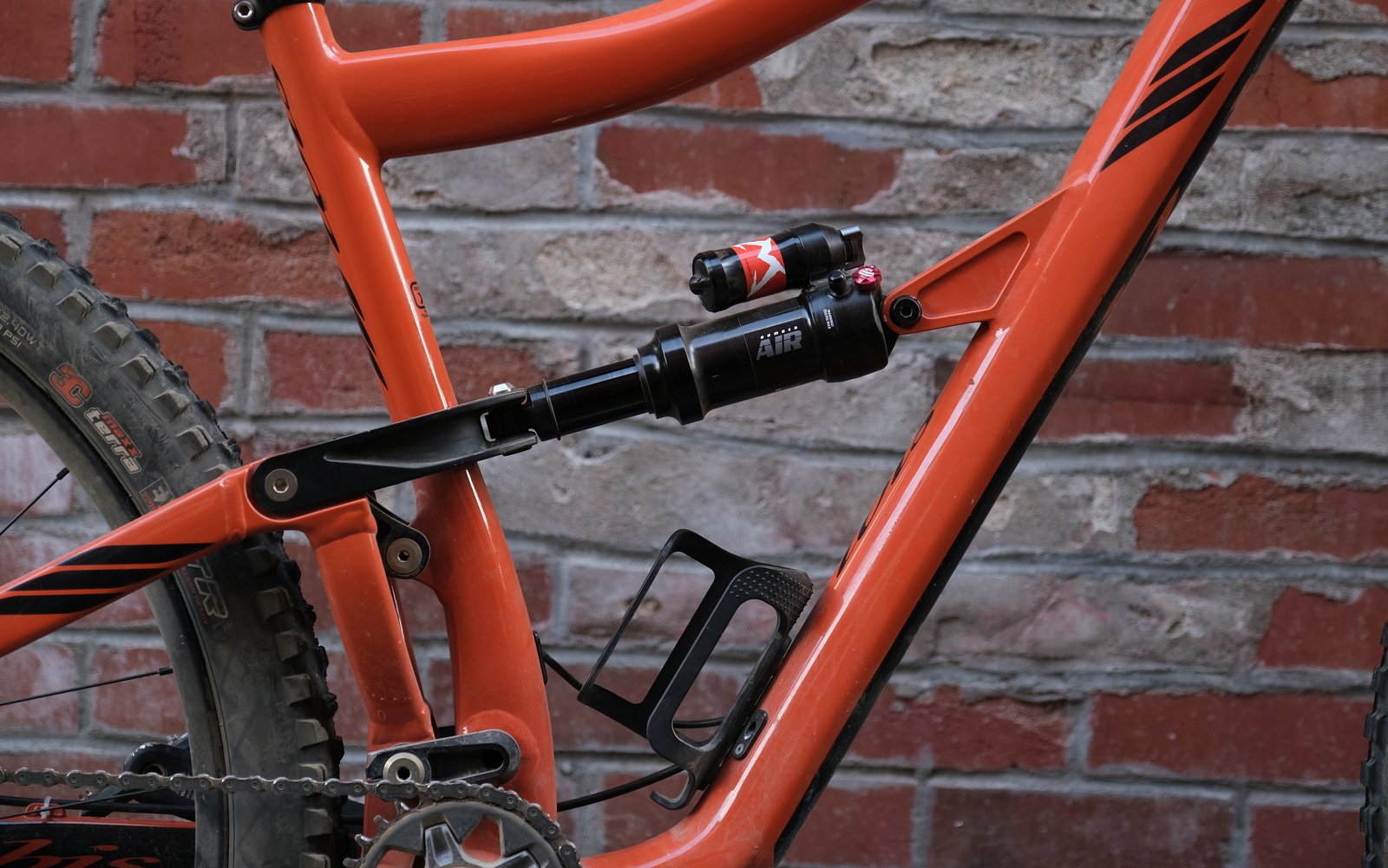 REVIEW
Marzocchi Bomber Air Shock Review
If you read my Ibis Ripmo AF review, out of all those words you can dig out that I liked that bike but I felt like it was a bit soft for my weight and riding style. Ibis has purposefully gone with a light tune, and stresses that fact repeatedly. As well, the leverage ratio really encourages the bike to settle in to the sag point and then flattens out once you do. This results in a really forgiving ride that will work well for many users, but it is soft. I found it to be especially noticeable when I put it head-to-head against the Canyon Spectral.
Once the Spectral disappeared, the Ripmo became my main ride and the platform for a bunch of test parts. I had an ambition to see if a different rear shock would change how the bike felt, so after some finagling, the Marzocchi Bomber Air shock showed up at my door. I've spent the last few months figuring out what this shock is about and if it has an impact on this bike.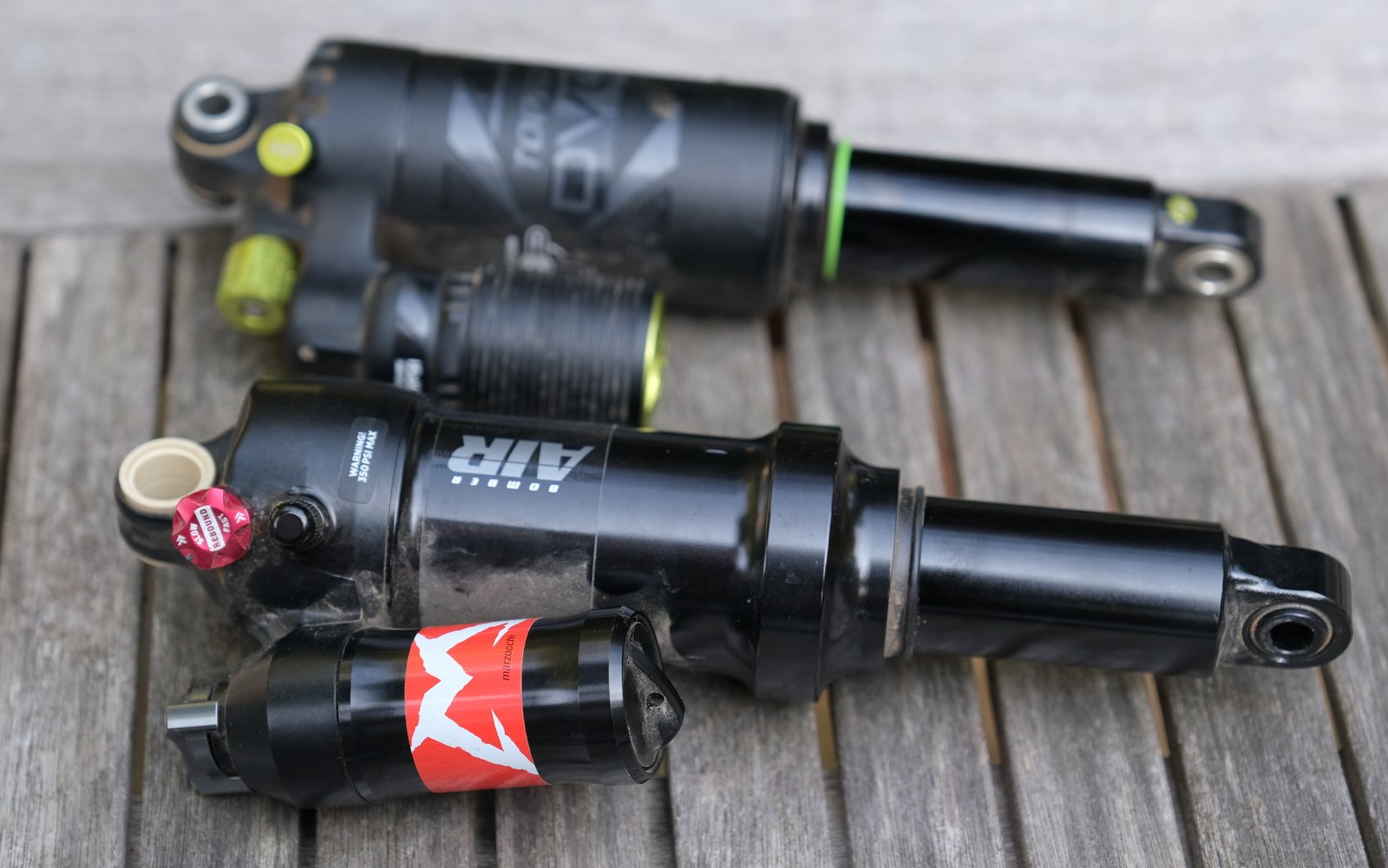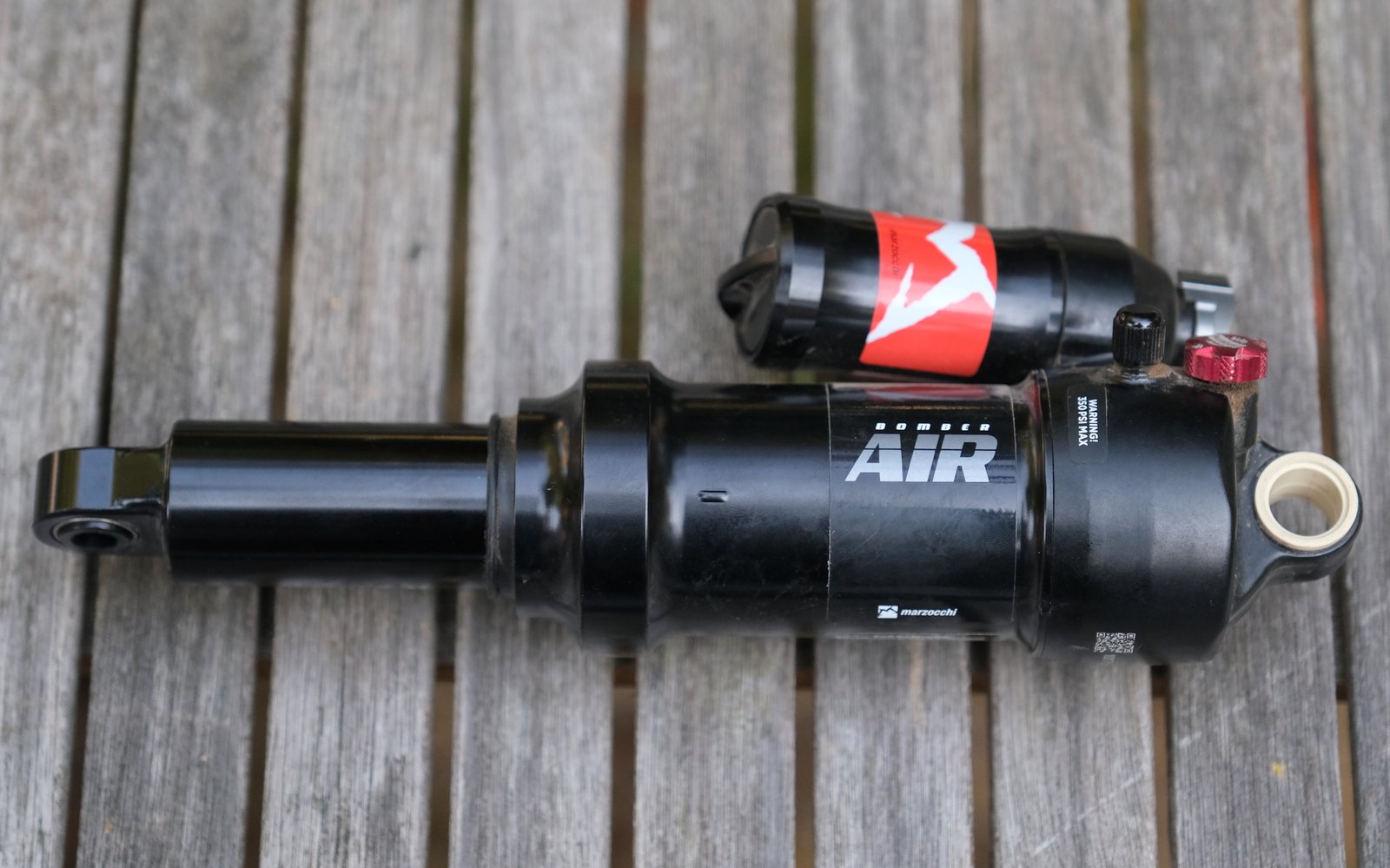 On Shock Tunes
We actually had a bit of a small NSMB argument on stock shock tunes for aftermarket shocks. My feeling was that the Marzocchi tuning guide suggested there was one stock tune shipped on aftermarket shocks. Others felt like this was nonsense. So I directly asked Marzocchi about this:
All Bomber Air shocks equipped by OE will have a bike/frame geo specific tune. All Bomber Air shocks sold by themselves come with a middle of the road "normal" tune and amount of volume spacers that is designed to work with all suspension designs and riding styles. The Bomber Air is very adjustable and can be adapted to your bike and how you ride it. A perfectly optimized shock might provide some additional performance benefit but a new shock nearly always rides better than an older shock. Adding/removing volume spacers will be the same procedure as folks are familiar with across FOX air shocks. And finally, if you were seeking a more frame/bike specific tune, it can be done by a registered service center or tacked on as an upgrade during a standard service interval.
I put this at the start of the review because I feel like it's a fairly critical piece of information. Anything that I say about ride performance is going to be quite specific to my weight (195 lbs.) and bike (Ibis Ripmo AF). Lighter/Heavier riders and bikes with less/more leverage are likely going to get different results out of this shock.
This also opens up an interesting can of worms about aftermarket rear shocks in general. If I were searching for the best bang for my buck using my own money I would have sent the stock shock back to DVO and asked for some tuning tweaks to suit my needs, rather than forking out for a shock that may or may not have the correct tune for me.
What the heck is it?
When this shock came out a few months ago, there was a lot of speculation on what it was. "Looks like a Float X" was the first thing said by many. Marzocchi countered with "No, no! Look at it! This part here is crooked! And this knob is a bunch different!" While both true, it felt like there was probably more to find out here, one way or another. The Fox/Marzocchi people seemed a bit guarded on exactly how similar the two shocks are, so I reached out to Steve Mathews at Vorsprung to help me unravel exactly what this shock is and isn't. I can't imagine anybody in a better position to know these things and to explain it to me using small words and short sentences.
"This is basically a Float X for the most part (same main piston/valving, air can, seals), but with a different compression base valve. The base valve adjuster has a 180 degree "sweep"; which is actually about the same as the Float X in function and range (speaking strictly in terms of the amount of oil flow it allows through the LSC circuit at maximum and minimum, not necessarily exactly what your min/max range of compression damping is), except they saved all that money on detents. The base valve piston machining however is quite a bit simpler, with one preloaded valve providing the climbing platform as well as the high speed circuit which means your lockout platform is tied directly to your HSC valving preload, whereas the Float X/DHX has two separate circuits for that (so you could conceivably preload the lockout to make it very firm without making any change to the main HS circuit or vice versa). If you're not actually a suspension tuning company though, the main practical differences are that you don't have a lockout lever, and that you don't have detents on the compression adjustment which is a bit annoying IMO especially given that it saves so little cost (they already have machining operations in the space the detents would go, it would cost them almost no extra per shock to have detents - maybe a few cents). The off-axis reservoir thing is pretty weird in that context, given that it then goes and increases the manufacturing difficulty again." - Steve Mathews, Vorsprung Suspension
This answered many of my questions, and created some more. After a lot of back-and-forth, I'm come up with this finalized, simplified version of what I think is going on:
The piston, seals and air can are identical to a Fox Float X.
The base valve is simplified and different than a Float X. The Float X has two separate, adjustable circuits and the Bomber has a single circuit with an adjustable low speed orifice. There are also no detents on the compression damping adjuster.
The reservoir on the Bomber is different than a Float X, in that it is angled and it houses a different base valve, but everything else is the same including the IFP.
The rebound damping adjustment is the same as the Float X, with only a low speed orifice adjustment.
While all of the damping adjustments are "low speed" in theory, these types of orifice adjusters tend to have a significant impact on high speed damping, particularly for rebound.
Volume spacers are specific to this shock due to the different base valve geometry.
What that means exactly is an interesting question to unravel. The good news here (I think) is that most of the parts are shared with a very common Fox shock. Replacing wear/service parts shouldn't be all that difficult. Indeed, have a look at the schematics for the Bomber Air and the Float X and you'll see a lot of duplicated part numbers.
You can also probably extrapolate conclusions for this shock based on the Float X. Durability of the Float X seems pretty good, as does performance. Much of what is said about that shock should hold for this one.
The big difference though, is with the compression valving. If you believe the literature, the aim for this shock was to give people an easy to process, set it and forget it shock experience and to accomplish that they've eliminated the climb switch and simplified the compression adjustment. Is it simpler though? I mean, there's definitely no climb switch and one knob that turns a half rotation is about as simple as can be. It gets a bit murkier when you try to speculate on whether that actually simplifies how you interact with this shock, and who might benefit from such a thing.
Tuning
Putting this all together, tuning your new Marzocchi Bomber Air shock is a pretty basic affair, with a setup guide to match. Set your sag to that recommended by the bike manufacturer. Dial in the low speed compression until you're happy with it. Start your rebound at what Marzocchi recommends based on your air pressure. Go from there. You can use spacers to adjust the amount of end stroke ramp and you can twiddle your knobs a bit, but for good or ill, this shock has fairly minimal interactivity.
For me, I wound up at the same pressure and the same 15mm sag (27%) as I had on the DVO that came off the bike. I set the rebound by bouncing up and down on it a bunch and turning the red knob until things felt pretty good. And I really didn't know what to do with the compression knob.
The compression knob does give a wide range of adjustment. It's not quite a lockout when fully closed, more like a really firm trail mode…but Fox climb switches tend to be a bit softer so this isn't too far off of that. Fully open there's still a decent amount of low speed compression. Same with the rebound dial. It takes you from rabbit quick to molasses slow.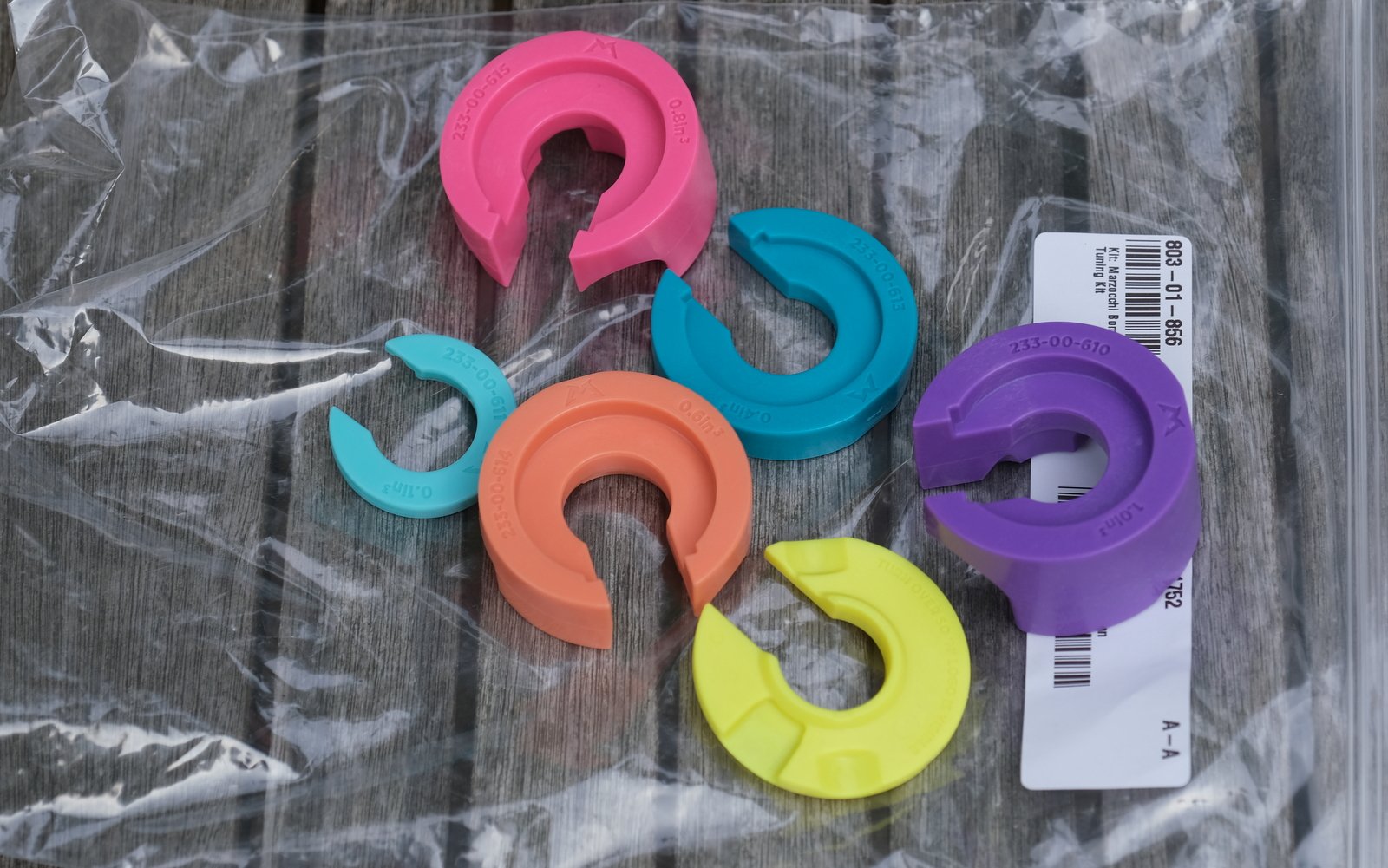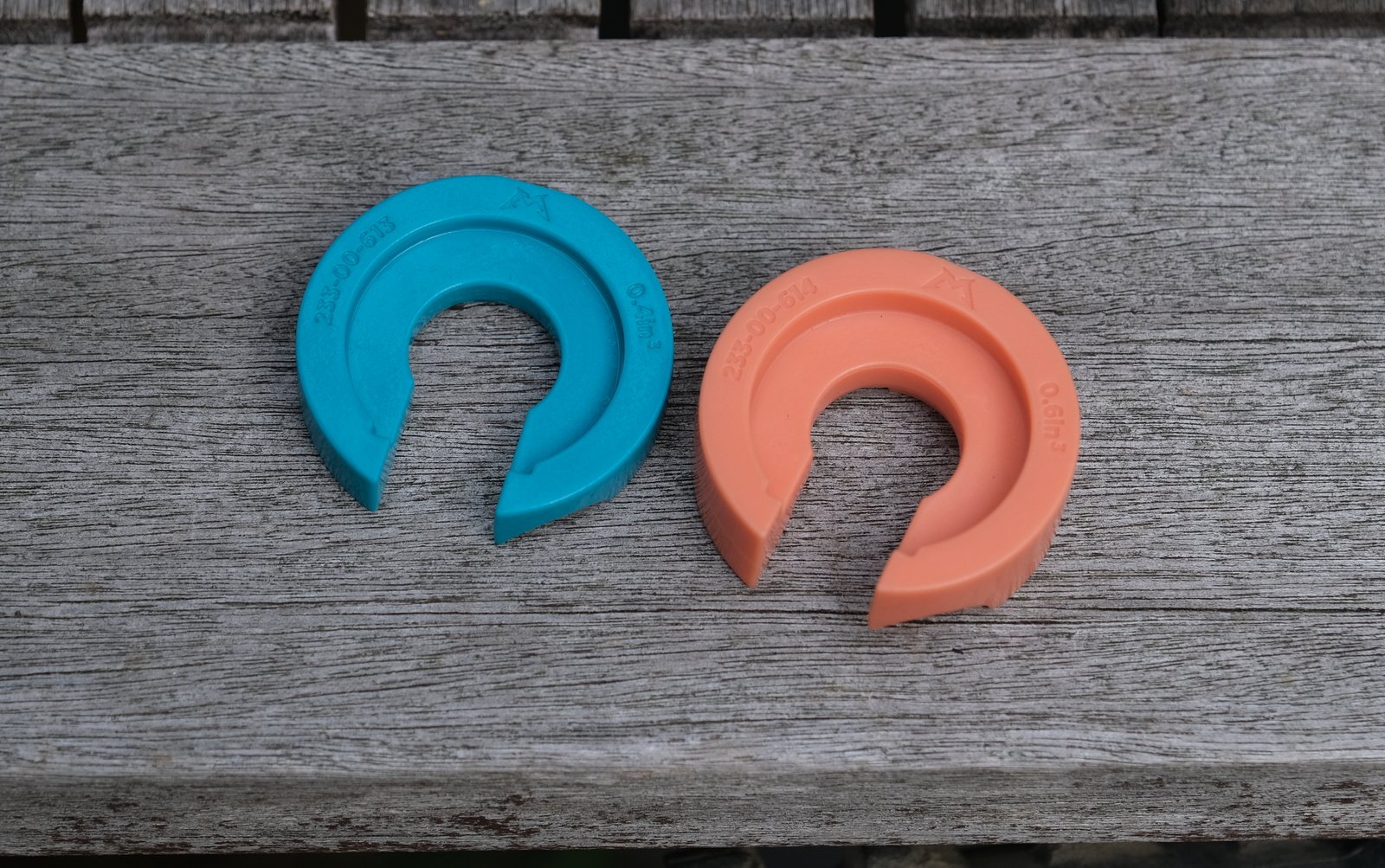 Riding the Marzocchi Bomber Air
Before we go too far I'll just state the important part. The quick answer is that I don't feel like this shock fundamentally changed the underlying characteristics of the bike. The bike feels pretty soft and it uses full travel fairly easily. It's supple in the initial stroke, has lots of climbing traction and eats travel once the speeds pick up.
That said, it is different, and it is better (again, for my style and weight). The first thing I noticed was the slightly heavier low speed compression tune. Even fully open, low speed compression is firmer, and you can feel this at most points in the shocks travel. The shock rides higher through the middle and is just a bit more controlled. The range of rebound is broader as well, which worked for me as I was nearly fully closed on the DVO. Hopping back and forth between the DVO and the Bomber, it always took a bit of adjustment going back to the DVO, but I could plunge right into things on the Bomber. Overall, the shock feels less nervous and more in control.
The other thing that helped was the really generous amount of tuning you can do using volume spacers. The shock comes with a 0.4 cubic inch spacer installed. The (not included) spacer kit includes a 0.1, 0.2, 0.4, 0.6, 0.8 and a 1.0 cubic inch spacer. The spacers are not stackable, but this should give you a wide range of adjustment from nearly nothing to a substantial reduction in volume. These are going to have more of an impact on your final spring rate than a couple of thin bands of plastic or rubber. Note that not all length/travel combinations can handle the larger spacers.
Moving up to a 0.6 cubic inch spacer was the final piece of the puzzle for me. This made the shock more progressive which lead to better bottom out resistance. It's not like the bike was clanging off the stops or anything, but a bit more bottom out resistance helped for me. It didn't have much of an impact on the rest of the ride, but I finished each ride with a bit more travel left in the tank.
Overall, the bike felt better. Nothing against the DVO, as it is doing exactly what Ibis wanted from that shock, but the stiffer tune and increased bottom out resistance allowed me to push the bike a little bit harder, and with more control.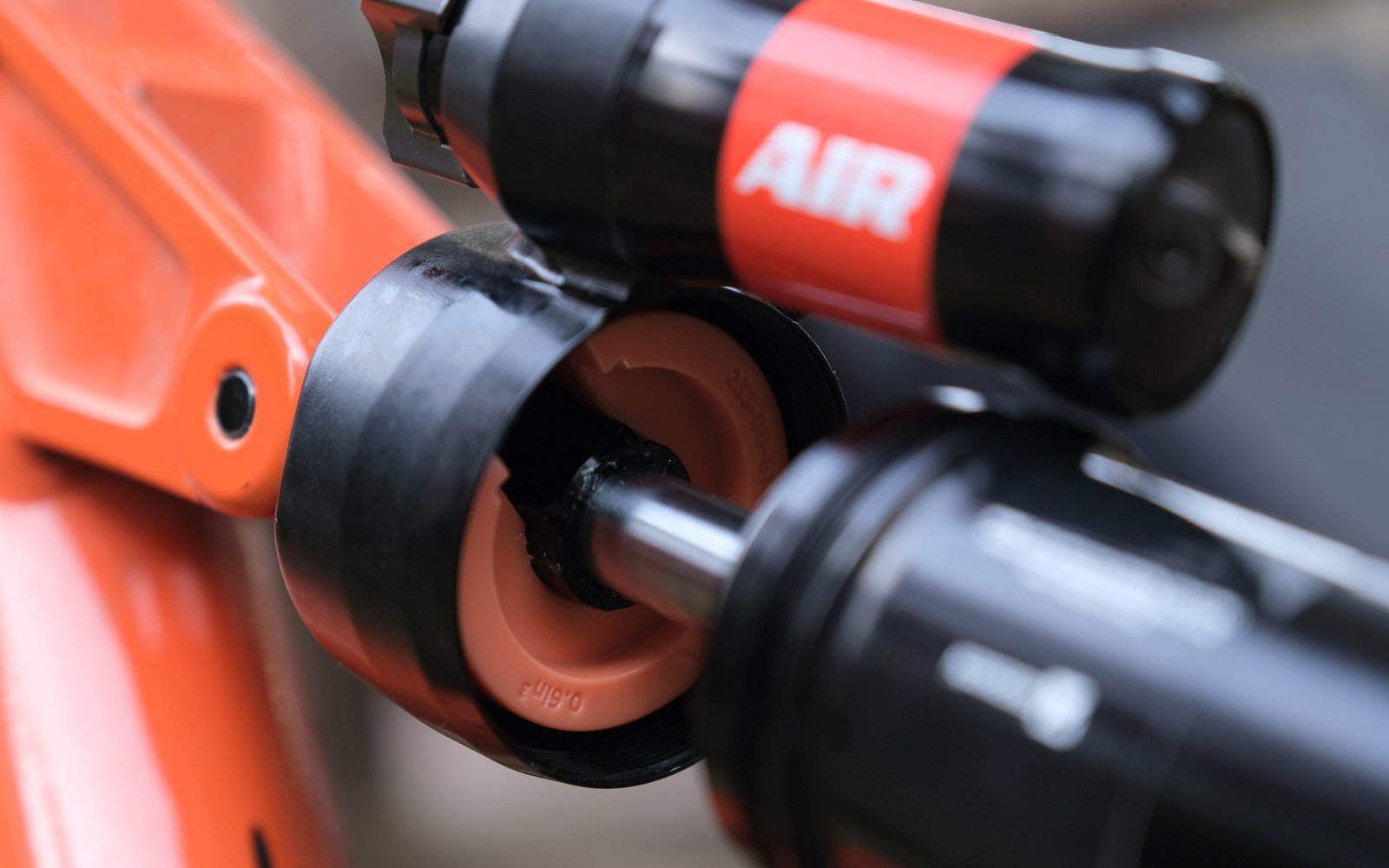 What about the compression adjustment?
The primary differentiator between this shock and the Float X is how each handles low speed compression damping adjustment. Fox has the classic climb switch and then your standard tooled adjustment with detents. Marzocchi goes with no climb switch and a tool free adjuster dial. I'll throw it back to Marzocchi to explain why they did this:
The Bomber Air is intended to be in-line with the Marzocchi family and complement the playful and supple ride styles expected for folks balancing the desire between a coil and an air shock in our lineup, and covers a huge breadth of riding styles/sizes, from 95mm to 205mm shock lengths. The concept here is a single, bomb-proof shock that would replace the need for selecting from different Float shocks (Float DPX2, Float X, Float X2) from Trail to DH.
User experience is in line with Marzocchi products – a simplified sweep style compression and rebound dial that have the same adjustability you come to expect from Marzocchi, but with a simple feedback and quicker change between "stops" to keep it easy to tune to feel, different eyelet structure, different reservoir shape for easier fitment and access to sweep dials.
This almost feels a bit backwards to me, as I find the classic Fox setup to be much simpler. Set your low speed compression once and then flick your climb switch a few times each ride. Isn't that easier to understand than an unlabelled dial? I honestly found myself struggling to know what to do with that knob at times. Sometimes I'd turn it all the way hard before a climb, and sometimes I'd dial in a quarter turn or so if I was riding faster, mellower terrain and wanted to be able to push into the bike a bit more. If I was a constant fiddler, maybe that easy to access knob would be just what I'm looking for. I'm not though, as I tend to leave things as they are once I'm happy with my setup, so the general vagueness of a dial with no clicks or indicators left me feeling a bit uneasy every time I turned that knob. Where was I? How much farther did I have to go? Would I ever find my way back?
In Conclusion
At the end of the day, there's a fairly tight needle to thread between this shock and the Float X. The Bomber is a bit cheaper. At 479 US for the Bomber Air, you'll get the shock and a meal or two at McDonald's for the same price as the Performance Elite Float X (I'm seeing conflicting MSRPs of 499 and 519 US for that shock). The Bomber comes in a few more sizes, as well (190x45, 210x50/52.5/55,230x57.5/60/65 and 250x75, as well as trunnion 185x52.5/55, 205/60/62.5 and 225x75…Fox Performance Elite doesn't offer all of those, according to the website). So, if you really don't want a climb switch, or if your bike needs a size that isn't offered in the Float X, this could be a win-win. If you do want a climb switch, or would prefer to accurately set your low speed compression clicks, then you should pony up for the Float X. I know what choice I would make.
So, wrapping things up, this shock worked well for me. It didn't dramatically change the bike relative to the stock shock, but it subtly shifted the bike in several ways, each making it a bit better than stock (for me). If your bike comes with this shock (or the Float X), you're in pretty good shape. If you've got a bike with a middle of the road compression ratio and you aren't too heavy or too light it could also be a decent option if you're shopping for an aftermarket shock. It saves a few dollars over the Float X and I guess it really boils down to whether you'd rather have a climb switch or a couple of Big Mac meals.