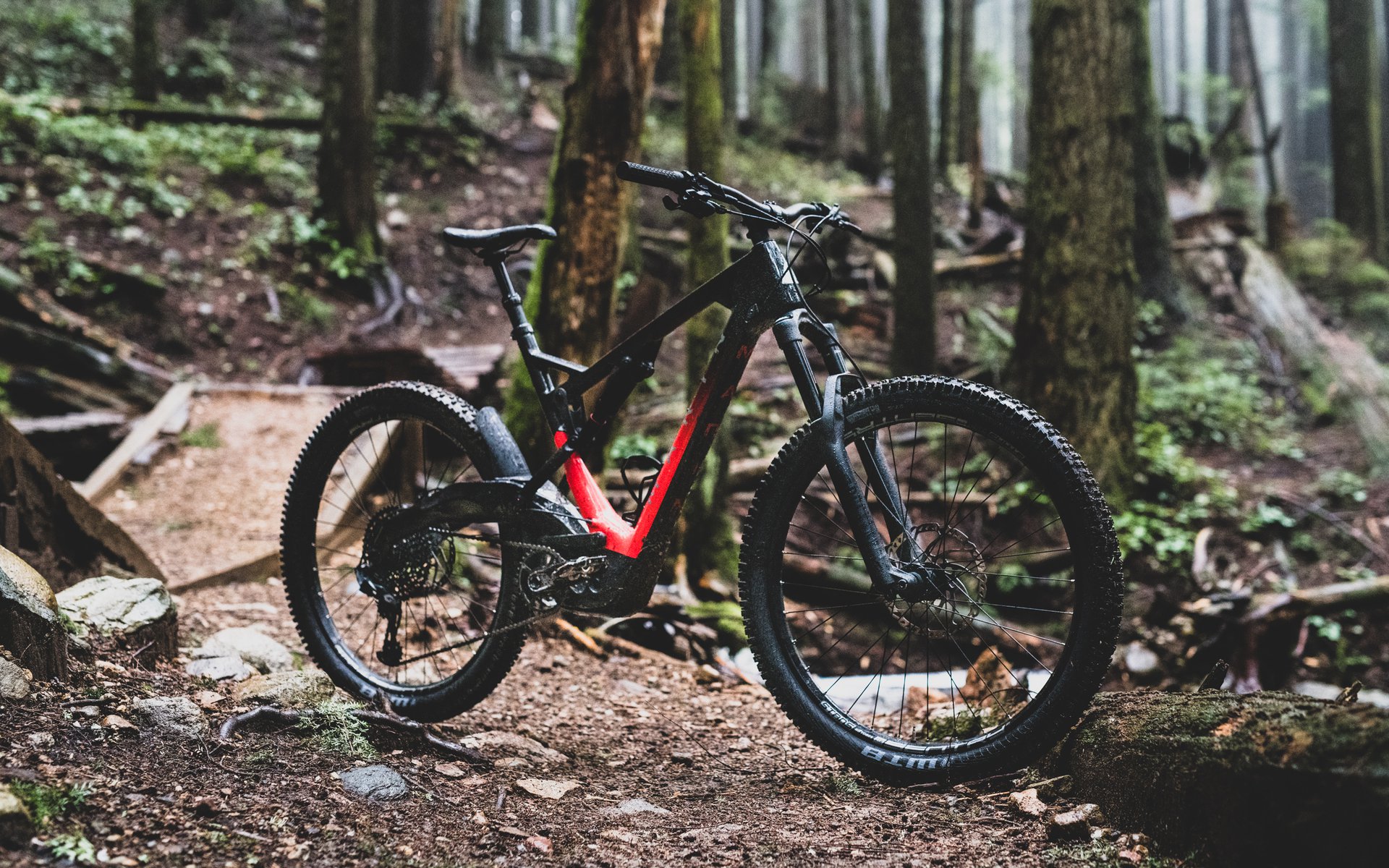 Loooong Term Review
2019 Marin Mount Vision 8
I'm a fan of idiosyncratic design, and outside the box thinking. Bucking convention in the quest to improve the breed. Last year Marin debuted the decidedly unique, if ponderously named, Naild R3ACT-2 Play suspension platform with the Wolf Ridge. The Mount Vision is Marin's latest bike to utilize this design. Are there advantages to this unique bit of engineering? I was curious to find out - let's have a look.
What's new with the Mount Vision? I had opportunity to ride the Wolf Ridge a few times (reviewed here by Andrew) and it pedaled surprisingly well for its ample 160mm travel, but I found the rear end deflected more than I liked when pushed hard (and I'm generally not opposed to a bit of lateral compliance). While the new Mount Vision trims travel to a more trailbike-esque 150mm, the relocated shock mount (from down to top tube – with the important addition of a swing link) makes the rear end significantly stiffer laterally than it's longer-legged sibling. It's also much kinder to the shock, as there's considerably less side loading. Said shock migration also frees up front triangle space for a water bottle mount, great news for the pack eschewing crowd (waves hand). Even better - the L & XL frames sport TWO sets of mounts.
Frame Bits & Bobs
The downtube swings quite low to facilitate the suspension slider. If you ride chunky terrain, the frame protector is going to see lots of use – fortunately it's a burly bit of plastic. Casing the frame is typically just a minor annoyance, but after the first time you drop into a steep rock roll and pinging the frame pitches you into a near death experience, you learn to check clearance beforehand. It'd be nice if they could tweak the frame radius a bit to afford tech riders a bit more breathing room. General fit & finish is quite good; nicely refined details throughout, with tidy internal cable routing and a two piece rear fender that keeps the frame slider mud free.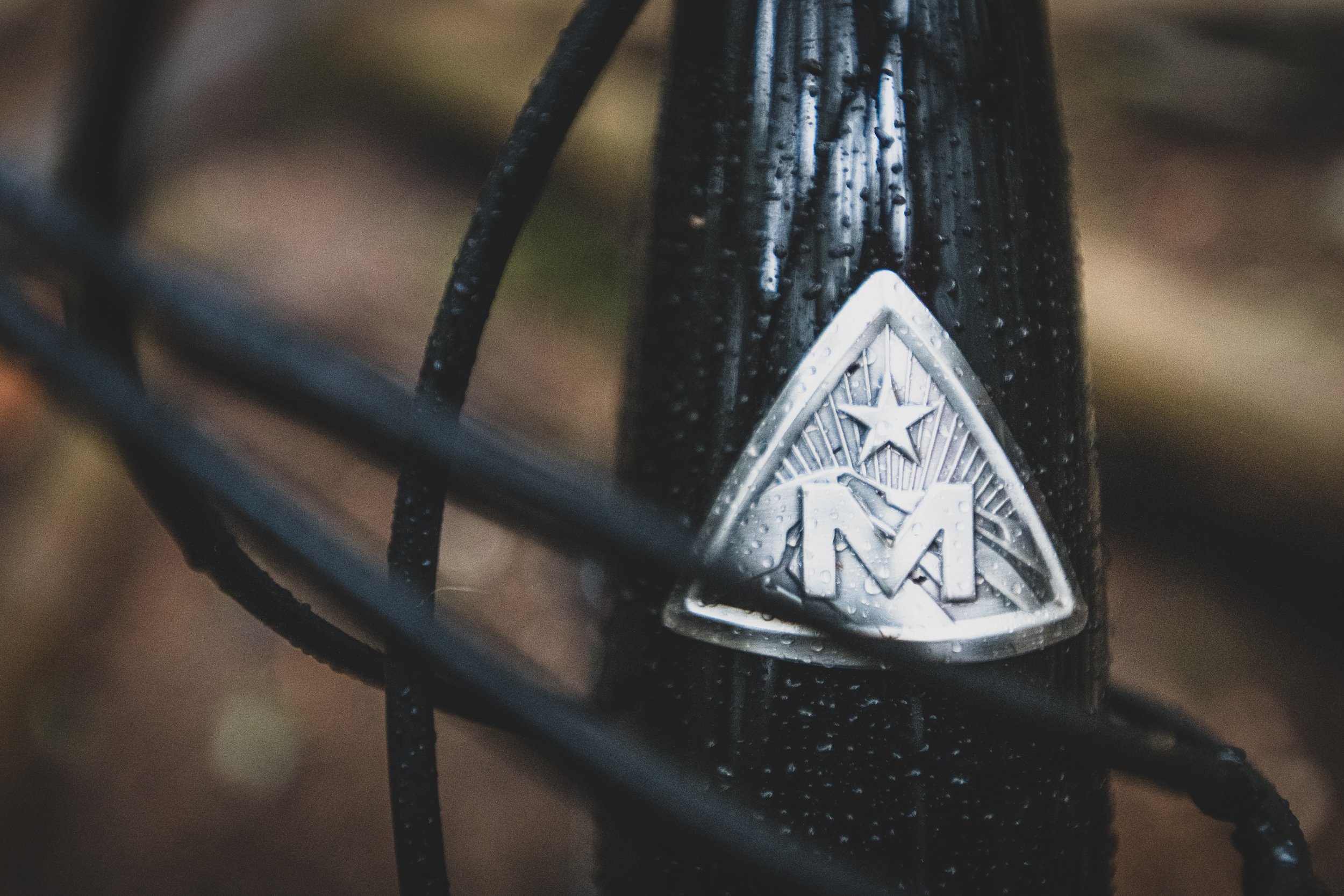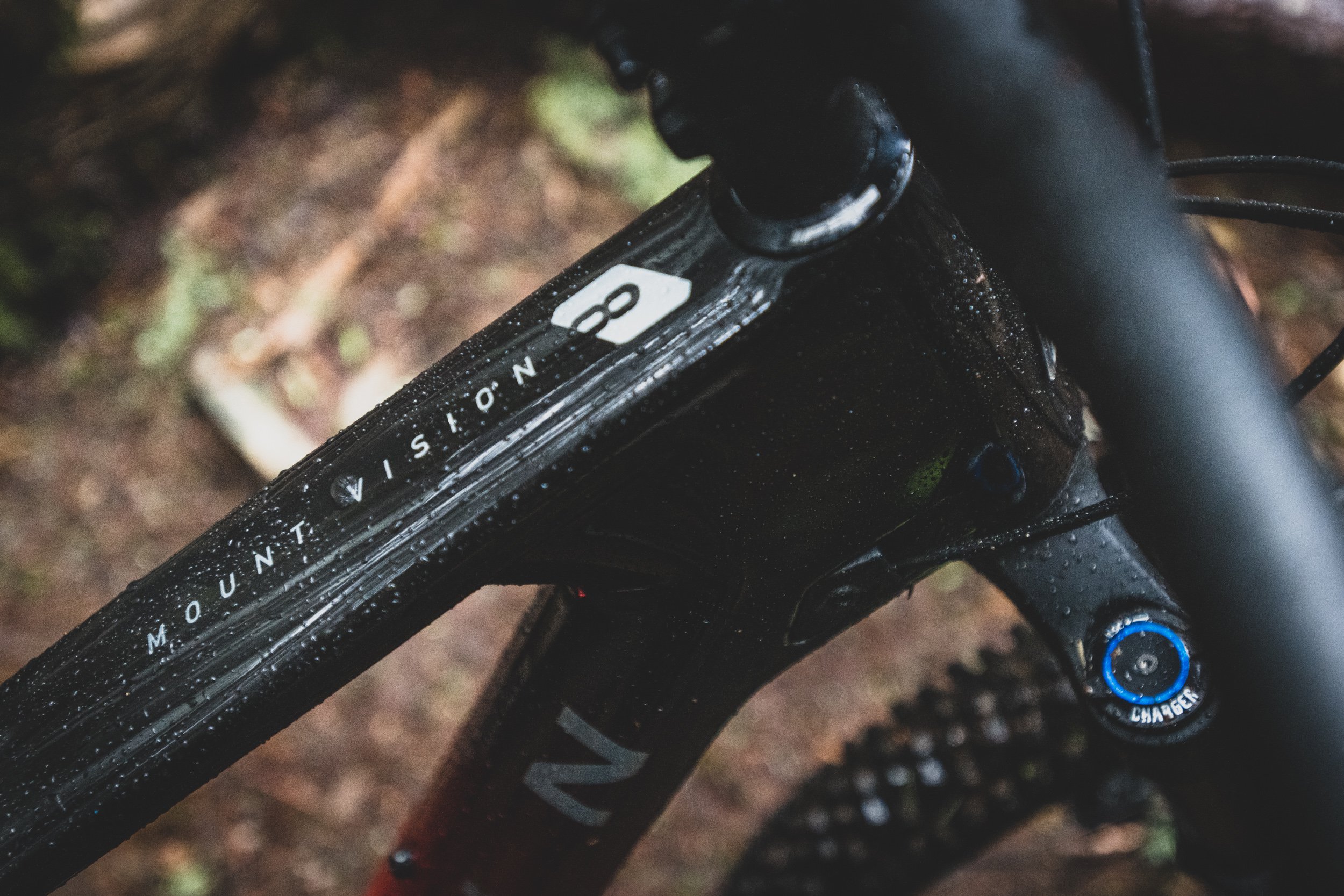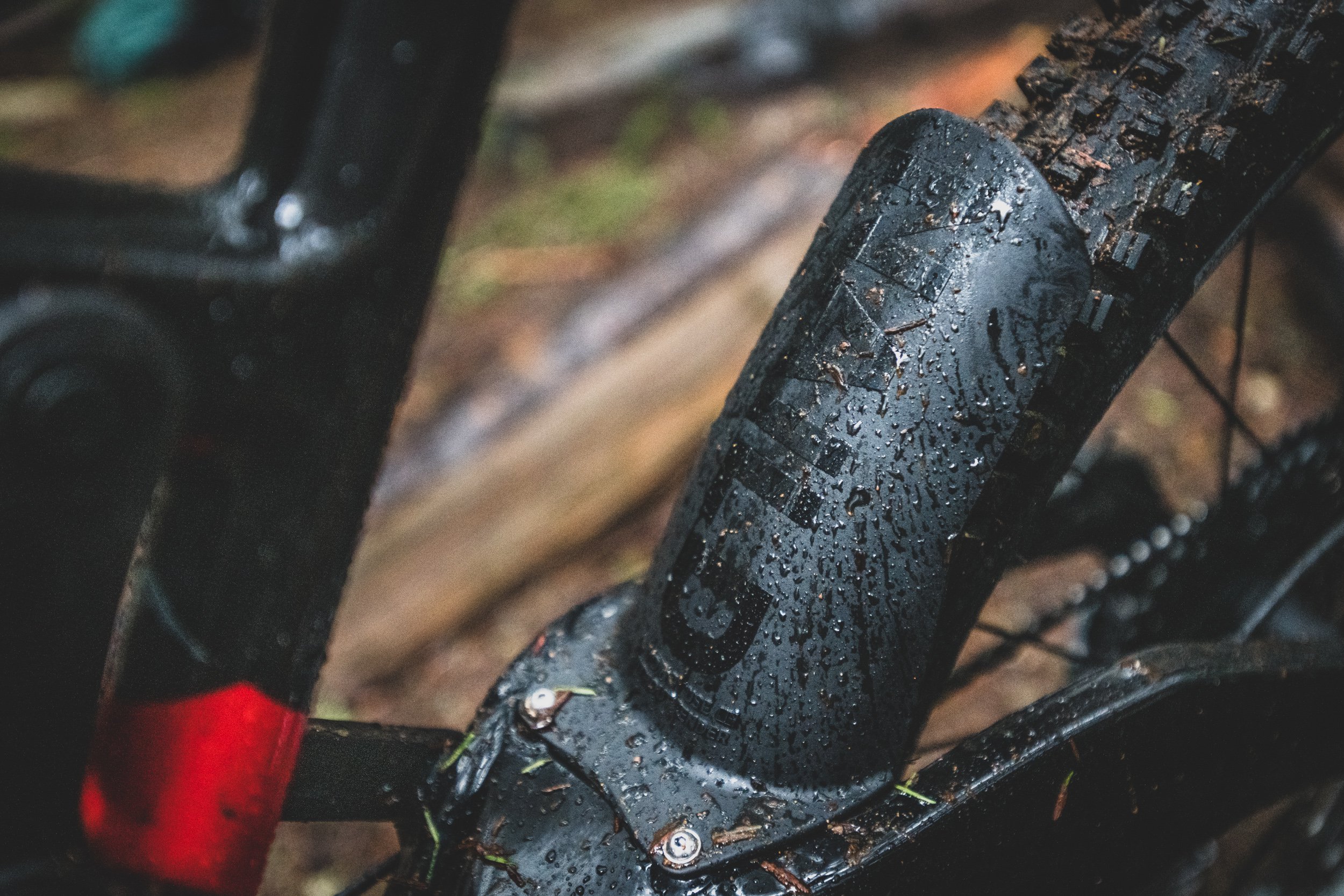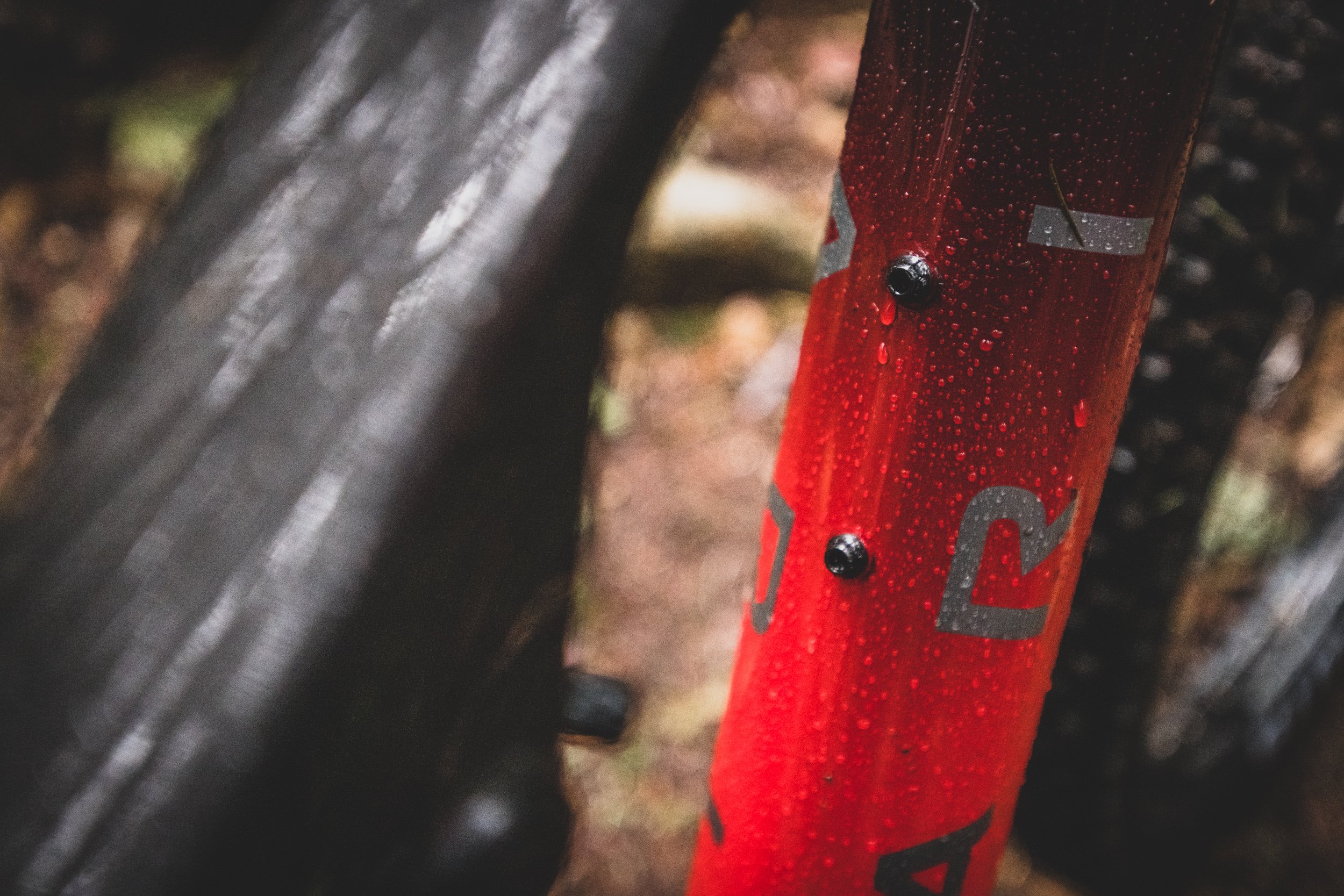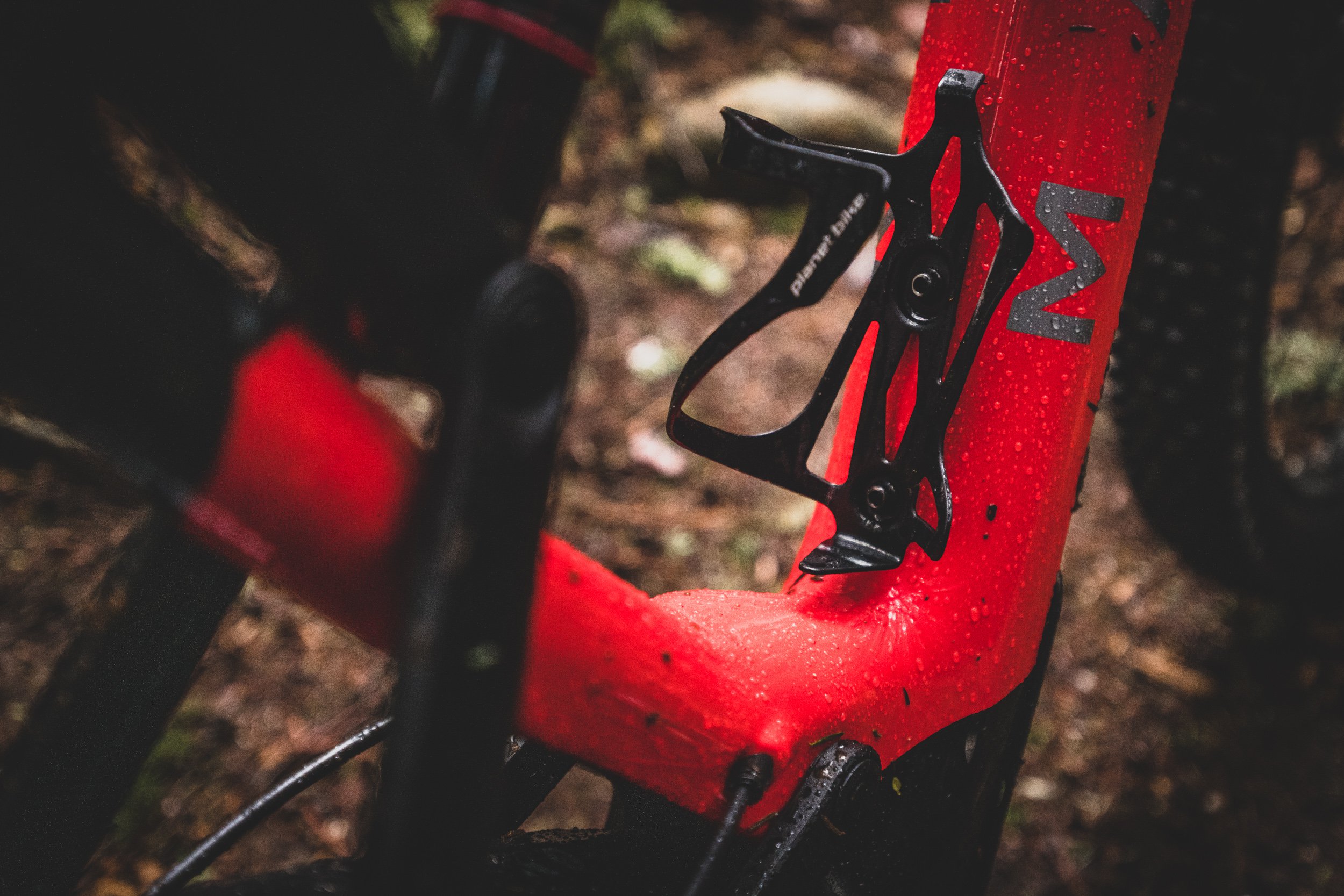 Geometry
| | | | | |
| --- | --- | --- | --- | --- |
| | S | M | L | XL |
| STACK (A) | 586.6 | 600 | 618 | 630 |
| REACH (B) | 432.2 | 453 | 471.5 | 493 |
| HEADTUBE ANGLE (C) | 65 | 65 | 65 | 65 |
| HEADTUBE LENGTH (D) | 90 | 105 | 125 | 138 |
| SEATTUBE ANGLE (ACTUAL) (E) | 62.6 | 63.1 | 64.1 | 64.1 |
| SEATTUBE ANGLE (VIRTUAL) (F) | 75.5 | 75.3 | 75.1 | 75 |
| SEATTUBE LENGTH (G) | 395 | 430 | 465 | 502 |
| TOPTUBE(ACTUAL) (H) | 516 | 538 | 563 | 585 |
| TOPTUBE (EFFECTIVE) (I) | 581.2 | 603 | 626 | 650 |
| BOTTOM BRACKET HEIGHT (J) | 330 | 330 | 330 | 330 |
| BOTTOM BRACKET DROP (K) | 30 | 30 | 30 | 30 |
| CHAINSTAY (L) | 420 | 420 | 420 | 420 |
| WHEELBASE (M) | 1160 | 1187 | 1213 | 1240 |
| STANDOVER HEIGHT (N) | 716 | 717 | 728 | 749 |
| FORK OFFSET (9 & PRO) (O) | 44 | 44 | 44 | 44 |
| FORK OFFSET (8) (O) | 46 | 46 | 46 | 46 |
| SEATPOST DIAMETER | 30.9 | 30.9 | 30.9 | 30.9 |
| HANDLEBAR WIDTH (9 & PRO) | 787 | 787 | 787 | 787 |
| HANDLEBAR WIDTH (8) | 780 | 780 | 780 | 780 |
| STEM LENGTH | 35 | 35 | 35 | 35 |
| CRANK LENGTH | 170 | 170 | 170 | 170 |
Geometry
The Mount Vision sports some fairly contemporary numbers. A reasonably aggressive 65° head angle paired with a 75° (effective) seat tube angle, and reach ranging from 432mm on the small, to a decently rangey 493mm on the XL. Despite looking really slack, the effective seat angle at full extension feels near the listed number. I prefer a somewhat steep STA, so I ran the saddle near full forward on the rails. Keeping in mind that I was on the XL frame. At 6'-0", I could have easily run the large frame, but I was curious to dabble in the realm of a near half meter reach. BB height is on the low side at 330mm (13"), and chainstays are on the stubby end of the spectrum at 420mm (16.5") for all sizes.
Specifications
FRAME
Full Unidirectional Carbon Fiber Frame, Naild R3ACT – 2 Play Suspension Technology, 27.5" Wheels, 150mm Travel, 148mm Boost Rear Spacing, Bolt On Thru-Axle
FORK
RockShox Pike RC 27.5", 150mm Travel, Compression and Rebound Adjustment, Solo Air Spring, 110x15mm Boost Spacing, Maxle Stealth, 46mm Offset
SHOCK
RockShox Deluxe R, 210x60mm, Rebound Adjustment, Custom Tune, Trunnion Mount
RIMS
Stan's No Tubes Sentry S1, 32mm Inner, Pinned Joint, BST Technology, Tubeless Compatible
HUB REAR
Forged Alloy, 148x12mm, Quad Sealed Bearings, 6-Bolt Disc, 32H
HUB FRONT
Forged Alloy, 110x15mm, 6-Bolt Disc, 32H
SPOKES
14g Black Stainless Steel
TIRES
WTB Trail Boss 27.5x2.6", Tri-Tech Triple Compound, Fast Rolling, Light Casing with Slash Guard, TCS Aramid Bead, Tubeless Compatible
DERAILLEUR REAR
SRAM GX Eagle 12-Speed
SHIFT LEVER
SRAM NX Eagle 12 Speed
CRANKSET
SRAM Descendant 6K Aluminum, Direct Mount 12-Speed 32T, Boost Spacing
BOTTOM BRACKET
SRAM GXP BB92
CHAIN
SRAM NX Eagle 12-Speed
CASSETTE
SRAM XG-1275 12-Speed, 10-50T
BRAKES FRONT
Shimano XT MT520 4-Piston Hydraulic Disc, 203mm Rotor
BRAKES REAR
Shimano XT MT520 4-Piston Hydraulic Disc, 180mm Rotor
BRAKE LEVERS
Shimano MT500
HANDLEBAR
Marin Mini-Riser, 6061 Double Butted Aluminum, 25mm Rise, 780mm Width, 5o Up, 9o Back
STEM
Marin 3D Forged Alloy, 35mm
GRIPS
Marin Locking
HEADSET
FSA Orbit, No. 42/47/ACB/S-4, Sealed Cartridge Bearings, 1 1/8"x 1 1/2"
SEATPOST
KS LEV Integra Dropper Post, Southpaw Lever, Size S 120mm Travel, All Other Sizes: 150mm Travel
SADDLE
WTB Volt Race
Build
My review bike is the cheapest of three spec levels. We're more often than not spoiled by five figure top tier builds; receiving a more budget friendly spec is refreshing. While it pains me to call a $5500 (USD) bike "budget," that's where we're at these days. Components are a solid performing mix of good bang for the buck bits. No carbon here, but no significant performance shortcomings. Detail below.
Cockpit Bits
the Marin brand stem, bar, and grips are all on point. No frills, but comfy ergonomics that get the job done. WTB Volt Race saddle is similarly cush for this tush. The 150mm drop KS LEV post did it's up/down duties well enough, but the clamp head developed a creak, and eventually a wobble by review end. I'd assume this is a warranty issue, but worth noting.
Brakes
The ebike specific Shimano MT520 stoppers are more or less a stripped version of XT 4 pots - similar chassis, but no adjustable engagement, and reach adjust requires an allen key. No complaints in terms of stopping power or modulation, but they did tend to pump up a bit on longer sustained heavy braking runs.
Drivetrain
The SRAM Eagle mix of NX shifter and GX derailleur and cassette handle shifting duties. While not as posh as the XO and XX siblings, these blue collar bits get the job done just fine.
Wheels & Tires
Stans Sentry S1 wheelset sports a contemporary 32mm inner rim width, and it stayed straight despite losing a bit of rear tension. The fat 2.6 WTB Trail Boss tires were decent all-rounders, working better than anticipated in the wet & slimy – the extra volume helping to somewhat offset the light-ish (EXO-esque) sidewalls. The smaller side knobs tended to fold a bit more readily than I'd like when pushed in corners, however.
Weighty Things
This is not a lithe bike. Not skimping on carbon, this frame is sports audibly thick cross sections throughout; a massive swingarm, in conjunction with a near E bike-sized downtube; its a stout chassis. Overbuilt perhaps, but this feels like something that's going to handle some abuse, unlike some carbon trail bikes that you'd fear tipping over, let alone tossing into the weeds when things get hairball. This base spec bike also sports no carbon components, and is shod with girthy rims and tires. The unique suspension platform adds mass as well; the cantilevered BB form factor, slider mechanism & plethora of pivots, rear fenders, and an especially burly downtube bash guard all add up. I'm creeping up on the fact that this (XL) bike weighs 34.5lbs as its sits (including my heavy Saint pedals). That number will likely scare those of more trailbike oriented ilk, though I can't say it felt terribly porky to ride (likely owed to great pedaling characteristics).
Climbing
supplying a 150mm bike with a shock that has no compression lockout lever is a bold move, but I can honestly say I never wanted for one. Even stomping out of the saddle, there's minimal monkey motion. Despite a high level of anti-squat, there's a surprising lack of perceptible pedal feedback when powering through chunky terrain. I'd expect the suspension to be more inactive under power, and feel kickback when pedaling into square edges, but the wheel just moves out of the way, and the bike smoothly sucks everything up. It's a unique feeling that had me picking the most chundery of lines just to see if it would hook up. Perhaps the addition of the slider offers a range of motion beyond typical 4 bar configurations? It's got FSR like sensitivity, but feels a good bit more efficient. Regardless of how it's achieved, it's certainly one of the best tech climbing bikes I've ridden.
Downing
Significant anti squat helps mitigate light compression damping and a relatively linear leverage curve, but even at a recommended 25% sag, the shock is quite happy to rip through all it's travel on a surprisingly frequent basis (and I'm a svelte 160lbs). Though only larger drops heralded cringe worthy bottoming noises, you'd definitely want to stuff some volume reducers in the can for regular aggressive riding. Unfortunately the base spec Rockshox Deluxe R shock offers only rebound adjustment - with such an active and lightly damped platform, not having the ability to fine tune the compression circuit is a bit of a miss. So it's a plush, but not wallowy platform. The ability to charge through the chunder, while putting down power efficiently on the sprinty bits, contributes to a fun and lively ride on the downs. The moderately slack head angle balances stability and agility, and the stubby chainstays facilitates slower speed drops, manuals, and general hooliganism, making for a solid technical terrain playbike.
Cornering: Due to the fairly significant disparity between front and rear center length on my XL frame size (493mm reach / 420mm chainstay), carving corners requires a bit more emphasis on dynamic technique - ie, forward shift to weight the front tire for maximum bite, transferring rearward towards the exit. Not terrible, by any means, but having previously ridden a design with more balanced weight distribution has me wanting for an inch longer swingarm.
Ruminations on Product Placement
At 150mm x 150mm travel, you'd be inclined to position this as a typical trail bike (if you want to get tedious about category pigeonholes), but given this bike's stout nature, thinking of this as more of an aggro trail / enduro thrasher seems more apropos. The 150mm Pike is a bit limiting when things get especially chunky, however. As an experiment I bolted on my 160mm Pike for giggles. 10mm doesn't seem like much, but adding a bit of BB clearance, extra cush, and a slightly slacker HA contributed to a nicely balanced aggressive ripper. I'd certainly chose this bike with a 160mm fork over the 160mm x 160mm Wolf Ridge as an Enduro race rig (as such it begs the question: where is the Wolf positioned within the current Marin lineup?). As this bike straddles categories somewhat, I'd have liked to have seen at least one of the spec levels focus a bit more on a race spec (with a longer fork).
Maintenance and Durability
The plethora of pivots stayed tight for the extent of the review, and the slider remained stiction free. Said slider is a non-pressurized component with good mud protection, so it seems to be a low maintenance component. I'd assume periodic cleaning and lubing - in keeping with typical fork & shock service, but Marin doesn't provide suspension maintenance guidelines, and the pivots use proprietary nuts, so they're not making things easy for the home gamer.
Final thoughts
Marin is waging a bit of an uphill battle with this bike. It's weighty. It's not conventionally pretty (to be kind). It has a heap of pivot bearings and a proprietary sliding component. The low hanging downtube likes to smash into hard things on a semi-regular basis. That said, it's not a bad bike. The suspension achieves the feat of balancing active plushness with pedaling performance impressively well, and it's a playful and effective all round ripper. If you're open minded to the aesthetics, this is a fun alternative to the mainstream.