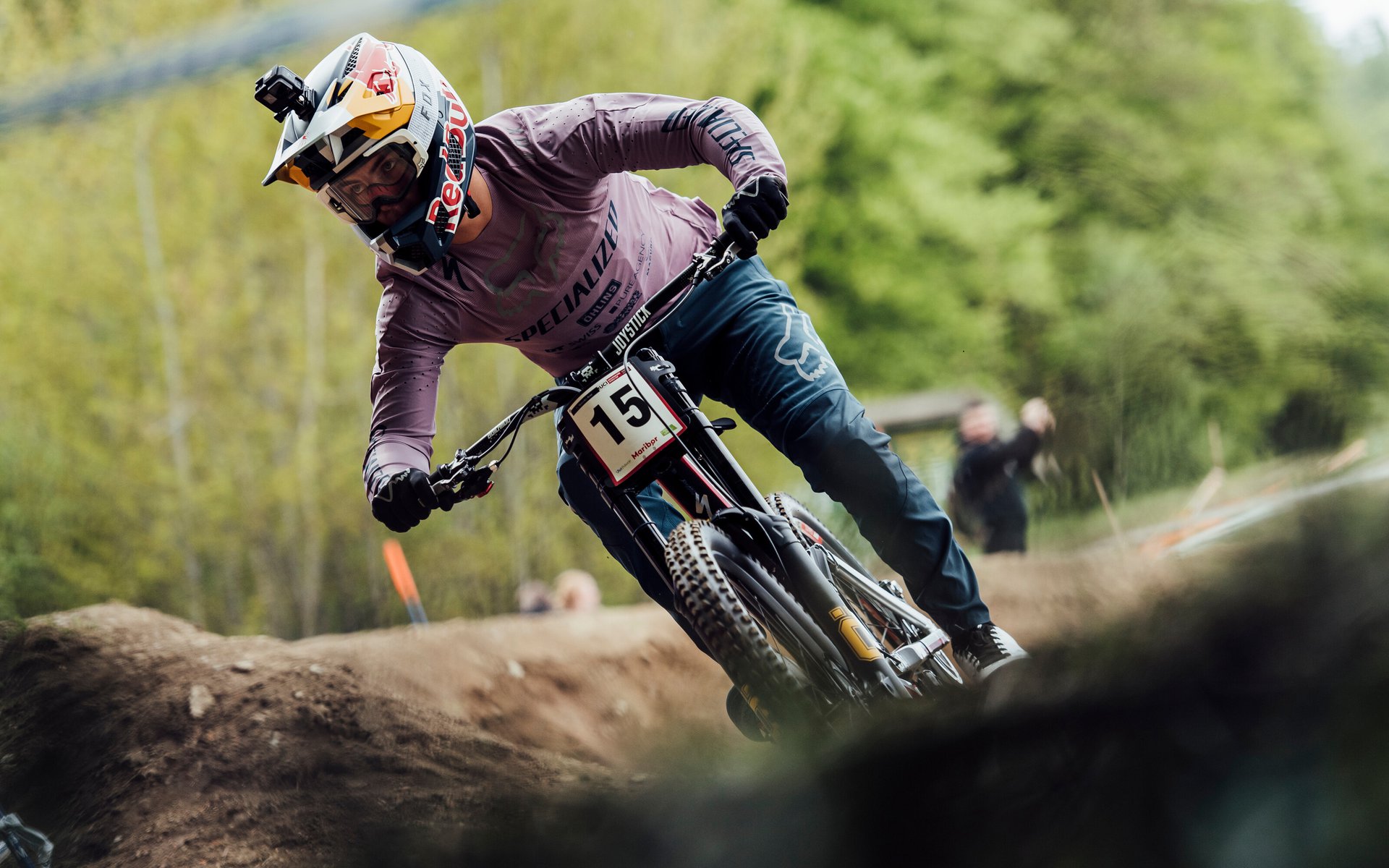 RACE NEWS
Maribor DH World Cup: Proof the Canadians Are Coming
After nine years apart, the UCI DH World Cup and Maribor reunited over the weekend in a dazzling affair. Although absent for some time, the Maribor track contained a number of sections raced all those years ago. There were new additions thrown in, creating what spectators saw as a fun downhill style pumptrack and giving riders new dirt to play with and the new sections challenged the world's best. Whoops, jumps, natural gaps and tricky rutted corners kept them engaged for their entire three-minute race runs. Throw in the technical rock garden, which was part of the track when Greg Minnaar won back in 2010, and racers were left happily challenged. If that wasn't enough, the dirt was slippery even in the dry, according to a number of racers. Maribor returned with a "real riders track" and made for thrilling racing.
With rain predicted for qualifying and race day, conditions were expected to grow more challenging. During practice some riders cleverly took weather predictions into account. But with a track so fun to ride, ripping laps and trying to find fast lines in the conditions mustn't have been a chore. Some of the weather predictions came true and by the time the elite men and women dropped in for their seeding runs, the heavens had opened. The women didn't get as wet as the men but still had to deal with extra polish on the hard packed clay sections. They managed it well and come finals time the top five were almost identical, though shuffled around.

It's pretty physical, probably one of the most physical ones (tracks), I think. – Tahnée Seagrave
When the men set off against the clock for the first time in 2019* the rain had set in. Greg Minnaar, who won here in 2009, fell victim to the conditions. A crash toward the bottom of his qualifying run put him on the bubble and when all was said and done he qualified 63rd, some 15 seconds back. After a shoulder injury in 2018 Greg wasn't a protected rider and for the first time in his career, he was out of the main event. Rachel Pageau, the only female Canadian racing missed qualifying in the hotly contested elite women's division.
*Let's be honest, timed training doesn't count for much.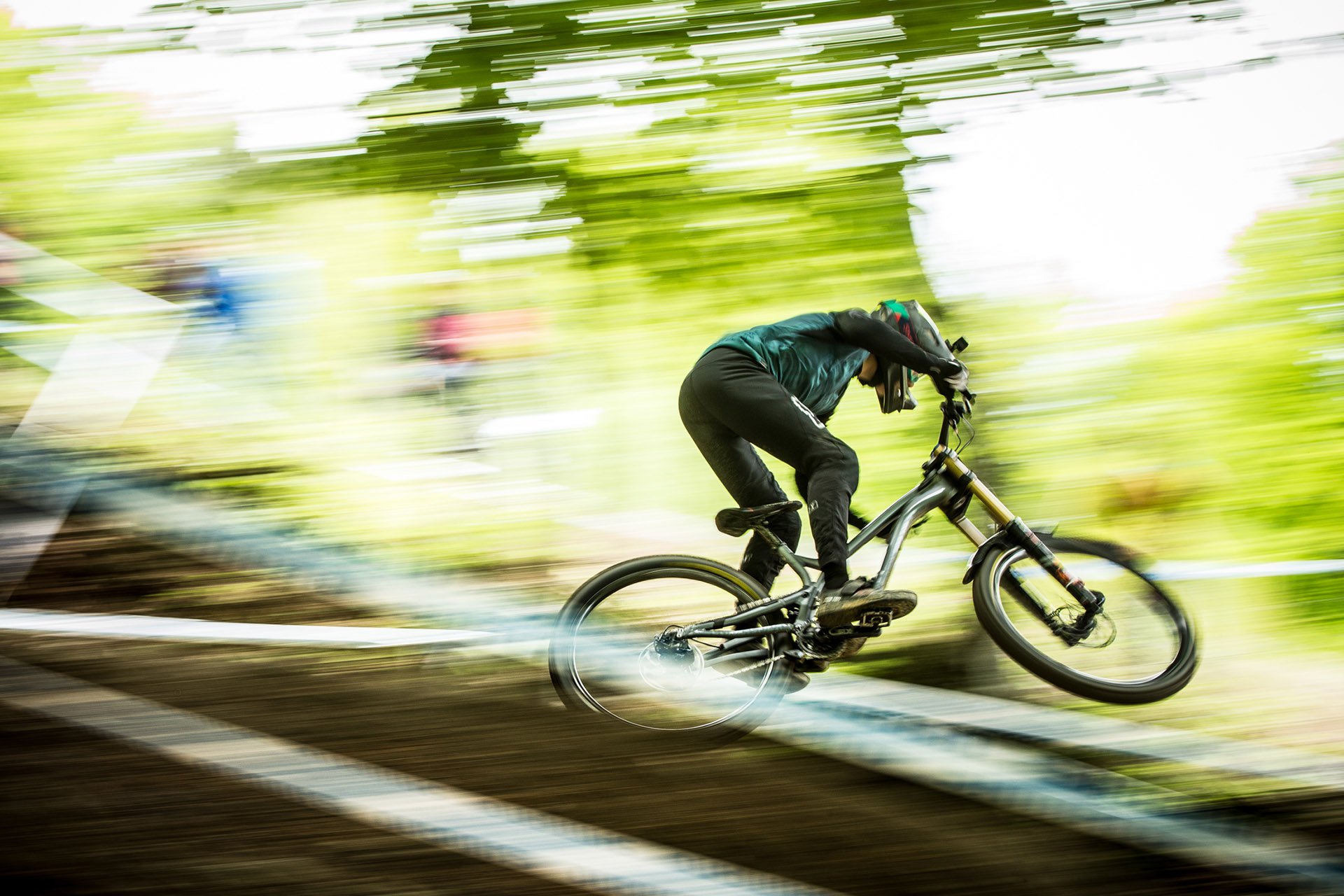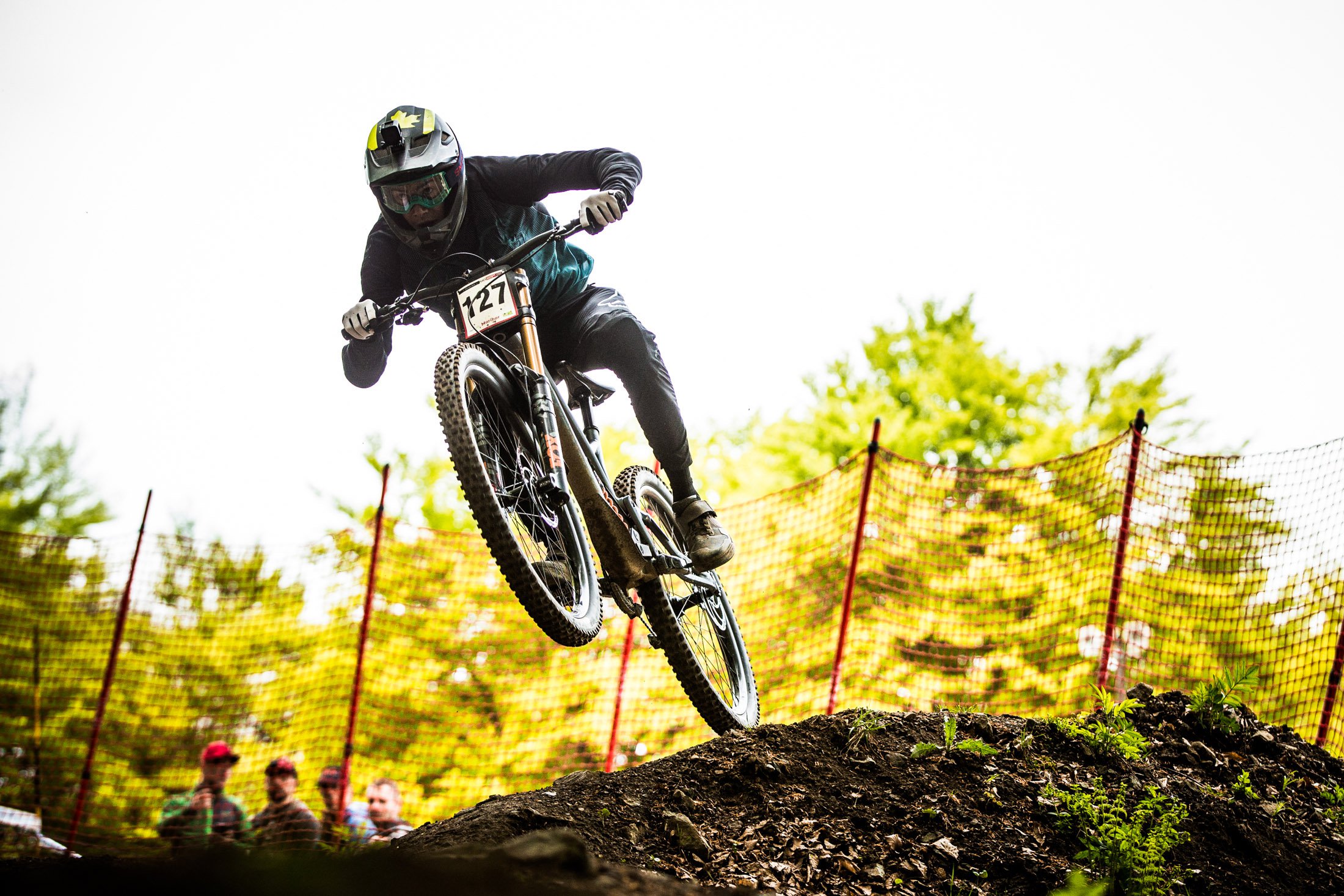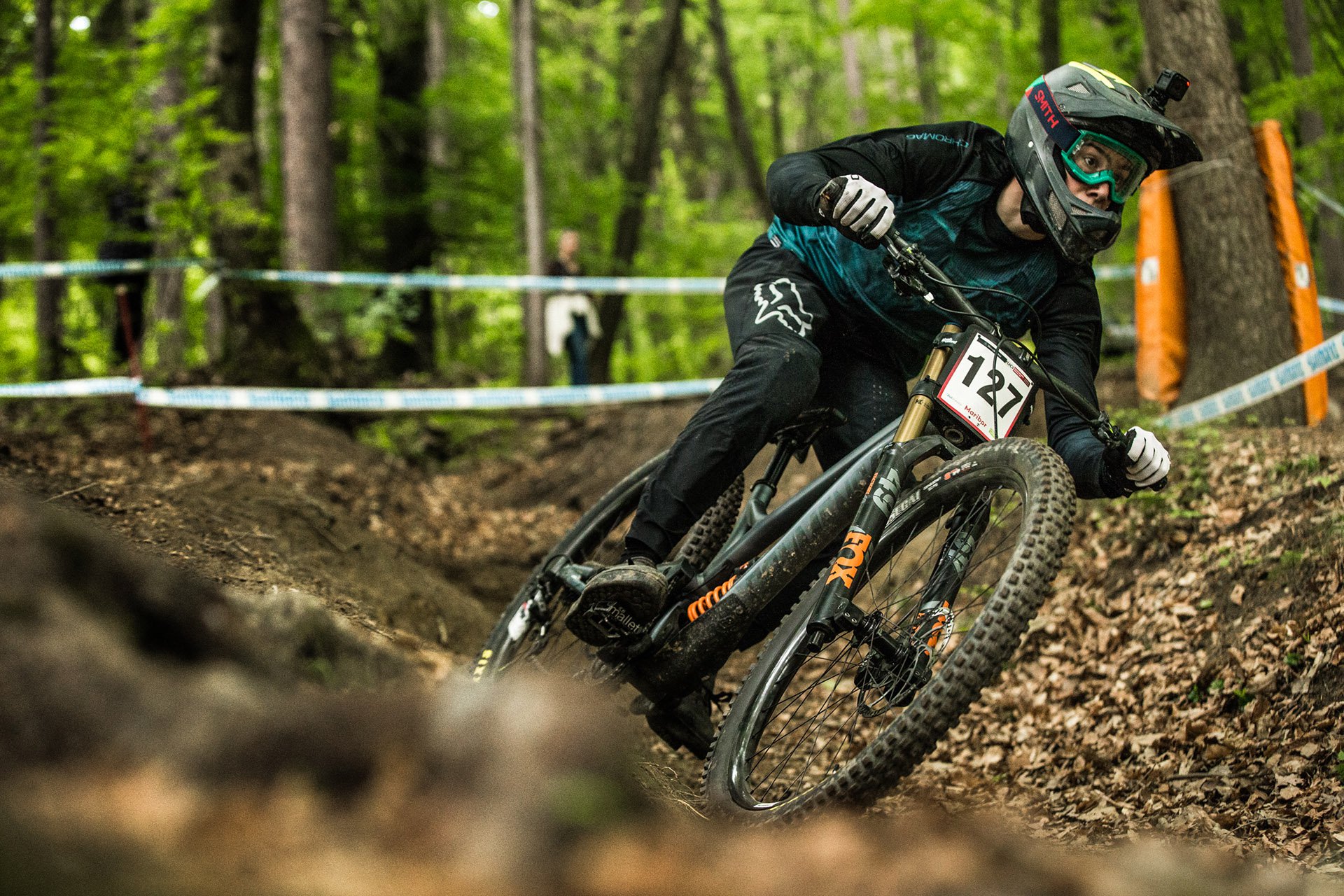 Stevie Smith's Legacy Shines Bright
One nation appeared unfazed by the conditions and took full advantage. The Canadians were led by Mark Wallace, Steve Smith's protegé, who took top honours in qualifying ahead of Aaron Gwin by almost 2 seconds. Finn Iles put Gwin into a Canadian club sandwich, sliding into third on the same second as the U.S. rider. In his first World Cup in the elite field, young North Vancouver resident, Ben Wallace, slid into 19th. For the first time, three Canadian racers would be seen on the live broadcast.
For the junior field, it was a similar story. In his first World Cup race, Ethan Shandro, son of legendary freerider Andrew Shandro, qualified second. Ethan's time placed him 2.8 seconds behind the impressively quick Thibaut Daprela. Lucas Cruz started his second season racing the Junior World Cup series in a similar fashion to his first, securing a top 10 position with a strong sixth place finish. In fifteenth was surprise 2018 racer, Elliot Jamieson. Jamieson jumped aboard a borrowed DH bike in 2018 and blew the doors off in Mont Saint-Anne. After coming from nowhere he qualified fifth and finished with sixth place. Then he medalled at World Champs. His qualifying run in Maribor wasn't as strong and he slid into fifteenth. Ian Milley was another Canadian junior also in the top 20, qualifying 17th.
Come race day the Canadian assault continued, but no one was able to match their qualifying results in the dry and fast conditions. Danny Hart was the first to break the three-minute mark, posting a 2:59.243—good enough to secure second place. After qualifying first, Mark Wallace was the last man down—something I hope to see him get used to. He finished an impressive eighth in a top ten that was within three seconds. Finn Iles was on a stormer and was in touch at the first split but got unlucky and went down shortly after. Forrest Riesco—another Canadian to watch—secured a 44th place finish, just over eight seconds back. The entire top 50 was within a 10-second range placing this among the tightest races in recent memory. In fact it was tighter than a camel's behind in a sandstorm.
The Canadian juniors remained strong and faired better. Ethan Shandro secured second place behind young Frenchman, Thibaut Daprela. Daprela continued his dominance of the junior field and put over three seconds into Shandro. Lucas found time on the drier track and jumped two places to finish the weekend in fourth. After crashing in his race run, Elliot Jameson couldn't better his qualifying result. He was bumped by Canadian Ian Milley, and Austin Dooley from the U.S. Milley secured 16th while Jamieson finished in 17th. The young Canadians have a French rabbit to chase and with Daprela already having a strong season plus an overall under his belt, he won't be easy to catch. They're on pace though which will make for yet another exciting season of racing for the junior men. It's also perfect for pushing them to be quicker still which will hopefully result in the continued growth of Canadian downhill racers.
For years, and especially when Stevie was dominating, I was often asked why more Canadians weren't competitive on the world stage. It was always a confusing discussion; we have the terrain and some of the best bike parks in the world. Mountain bikes have also steadily built to be one of the go-to recreational activities. But when it came to racing no-one had an answer for the fastest on the planet. Until Stevie came along. We first saw his influence really starting to shine through when Finn Iles began posting impressive results and Steve's own riding partner, Mark Wallace first showed his potential.
Like anything worth waiting for, the arrival of Canadian racers has been a slow and steady burn, but it is happening. The results from Maribor are proof of that. Perhaps with the success of these racers, we'll begin to see more Canadian racers hold onto their DH bikes and avoid the swoon of Enduro.