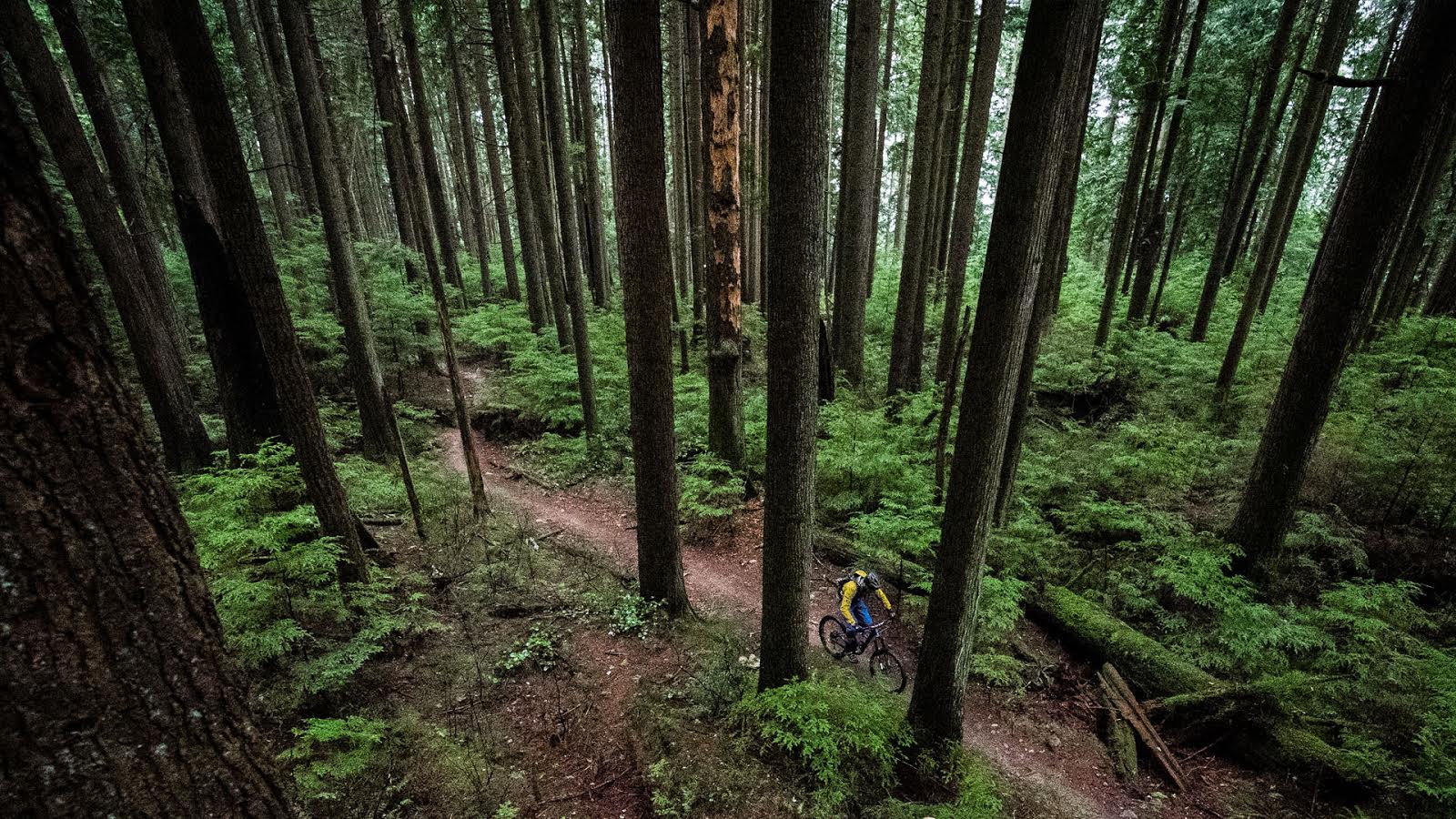 Maple Syrup
Vancouver Island is home to many, many kilometers of sweet, loamy single track, lots of it purpose built for mountain biking. There are five main zones to find good mountain biking on Vancouver Island, near Victoria (Broom Hill, Harbour View, Hartland, Partridge hills), Cowichan (Mt. Tzouhalem, Mt. Prevost and Maple Mountain), Nanaimo (the Abyss, Doumont, Westwood), Comox Valley (Dodge City Trails, the Forbidden Plateau, Hornby) and all the amazing trails in Campbell River (Elk Falls Provincial Park, Beaver Lodge Forest Lands, and the Snowden demo forest).
This is the the tip of the iceberg too – just about every community on the island has awesome trails. While there are many legal trails on Vancouver Island there have been none in the Cowichan Valley, that is until now.
The trails in the Cowichan Valley are among my favourite to ride – you have the sweet gravity fueled adventures of Prevost (where Stevie Smith learned to shred), the well-established trail network of Mt. Tzouhalem which offers a great day trip for folks from Victoria looking for something with a little more flow. Maple Mountain, however, has always been a bit of a mystery: rumor of trail there abounded, and my one early adventures there turned into a route-finding fiasco.
A few years ago I became friends with legendary Kootenay trail builder and all around rad guy Riley McIntosh. Riley was originally from the Cowichan area, and had moved back to the Island last year after being in the Kootenays for over a decade. Riley is in my mind the best trail builder out there, and his story deserves much more than a short mention. [Riley's excellent piece Raising Retallack gets into parts of that story, as well as the more recent A Refreshed View of Home. -Ed]
Trail building is one of the most unique elements of mountain biking, a very small dedicated group of people make trails for the rest of us to enjoy. While some of us get out every few weeks or every few months to help out it really is this small group of people with intense passion for trail building that make mountain biking possible.
Riley had a vision of great trails in his own back yard, and teamed up with a group of other like-minded individuals to form the Cowichan Trail Stewards Society. Their first project is the first legally sanctioned trail in the Cowichan. This was a very big undertaking, the build being almost a full time job for Riley and a few other hardcore diggers, while weekend warriors like myself come up over the Malahat from Victoria, sometimes dragging some extra hands and tools, sometimes shaking off the effects of Beer Fest to help out.
The build was challenging to say the least – the fact that it was completed in time for the grand opening was a miracle of project management. It was an incredibly hot and dry summer on the Island, and due to fire risk there was a ban on trail building for at least six weeks, and at least another two more without the use of power tools. Putting in monster days, still somehow they managed to stick to the targeted opening date of October 26th.
Vancouver Island is a very interesting place; it's the place of my heart and my adopted home, but people here are amazingly apathetic when it comes to things that are positive. Sure you can always scare up a few hundred people to protest something on the lawn of the provincial legislature, but getting people to come out for something fun and positive… is a bit of a challenge.
For the grand opening of the "Pilot" trail (which includes Upper And Lower Maple Syrup, the Dark Forest, Solar Coaster), more than 200 people showed up. That in and of itself is pretty impressive: you had a large crew out from Nanaimo, a big contingent of local riders, people from Victoria and across the water in North Van and Squamish.
The trail is about 5 km up a relentless logging road (the next task is a machine built up track, but they will need some more donations for machine time) and then 9 km down of, in my mind, some of the sweetest single track in BC, if not the world. You have a mix of some terrific flow and a few steep chutes and then gradual grinds to get your elevation back. I've never seen a better a use of the terrain, and it would make an awesome enduro course. I can't wait to go back and grab my friends who couldn't make it out for a lap.
The trail is pretty impressive as each section has its own character, the top is pretty technical, the middle had some of the best flow and berms around, and the bottom, well your pretty bagged by the end and just looking forward to an oat soda, but all of it is pretty awesome. Every feature has a ride around and the wooden features on the trail are amazing, nice and wide, cedar planks from a local mill. The smell of fresh cedar on the trail was nice break from the funk of my technical fibers.
The sign posts are well marked with proper topo maps and appropriate advanced or intermediate markers. The only other place I've seen this type of setup was in Santa Fe – it really reduces the risk of a route finding fiasco your first time out. Features again use the ski hill marking system so a tech feature doesn't sneak up on you.
The overall vibe of the event was pretty amazing too, plenty of post ride food, awesome vegan energy balls during the home stretch. Despite over 200 people on trail there weren't any bottlenecks or episodes of dickishness. One of my favorite things about mountain biking is that the people who ride are all pretty awesome, even people who you think should be kind of a dick usually aren't.
But getting a bunch of mountain bikers out for something that isn't a race is usually a challenge. The turnout is that much more impressive as it is a good signal to the municipal government of the value that mountain biking can bring to a community. The hope is that one day these places can end up like Rossland or Revelstoke where there is a paid trail crew that builds and maintains these dirt, rock and wood works of art – and the show of support from the mountain biking community here at Maple helped to further that goal.
A fun little fact, but did you know that mountain bike tourism in Fruita / Grand Junction Colorado brings in about $42 million to the local economy? A good example of the immediate payback for the community from the grand opening was that there was a truck there from the Craig Street Brewery at the gates; guess where we went for post ride beers?
The Trail Stewards has also been well supplied with meat from the Duncan Butcher…. Guess what I always pick up from town post ride in Duncan… hmmmm… meaty goodness. With more trails like this Cowichan could really become a destination spot on the island, not just for islanders and the lower mainland, but also for people from around the world.
If you are on the Island, Maple Mountain is now one of the "must rides" in addition to Thirsty Beaver in Cumberland and the Hornby trail system.
This story was originally published at The Mountain Bike Life. For more beautiful photos of this event check out Dave Silver Photography.
---
Maple Syrup looks like a sweet ride indeed – do you have any trail success stories from your local riding area?