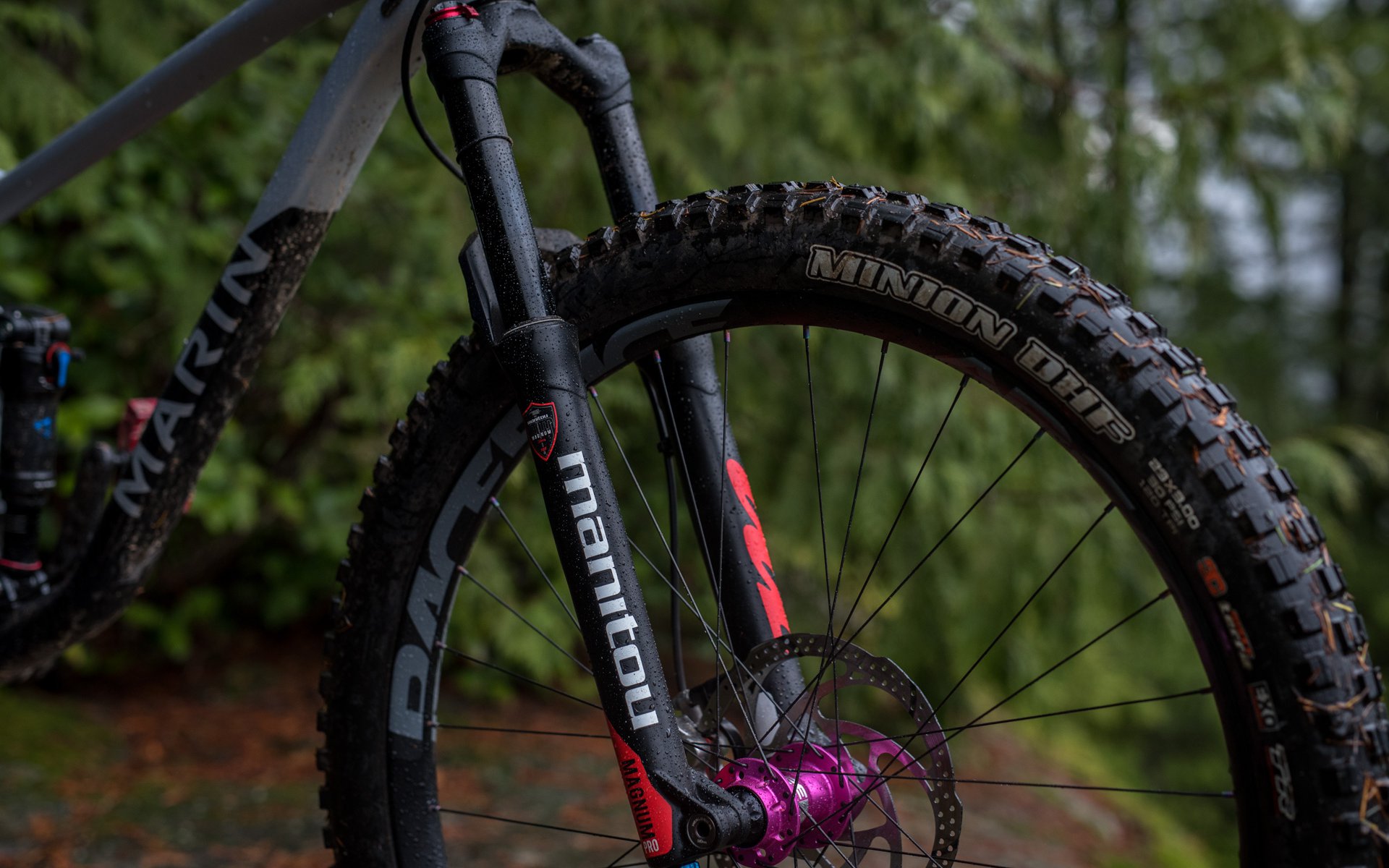 Long Term Review
Manitou Mattoc Pro Fork
My Manitou Experience
I've been working on this Mattoc review for so long that the fork actually changed names part way through. It's been on three bikes, ridden with two unique air systems (IVA & IRT) and given a partial service. Now a full service is overdue. 
The Mattoc Pro has 7050 butted aluminum stanchions, a hollow forged crown and more usable adjustments than many high end forks. The 900 USD price however places it a couple hundred bucks below the competition. In the case of the 29+ version, it's easily the best 29+ specific fork on the market, with the only real competition being the 29+ RockShox Pike.
Several factors explain the longer than usual review period. I rode the fork with both Manitou's Infinite Rate Tune (IRT) and Incremental Volume Adjust (IVA) air spring systems and it took some experimenting to find ideal settings in each case. and I wanted to beat the hell out of it to make sure there were no issues with my test unit. There's also the fact that I really didn't want to give it back. 
Air Systems
Part way through my Manitou review what was called the Magnum Pro 29+ was streamlined into Manitou's Mattoc product line. The chassis is essentially the same so this makes sense. If you are looking at the used market or reading any other material on the forks, a Manitou Magnum Pro 29+ fork is the same monster as a Manitou Mattoc Pro 29+ fork. 
The only important distinction is whether they are equipped with the IVA or IRT air system available for either unit. IVA is a set-and-forget system. I went with two volume spacers, worked out the air pressure setting for 20% sag, dialed in the damper and rode my bike. IRT is more of a tinkerers setup. 
I ran the same damper settings with both IRT and IVA. Low speed compression (LSC) at +2 clicks, high speed compression (HSC) at +2 clicks, hydraulic bottom out at +2 clicks and the rebound set fairly fast. I never touched the LSC platform adjustment while riding because the Mattoc Pro does a great job standing up in its travel even climbing out of the saddle. With IVA, I ran +2 volume spacers and set the fork up with 20% sag. It worked great but talk about straightforward, easy, and boring setup.
With IRT, I tested pressures all over the map. The secret to good small bump and good mid-stroke support is to discover a main chamber pressure that is supple enough off the top and then to find an IRT pressure that provides massive support from the air system while not feeling notchy or disengaged from that initial travel. 
For the record, thanks to Zac at Smithtech, my final settings for IRT have ended up being 70psi in the main chamber and 140psi in the IRT. That's for a 185 lbs rider. With a larger pressure gap the interplay between the air systems becomes quite noticeable but at this 70psi spread it makes for seamless travel.
The IRT air system, which is similar to what Ohlins has since brought to market, is worthy of its own article so I wrote one which lives here. The IRT air system is an improvement on IVA and it would be my first choice, but a rider who desires the best performance from the simplest setup will be better served by the IVA system. 

On Trail Observations
The LSC adjuster on the Mattoc Pro is designed to be easily adjusted on the fly for more support from the damper when climbing, but I never touched it. One of the key differentiators of the fork compared to the Pike/Lyrik or the newest Fox models is how high the Mattoc rides in its travel while still delivering gobs of traction and good small bump compliance. 
Getting a balanced feel between the Mattoc Pro and the basic shock on my full suspension frame was a bit trickier than I'm used to. On hardtails it's amazing how good bikes feel when forks stand tall and the geometry stays slack dropping into steep trails. 
Combined with the massive front tire, and for most bike currently on the market, the 51mm offset is a good choice to balance handling and stability. Interestingly the regular Mattoc 29" uses a 48mm offset. 
Descending traction is excellent and I think that every high end fork should come with a hydraulic bottom out system. Aside from air pressure that is the feature I played with the most on the Mattoc Pro. The 29+ model delivers 120mm of travel and thanks to the bottom out system I regularly used every millimetre but never once harshly bottomed out. I looked at the hydraulic bottom out more indepth as part of the teardown article I put together with Zac. 
I think only Ohlins offers a comparable balance of support and traction out of the box. Fox forks get there with updates and custom valving and RockShox is obviously appealing to a different rider preference with less-damp-and-more-ramp systems.  
The chassis, despite having 34mm stanchions, is on par for stiffness with any single crown I've ridden. 
Bikes
The Mattoc Pro arrived on the scene and immediately changed my Trek Stache 7 experience such that I felt it compulsory to throw on more aggressive brakes and rubber and re-review the bike. The bike went from being enjoyable to the fastest hardtail I've descended on and one of my best review experiences. 
When that bike went back to Trek I ran the fork for a short while on my 2014 Kona Honzo. I wasn't surprised that bike is much more fun with a 3" DHF up front. 
Currently it lives up front on my 2018 Marin Rift Zone with a 29x3" tire up front an 29x2.6" rubber in the rear which is essentially a Hawk Hill that's been trained to compete for the Russian Olympic Team.  
Service
The Mattoc Pro uses Manitou's latest TPC damper cartridge with adjustable rebound, LSC, HSC and hydraulic bottom out. Sounds complicated but the system itself uses a foam compensator and is actually very straight forward to rebuild. It's a great choice for a home mechanic, especially since Manitou is hungry to help with any questions. For riders who prefer to commit their free time to riding, it's a product that any competent local shop can fully rebuild with basic tools. 
The Game
Manitou doesn't have a significant OE presence and while I've noticed a few over the test period they can't touch the number of Fox, RockShox and even Ohlins forks cruising around the Shore. Like DVO that doesn't mean that a Manitou fork isn't worth considering; it just requires a little bit more research into the support in your area and a willingness to leave the herd.  
Even ignoring the relative value compared to some other forks in its class, the Mattoc Pro is an excellent fork. For an SRP of 900 USD I think it presents good value. Couple that with being one of the easiest forks on the market to service and it's an obvious choice for home mechanics.  
Speaking specifically of the model I'm riding, Manitou was one of the first brands to jump into 29+ and as long as the 551mm (120mm / 29+) axle to crown works with your frame it's the obvious choice for the application. Manitou sells the Mattoc Pro platform in a range of travels and wheel size options.
For more information on the Mattoc Pro please click here.