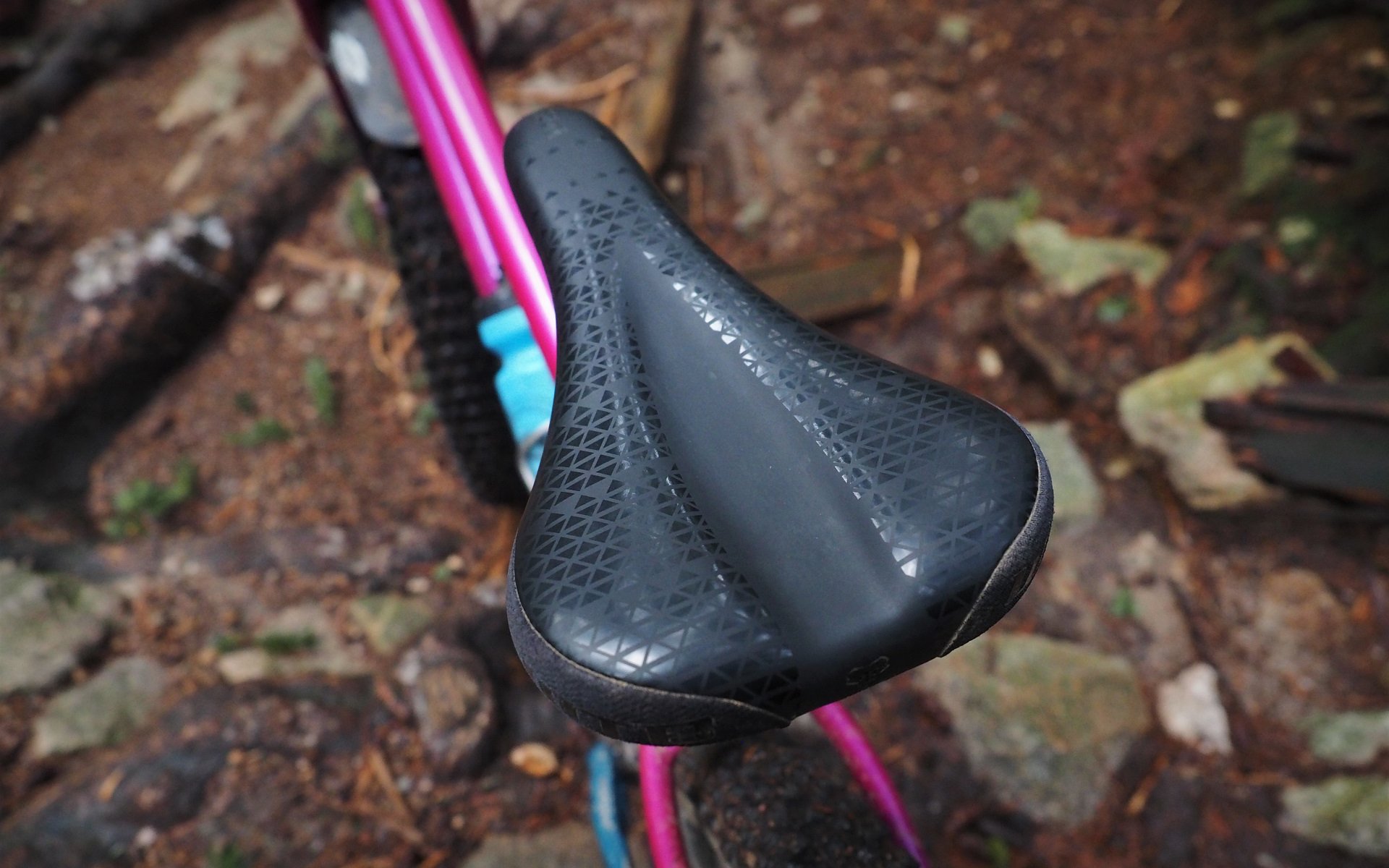 REVIEW
This Man Loves 2 Women's Saddles*
Koda Chameleon
Talking about my previously documented love for the WTB Deva women's specific saddle always feels like I'm selling a contradiction. I regularly recommend it to dudes who don't already have a favourite and I cautiously offer to loan mine to female friends, for a short ride, if they really want to try something different and own a good chamois, and sign a waiver saying they won't hold me responsible for any unhappy hoohaa hotspots. For some folks riding the Deva is a matter of survival.
I know some women who pedal on the Deva and won't ride anything else but I'm a man without conviction when it comes to recommending that particular perch to 50% of the population. I previously called the Deva "firm yet sensitive like the modern dad" but in comparing it to the new Koda, both of which I ride sans-chamois, I think it's fair to say the Deva is more of an acquired taste for the more leathery loined amongst us whereas the Koda intends to be a friend to every woman, and man.

*WTB no longer identifies the Koda as women's specific online - and they note it's the choice of many of the men in their office.
The two saddles are not rivals, and where the Deva remains my absolute favourite saddle, I believe most riders would find loving the Koda to be easy. WTB makes it simple to test with their Demo program, so if you're Koda curious ask your preferred local shop if they're tied in and, it's easy to sign up if they aren't, and for a sit bone sizing. It's generously padded but still very supportive, starts at 40 USD, and provides epic-ride comfort without getting in the way when it's time to hover over the rear tire.
Durability & Details
The Koda comes in four varieties and, to a point, it's really easy to justify spending a bit more coin. The base model Koda Comp is 40 USD, has plain steel rails, basic padding, and synthetic cover, but shares the same flex-tuned shell as the other models. I've ridden lots of OE level saddles and the Koda and Deva are the only saddles in this price range I'd even consider spending my money on.
For an extra 20 USD (60 USD) things get more interesting with the Race model. It drops 50grams and gains strength thanks to the chromoly rails and the microfibre top, shared with the higher end models, is much more durable. Both the Deva and Koda I've been riding still look like new when I clean them up after a gritty shore ride.
Add 30 USD more (90 USD) and the Pro model adds WTB's DNA padding which holds its shape better over the course of a ride, and long-term, and generally provides better support. It also dumps another 46grams compared to the Race model.
I think the obvious choice for most riders is between the Race and Pro but for a bit more saddle flex and another 20grams of weight dumped, this 210gram Team version adds titanium rails to the Pro model for a total spend of 130 USD.
I would buy the Koda if I didn't prefer the firmer WTB Deva by a small margin. But, if I ran a shop I would carry the Koda and the Koda 142mm and 150mm Pro & Race models would be my recommended saddles for anyone searching for their one true love.

It provides comfort, support and a neutral shape that is out of the way when I want it to be. Man or woman, the Koda is a human-specific saddle that I think will fit most riders beautifully. More details at WTB.