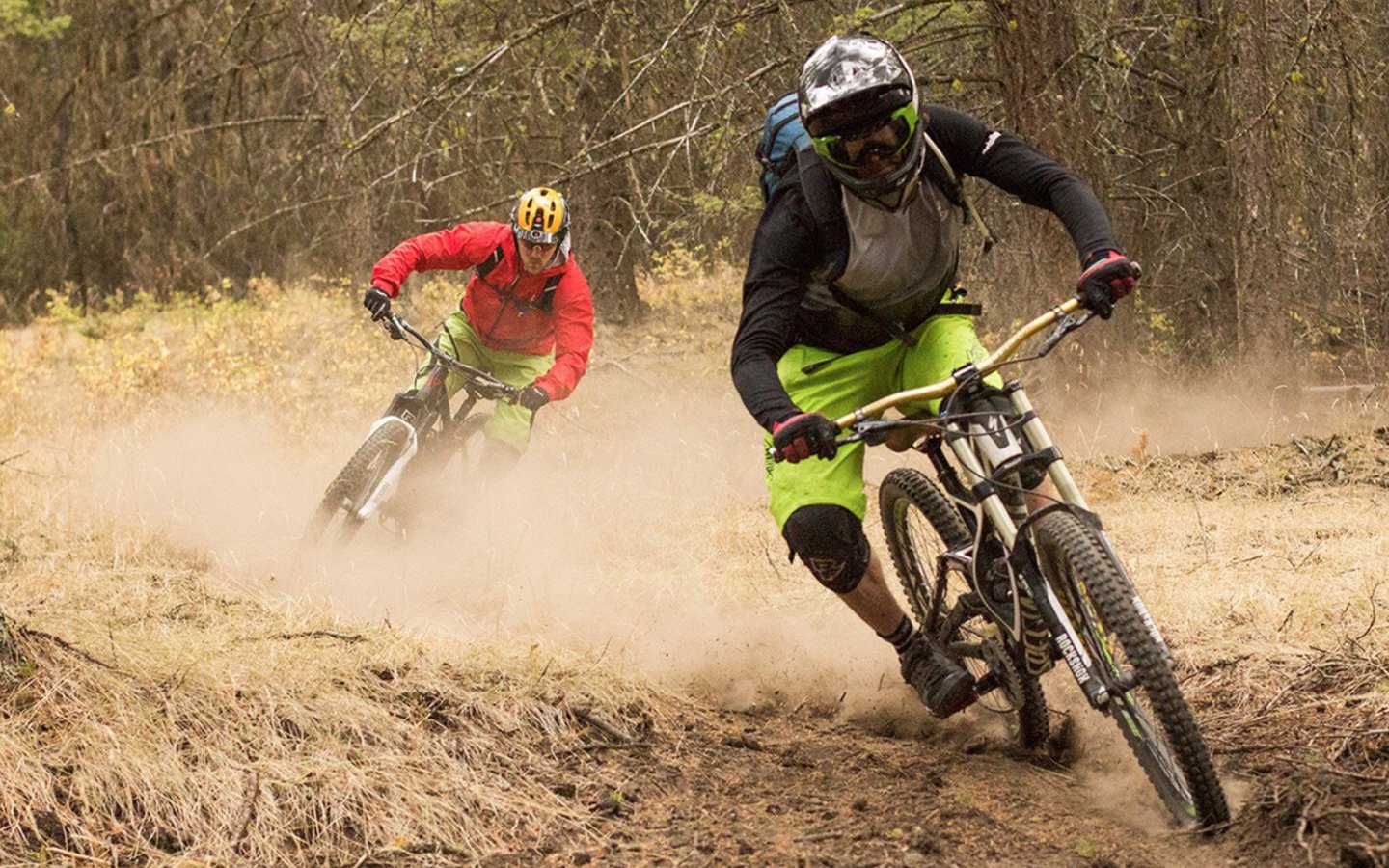 Make Like Magellan – 8 Reasons to Travel to Ride
1. Have you ever met a Hawaiian on holiday? Why would you leave, I used to think when I was younger and denser. The weather, the azure Pacific, the bikinis; why scrap that to visit London in November? And, by the way, that shirt looks silly in the rain. Now that I'm older and slightly wiser I realize that travel is about more than sand and sun – and the rewards have little to do with where you call home. But I'm sure many Floridians and Fijians fall into the staycation trap.
Fred and Manou of Tribe Sport Group (and their pooches) took me on their secret trails near Saint Tropez. Keeping up with Fred on the trails he built was impossible. Always hook up with locals to find the goods. Photo – Cam McRae
Mountain bikers are guilty of it too. If you live in Moab or Finale you are aware of how blessed you are and you may be reluctant to leave, but good riding nearby is no reason to miss out on trail-seeking travel missions. (You may have noticed this wasn't really numero uno – I was just tricking you into reading the intro).
I know you want to do this, but even the converted need a push sometimes. After you've convinced yourself you'll need a new set of reasons for your husband or wife if you aren't bringing them along. Maybe we'll work on that list in the New Year.
2. Getting Schooled.
I used to suck at any riding that didn't involve highly technical terrain ridden at slow speeds. I mean even more than I do now. I told myself I didn't like high speed trails and smooth berms because they were boring, but they were boring because I didn't know how to go fast enough to make them fun. I had the wrong bike, the wrong skills and the wrong attitude. I still get worked by locals in places like California and Utah on mach-speed trails with flat corners and jumps, but now I love every minute. I've slowly learned to get off the brakes, get my weight low and not freak out about velocity. Every ride I've done since has been improved by those experiences.
Observe local customs. In the Okanagan that means wine testing at the end of your ride. And monobrows. Photo – Johnny Smoke
Different locales emphasize different skills. We just got back from a 7-day road trip to Santa Cruz with stops in Oregon and when I got home I was cornering differently. And better. On the Shore we have lots of fall line trails and corners can be scarce. In Santa Cruz the bike seemed to be tipped over all the time and chasing speedy locals awakened my turning ninja.
3. Locals.
Before the aforementioned Cali trip I contacted my buddy Chris Gagan who used to live in Santa Cruz. He'd rave about the trails down there and his riding crew so I wanted some intel. He hooked us up with his buddies and they showed us the goods. The riding was great but the bros were the highlight. Often when we travel we ride with industry types. That's cool because the folks in our industry are stellar. But these guys, (Ed is a teacher, Jamie a military prof, Jet a solar installer and Harry Barnum is a contractor) were more enthusiastic about riding than anyone I'd ridden with in ages. They weren't jaded or tired of hearing about wheel size or Enduro – they were just stoked! Ed and the boys were awesome (thanks boys!) and I hope to ride with them again.
And if you are going to find the best trails locals are essential. Go to the bike shop, talk to the riders you meet on the trails and accept any help offered.
The crew from Tribe Sport were fast, friendly and fun when they invited me along to Finale. But I was unaccustomed to their ride order philosophy. This was the view I got every time we stopped. Photo – Cam McRae
4. Different Strokes.
I was in France recently and I tagged along with the awesome fast Frenchies who work for Tribe Sport Group (distributor of Rocky Mountain, Yeti and Fox Shox) on a trip to Finale Ligure just across the border in Italy. We did some morning laps and then stopped for lunch. But not just any lunch. We sat down to a multi-course Italian feast complete with wine, beer, coffee and dessert. So bloody civilized and tasty, for only 13 euro.
I also learned that Euros have different ideas about their ride order philosophy. Groups I ride with tend to sort things out as they develop but often people will let you go ahead or alternate. And when there's a stop everyone stops roughly in order. On a few steep and bony sections I fared okay and passed a bunch of these guys picking their way down. When we stopped I came in behind the three dudes I didn't pass and listened to the shit talking in several languages. As the rest of the crew came in they all rode past me to the head of the group. On one stop a German rider was so desperate to get a spot near the front that he t-boned my stationary bike and knocked me on my ass. It was an interesting cultural experience but a great time nonetheless.
Outside our incredible lunch spot above Finale in Italy. Europeans know how to enjoy the day – and good food is key. Photo – Cam McRae
5. Revelations.
In October we took a team trip to the Okanagan, B.C.'s only desert region, and were guided by Johnny Smoke, the man who has more B.C. trail knowledge than anyone I know. We rode some nice trails above Okanagan Lake finishing at a winery in Naramata – and then we got serious on day two. We shuttled from Oliver, another small town in B.C.'s wine country, and unloaded 4500 feet above the valley. The first trail, dropping down to Cawston on the other side of the valley, was diverse and amazing but the second trail blew us away. TKO probably drops more vert in a shorter distance than any trail I've ridden. It's so steep that many sections looked unrideable – but Johnny told us to have faith before showing us his rear wheel. Stopping generally wasn't an option which was sometimes terrifying, but the silty soil allowed for some control and it kept speed on the edge of manageable. This was dirt surfing at its finest and the pump we all felt at the bottom was next level. We figured the riding there was good; we didn't know it would make us feel like gods.
This dirt near Oliver B.C. was insanely forgiving and fun. Paul Stevens chases Johnny Smoke of Bushpilot Biking. Photo – Pete Roggeman
6. Superpowers.
Over time you get used to your local dirt and rock, and we set limits on our abilities based on your experience. Go somewhere else and you might discover you are capable of more. Forgiving soil might have you dig in deeper on corners and smooth trails can encourage you to get off the brakes. If the roots are green and slippery like snakes, and you get on the tail of a local wet weather veteran, you may learn to be light on your wheels and float over the snotty bits.
Seb Kemp and I enjoying the view. It was blowing a gale atop Mount Ashland in southern Oregon when we arrived last week – and two minutes after this photo was taken the view was gone. Our guide was pretty sure we'd be the last riders on this trail until spring. Photo – Pete Roggeman
I've seen this happen in reverse as well. My friend Rick Palmer was visiting from California and we stopped to show him some lines on Fromme. We stood atop Semi-Retarded, which we rode regularly, and Milky Wade, which we had never ridden. Rick had a look and dropped it like nothing, so we followed after realizing his visitor vision saw the line more clearly.
Sticking on a local's wheel can get you over things you wouldn't ride at home as well, making you better in the process. So much of our limits are self-imposed and new surroundings can cut these down and lead to breakthroughs.
And the view is gone… Pete Roggeman follows Seb Kemp into Time Warp. Ashland is one of our new favourite towns. If you go make sure to head to Oberon's Tavern. Especially on Tuesday. Photo – Cam McRae
7. Conquering Fear.  (Pete Roggeman)
Rare is the rider who never feels intimidated, whether it's a new trail or a ride crew you haven't encountered before. At first I would sometimes let intimidation overwhelm me and get in the way of enjoying the ride – and would ride poorly as well. Over time, I've learned to embrace the unknown, not worry about being fastest dog in the pack, and just soak up the good times. And the best way to do that? Don't be last. At least not for the whole ride. Take a spot in the middle and see how it shakes out. Maybe you're riding with a bunch of pros and you shouldn't be sandwiched by two cruise missiles, but don't worry – they'll pass you when they have a chance. Don't be a dick and hold people up, but sometimes riding in the 'intimidation sandwich' zone will turn out to be more fun. It'll also make you better.
Monica McCosh follows me (but takes the Strava line) on Dead Horse near Naramata, B.C. You don't have to go too far to get the benefits of leaving town. Photo – Johnny Smoke
8. Proust
Travelling with a bike can be a pain in the ass. Lugging a bike box, trying to get your bike on a plane for free after stuffing it into a tiny carton, lugging that box or case through the airport; this can definitely suck. And not everyone likes road trips, (who are these infidels?) but the destination always makes the drive worthwhile.
Not everyone can afford the time or cash required to fly to some far off land, but travel doesn't have to be distant and exotic to be rewarding. In the oft-quoted words of Marcel Proust, 'The real voyage of discovery consists not in seeking new landscapes, but in having new eyes.'
And putting your tires in new dirt.
(Note – this was originally posted Dec. 17th, 2014)
---
Can you add more reasons? Where have you gone with your bike? And where are you going next?