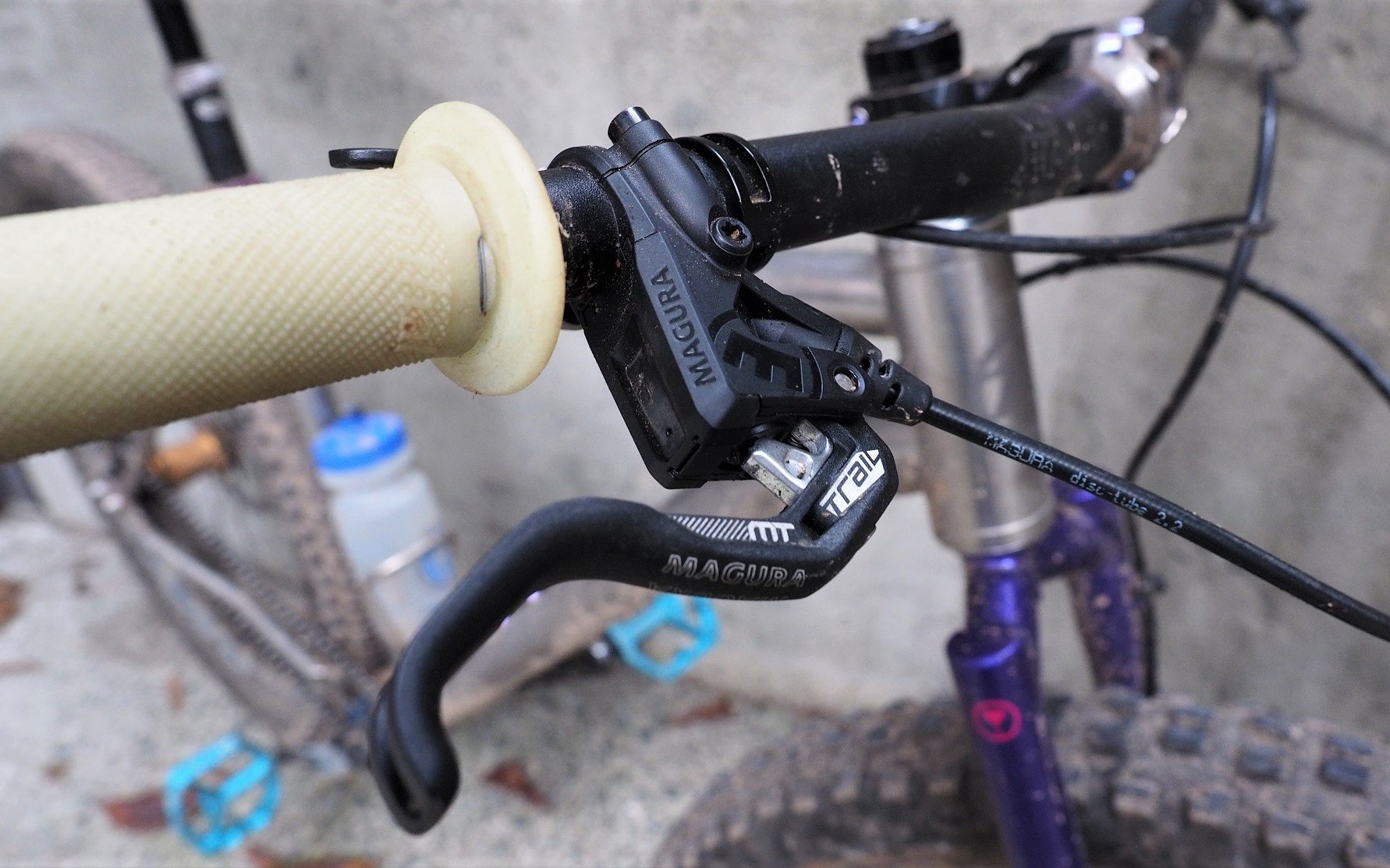 Long Term Review
Magura Trail Sport Brakes
Superiority Complex
Is it possible that the best brake set on the market sells for 275 USD? That sounds too good to be true but it is - if you include a set of four independent brake pads that will run another 40 USD. You'll have to buy some rotors, adapters if needed, and a bleed kit as well but that's standard these days. The performance features are fantastic completely aside from the value factor. 
If that's bad news for anyone it's the German hydraulic brand itself. I've previously reviewed the MT Trail brake and I was really impressed. I can say now that it's almost as good for twice the price as Trail Sport brakes reviewed here. 
The Trail Sport isn't the only great choice on the market. I'm currently enjoying the TRP Quadiem and despite my disappointment with SRAM's Level and Guide models, I'd be remiss not to mention that their new Code brake is great. I really enjoyed Formula's oval-piston R0R brake and I have dreams about a set of Hope V4 brakes with Tech 3 levers. 
The Trail Sport is simply the on-trail winner for me for a number of factors including power, feel and modulation. I'll talk about where it misses out to these other systems as well, after all, everything in the bike industry could benefit from a little rip-off-and-duplicate. 
Layout
Magura's Trail brake format mixes a four-piston front caliper from their DH oriented systems with a two-piston caliper from their XC models. In the Trail Sport package, the front brake is a Magura MT-5 and the rear is an MT-4. 
When storming down steeps, the Trail system feels very balanced between the front and rear using the same sized rotors. The other benefit of the system is it makes the rear brake easier to set-up and maintain a drag-free state. I also find that when bleeding well-beaten 2-piston calipers I achieve a good result with less time and effort. 
I was going to write that I'm surprised more companies haven't followed suit but between Shimano putting a Zee caliper up front on their XT Trail brakes and the guy I ran into last week who says Hope is all over the E4/X2 split, I'd almost call it a trend. 
Lever Feel
Magura's HC lever blades remind me of some Bonz levers I bought for my Hayes brakes in the early 2000's. The generous hook is especially appreciated when everything is soaked and my fingers are cold. They are also positioned in such a way that I still get ample leverage on the master cylinder piston even with the levers set inwards for my average-sized hands. 
Guys with massive mitts may prefer the standard lever blades but I'm not telling you what to do. I know a couple of guys running XXL gloves who prefer their levers closer to the bar than I do. 
With either blade installed, the Maguras have a very predictable power band. The initial bite is not as aggressive as other brakes on the market but the harder I yank on the lever the more power is on tap. That's certainly my preference versus more on/off options. 
A lot of the time 'modulation' is used to describe away a flexy or wallowing feel at the lever and that isn't the case here at all. The system is firm and predictable like a good parent.  
Pads
Magura makes three different brake compounds, all of which are organic. Tim and I had a great conversation about how sintered metal brake pads are generally considered to be good and organic are generally considered to be sh*t when, like everything in life, it really comes down to the ingredients. Magura's are an example of great organic pads.
I'm a fan of the stock Performance compound but for the few previous commenters wanting more initial bite, the Race pad is too grabby for my tastes but may be perfect for yours. I always bed in new pads and rotors with a series of short hard stops on a paved hill near my house and I think it makes a big difference compared to just dumping them on and going for a ride.  
Magura's pads are held to the pistons by magnets rather than return springs which makes changing the thru-bolt pads really fast on the four-piston and two-piston calipers. The one-piece stock pads for the four piston caliper can be a bit of a PIA. One more reason to give them a pass. 
The Magura calipers are also nearly silent. I hadn't considered, until recently, how much noise some brakes make just from their pads rattling about in their seats. There's no smacking or clacking when the brakes are applied here, just the standard pad-to-rotor friction scuff. The brakes do wail when they are wet and cold but it goes away quick once I put my flask away and get moving. 
Carbotecture
In the wider industrial world, Magura runs a brisk business in high-end injection molding and the 'plastic' master cylinders are derived from that experience. There are actually two different versions of the material, the lighter Carbotecture SL featured in their highest end brakes and the regular Carbotecture material on the Trail Sport. 
I can say from experience that both master bodies are equally stiff. The SL shaves a few grams but the Carbotecture material in these Trail Sport brakes is actually the same as that used for clutch bodies in BMW Enduro motorcycles and should get the nod for durability.
Being the hooligans mountain bikers are (or simply unlucky), they will eventually break anything and everything but, I've yet to damage a Magura master cylinder and I'm not nice to my bikes of late. 
Room For Improvement
There are a few features of other brakes I prefer over the Trail Sport that I think are worth mentioning. First up is SRAM's answer to the question "did you learn anything from all those sh*t to bleed Elixirs you made?" Which it turns out is "hell-yes, check out our bleed fitting system." In all fairness to Magura, the difference between manufacturing one-piece and two-piece calipers is massive and their brakes aren't exactly hard to bleed, but every time I hook up a brake these days I can't help but think about how easy SRAM has made it. 
The other miss from my perspective comes down to design philosophy. Magura brakes really consist of four readily available parts - the lever blade, the master cylinder, the brake line and the caliper - along with the various fittings to hold them together and the pads and rotors that generate friction. Wreck one of those four parts and you're buying a replacement brake, Shimano-style. 
I have a deep preference for rebuildable versus replaceable products and I give credit to Formula, Hope, TRP, and SRAM for making every small part replaceable (assuming they are available).
Lastly, there is no brake on the market that has the sleekness and sex appeal of Formula's R0R and it uses a similar layout to Magura so there's no reason they couldn't add some Italian passion to the German industrial-ness. The way Formula integrates their reasonably large reservoir into their master cylinder makes me sing.  
Ladies and Gentlemen
If I was given 600 USD to spend on brakes, I'd pick up a pair of Trail Sports and enough pads, fluid and lines to last me for a while. There's no doubt that the mirrored calipers and Carbotecture SL masters of their MT Trail brakes look like a million bucks but that comes dead last on my list of important metrics for brake performance. 
I've also found both Magura's MT-5 and these Trail Sport brakes to be faster and easier to set up to be drag-free than their higher end counterparts for no loss in performance with the same pads installed. 
This is the brake I've been recommending to a lot of my riding friends and everyone who has bought a set has been stoked on them. The only complaints I've heard from bike mechanics I know are bleed related and hey, ladies and gentleman, if you can't figure it out my three year old will drop by to lend a hand. 
The brakes include a five year leak-proof guarantee and North American after-sale support is excellent both from Magura USA and Orange Sport Supply here in North Vancouver. 
For more information on the 275 USD package please click here.