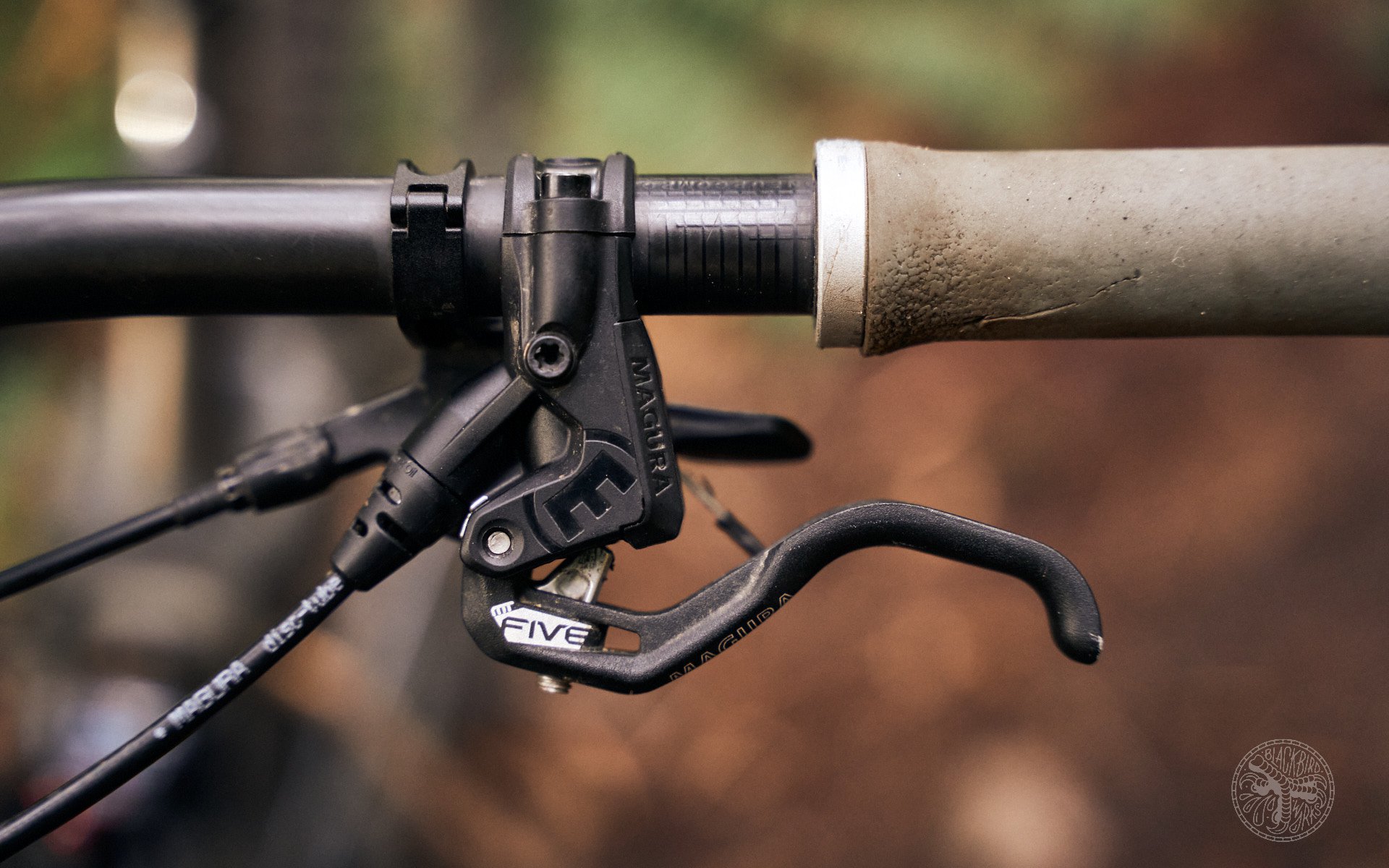 REVIEW
Magura MT5 HC Disc Brakes
What do Danny MacAskill, Loïc Bruni and Fabio Wibmer all have in common?
Aside from the fact that they're ridiculously talented on bikes, and collecting Red Bull cheques, the three gentlemen in question rely on Magura brakes to stay as close to the ragged edge as possible, without going over. If you know anything about Danny, Loïc and Fabio, you also know that I'm not exaggerating when I say that dependable brakes are required to keep these guys alive in their 9 to 5.
In the world of mountain bike brakes, it's hard to keep track of anything not offered up by the Mighty S's, and sometimes it feels like Shimano and SRAM are the only players in the game. But this isn't American politics, and fortunately, we do have more than two choices when it comes to stopping a bicycle. While it might not be a household name, Magura has over 125 years of experience in designing and manufacturing control systems for motorcycles, cars and bicycles. Among other notable innovations, they were the first company to offer a hydraulic rim brake for bicycles, in 1987. I was first introduced to the German brake maker way back in 1999, when my very first DH bike came equipped with a Magura "Tomac" hydraulic rim brake to clamp the rear wheel.
Today, Magura offers a wide variety of hydraulic disc brakes (and they still sell hydraulic rim brakes!), and while the MT7 is their flagship, 4-piston brake for the gravity crowd, Magura also offers a more budget friendly option in the MT5. Forgoing some of the adjustments and exotic build materials found on the MT7, the MT5 is aimed at those who still want gobs of stopping power, but don't want to brake the bank (see what I did there?).
For those of you more familiar with SRAM and Shimano, it's worth noting that Magura does things a bit differently. Historically, I've been used to picking a brake model, a rotor size and a pad compound - and that's about it. With Magura, there are an astounding number of ways to customize your setup. From several different styles of lever (4-finger-levers, anyone?), to various pad compounds and configurations, as well as 5 different styles of rotor - you can go pretty crazy with dialing in your brake setup exactly how you want it. For those looking to keep their cockpit as tidy as possible, Magura offers a selection of "Shiftmix" clamps that allow you to mount your shifter and dropper remote on the brake perch. On top of all that, you can even customize your calipers and clamps with a veritable rainbow of accent colours. I used to think I was immune to vanity, but I readily admit to swapping out the accent colour on the MT5s more than once during the review.
To streamline my selection process, Magura had me test the popular MT5 HC brakeset. The "HC" refers to the 1-finger, adjustable-reach lever blade that is included in this set, rather than the standard 2-finger blade. The upgraded lever puts the MT5 HC at a slightly higher price point than the base MT5, but Magura found that e-bikers preferred the extra leverage offered by the 2-finger blade, whereas non-e-bikers preferred the 1-finger blade. In other words, the MT5 HC is aimed at skilled gravity riders on acoustic* bikes. Rounding out the HC package, Magura includes their organic 9.P Performance brake pad, which sits just below their Race compound in terms of power. While packing less bite than the Race pads, the Performance pads promise longer life and less brake squeal, not to mention a lower price point. The reversible lever body contains a radially mounted master cylinder, and is constructed from Magura's proprietary Carbotecture composite material, promising the strength of aluminum, at half the weight.

*Ugh. I did it. I said it. I'm sorry.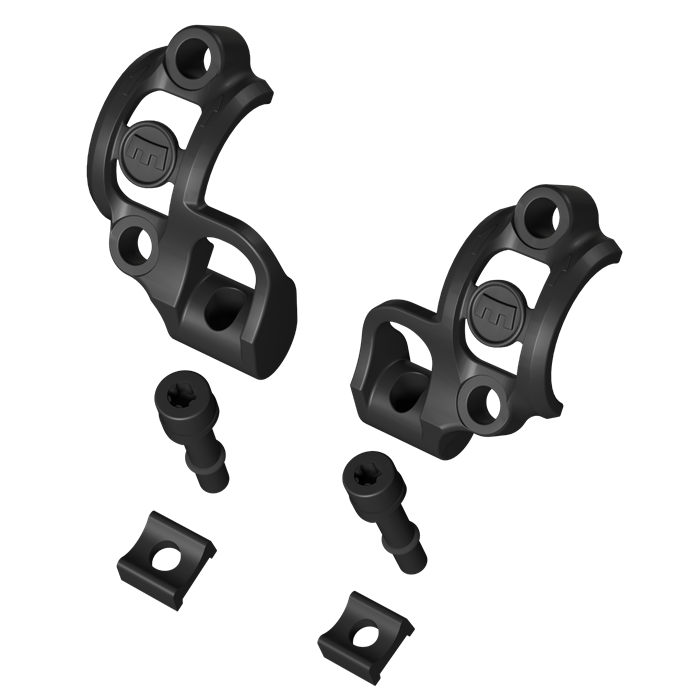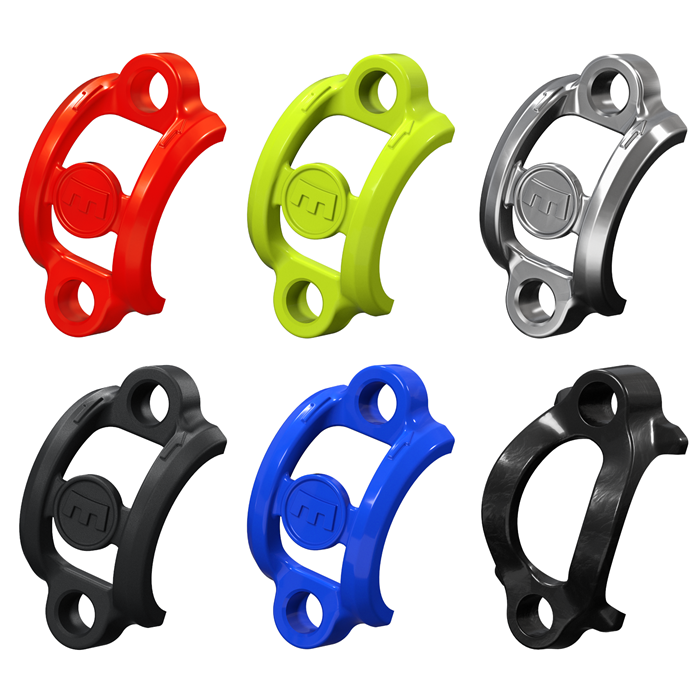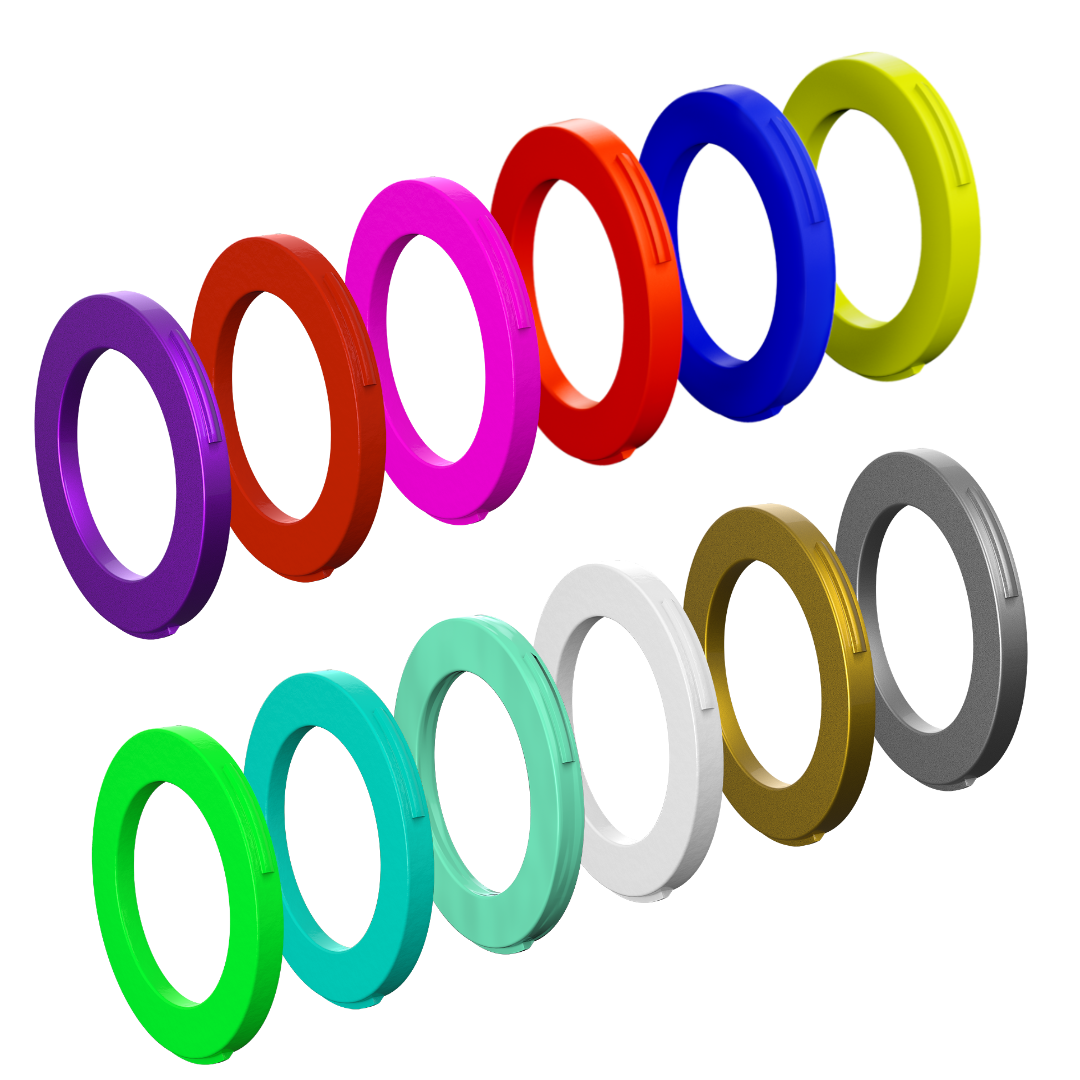 Installation and bleed procedure.
If you've successfully carried out a brake installation and bleed with any other brand, getting it done with the MT5 is within your wheelhouse. While the procedure is somewhat less refined than those from Shimano or SRAM, installing the MT5s should take no longer than 1 to 6 beers for the well-equipped home mechanic. You will need to make sure you have the Magura specific bleed kit, AND FOR THE LOVE OF GOD, DO NOT USE ANYTHING OTHER THAN MAGURA ROYAL BLOOD MINERAL OIL!!!!! We all have a buddy who knows a guy that once heard of someone running Shimano mineral oil / Johnson & Johnson baby oil / Astroglide in their Shigura-franken-brakes, and the result was nothing but high-fives and good times. But the truth is that Magura specifically formulates their Royal Blood to play nicely with their seals and materials. Using any other oil (including Shimano oil), can result in poor performance, failed seals, and is guaranteed to void the impressive 5-year leak proof guarantee. In Magura's defence, Shimano says the same thing about their brakes and mineral oil. So, do yourself a favour and just stick with the blue stuff for Magura brakes.
Because it's 2022, you can find detailed installation and bleed procedures on the Magura YouTube channel. I followed the video bleed instructions to a T, but it's worth mentioning that I found I had to cycle fluid through the system several times to get all the bubbles out. The instructional video will have you believe that 3 or 4 cycles should do it, but I was still drawing bubbles out after at least a dozen or so syringe cycles. As with any brake bleed, don't rush the process - you'll thank yourself later.
Round 1 - "Performance" pad compound.
Brakes installed, I headed out for a typical winter ride in North Vancouver. In the interest of a thorough review, I had good intentions of actually taking the time to bed-in the pads and rotors according to Magura's specific instructions. This annoyed the hell out of my riding companions, as they waited for me to do 30 full braking stops from 30km/hr in the parking lot. Even after the bedding-in procedure, brake power felt underwhelming for the first several minutes of riding, but then, as if the MT5s suddenly realized what their mission was, braking power increased considerably. It's entirely possible (probable) that I lost count, and didn't do the full 30 braking stops for the bedding-in procedure. I mean, getting my DH-bike-with-a-dropper-post up to 30km/hr, from a standing start, on flat pavement, 30 times in a row requires a Herculean effort - and come to think of it, my laziness is likely a good representation of mountain bikers in general. So, yeah, we'll go with that.
After achieving full power with the Performance pads, I was fairly happy with the MT5's while cruising along on fast, flowy trails. I'm glad I spent two beers bleeding these brakes, as I feel the thorough bleed helped establish their rock-solid lever feel. I don't think I've ever used a brake that was so consistent in its feel and bite point - and that might just be my favourite characteristic of the MT5. I was initially worried about the lack of lever adjustments, but pleased to discover that a slight reach adjustment (the only adjustment offered), was all I needed to make the MT5s feel spot-on. Reach is adjusted by a 3mm allen key, which feels a bit silly in these days of tool-free adjustments, but the consistent lever feel made this a non-issue after the initial setup. Lever stroke felt just about perfect, although I did find that pad-rotor free clearance was on the tight side, and it took some patient caliper aligning to get the brakes running completely drag-free. The HC1 alloy lever blades feel a bit rounder in profile than most other blades, but they proved to be very comfortable in all conditions. While not as crisp and punchy as a Shimano brake, the MT5 had none of the wandering bite point issues that Shimanos are known for. Compared to a SRAM Code, the MT5 again had a more consistent bite point, while also feeling less spongy than the DOT fluid competitor. In terms of modulation, the MT5 was predictable in turning lever force into braking force - sitting in the Goldilocks zone between the binary feel of a Shimano, and the logarithmic curve of a SRAM. Mountain bikers have all kinds of theories and opinions on what constitutes "good modulation" - but in the end, these opinions are usually based on the brake that a given rider is accustomed to. The MT5 has what can only be described as a "neutral" feel, that will suit all but the pickiest riders.
The elephant in the room.....
Unfortunately, there was no getting around the fact that the Performance-pad-equipped MT5s just couldn't match the raw stopping power of their metallic-pad-equipped competition. I'm a heavier guy, on a heavier bike, and while the Performance pads did the job on mellower terrain, I was never able to get the power I needed to confidently charge the steeps. On the plus side, the Performance pads did prove to be very quiet - possibly the quietest braking experience I've had in recent memory. But the lack of power had me entering rowdy sections more tentatively than I normally would; I just wasn't able to trust these brakes when it really mattered. In addition, the Performance compound seemed to require a warm-up period to achieve maximum stopping power. This was far from ideal during cold, wet winter rides with lots of stop-starting on the bike. Once up to speed however, and after a few, strong brake pulls, the pads would warm up and become much less terrifying.
February in North Vancouver was somewhat of a worst-case-scenario for reviewing brakes, and during those rare, warmer days, I actually got along much better with the Performance pads. Riders in warmer latitudes might find all the power they need in the Performance compound, and any brake is going to suffer some diminished performance in cold, wet conditions. But knowing that a higher performance Magura pad existed, I had to give the MT5s the chance to raise the bar to my expectations. I reached out to Magura, and was soon upgraded to their 8.R "Race" compound pad.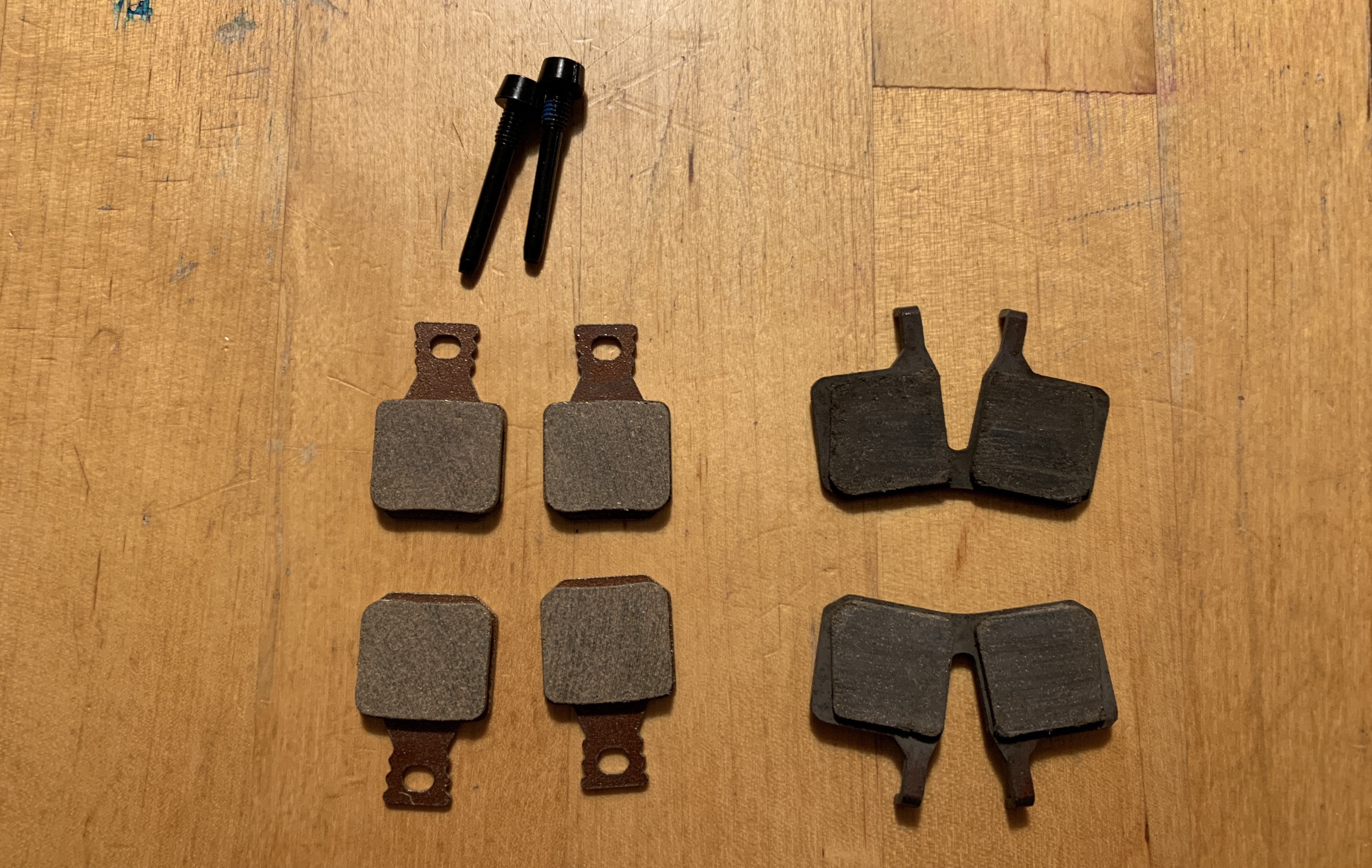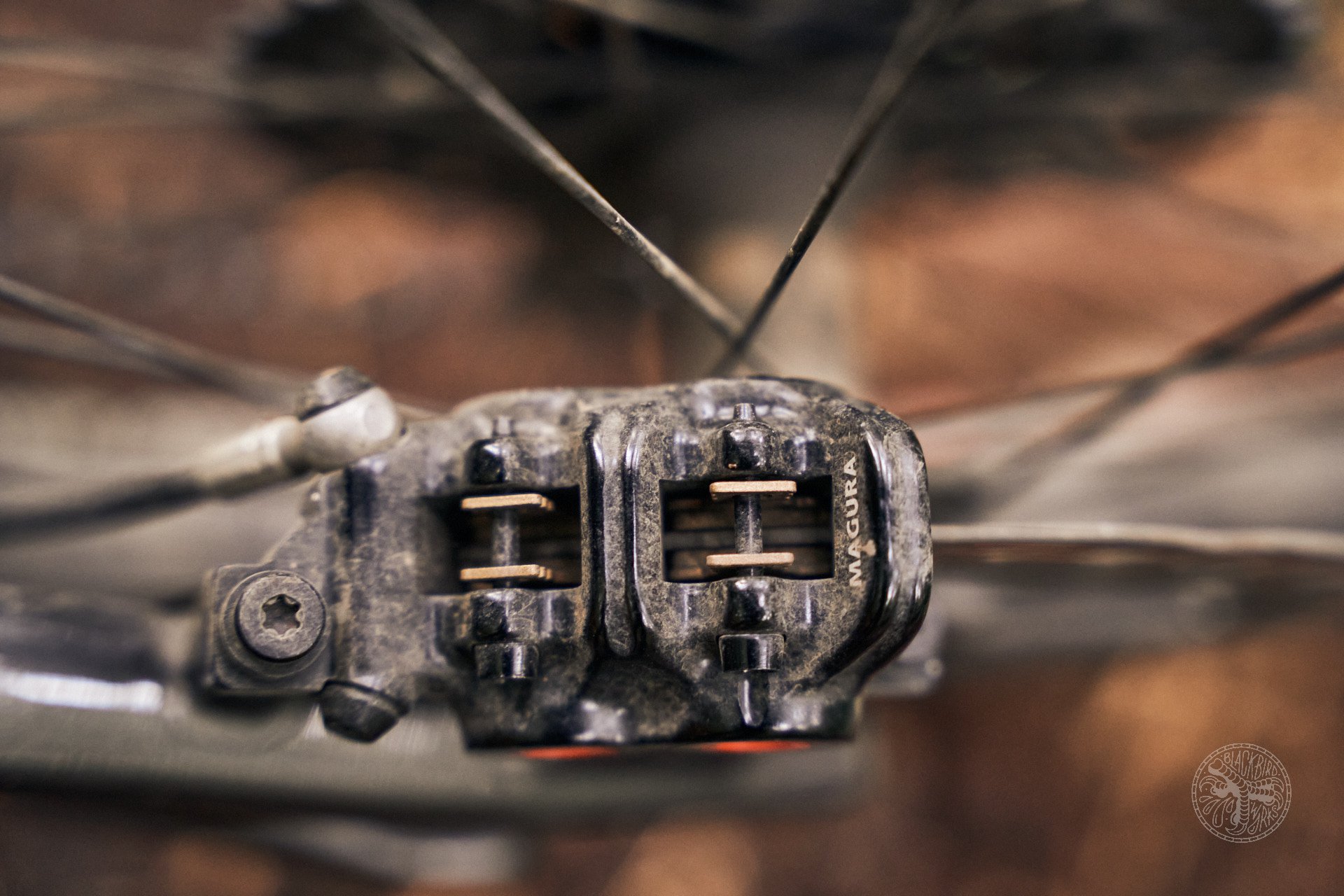 Round 2 - "Race" pad compound.
Interestingly, whereas the Performance pads are supplied as two friction surfaces per pad, connected with a common steel backing plate (two pieces per caliper), the Race pads forgo the common backing plate, and are designed around the idea of a separate pad for each piston (four pieces per caliper).* This has the added benefit of being able to swap out brake pads without removing the wheel. I've heard rumours of curious folks experimenting with different brake pad compounds within the same caliper, presumably searching for - something? But these are probably the same weirdos running Shigura-coconut-oil brakes, so you should probably, definitely not Google it. With 8 Race pads installed, and accent colour set to purple, I performed another half-assed bedding-in procedure, and dove straight back into the trails.
*Another advantage Magura references here is more efficient cooling and no heat conductivity between the rear pad and the harder-working front pad
The difference in braking power over the Performance pads was immediately apparent. While they still seemed to have a warm-up period to them, the Race pads instilled much more confidence while negotiating steep and technical terrain. Lever feel and bite point remained unchanged, the only difference was a whole lot more power. Well, there was one other difference as well - the previously silent MT5s suddenly became somewhat more vocal. Not in the screamy, howling way other brakes typically vocalize, but the Race-pad-equipped MT5s developed a very noticeable "gurgling" sound during intense braking events. Again, I reached out to Magura, and was told that this sound was likely the result of "metallic content in the pads interacting with the rotor holes". Potential solutions included: sanding the pads, flipping the pads to opposite sides of the caliper, switching to "Sport" pads (yikes!), switching to one piece rotors, or just riding till the pads wore to a more silent condition. After cleaning, sanding, and then flipping the pads, the gurgling noise diminished to an acceptable level, although it never fully disappeared.
With Race pads installed, the MT5 suddenly becomes a viable braking option for rowdy, North Shore terrain. While cold-weather performance is perhaps not quite as high as a metallic-equipped Code or XT, the Race-equipped MT5 still delivers enough power to tame pretty much any trail you can throw at it. At $189.00 U.S., the MT5 HC swims in the same pool as the SRAM Code R, G2 RS, and Shimano's 4-piston SLX brake. All of those stiff competitors offer tool-free lever reach adjustment, and while I didn't find it to be a huge issue, I know it's a feature that will hold value for some. Out of the box, Code and SLX will have a slight edge in the power department, but the MT5 wins hands-down in lever feel, with its class-leading consistency. And while SRAM and Shimano seem to sit at opposite ends of the modulation spectrum, the Maguras sit somewhere in the middle, a trait that will appeal to a wider audience overall.
So, the big question is: Can the Magura MT5 HC compete with those from the Mighty S's? The answer to that lies in what you are looking for in a brake. If outright power is first and foremost on your mind, there are better options out there among the current crop of low-cost, 4-piston brakes. Riders at the very sharp end of things would be better served by taking a look at Magura's MT7 brake. While coming in at a higher price, the notoriously powerful MT7 also gives you more adjustments, and fancier build materials. But if you're just looking for consistent feeling, no-nonsense brakes that get the job done, while not completely emptying your wallet, the MT5s are worth a second look. Particularly after you've set them to purple.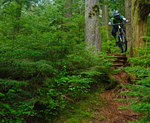 Ryan Walters
Age : 40
Height : 1803mm
Weight : 86kg
Ape Index : 1.03
Inseam : 787mm
Bar Width : 780mm
Preferred Reach : Pretty comfy at 487mm these days.