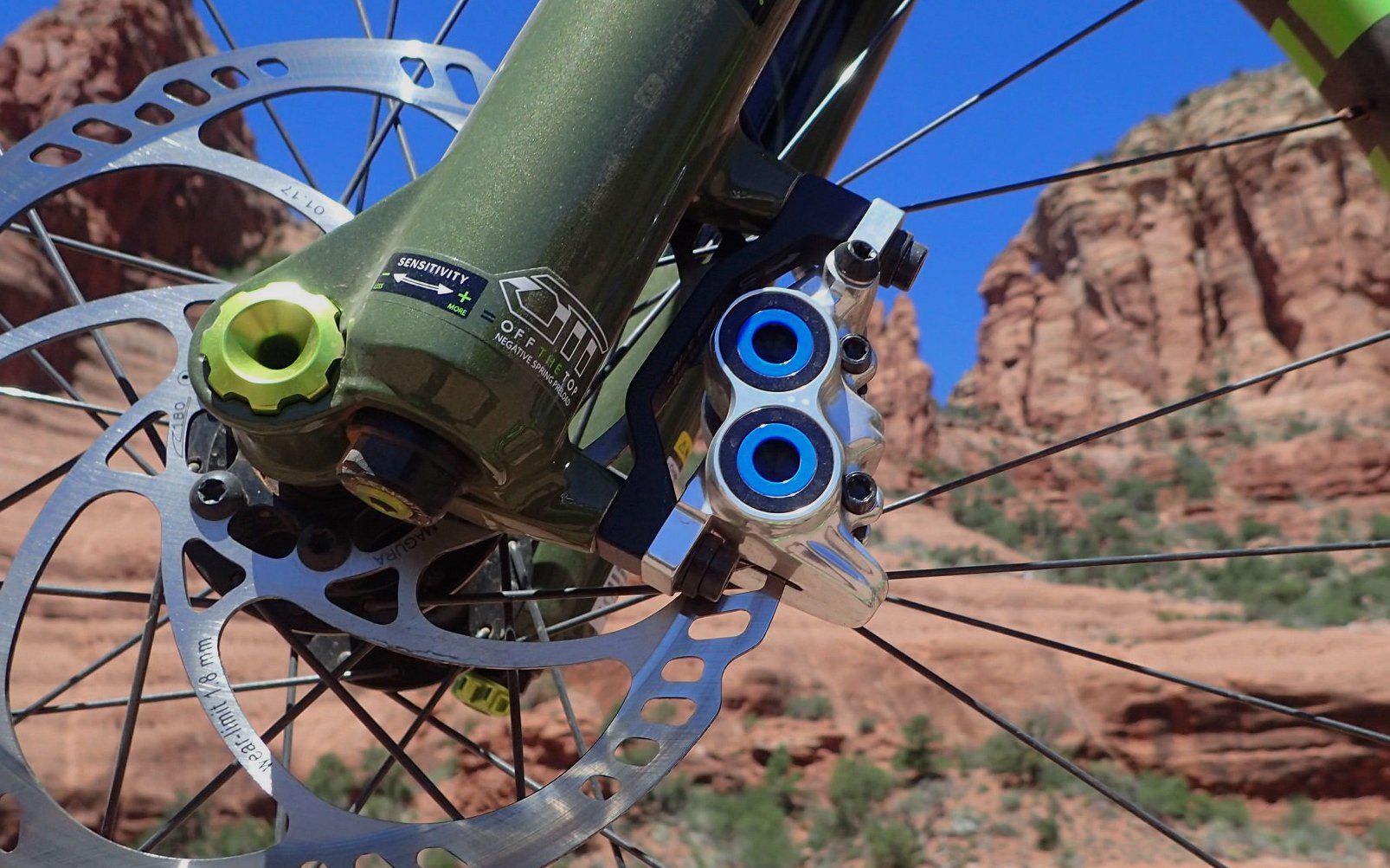 First Look
Magura 2018 MT Trail Sport Brakes (and more!)
Takeaways
Moments after demonstrating that the new Storm SL 2.0 brake rotors are perfectly up to the task of opening a beer bottle - despite still being 2mm thick and within a gram of the previous edition - Magura's Stefan Pahl took to the stage and changed my life.
Looking back at my naivete I can't help but pine for the relaxing days before I caught Stefan's funny* presentation on the Magura branded cowbell he was holding. I remember smiling as I wrapped it carefully and placed it gingerly in my luggage. The beaming smile my two-year-old wore as I presented it to her upon my return to the North Shore.
Now my life is like a Cyclocross race. Vacuuming? More Cowbell. Laundry? More Cowbell. Making Dinner? More Cowbell. Working on my bikes? More Cowbell. Taking a... More Cowbell! Thanks Stefan...
House Keeping
Why am I talking about a cowbell? Even my two year old knows "ain't broke - don't fix" and for 2018 Magura does just that by continuing to refine their excellent lineup of MT series brakes. While there are new lever blades and a host of other accessories available for the flagship and budget conscious lineups the core products haven't had an overhaul. What does that mean? Awesome power that is applied progressively from ergonomic, reliable and easy to bleed brake systems. 
Why take a series of brakes that is gaining interest, market penetration and an awesome reputation and completely redesign it?
The one new brake model coming to market is the MT Trail Sport which is actually a combination of their MT 5 four-piston system up front, MT 4 two-piston system out back and a set of HC lever blades. The goal is to deliver the feel and performance of the MT Trail system at a lower price and if my experience with my MT 7 and lower priced MT 5 brakes is any indication it's going to be a great buy. 
In other words, if you are looking to experience Magura's very well received MT series of brakes on a strict budget the MT Trail Sport, MT 5 and MT 4 brake systems may scratch that itch. This piece is about a lot of hop-ups and add-ons that will primp up a bike, clean up a cockpit and fine tune performance - all at a cost - but are in no way necessary upgrades to their excellent brakes.
Somewhere Over The Rainbow
It all started with persnickety athletes and customers trying to colour match their brake systems to other accessories on their bikes by swapping out the caliper covers on their brakes. Maybe it's MT Trail blue inserts into a set of MT 7 brakes to match a blue-and-black Deity setup. Or a mix-mash of inserts into a pair of Raceline Yellow calipers because 'All The Colours'. 
So far Magura's custom colour program extends to lever clamps and caliper covers but it is also very easy to remove and replace the master cylinder graphics - which has to be done to swap levers - so if demand is sufficient there is not reason that Magura couldn't start printing custom graphics as well. 

Getting Rid of Clamps (Shimano and SRAM compatibility)
On a darker note - and not just because they are only available in black - Magura is addressing demand for backward compatibility and clean cockpits by introducing lever clamps for all the common the direct mount shifter options. That's the same-ol' MatchMaker from SRAM and any of the three iterations of Shimano's I-Spec**. 
In the case of the Magura clamps, the I-Spec models have a large amount of adjustment available on the vertical plane - separate from lever position, which for some riders is likely an improvement over a Shimano-Shimano interface. I've used the SRAM MatchMaker option on my bike and it puts the shifter in a very similar position to running a SRAM brake. 
I did find with the full length, non-HC, lever blades a MatchMaker mounted shifter sits further inboard than I'd like but it is perfect with the HC lever blade. 
HC3 Lever Blades
Jointly inspired by Magura's motorcycle division and Danny MacAskill, there are versions of the regular HC lever blades available for all of the Magura MT brake models. I go into greater detail in my review and the HC blades I've been using produce an excellent combination of ergonomics and modulation for my hands. 
The HC3 lever takes the same ergonomics and pumps up adjustment options. 
With HC3 reach is an independent adjustment made possible by a two-piece hinged lever blade assembly. 
The power adjustment effectively changes the pivot point to shorten the lever blade which applies less pressure on the piston for the same effort for a trade off of improved modulation.  
Vyron
Magura's wireless dropper post is unchanged for the moment but they have added an inexpensive replacement cover for those that don't need the other electronic adjustments the remote has on tap. 
The replacement cover only activates the center dropper post button, making it quick and faff free in the heat of battle. 
No, a cowbell isn't necessary. You can make just as much noise with an old aluminum handlebar and that 2001 Kona Stinky front triangle you've been saving. But, as my friend Dave used to say, sometimes, especially after a bad crash, it's nice to buy something pretty for your bike to remind it how you feel deep down inside. 
I like that Magura is carrying forward with their MT brake series with little details that are new.  It's nice to be able to swap out brakes without having to fuss about shifter clamps or drivetrain swaps.
---
*Yes, he's German. It was funny I swear!
**In my experience, adapting an I-Spec A shifter to an I-Spec B lever makes it necessary to file off a small tab on the I-Spec A shifter clamp. A quick, easy and obvious job.