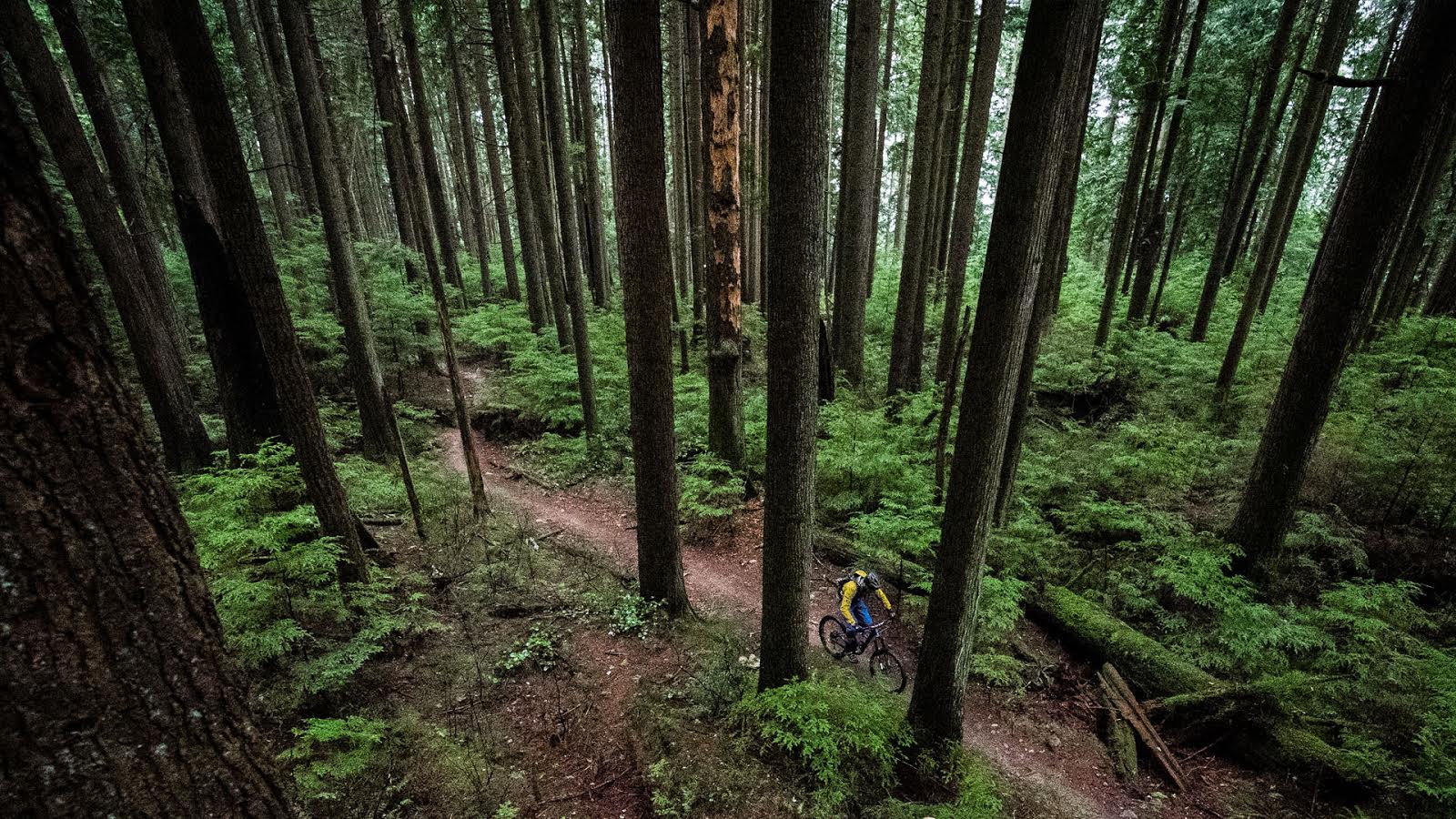 Magura MT Trail Brakes & HC Levers
Magura MT Trail Brakes
Composite is an appropriate description for the Magura MT Trail brakes. Take the simple, durable, and easily aligned two piston caliper from their MT6 and MT8 brakesets and mount it out back. Up front rotors are clamped with the massively powerful 4-piston caliper from Magura's DH capable MT7 brake system. Everything is actuated by the composite Carbotecture SL master cylinder which is normally controlled with the carbon Carbolay brake lever.
Magura MT Trail brakes. 4-piston caliper up front; 2-piston caliper in the back. The stock lever blades are Magura Carbolay carbon versions but this brakeset is equipped with their new aftermarket HC lever blades.
These are notably lighter than the Magura MT7 brake system and billed as an heir to the Gustav-M brakes. This system is more simple to set up but it supplies significantly more braking power than Magura's two piston XC binders. The cherry on top is gorgeous high-gloss chrome calipers.
The brake system on test here is equipped with Magura's new aftermarket HC lever blade – compatible with their MT6, MT7, and MT8 brakes – for a significantly reduced reach and an awesome aggressive hooked end. More on those below.
Magura HC replacement lever blade. Massive hooked end, significantly reduced reach, awesome profile.
Braking
Magura's MT Trail brakes have an excellent power curve although with considerable more very light or freeband stroke before pad engagement compared to other brakes on the market. These qualities are shared with all the current MT series Magura brakes.
Lever feel is equalized front and rear and modulation is excellent. Compared to my MT7 brakes I notice no difference in the power curve of the rear brake and I can easily control brake or lock it up at will. The raw yet controllable power is on par with the most powerful brakes currently on the market.
The new Magura HC lever blades discussed below further improve control. The significantly closer reach and pronounced hook make for a confident finger perch and excellent brake feathering action.
Although quite different, for me the only brake on the market with a similarly positive feel , modulation, and the smooth initial feel is SRAM's Guide series. Unfortunately the Guide pales in comparison to the MT Trail when it comes to stopping power. That isn't to say that there aren't other great brakes but for me Magura's latest are the pinnacle.
Polished one-piece calipers front and rear. Out back the Magura MT Trail features a two piston caliper and it's fronting four pistons for the same superb stopping power as the MT7 system.
Cost
The Magura MT Trail brake system, sold as a set, is priced at a premium even compared to their expensive MT7 system. Fantastic performance, easy service, carbon lever blades, and sweet polished calipers aside, you'll be dropping a lot of Euros.
The great news is that Magura will have a lower-priced Trail system coming based off their more affordable MT5 platform but sharing the MT Trails 4-piston front and 2-piston rear configuration.
After spending a number of hours on a set of lower priced MT5 brakes belonging to Ken Perras at Rocky Mountain Bikes, I'm surprised more companies don't spec them on their bikes. It could be that perfect set-up, especially of the rear brake, is more involved than other systems on the market but a Magura Trail version with a 2-piston rear caliper would resolve that issue. A lower price point version of the Magura MT Trail brakes would be a fantastic option for most riders.
Riding these brakes requires keeping spares of two different sets of brake pads in my inventory. I prefer to run Magura's option of four separate brake pads – one for each piston – for the front brake as I note a difference in braking control at slower speeds on steep trails but they definitely wear out quickly.
Magura's four piston brakes have the option of one piece or four individual pads. One advantage is that less heat is transferred from the hotter leading edge to the rest of the pad. Photo – Cam McRae
Like more aggressive rubber compounds on my tires, I'll trade faster wear for grip and control any day but I think it is worth noting that pad life is shorter than other brakes I've used.
Other than the chrome finish the one piece Magura MT Trail four piston caliper is identical to my personal MT7. I run Magura's 4-piece pad set as opposed to their 2-piece option.
Personal History
I have a strong personal history running Magura brakes. I've been running the latest generation MT7 brakes for a couple of seasons and my prior experience includes a couple sets of the legendary Gustav-M brake, the 2005 and 2007 Magura Louise brake systems, and going way back a set of 1997 HS22 Team Tomac rim brakes.
As a home mechanic I've always had a bias towards easy handled mineral oil, compared to DOT fluid, and Magura's brakes have a much more controlled power curve than the pad-clapping engagement of Shimano's Servo Wave brakes.
MY MT7s are the perfect progeny of the Gustav-M and the best years of the Louise. Massive amounts of braking power that is easily controlled using a master cylinder that is shared across all Magura's top end models. My two minor complaints with the system are the four piston caliper on the rear can be finicky to keep running drag-free and I would prefer to have a closer adjustment option for lever reach. Depending on the brand I wear medium or large gloves.
Magura MT6, MT7, and MT Trail brakes all use the same, HC lever compatible, master cylinder. Just pop up the thin plastic covers to access the press fit pin holding the lever in place. If you're not comfortable taking a press or punch to your expensive brake lever there are a few shop mechanics out there who have done hundreds of installs on similar systems.
Magura HC Lever Blade Installation
Shorter reach. Massive hooked end. What a notable improvement.
I can vividly recall nervously tapping out the press-fit pin on my champagne Hayes G1 brakes to install a set of red two-finger Bonz lever blades in my dad's workshop. I lusted for some Razor Rock's but I was more than stoked on the wide profile and pronounced curve of their less expensive competition.
The Magura HC lever blades are installed in exactly the same manner, although by fit and feel they remind me most of the rebellious hooked ends of the Dangerboy or Straitline blades that so many of us used on our Hayes, Avid Juicy, or pre-Servo Wave Shimano brakes.
If you're not comfortable taking a press or punch to your expensive brake levers just look for a cockeyed over-forty mechanic at your local mountain bike shop and ask him if he's ever installed a set of aftermarket lever blades. If he starts choking on his own sarcastic retort or begins slowly slaughtering you with nostalgia that's probably your guy.
The stock lever blade vs. the HC (installed). I don't notice any loss in power from the shorter blade and the generous curve and aggressive hook feel awesome. The HC lever blade is 12mm shorter than stock. Photo from www.magura.com.
My controls are moved outboard ~1cm to compensate for the 12mm shorter reach of the lever. I run the brake levers at the same angle and a couple hairs shorter reach compared to stock. I like fat lever blades.
Magura HC Lever Blade Action
As mentioned, I've been on a set of Magura MT-7 brakes for a couple of seasons now and they're quite plainly fantastic stoppers if only a little trickier to set-up than other systems on the market. I would go as far as to say they're the best brakes I have used. The only real complaint I have, with my Trump-sized hands, is that running the lever blades at their closest setting to the bar leaves me wishing for a few hairs more inboard adjustment. If you don't wear at least a size medium glove then the stock MT6, MT7, MT8, or Magura MT Trail brakes definitely aren't for you (the MT5 is a great choice for those needing the lever closer to the bar).
With the HC lever it's quite the opposite. Their maximum extension is roughly the same as the minimum extension on the stock levers. If you're happy with the reach on your stock MT6, 7, or Trail brake that then HC lever blade is probably not for you. Looking for a more pronounced curve and a closer lever position relative the bar? Perfect.
---
Are Magura brakes on your radar? Time for some HC levers for your MT brake system?