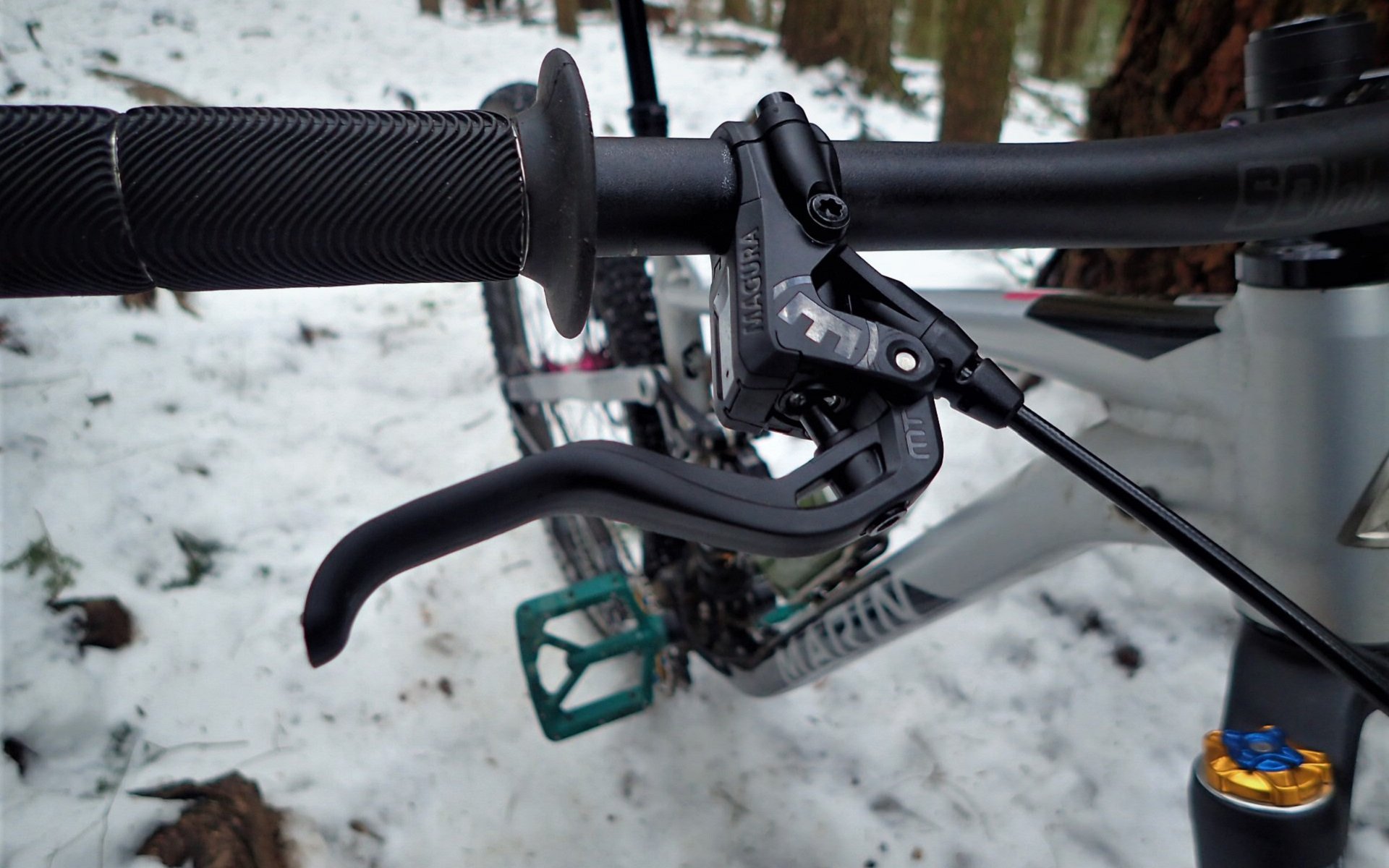 TWO-MINUTE REVIEWS
Magura MT Sport Lever Blades
Better Living Through...
It's not hyperbole to state that carbon fibre brake levers have changed my riding experience this winter. It's a cut-and-dry difference with longer rides, lighter gloves and an utter lack of digit discomfort. The carbon Magura levers I've been running on my hardtail are a no compromise product where the (high) price of entry delivers the excellent ergonomics of their HC lever format with a slight tweak to the width that I think, materials aside, makes them an improvement over the aluminum versions. Take my money.
The issue, which I noted in Better Living Through Carbon Fibre, is a lack of compatibility with Magura master cylinders which aren't made in Germany*. Yes, the outlay in treasure also sounds massive - you can buy a good brake for 100 USD per blade - but at this point I'd give up running a dropper post before I'd surrender the plastic-fantastic on my fingers in the winter.
So what's a person to do when they have one of Magura's excellent budget-friendly brakes like the MT5 or Trail Sport? Enter the Magura MT2/Sport lever blades, injection molded from one of their Carbotecture materials and easily installed at 30 USD a brake.
*Magura MT 6, 7, 8, and Trail Carbon brakes
I've owned a set of Magura MT5 brakes since 2015 and this is the third distinctive lever shape I've used with the system. The original long MT5 blade, the aluminum HC lever blades, and now this MT Sport blade which is the stock option on their high-value 80 USD per wheel MT Sport system.
For the old folks, swapping the lever blades on the Maguras is exactly the same process as installing a sweet set of Dangerboy or eNVy lever blades on a Shimano M765 or M800, back in the day. For anyone else all you need is a punch, mallet, and something to support the master cylinder body. If in doubt this is a quick job for any competent local shop.
Whatever the brand, I'm only buying brakes with a non-metal lever option going forward. It makes a huge difference for me. Given Magura's expertise with injection molding and the fact none of their brakes have aluminum master cylinders, I can certainly envision a near future where their aluminum blades have been retired. All they have to do is copy the shape of the carbon HC blades for the other injection molded options.
For fans of Magura's budget conscious brake line who want a finger-friendly lever blade for cold and wet weather, these are a drastic improvement. I'll be swapping the aluminum HC lever blades back on for the warmer season, but when the weather's foul, I'll be on these 30 USD Carbotecture Sport blades. Magura riders looking for cold weather finger-friendliness can check out the lever options at Magura USA.