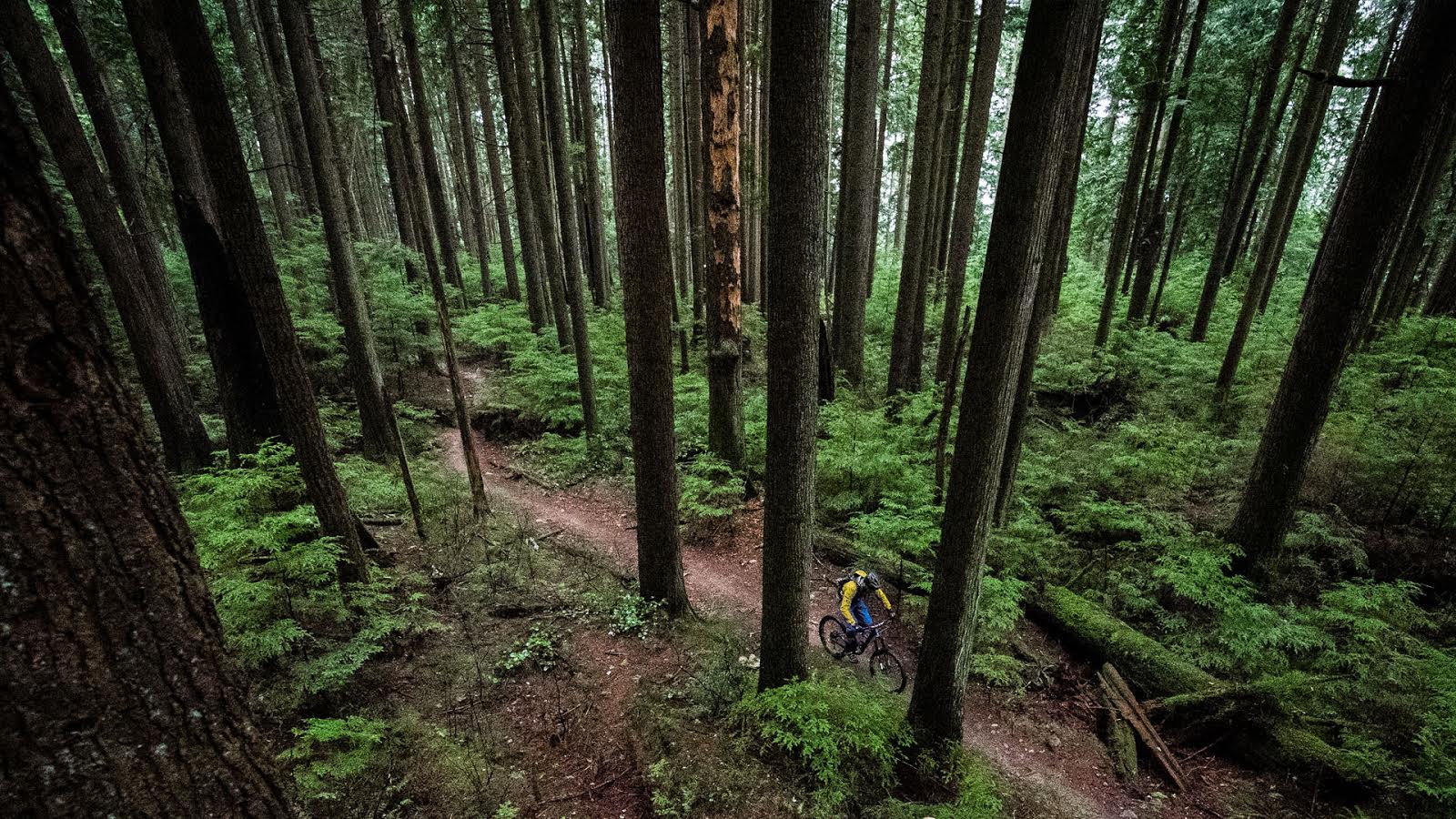 Maglock Pedals Reviewed
It's a dark, but not stormy, February night on the North Shore. Just around 8pm on a weekday, which means it's damn quiet with all but nothing going on. On a poorly lit side street our protagonist stands just back from the sidewalk doing his best to blend into the shadows. A rider approaches on an all-black commuter bike followed by the eerie glow of a red taillight.
Both figures keep their heads low and their situational awareness high, wary of being recognized, as a hefty package is removed from the rider's pack and hoisted judgmentally by the figure in the shadows. "Holy … these are heavy" he quietly laughs, shaking his head.
A pair of bike pedals.
Each Maglock comes (bottom row, left to right): cleat, bolts, magnet retention plate, and cylindrical magnets. You tune the amount of magnetic retention based on how many magnets you leave in the pedal.
The axles turn roughly in the bodies like a pair of cheap BMX flats and the crude detailing screams cost-sensitive pre-production sample. The cleats and pedals are separated by pieces of news print, but even so, it is hard to overcome the magnetic force they wield on each other. "Three rides, I promised three rides", he thinks to himself.
The rider smiles boldly and then, with a relaxed authority that only someone who has the internal serenity and sanguine je ne sais quoi to open-mindedly tackle a review of Crank Brothers' latest attempt at a new and improved-quality pedal could legitimately command of the situation says: "try and think about what they could be, not just what they are."
A series of cylindrical magnets sit under the silver metal cover plates. The six black bolts that retain the cover plates also retain the cleats fore/aft movement. Float is all but infinite.
I want. To Love. These Pedals.
How many times have you been enjoying a relaxing pre-ride, on-ride, or post-ride beverage when someone in your riding group — let's be honest, sometimes it's you — proclaims to have thought of a brilliant new take on riding mountain bikes, or bike gear, that we All Need. It would fix X, and only at the cost of Y, and really who wouldn't want one? All those engineers and designers gainfully employed in the bike industry are too busy fettling with hub widths or playing fifty shades of carbon with the marketing department to have thought of this piece of brilliance! Here is a rare example of someone who had a crazy idea and actually had the perseverance to make it a physical reality instead of letting it die off in the next round or around the next bend.
Where all current offroad-worthy clipless pedals (I dare one of you recumbent rocking Bebop riders to comment) rely on some kind of spring-bound-cleat interface and flat pedals use pins, concavity, and rubber compounds, the Maglock with its adjustable magnetic interface is genuinely a different way of connecting a rider to their bike.

The company sponsors multiple riders with prosthetic limbs, which is an awesome proof-of-concept, and without giving away the whole story, as someone who has seen many cyclists who were underserved by current clipless pedals, and flat pedals, there is definitely a place for this product in cycling. But…
Entry and release are easy and intuitive if you are going to be stopping and starting in greasy situations.
I want. To Hate. These Pedals.
I wasn't originally certain I could give this product a fair test. It's the marketing spiel. You can check it out on the website but to paraphrase, the Maglock pedals claim to solve a bunch of problems I've never experienced with SPD pedals. Then, if I get hungry they'll roast me up a baked potato with all the fixings and run down to the nearest craft brewery to fetch me a pint.
There is no getting around the fact these suckers are heavy. Like loaded up with a half a pound each of magnets, on top of the pedal weight, heavy. The bearings turn roughly and when they aren't loaded (i.e. when I'm not standing on them) they rattle. Pick up the bike, drop the bike, rattling sound. Rattle. RATTLE. For someone that loves a quiet bike, it's a cacophony.
Well worn Shimano cleat on the left. Maglock obelisk on the right.
The cleats are more than twice as large as any other pedal I've used and it is awkward when walking or hike-a-biking, although much more so on pavement than on the trail.
There are also these tiny, tiny, little top-loading set-screw pins that service no purpose except to bend or eat your shins unless you are pedaling in street shoes. I left them in but if I was going to keep riding the pedals I would definitely track down a 1.5mm (?) allen key or some vice-grips and remove them.
Riding the Maglock Pedals
My first spin around the block I could already think of fifteen people I know who should try/buy these pedals. Only one is a mountain biker. Working in shops I've met so many people who are deathly afraid of clipless pedals, but have physiology (ankles, knees, hips) that requires a degree of heel float that flat pedals and shoes do not provide.
I first tried the Maglock pedals on my singlespeed, but vastly preferred their much quieter residency on a geared bike.
Engaging the cleat is totally brainless, you step on the pedal and you are locked in. Unlike traditional clipless pedals where spring tension increases as you clip out, as the Maglock cleat moves away from the center of the magnetic force the retention force lessens.
For anyone who has accidentally bought a set of Shimano multi-release (silver/SH56) cleats instead of the stock offroad single release (black/SH51) cleats the Maglock will similarly release your foot if you pull up hard enough (even with the maximum number of magnets installed) which can be annoying on the trail if you aren't expecting it.
The engaging crash of magnet against magnet, and then cleat against retention bolt is familiar enough for someone used to the positive engagement of a Shimano SPD pedal and much less vague than some other clipless pedals on the market.
The three black retention bolts fore and aft of the magnetic center (six per pedal) keep the cleat from floating outside of a useful amount of retention force. I first tried the pedals on my singlespeed and absolutely loathed the back-and-forth Clack, Clack, Clack of the cleat hitting first the front and then the back bolts during out of the saddle climbing efforts. After one ride I transferred the pedals to a geared bike and going forward it was almost a non-issue.
The amount of heel float that these pedals have is exponential compared to anything I've tried, and that leads to their biggest shortfall in terms of mountain biking use. Where flats and clipless pedals allow you to steer the back of your bike to varying degrees in varying trail situations (an exaggerated example would be a tail whip), with the Maglock's huge float your side to side connection with the bike is very vague. I do think this could be alleviated with the addition of retention bolts inboard of the cleat to limit inward float, and possibly outboard as well, although the position would have to be perfect to continue to allow for disengagement.
With all the magnets installed (they are removable for customized retention strength) the retention force was very good, however I would love to have the option of even greater retention force and can't imagine many riders wanting less as even with the full complement of magnets it was easy to get your foot off of them.
Pedaling Onwards
There will not be a long-term test, at least not by me. After four rides I definitely feel limitations in my ability to control my bike in tight, technical, situations that I do not experience with the SPD pedals I generally run but I would be open to trying the next generation of the product once certain shortfalls are addressed.
I appreciate this product helps some amazing athletes with unique challenges get out to mountain bike, and BMX, but even at the current weight it should be targeted directly at the Urban/Commuter market. A commuter can rip to work with the efficiency and comfort (float) advantages of a clipless pedal and use then use the same pedal to cruise for a coffee in their dress shoes, or around the neighbourhood in their beach shoes come the weekend without having to think about which side of the pedal they're standing on.
For anyone who can't or won't ride clipless pedals, for whatever reason, and are also not well served by a flat pedal, the Maglock could be an alternative – with better bearings and a fair bit of refinement.
---
Excuse me. Are those magnets in your pedals?