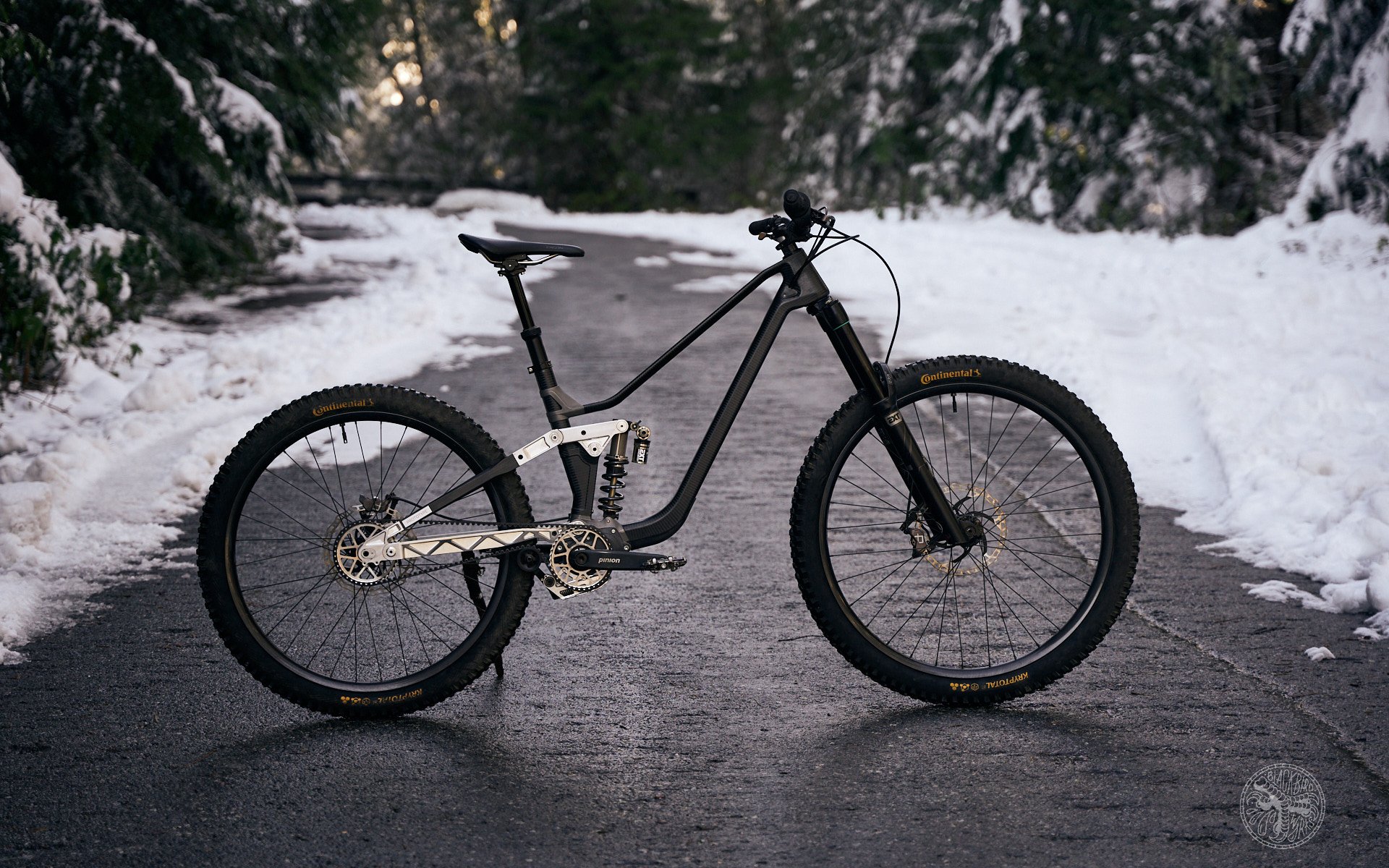 First Ride and Interview
Machina Bikes First Ride
Machina Bikes
We are at a point in history where the faint and fleeting images that come to us in a restful sleep can realized on a simple desktop 3D printer. We can go buy these machines, that were the size of a Zamboni in 2005, and they will now fit on your bedside table. They are simple and efficient and accompanied by a huge online sub-culture of creators, allowing businesses to blossom from your kitchen table. My favourites include Jank Components who started making excellent solutions for Forbidden Druid Frames, or that guy from 'big corp' who makes drug paraphernalia that fits in your steerer tube. Whatever the flavour, there is a solution looking for a problem if you have a 3d printer.
I've always loved building things and making improvements to existing systems and I love creative, smart people taking on big challenges to show that garage building can be fun and rewarding. So I was hooked when I caught a glimpse of what was about to happen on the Machina Bikes instagram about a year ago. The angular carbon silhouette of a gearbox bike was being teased and the address said Whistler, BC.
My made-in-Canada loving ass got tingly and I subbed and liked the content. That alone must have given them the green light to build the thing. Weeks and months went by with little progress until it was Crankworx time in Whistler. Busy with enough activities to make the most ADHD person throw in the towel, I recalled the Machina.
There I was in the media feeding frenzy, absorbing all the new and shiny things like a blackhole sucking the universe around it in, when I reached out to Sion from Machina to see if I could see the bike in person. To my surprise they said "Sure, where do you wanna meet up?" A couple of hours later I got another message saying, "hey, the bike is not quite ready for you to see yet... can we do a raincheck?"
The Bike
What drew me to the Machina story was the feeling that somehow, while Sion and Tom were doing all the work to create a bike out of thin air, we were doing it all together. It rang like a story from my childhood where making things out of random lego bricks felt like a great success; adding motors, servos, belt drives, wheels and making monstrosities move. I'm sure both Sion and Tom would love hearing me compare their engineering marvel to my half-assed lego building.
The Machina is a mostly built in Canada with parts from Germany, New Zealand, Italy and China. It's purpose-built to stretch the service intervals as far as possible without compromising anything in componentry or suspension performance. Based around the 9-speed belt-driven Pinion gearbox, Machina is a 35+ pound sledge hammer than can open a beer bottle without breaking it. The numbers suggest a single-purpose long-travel race bike but the trail experience tells a deeper story.
The titanium gearbox mount and the seatpost/top tube lug are made in New Zealand using the additive 3D printing. The finishing and the materials used make them a plug and play, with very minimal finishing work needed. This allowed Tom and Sion to focus their energy on the carbon and aluminum bits of the bike, which there are plenty of.
The carbon used on the bike is a uni-directional and 12K weave mix, with the 12k being mostly the finishing layer, allowing the thickness to vary, depending on the strength and flex needed. The Headtube, toptube and downtube are 3 separate pieces that join together after they are laid and can be repaired individually if necessary. This somewhat modular system allows for efficient customer support if something was to go wrong. Realizing the driveside seatstays are not under intense forces, they used carbon instead of the aluminium used on the non-driveside. According to Sion, the current crop of big rotors and powerful brakes put the seat stays under immense stress.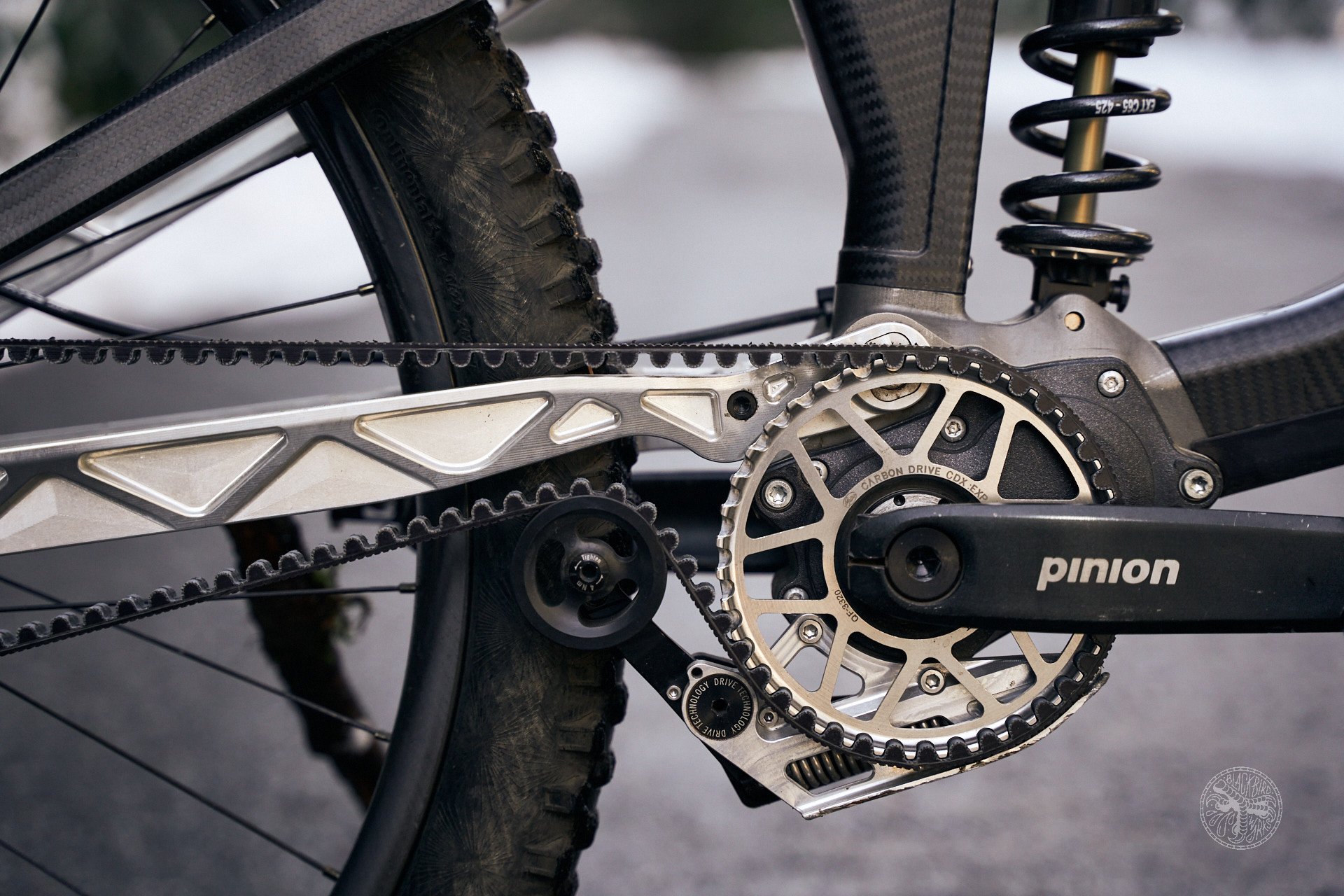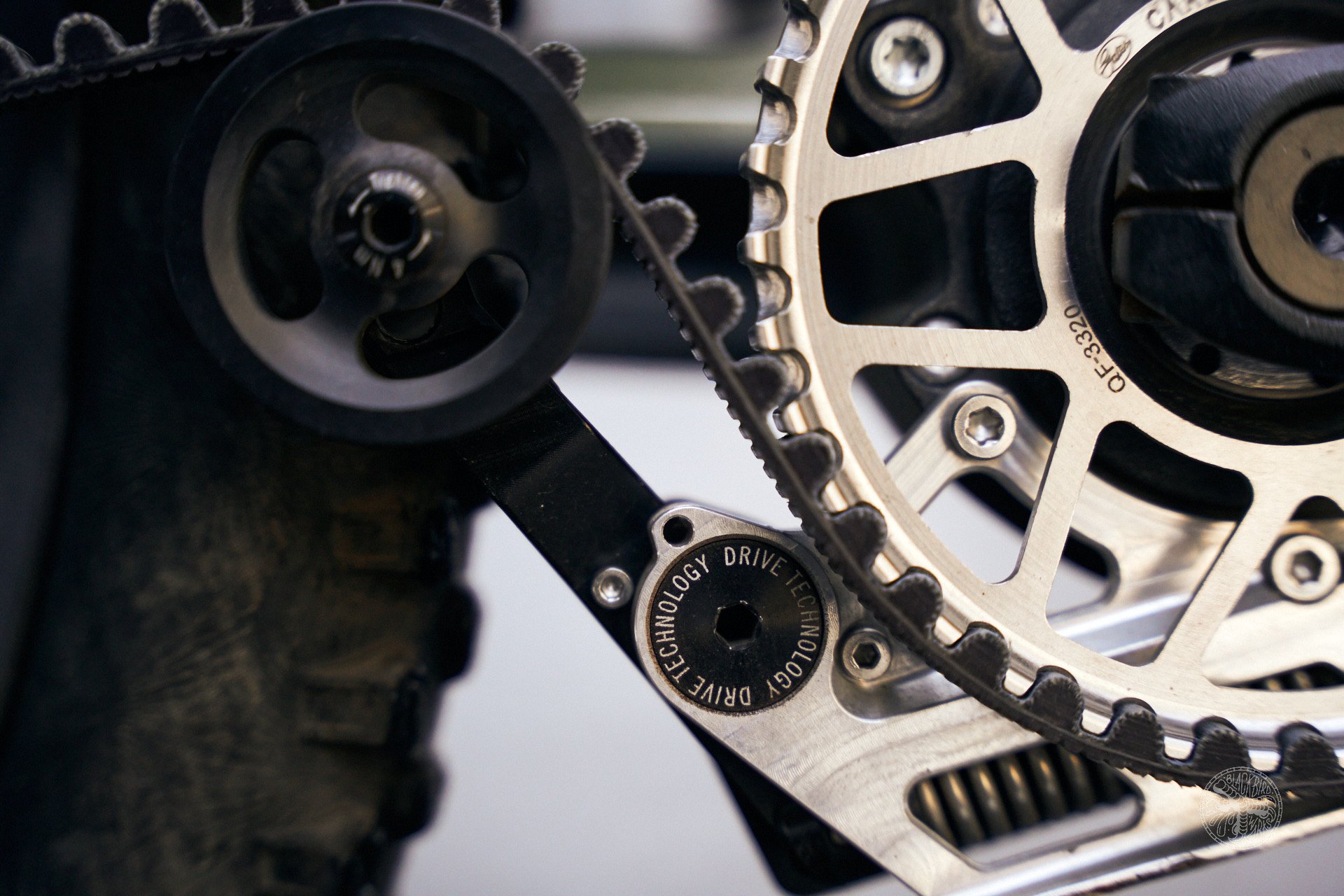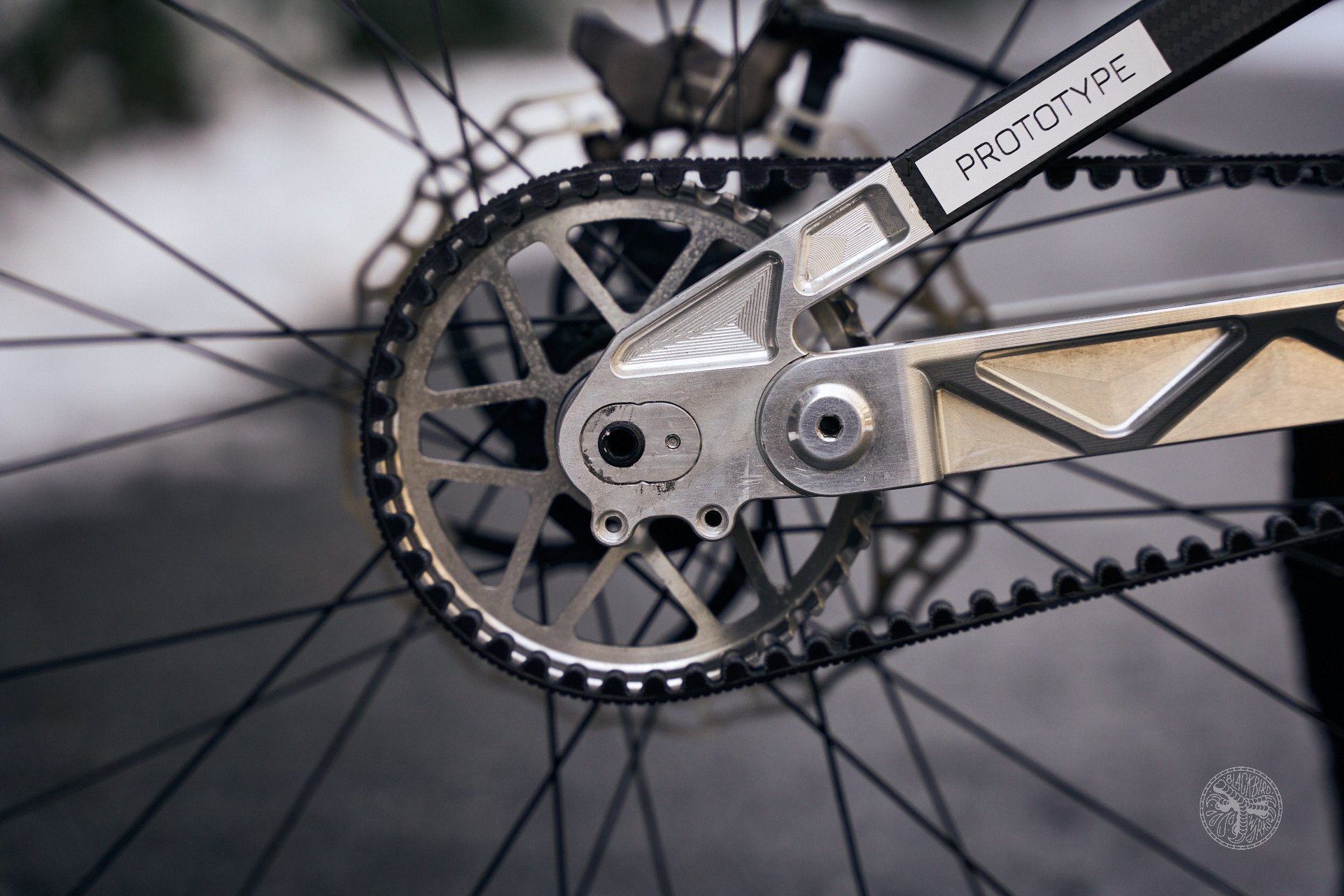 Geometry and Bike Setup
As it currently sits, The Machina has 165mm rear travel and a 170mm Fork. The "Extra Medium" sizing I got to ride measured in at;
63.5deg HA
12.4mm BB Drop
437-442-447mm chainstays
1271mm Wheelbase
475mm Reach
639mm Stack
110mm Head tube
77.5 deg seat angle
SOFT stiffness token
Milled 6061 Aluminium parts
205/65mm Shock
The numbers are not very similar to my current ride and I was worried a little about this. Longer and slacker in every aspect minus the seat tube angle, I was prepared to ride a bike that was way too big for me. After accepting this possibility mentally, I had no problem enjoying the ride.
One interesting feature of the Machina is the tunable Stiffness Token on the rear stays. Joining the seat stays together just behind the seat tube is a 3D printed piece of material. Bolted from the sides, this is a critical part of how Sion and Tom tuned the way this frame rides. Tom opted for the soft token that allowed for more rear end compliance around the corners and in rough parts of the trail. Sion's Token was stiffer and he was planning on machining an even stiffer one for his setup. I can't personally say if the soft token was too soft or not but I don't race EWS like Sion does. I did like the idea of being able to try different setups and pick the one that suits the ride at hand. My experience would tell me I'd want a setup stiffer than the Driud, Hightower and a hair less than the Rallon. Whatever that may mean to you...
Lucky for me and for the overall cohesiveness of this first ride, Tom's bike shared a few key components with my own ride.
EXt Era V2 Fork at 170mm
PNW 35mm rise alloy bars
We Are One Union Wheels
Continental Kryptotal DH Super Soft tires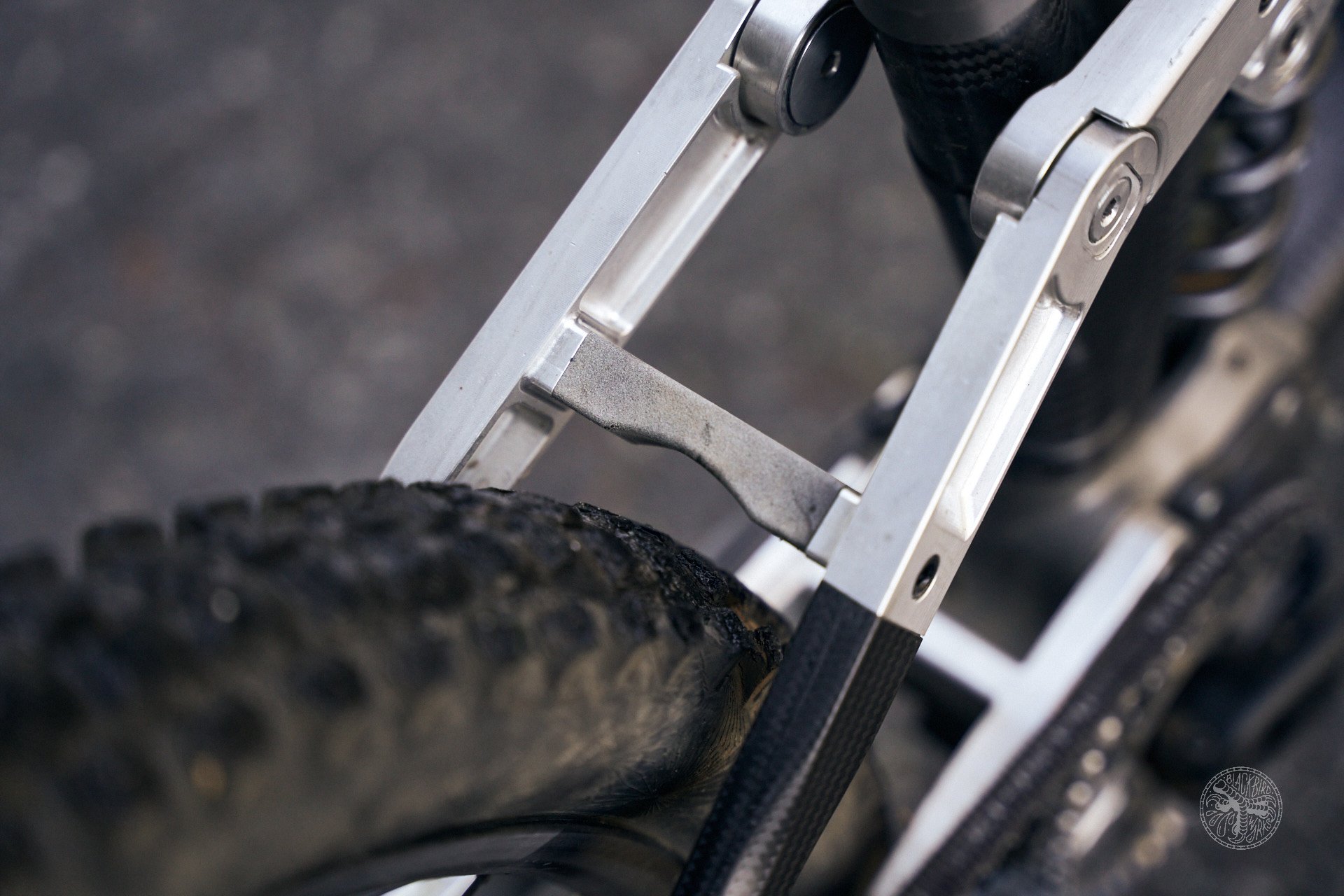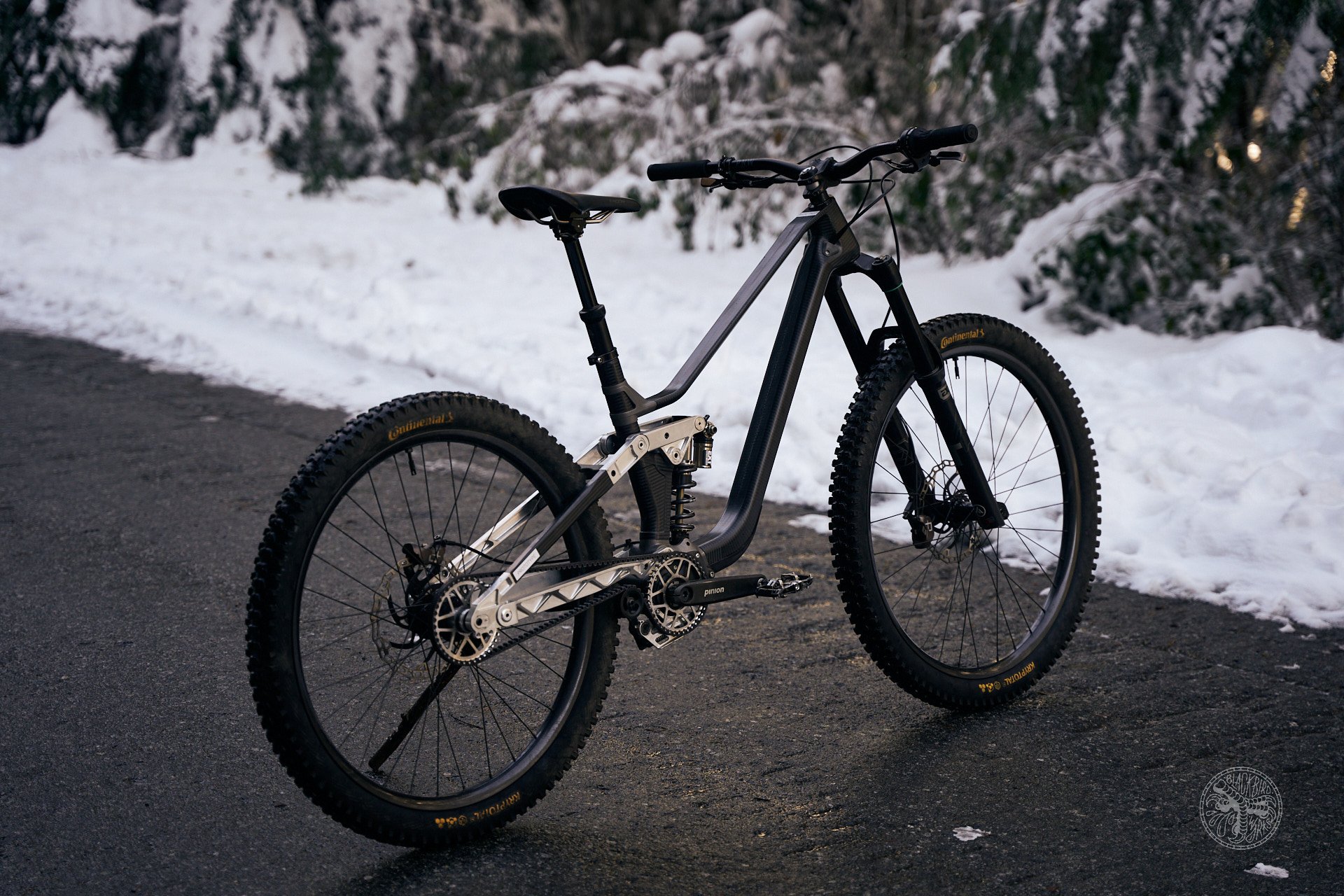 I set the fork to 55psi in the + and 80psi in the ++ Chambers with fairly open compression settings for the cold, snowy day we were heading out in. Tires pumped to 19/22psi and saddle set to my height, we hit the hour long climb up the road to the trail head. This climb was the perfect opportunity to chat with Sion about the past, present and future of this project they embarked on. If you want to get the dirt out of someone, ask them questions while climbing a mountain on a bike. The salty truth seeps out like beads of sweat if you ask the right questions. On the climb I set the Pinion gearbox to 3rd gear most of the time, only reaching for 2nd when the camera pack felt heavy on the steeper parts. The bike is no featherweight, and definitely not made lighter by the photographic gear that came along. On the climb we also picked up our own Graham Dreidger and local fast girl, Sarah Thackray.
Sion who has been in the bike industry and no stranger to racing bikes was quite tired of breaking his bikes into pieces while trying to finish races. Living in parts of the world where trails are steep and fast, the industry just wasn't meeting his needs. Instead of waiting around for something to happen, he rolled up his sleeves and got to work shortly after meeting Tom Moffat of North Shore Billet. It's great when you get yourself in deep trouble, but if you can convince a buddy to indulge too, the satisfaction multiplies. As the boys embarked on this journey, they put their industry resourcefulness to use. With Turner, Welder, Boat Builder, and Mountain Bike Component manufacturer titles in his resume, a lot of Tom's creations are enduring the waves, tides, rocks and roots all across the globe. I had no doubt if this bike could get me down the icy, snowy, steep trails I was about to present it with.
Downhill we go
A 475mm reach and 447mm rear end is on the longer end of things for a 5'9" rider like me. I suggested a quick swap to the shorter rear stay position for the rear but there is a slight problem with the current belt tensioner as it would pinch the belt around the lower chainring a little too much. Swapping to a shorter belt would do the trick but that wasn't possible on short notice.
The suppleness of the suspension is hard to explain. The lack of chain slap, derailleur rattle, and everything else that contributes to a shopping cart sensation is omitted from the Machinas dictionary. It's a strange feeling when all you hear is the knobs of the extremely grippy Continental Kryptotals digging into the frozen ground. If I can get my timing right with the gripshift Pinion setup, this should be a good one!
The bike rides sprightly and with more energy than the numbers suggest. There was great amount of feedback through my feet but I didn't feel overwhelmed. The bIke just wants to run and generate speed on any opportunity. The 27.5" rear wheel initiates turns easily and stays out of the holes better than some other examples I've tested. Traction is abundant and I felt centered on the chassis.
I tried to pick the front up for a manual but I failed immediately, the bike reminding me of how long it is. Combined with the relatively slow rebound speed on the ERA V2, I decided to not to embarrass myself any further and keep the wheels on the ground instead. I won't be jibbing this thing in the parking lot.
The trails we rode have a couple of opportunites to let the horse run wild for 15-20 seconds at a time. The Machina comes alive and asks me for another gear, I accidentally grab 2 and bog my legs down a little. I then over shift the other way and at the end just say fuck it and leave it in one gear for the rest of the trail. I think this will require some practice but I can't help but think there is so much opportunity to offer different shifting modes with this setup.
Leave it as is and have sequential shifting that Pinion offers.
Add a Archer components like operation and mount 2 servos to the downtube for wireless shifting (I like this more and more in my head)
keep the current gripshift setup, but make it shift one gear at a time in either direction. a single twist gives you a single change in gear. I would have liked this on my first ride, but not sure if its a good expert setup
There are probably several more options here
As the ride continues, there is snow building up on the drivetrain. A regular derailleur and cassette would have been totally caked in ice and skipping all over the place. The Pinion with a Gates belt, carries on with an occasional ping that reverberates under load. We weren't sure why this was happening but it felt like either the belt was crushing some ice into the grooves or something moisture-related inside the gearbox. The sealed unit shouldn't allow any moisture to enter but ours is a gnarly environment for bike parts. A long term test should be interesting. I still think the components would outlast most traditional gear changing setups.
I can get behind the idea of less unsprung weight. Making the real wheel lighter, without a cassette, allows it to change direction more quickly, overcoming inertia and generating more traction as well. If you can give me AXS quality shifting in the Pinion form factor, I am all for it. But as it sits, I am not entirely sold on the grip shift application. I didn't accidentally throttle grip and shift my way out of a gear but I struggled to reach for the gear I was after for a punchy climb because I was not ready for it. On trails I know well, I don't see this being a huge problem, but on unknown trails, I'd like to be able to shift later in the powerband.
By the end of the ride, I felt like I'd been riding the Machina for years. We got along quite well and I had no reservation riding the gnarliest lines I could find and I thank Tom for his choice of Suspension, tires and Cockpit for that. And maybe the suspension design too.
I fired some questions to Sion and Tom and will leave them here for you to see.
Hello Sion and Tom, tell us who you are briefly.
Sion: Hey Deniz, I'm a Product Design Engineer and mountain biker originally from North Wales, UK. I represent half of the project we called Machina Bikes. 
Tom: Hey Deniz, I'm originally from Australia and I'm the other half of Machina. 
How do you pronounce Machina? I get asked this the most. like Makina or Mashina? 
Sion: We're calling it like Mashina. The name came about with my girlfriend suggeting the name a "maquina" (Spanish for Machine) because the bike looks like a machine. So we went with a variant and I think it works well. We have relied heavily on subtractive manufacturing so it made sense to us! Tom: Yeah we call it Mashina, but each to their own if someone prefers makina. 
Tom is no stranger to machining things in the past for NSB and Sion has been working at Commençal in the past. What was the motivation to start building bikes in Whistler?
Tom: I built the park bike the year before and I was loving it. I wanted a trail bike version and was really interested in going down the gearbox route, and naturally Sion and myself were bouncing ideas at work so that kinda set the whole project in motion.
Sion: Tom started at FYi (the company I was working for) just over a year ago. I think within a few days of meeting each other, talking about the bike he made last year, and what our dream bike would be, we were locked in to this project. I wanted a new bike for the race season and wanted to try a gearbox for some time. There were some geometry aspects that I wanted to try out and I really wanted to get an adjustable rear end flex token in the design too! 
AJ photographed some of the bikes you've built in the past out of aluminium. Was Carbon/titanium a natural progression of that or allowed some tuning possibilities other materials could not provide?
Tom: The other bikes were designed and made based on the tools I had at that time. The materials were also specifically chosen with park riding in mind. I've wanted to build a carbon bike for a while. I was going to build a carbon bike in Australia before I moved to Canada because I was working in the composite industry. Making this bike in carbon was a no brainer, we wanted to be relatively competitive on weight and be able to do most of the manufacturing jigs and production processes using 3D printers so using this construction method made sense. 
The elephant in the room, the pinion gearbox and Gates belt drive.. other than reducing the unsprung weight at the rear wheel, was there critical reasons for this choice? 
Sion: I'm putting a load of km's on my bikes through the season and riding in all conditions, year round. I've been frustrated by the inconsistent performance of the traditional drivetrain through the course of a season. I've always been gearbox curious and this seemed like a great time to try. The reliability was a big driver for me. 
Tom: Basically, the gearbox doesn't change feel as there are no external factors to jam it up or clog it up. Plus, can SRAM or Shimano offer 5 yr warranty and 10000 km service intervals with their drivetrains? The main reason to go for the belt was the benefits with noise and to avoid chain slap affecting the suspension.
As with any ground up design, have you run into issues you are working around? Is pinion the way forward or would you consider a design around the rear derailleur?
Sion: The belt drive needs something called a "snubber". This is a little roller that forces the belt onto the rear drive sprocket in bad conditions. We didn't need one in the summer but riding in the rain and snow recently highlighted this issue. Otherwise the bikes came together quite well. 
Tom: a few issues but everything from the frame perspective has been worked out now. I'll probably make a few small tweaks to optimize weight in the gearbox mount and rear end. And yeah what Sion said about the snubber though I feel it's all related to the spring tensioner as it packs up with mud and gunk I feel a gas strut would solve this so I might look into this.
Tell us about your R&D process a little
Tom: a lot of beers and late nights.
Sion: Yes, pretty much. We completed this project on a tight budget and in our spare time. Most of the time we were just going with what felt right. 
What does it take for a start-up Canadian bike company to survive in this market these days?
Tom: ohh yeah I'd say a lot of capital or a solid product which you can build on. Weareone is doing it right starting out with a awsome product that competes with factories overseas on price and in my opinion is nicer than any other offering, then just building on that foundation with other really nice products.
Sion: Good question haha. We never set out to make any money on this project soI can't say I'm a good guy to ask. We wanted to concentrate on the product without thinking about business models or money.
What is the next chapter? Would you like to sell some bikes and keep selling them for the next 5-10 years? Or call this a passion project and move on?
Tom: it's a passion project as of right now, I guess the main thing a lot of people don't realize is that we made everything ourselves (minus the printed Ti, although we still need to post machine it) from hardware to seat stays and even the cable routing and bash guards, so that naturally takes a lot of time for just 2 people, so if we where to do it we would try to outsource parts to be made in Canada as I personally don't like manufacturing in Asia. It's just that making it locally means a higher price tag at the end of the day.
Sion: It's really for the market to decide if they want this bike. We don't want to push it on anyone. We understand it may be a niche, but it makes sense for us. We believe the product is really good, so we're just really happy to have our dream bike.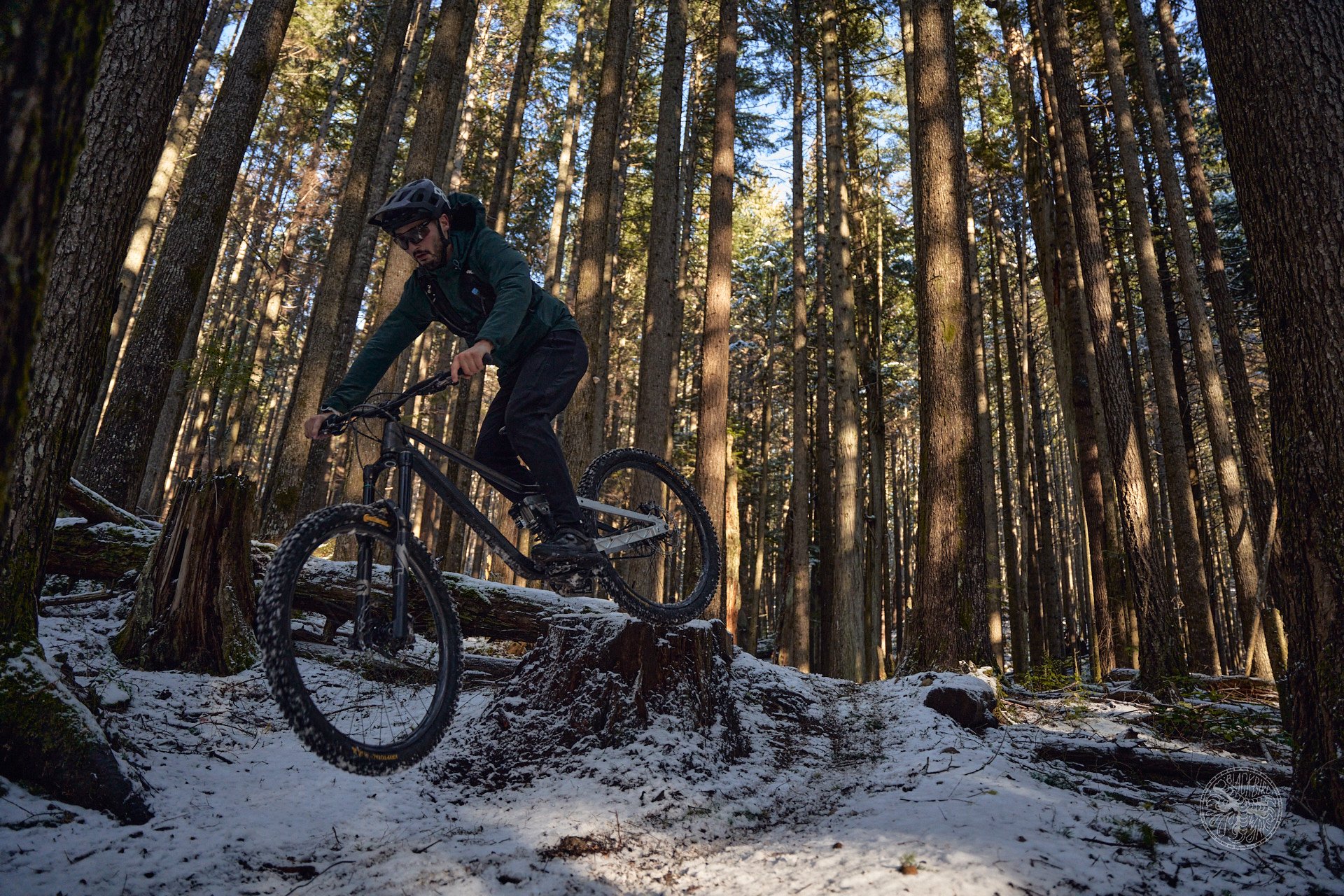 From my limited time on the bike, I'd say you nailed the geo and the suspension kinematics for the Sea to Sky riding. Any plans to tweak the numbers further?
Sion: I was riding a 475mm reach with the short CS initially, since then we cut it back and laid up another and processed it at 470mm reach with the long CS. This is feeling amazing for me at the moment. I think I would be happy just playing between mid and long chainstay and optimizing rear end flex and calling it a day.
Tom: No plans for me, the only thing I want to play with is exactly what Sion mentioned, just the chainstay flip chips and the seat stay brace.
Thank you for the opportunity to get to know you and the bike. Looking forward to more news from Machina soon!
Tom: Cheers man thanks for putting out killer content.
Sion: Thank you Deniz and the NSMB team for your work!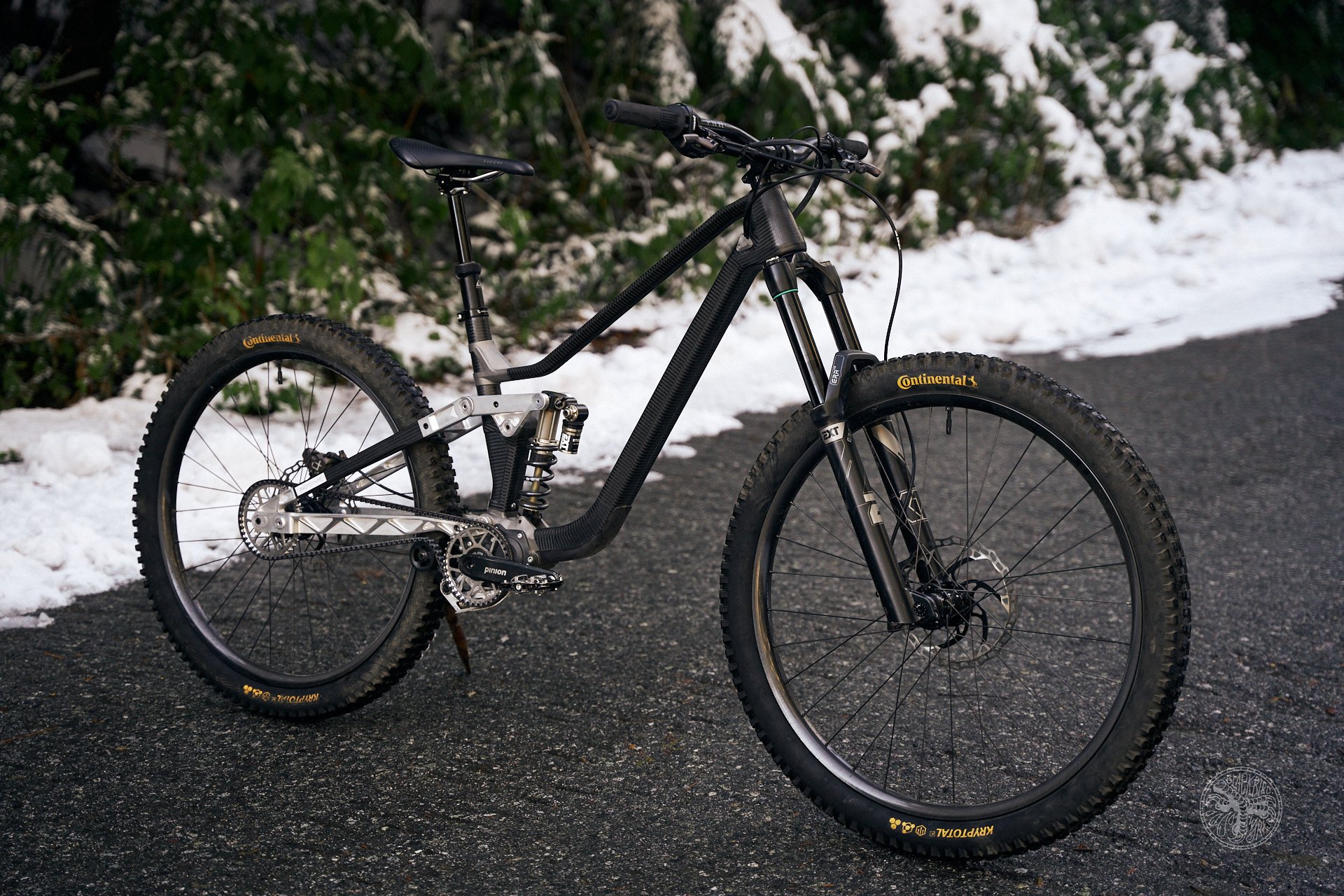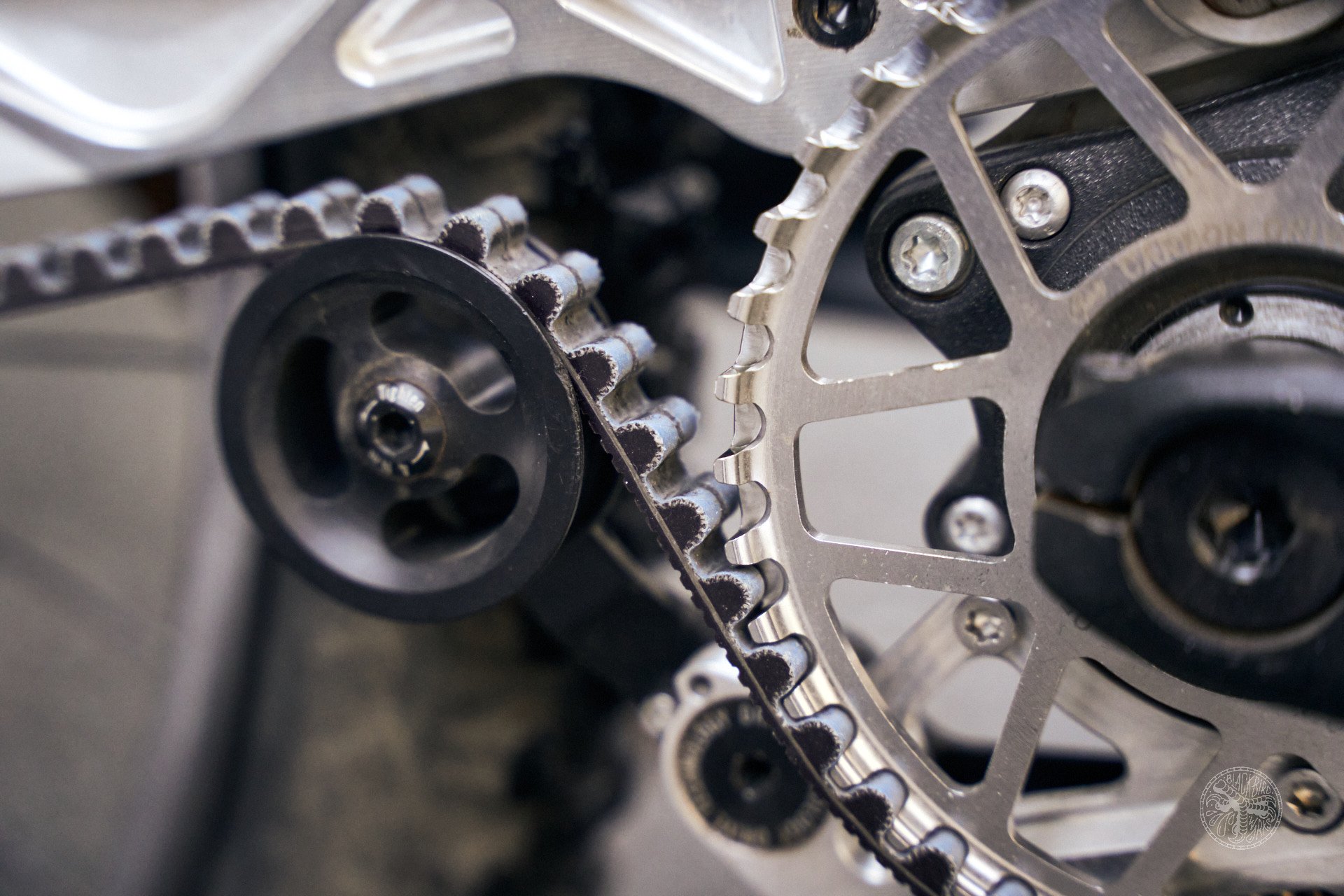 Will they?
It is with absolute certainty that Machina will sell every single bike they can make. It will be expensive and exclusive for a while but I can see waiting lists growing as they open up to orders. The problem is, what will happen in 5 years. Will they still be making parts? Will they be around to call to ask about an issue? Sure the carbon bits can be repaired and 3d parts can be printed. But will you, as the owner of an expensive machine, have to shoulder the costs? Will they go Open source and have different people make parts for them?
So many questions. And I can't wait to find out because this thing is way too rad!

Deniz Merdano
5'8"
162lbs
Playful, lively riding style
Photographer and Story Teller
Lenticular Aesthetician