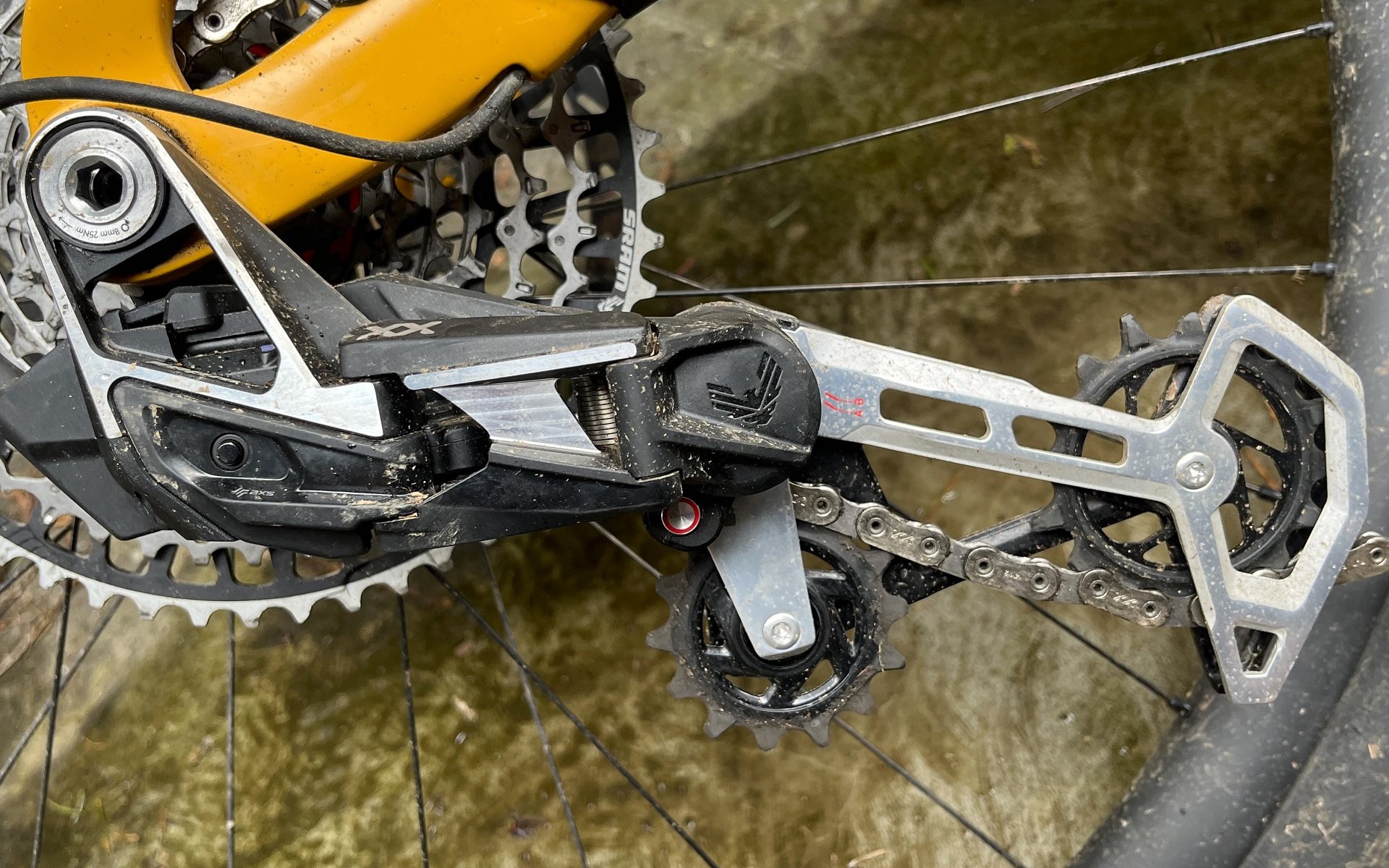 EDITORIAL
Lost In Transmission
On 3/21
A pile of neat bicycle stuff was released on March 21st, 2023. Printed titanium cranks by Cane Creek, a 12-speed cable-actuated drivetrain from TRP, new colors that are actually pretty sweet from Guerrilla Gravity, Canyon has an updated Neuron full suspension bike. Also, very sadly, Kitsbow announced that their employee-owned, living-wage, domestically-manufactured clothing experiment is coming to an end.
Even the keen absorber of bicycle content could be excused for having missed some, or all, of these things trying not to be drowned under the monstrous wave of hype as SRAM's new drivetrains came crashing down upon us. Sorry, it's called 'Transmission' not a drivetrain. That's a cheeky way of letting you know you have to buy new cranks at the same time.
Post after post, piece after piece, saying the same things. It's a paradigm-shifting once-in-a-lifetime leap forward in drivetrain technology even if it does look a lot like someone selectively polished parts of an AXS rear derailleur and bolted it to a Shimano Saint RD-M800 direct mount axle circa 2003.
I abandoned my social media for the day as shifting through posts by bike brands, sites, shops, frame builders, supported riders, semi-supported riders, and mountain bike enthusiasts I follow was like shifting a three-month-old Eagle SX drivetrain up and down the whole 12-gears. I don't have the patience.
How many people in mountain bike media wrote some version of the phrase "I hate the term game-changer, but I'm compelled to use it here." Game-changer for whom? What percentage of mountain bikers are on 10K+ me-bikes or 15K+ e-bikes?! I'll get to the potential for trickledown later. And game-changer compared to what? For those that can afford the price tag, AXS X01 & XX1 Eagle are awesome drivetrains.
Oh, and did we ever find out who set the record for most bros piggybacking each other while standing on a Transmission rear derailleur, even though that's not really ever how rear derailleurs are impacted?
The WaveCel Factor
There is a bunch of cool stuff going on with Transmission and I'm actually here to talk about it. For one, brand new out of the box, I agree that it shifts better under heavy pedaling loads than anything on the market including SRAM Eagle AXS, Shimano's XTR HG+, and XT LinkGlide. Better. But, how much better? And I can buy an XT LinkGlide M8130 shifter, XT M8130 rear derailleur, and LG700 cassette for less than the cheapest T-Type cassette on its own (XG-1295 @ 400 USD).
This is a population-level evolutionary event that's being dressed up as cataclysmic change. The chainline in the lowest gears is still shitty, the increasingly massive rear derailleur still dangles, riders are still going to wear out a couple of cogs and be on the hook for a full 400-600 USD cassette. Chains cost 100-150 USD. And those prices really don't matter because anyone who can afford a Transmission-level bike can afford spare parts. The second owner had best be aware that it's X0 and up.
Yes, moving the cassette outboard 2.5 mm makes for a better chainline assuming a bike was already running Boost-148 with a 55mm chainline rather than the more common 52mm combination. As covered previously, the extraordinarily awful 55mm-Boost combo is not ubiquitous yet.
When I started reading the T-Type copy all I could think of was Trek's WaveCel helmet campaign. They teased it as "Cycling's Most Important Change In 30 Years" and "Cycling's Biggest Change Since Carbon Fiber" and then it was just another f***ing unprovable helmet technology. Then they were sued at least a couple of times for too-good-to-be-true concussion claims.
If they'd just advertised that they had a helmet technology they felt was as good as MIPS but wouldn't creak or squeak, fit more naturally and provided a similar level of rotational benefit without a plastic liner, that really would have been a product worth checking out. Instead I can't read exaggerated marketing claptrap from any product or industry without immediately picturing translucent green waves.
I also couldn't help but notice - kudos - what a fantastic job SRAM did in all their marketing materials of photographing the T-Type rear derailleurs from only the most flattering angles. I'm an admittedly crappy photographer and had a hard time making it look so svelte and edgy.
Compatibility
Is Transmission still Transmission if you don't use SRAM's new chainrings? Cam says, "yes," and the reason I can't comment completely on it's relative shifting performance compared to HG+ and LG is that I rode it around on his bike, which uses the 'old' Eagle X-Sync ring. It was great.
The 8-Bolt standard that SRAM is using for the new Transmission cranks isn't new, it's currently present on their road cranks and is their flat-top chain design. Many brands already make 8-bolt, flap-top-compatible chainrings in road and gravel sizes so it's just a matter of making smaller versions of the same.
Likewise, carrying forward SRAM 3-Bolt cranks or running another direct mount crank of your preference, any flat-top chain compatible ring will work. For example, any of Wolf Tooth's narrow-wide rings that use their Drop-Stop B profile, which they are working to produce in smaller sizes.
One issue with backwards compatibility and chainrings that I can't comment on, is whether Transmission will work with chainlines other than 55mm. SRAM says it absolutely will not. But if I can run Super-Boost-157 with a 55mm chainline why can't I run Boost-148 with a 52mm? I understand that this comes down to how the AXS system is setting itself up sans limit screws. But, I do want to comment on the compatibility of the new T-Type cassettes with previous Eagle AXS and cable actuated derailleurs.
SRAM says it is not possible to use previous Eagle derailleurs because they're high-limit restricted such that they won't move outboard enough to shift into the low gears. As is often the case with bicycles, there's a low-tech solution for this high tech problem. Un-bolt your Eagle AXS rear derailleur, add a 2.5 mm spacer between the hanger and derailleur, bolt it back on. It's evolution not revolution.
In theory, with a previous generation AXS derailleur spaced out 2.5 mm, a Transmission cassette and chain, and a 52mm chainline, a rider could assemble the ultimate meat-powered SRAM drivetrain in terms of up/down shifting performance and optimum chainline in the highest torque gears. It also theoretically eliminates that pesky requirement to have a UDH compatible bike to get the Transmission cassette and chain advantages.
Behind The Pulp
Pealing back the flesh, there's some solid seeds in the heart of the T-Type drivetrain. Solid as in the way the derailleur hard mounts to the axle - not the frame - which should combine for maximum support for crisp shifting and maximum survivability. There are valid questions about whether Transmission is going to result in a significant uptick in broken frames as the weakest point goes from being a derailleur or hanger to the chainstay but SRAM claims this will not be the case.
Remember here that when you smoke a rear derailleur on a rock it is generally being pushed backwards and inwards, not just inwards.
I'll also add that everyone designing bikes has known what the Universal Derailleur Hanger (UDH) was leading to since it arrived on the scene, so I hope they modeled for it with any designs they've updated.
Undoubtedly the neatest feature of Transmission is the replaceable derailleur components. The tool-free cage replacement in particular is quite tidy. As a rider, I love the idea of being able to replace small parts instead of entire derailleur units. I recognize that I'm parking my well curated cynicism here in assuming that SRAM will have those replacement parts readily available, but I've had excellent experiences buying small parts for their brake systems, so here's hoping.
I'm also crossing my fingers and toes that other brands get on board with this idea. I'd love to see fix-not-replace and right-to-repair policies with all premium mountain bike components.
The lack of limit screws seems bizarre at first but with SRAM controlling all the pertinent dimensions through UDH, it would be more shocking if they were still necessary. T-Type, like all AXS systems, has the servo-motor micro-adjust feature which is essentially the equivalent of using cable tension to set the high-limit.
I can imagine a cable-actuated version with a single limit screw just to set the high-position with b-tension and the low-limit fixed from there. It's hard to imagine much more trickling down from the Transmission setup, even to the GX AXS rear derailleur, but I'll be waiting to see with everyone else.
Trickledown Transmissionomics
On their own, Transmission XO, XX, and XXSL matter about as much to the average mountain biker as the colour options of the new Chiron matter to your typical automobile commuter. I mean, the stuff is cool, enthusiasts will enthuse, but it takes AXS economics to another level by further reducing cross-compatibility with their cable-actuated drivetrains.
Put another way, I've heard it said - those that care about compatibility can't afford it, and those that can afford it don't care about compatibility.
There are two key features we can expect to trickle down to cable drivetrains and how far really depends on how much more expensive it is for bicycle manufacturers to incorporate the UDH system over another thru-axle system. With UDH, it's quite imaginable that all SRAM derailleurs could direct mount, and even if they are to remain hanger-mounted, derailleurs could become much easier to set up, thanks to a single-limit screw layout.
My friend Alvin asked a good question about the consistency of UDH. The Post Mount and Flat Mount disc brake standards work great if everything is aligned, but there are some famously bad QC/QA examples of both and then what do you do? I haven't seen a bad UDH setup yet, but bicycle manufacturers never stop amazing me with the tolerance issues they pass through quality control.
Like every bike mechanic who mastered setting up cantilever brakes before v-brakes, and then disc-brakes, hit the market I did have a moment of ego-driven pain resulting in having learned the black arts of miniscule limit and b-tension screw adjustments over many hours in the shop, but seeing how many poorly setup derailleurs are out there, if UDH can be implemented consistently, this could be a win for SRAM at any product level right down to SX.
The other feature I'm keen on is replacement derailleur components. I love the idea of replaceable derailleur components. But here my desire for serviceability smashes up against my knowledge that making products serviceable adds cost and, at certain price points, reduces liability. I look at every brand trying to make a truly-budget dropper post that doesn't use a Wintek cartridge and wonder why.
How much extra cost would having replaceable parts add to an SX, NX, or GX rear derailleur, never mind the cost of the replacement parts relative to a new mech? It's the same dilemma I face every time I decide whether to repair or replace a damaged article of clothing, just the bicycle equivalent. With costs in mind, it's hard to see the serviceability even extending to the next generation of GX-AXS.
And maybe this sounds cruel, but it needs to be said that throughout their many-year history, from Gripshift 400, through to ESP 5.0 derailleurs, old X-5 derailleurs, and now SX and even NX drivetrains, SRAM has consistently failed to scale the potential of their relatively awesome high-end drivetrain components into mainstream low-to-mid level products. Whether it's crappy up front performance or issues with manufacturing, or materials or all of it at once, the exponential elevator drop from their top end stuff to the suck is like riding a hydrobike over Niagra Falls.
There's always going to be a huge difference between luxury-level products and entry-level products, but I'm desperately trying to see how Transmission will benefit riders further down the food chain who aren't going to be spending five figures on a mountain bicycle - motorized or otherwise - and I'm coming up with next to nothing.
This Is Ground Control
Throw questions of money out the window, and Transmission is the best shifting drivetrain on the market today. Full stop. But it's not bloody game-changing bicycle-only future tech stealthily stolen from the defense department. It's an incremental improvement on what was already an awesome performing, exceedingly durable, drivetrain in Eagle X0 and XX1 AXS.
T-Type adds sweet elements of repairability, axle-mounts a beefed up derailleur for survivability, and makes for easier setup - which I'll note again is something that would be appreciated at all levels of drivetrain products. Who really needs easier to setup products that can survive epic hero-shifting? New riders.
Transmission is out in the world now. It's awesome. If you have the treasure and are thinking of buying in, you will not be disappointed. If I was king of SRAM tomorrow, I'd take it away from every engineer, designer, product manager, field-test rider, customer support person, bike tech, and executive in the company and I'd make them ride SX for the rest of year. Maybe a few hours on Shimano Deore - HG, HG+, or LG - too just see how far they have to go.
So... The T-Type drivetrain is clearly not the WaveCel of drivetrains, but comparing the improvement in performance to the exaggerated hype bordering on Steel Panther-level pomp on release day, it's also not that far off. At this point, beyond being very nifty, it's fairly irrelevant to most of us beyond demonstrating what the team at SRAM is capable of producing.