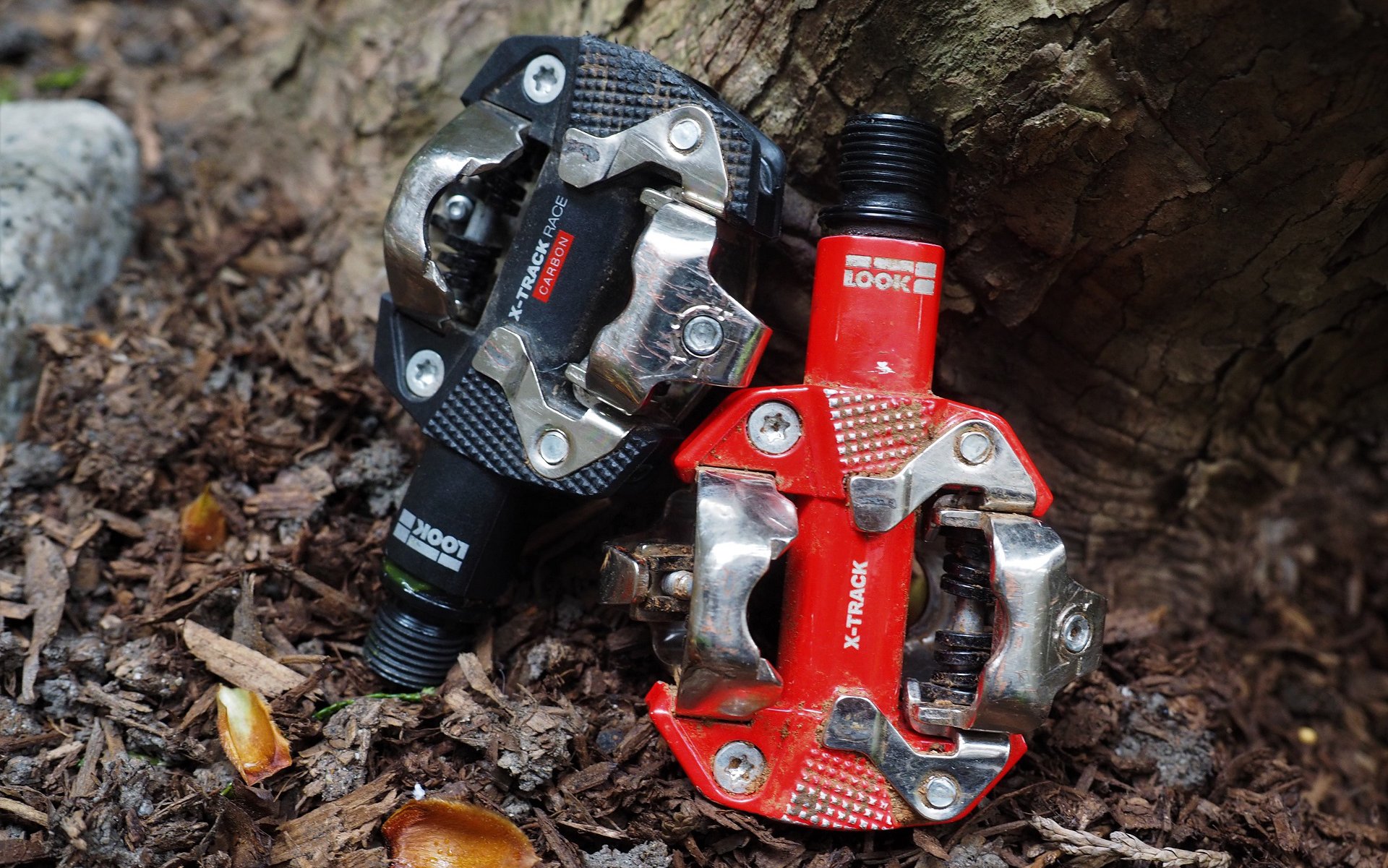 REVIEW
LOOK X-Track Pedals : Carbon VS Aluminum
The Best SPD-Type Pedals.
Clip in, clip out, and any kind of pedaling in between, I am entirely confident that the LOOK X-Track pedals are the best performing SPD-compatible clip-in pedals on the market. I know that's bordering on audacious but I'll qualify it. Riding both LOOK's entry point aluminum X-Track and the carbon bodied X-Track Race I've not had a single accidental release. That's with both the included LOOK cleats and two different sets of totally beaten Shimano cleats. Mud and snow clearing is best in class for an SPD* type pedal and I find the release action to be the most positive I've tried. That's true even on the 50 USD X-Track alloy. I've used four pairs of shoes with these pedals and the pedal-shoe interface was ideal in each situation.
*SPD: Shimano Pedaling Dynamics
By ideal, I'm alluding to the large pedal contact surface that is a highlight in Look's marketing material. The aluminum version advertises a 350mm² surface area and the carbon platform a whopping 515mm². In both cases when I stand on the pedals with a somewhat flexible clip-in shoe I notice better support standing on the pedals climbing out of the saddle. I notice fewer hot spots on long, rough, descents on my hardtail with any of my shoes.
I can't speak for Look's numbers but I can confirm that the X-Track pedals offer excellent support in an XC-sized platform. I also need to point out that while I immediately notice a difference in support between the LOOK X-Track and other clipless pedals, I notice no difference between the aluminum X-Track and the X-Track Race.
I think this comes down to how that contact area is positioned laterally on either side of the cleat. The Race model has a visually bigger body but both versions support my shoes in the right area.
Tension.
One of the key reasons that LOOK has the best SPD-type pedals on the market is their tension range and release feel. Max tension is much higher when compared to a Shimano SPD pedal and the minimum tension hits right at the range of usable tension on a Shimano pedal. The usable tension range is much higher for me, which is to say that compared to a Shimano pedal I'm starting with much less spring tension with a fresh cleat and I'm much further from max tension even with very worn cleats. The release point is more obvious and release feeling is more positive.
On the trail, I find the X-Track entry and release to be totally natural when my brain is set to Shimano. Compared to a Time or HT pedal, where the entry and release actions are much more ski-bindingly obvious, the X-Track is virtually the same as Shimano. On a more nuanced level, Shimano has a lighter release. Anyone who likes to run their Shimano pedals with 0-2 clicks of tension will probably not like the LOOK pedals. I'd personally recommend Crankbrothers for a rider looking for the softest possible release but better support and hold when clipped in.
Guts.
The aluminum and carbon X-Track pedals share the same guts. These include a steel spindle, inboard bushing, and outboard cartridge bearings. These parts and the clip-in mechanism are all replaceable.
The pedals are very well sealed with the factory grease still looking fresh. The bearings in all four pedals are still spinning smoothly and there is no play to date at the bushing end.
That said, when measured in years, I don't think it's a stretch to claim that longevity of the internals is the one place where Shimano's bearing system will eat LOOK's lunch. That's comparing every pedal I've used with a cartridge bearing & bushing configuration like LOOK's to every Shimano pedal I've owned.
That's not a concern for me. I'd rather have pedals that are cheap and easy to service and my experience with Crankbrothers Mallet DH and Stamp 3 pedals is that the guts need to be replaced much less frequently than I assumed. Similarly, the X-Track pedals will be an at-most one beer job to press in some new bearings and a fresh bushing. Riders who prefer to just pedal their sh*t into the ground without thinking about it may opt for Shimano internals, especially if they don't experience unexpected release issues.
Before someone calls me out, Shimano pedal internals are also serviceable but, in my experience, it is a larger time investment and a much more complicated process than press stuff out and then press stuff in. Before taking tools to unserviced cleat huggers I will also say, as a warning, that I have seen a number of riders screw up Shimano pedals, in a few different ways, servicing them.
Carbon VS Aluminum.
My first ride on the carbon X-Track Race pedals was wearing my new-favourite Scott shoes with their nylon sole. They're plenty stiff but not carbon-stiff and I could swear I noticed a difference in support compared to the aluminum X-Track pedals I'd been riding.
Within a few back-to-back rides, I couldn't tell any difference in performance between the two pedals. They share the same interface and same axle and between four pairs of shoes from carbon-soled Lakes to super-soft Five Tens I couldn't pick them out on the trail.
On the scale, on the other hand, there is a 40-gram per pair weight penalty to running the aluminum-bodied version. At one time I would have also included a mention of the improved durability of the aluminum version but I've ridden enough 'plastic' pedals lately that now I'm cautious about claiming blanket material superiority for an application. I've beaten the snot out of the carbon LOOK pedals and they just take it. They're much quieter when I smoke them on rocks too.
The Best SPD Compatible Pedals.
I've largely been riding in a non SPD-compatible world and it's a lot more involved process to compare an SPD-type pedal like the LOOK X-Track against less-related options, so here I'm strictly talking about the wide range of options in SPD-compatible and SPD-esque clip-in pedals on the market.
The LOOK X-Track aluminum is the best SPD pedal on the market that I've ridden. Performance is top of the heap and it absolutely kills for value at 50 USD for a pair. My previous favourites, the Shimano M540, have been relegated to a bin and I'm even considering replacing the pair on my commuter bike.
The LOOK X-Track carbon pedals are a lighter version of the best SPD pedal on the market that I've ridden. They also make less noise when I smash them on trail features. They're 130 USD for a pair.
In either case, it's only winning with no learning curve coming off another SPD pedal.
As it is with bikes, buy the aluminum version of the one that works best for you and be stoked. Or, if you have a compelling reason, like weight, and the resources buy the carbon version of the same and be stoked. For my money, there's no better SPD-type pedal than the aluminum LOOK X-Track for 50 USD.
Anyone playing the weight game has spent more than 70 USD to save 40-grams at some point not to mention increasing their carbon content.
In either case, there's lot more information, and graphics, on LOOK's website here.