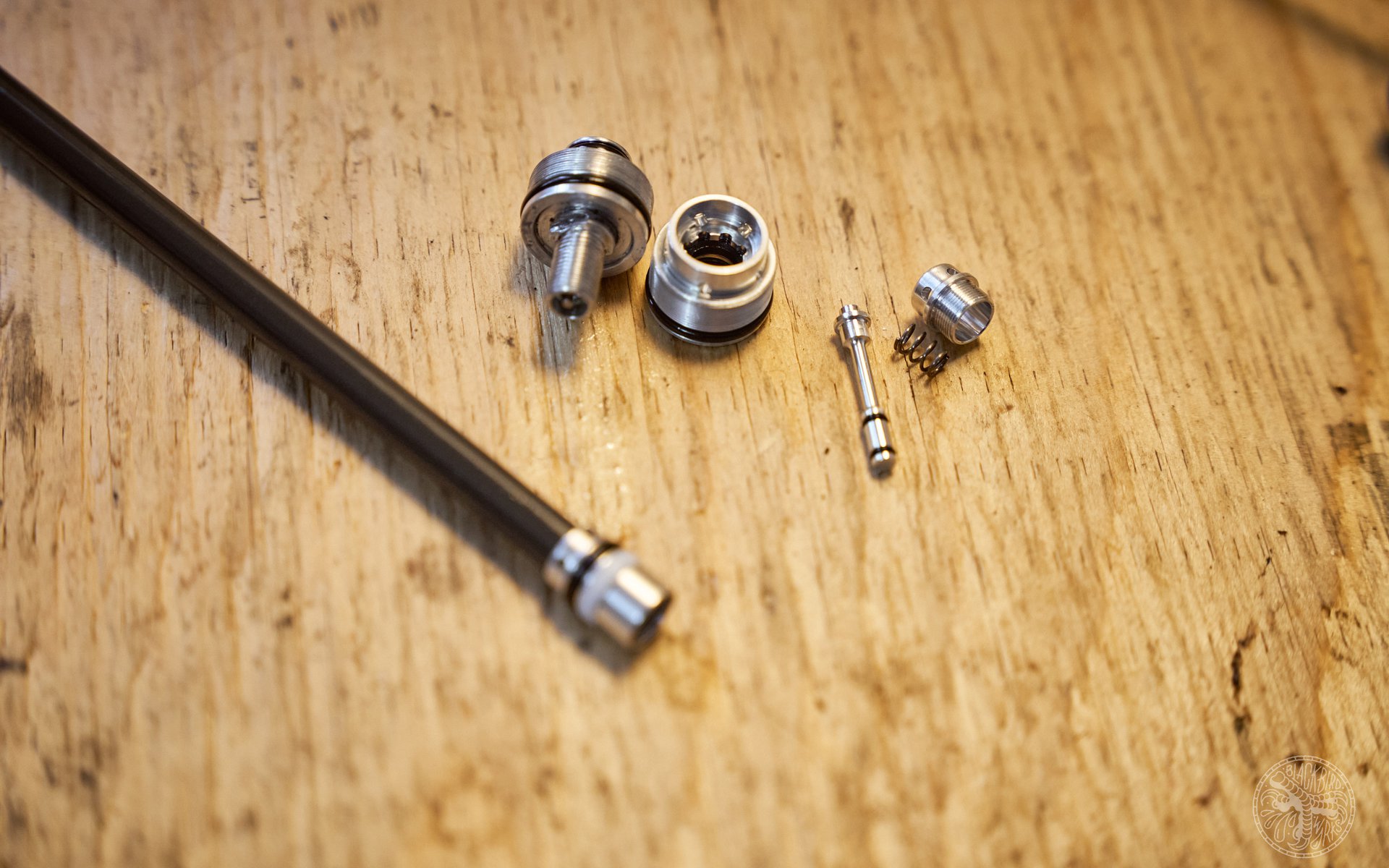 Tear Down
A Look Inside the OneUp Dropper Post V2
The Inspiration
I'm watching Sasha the dog push and roll her Death Star-shaped treat dispenser around the house. She knows the rules, the more she rolls the treat dice, the more likely she will get to taste the low value treat that also happens to be her kibble. She is a cheap date but she knows how to work the machine. The ball that dispenses M&M-sized treats one or two at a time also has golf-ball like dimples that slow the roll down or perhaps they provide a visual distraction like a warship dazzle. The simplest of tools increases Sasha's daily living standards.
A couple of important toys that came into her life in the past 2 years. They have been food-focused, reliable, and simple in design. I treasure that reliability because it helps me believe there are companies out there making products that are simple, reliable and good value.
OneUp Components' dropper post is also one of those products. It isn't the only dropper that offers wicked value but it's one that does it simply and effectively.
There should be no denying the influence of uppy downy seat posts in mountain biking's popularity. There would be a fraction of the riders on the trails today using these high-end bikes if it wasn't for droppers. What good is a suspension if you can't immediately make the saddle disappear? Being able to position yourself in the middle of the bike without the influence of a saddle is a wonderful feeling. Even a purist old timer will agree on the convenience these tools.
Originally part of the build on my Forbidden Druid, I have been using the 180mm OneUp V2 dropper since February of 2019. It was the first bike I could fit a 180mm dropper post on. The fruits of this telescopic convenience improved my relationship with the Druid. With the saddle out of my way, I could really manipulate the bike underneath me without any space constraints. This extra articulation was most evident on steeper sections of the trail where I wanted to be centered on the bike. This was an issue on previous frames where a 125mm dropper was the max I could fit. It was easy to make friends with the OneUp Dropper and apart from unthreading the collar and squeezing in some Slickoleum now and then, I did very little to maintain the post. I took the stanchion out once and cleaned the grime out to get rid of some crunch.
This was a good relationship in my books. Kind of like how Sasha could rely on the treat ball to deliver when needed, the OneUp had my back. I may have changed the actuator cable from the lever once in this relationship but I think it was due to a silly crash damaging the cable. About a month ago I swapped some parts between frames and the OneUp dropper found its way onto a new frame I am riding. Happy to not to compromise on my dropper length, I ran the old reliable for a few weeks. On a particularly steep ride, I noticed I was being nudged forward by my seat after riding fast, rough sections of trail. First I thought I was being taken by this new frame and geometry but quickly realized that my seat was creeping up to my derriere. I would sit and slam it down and continue the plunge. The sneaky saddle that was trying to unseat me would slowly creep back up again.
It was unfortunately not just a crusty binding cable causing the issue. Well, that sucks. Do I need a new dropper? Is this something I can repair? I knew I could put a new cartridge in the dropper and oversized guide pins to take out some of the side to side play but the creepy post syndrome seemed like a serious issue that might write off the post, and I didn't want to do that. I put a call out to the group chat where Mike (Ferrentino) gets his usual North Shore gossip and inspiration from. Cooper, who is all things AXS, had a 180mm OneUp from a previous build that was hanging out in his parts bin. This kind of NSMB compatibility comes by once in a while so I was ready to experiment with my dropper and use the loaner in the meantime.
One Up Components has an excellent Support Page with lots of well-photographed and explained instructions to clean and service their equipment. I recommend referencing that information if you just need to freshen up your sticky dropper.
I can be what the shop guys call "ham-fisted" at times; over-torquing bolts and opening the wrong side of a Sturmey Archer hub. It's all good though. Over the course of a decade or two, I figured out when to recognize the bolt I am about to strip and then passing it on to the next guy to finish fucking it up. When I set about opening up the guts of the post, I accepted the strong possibility that I could break, strip, or lose a fastener in the seemingly complicated toy, rather than actually fixing it.
The OneUp guys must know a lot of hacks like me so they don't really recommend opening up the cartridge they put in their product. They will happily sell you a 60 USD replacement cartridge that you can install in under 10 minutes, or 15 if it's your first time.
There is nothing to see here
If you are just swapping to a new cartridge, this is all you need to see. And that is all OneUp recommends.* Clean up all the parts your hands touched and reverse the removal process to slap everything back together. There is comfort in believing that a certain amount of magic makes these designs work. If you don't want to ruin the magic, this is all you need to do to get your post functioning like new. I'm wired a little differently and on the scale of "that's too risky" to "oh what the hell," so I entered the gamble zone by opening the cartridge up because I had a replacement on the way from OneUp. If It worked, I'd have a spare cartridge for a rainy day and some deep knowledge that would occupy space in my forgetful brain for a few months.
*OneUp does not recommend performing this procedure, and it may void your warranty.
What did I learn?*
I learned that if it wasn't for the up and downy posts, I probably would have hung the towel up on mountain bikes a long time ago. They only got really good and reliable in the past 2 years or so and the bits that make up the OneUp post are a proof of this. It is amazing that a 250 CAD post can take so much abuse and still keep going after a slight refresh. Oh yea, my repair did work, too. Well, kind of. The post is very sensitive to touching the lever but at least it is not creeping up on its own anymore. I feel wiser for the whole experience too. After watching a Fox Transfer being taken apart for service, I am glad I did not attempt that. Who has Nitrogen tanks at home anyways?
Sasha the dog is tired and content. Knowing that her simple dispenser is reliable and magically gets refilled every now and then and I can't live without this remarkable innovation about 100 or so times every ride.
*A second reminder that OneUp does not recommend opening, closing, or otherwise fiddling with your cartridge but they will sell you a replacement for 79 CAD