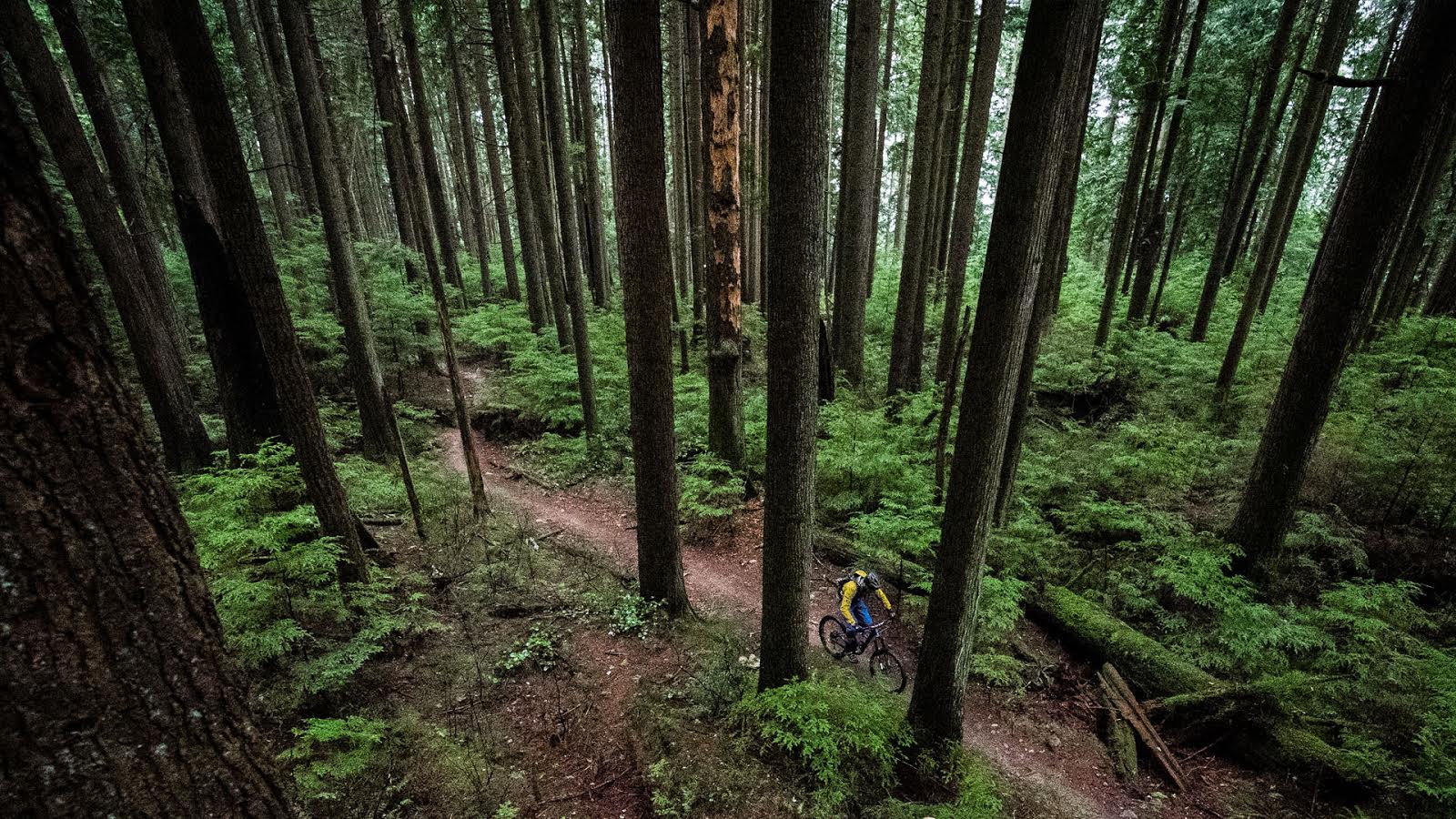 LONG-TERM TEST – Specialized S-Works Camber 29
I've been testing the 2014 Specialized S-Works Camber for several months now (check out the First Look article for the overview). During that time, I've given the bike a serious beat-down on the terrain that makes coastal BC riding so great. I had a chance to really learn its strengths, as well as a couple of shortcomings. Read on to find out if it's the right bike for you.
Ride impressions
Testing a 110mm (4.3″) travel trail bike in these parts can be an interesting prospect. Chances are better than average that a bike generally best suited to a) moderately technical singletrack, or b) some sort of marathon stage race, will be scary as hell to ride in coastal BC. Not one to back away from a challenge, though, I headed out on the Camber and rode all the trails that I would normally ride on a 5" or 6" bike. And I came away from the experience very pleasantly surprised.
The Camber was a great bike to ride on technical singletrack – as long as things didn't get too rowdy. It was easy to get up to speed, and the handling was agile without forcing me to be in attack mode all the time. It responded well to rider input and tracked predictably, and while the 70° head tube angle is more on the XC end of the spectrum, it never felt twitchy, again thanks largely to the 29″ wheels. Swapping out the stock flatlander bar and stem combo for something wider and shorter helped keep the handling mellow.
Climbing on the Camber was about as effortless as you're going to get. Credit that to the stunningly-light 24.4lb weight of the bike (no pedals, with tubes) and well executed rear suspension. Specialized truly does have rear suspension dialled with its FSR Horst Link system. The fact that the Camber doesn't use Specialized's Brain remote reservoir, which is found on its XC bikes, makes for a more compliant ride that hugs the ground on technical climbs and reduces trail noise. The 74.2° seat tube angle on the size XL bike may sound steep, but it kept my weight over the bottom bracket. Fortunately, climbing around here pays off with sweet downhills. That's normally the fun part of the ride but this was where the Camber came up a little short.
The steeper head angle meant that I had to pick my lines more carefully on technical descents rather than simply rolling over the edge and holding on, like you would with a slacker and longer bike. Not a big deal, seeing as that's not really what this bike is designed for. A bigger issue, however, was the fork: the 110mm Fox 32 Float deflected fore and aft to a degree that it felt imprecise and didn't inspire much confidence. I still rode black diamond trails on the Shore and plenty of granite faces and rooty lines up in Squamish, but I didn't feel like I was able to carve or ride as assertively as I would have with a stiffer fork. I'm willing to concede that part of the issue may be my size (I'm pushing 240lbs. when fully kitted up), as well as Specialized's intention for the bike.
Both of those things considered, the Camber did remarkably well on descents and I still rode all the same trails that I normally ride on a bike with a 140mm travel / 34mm stanchion fork. I just wasn't as fast or confident. The rear suspension felt very linear and predictable when I was riding singletack as well as descending, much to the bike's credit. It never bottomed out even though I was getting full travel, and it never felt like it was overwhelmed, even at speed. Stiffness on light-weight bikes can be a bit elusive, but apart from the issues with the fork, the Camber was definitely stiff enough for me. There was no sway in the pivots or rear end when I rode hard, and the bottom bracket didn't flex when I stood up and cranked. The 142mm rear through axle was a real bonus, and certainly contributed to rear end stiffness. I didn't even notice any significant flex or deflection from the carbon wheels, although I'd likely save them for racing and use a beefier set for day-to-day riding on the Shore.
Weighing in on the spec
By and large, the ultra-bling spec on the top-shelf S-Works model delivered and played a part in achieving the overall light weight, but there were a few things that I didn't particularly like and a few things that didn't work as well as they should have. There are quite a few Specialized-brand parts on this bike: everything other than suspension, drivetrain and brakes comes from the Big Red S. Most Specialized products work well but there were a few that came up a bit short on the Camber.
The biggest disappointment was the 100mm Specialized Command Post height-adjustable seatpost. There are three positions on the post (fully extended, 35mm down and fully compressed). Even after adjusting the air pressure I found the post moved too quickly and, because topped out harshly. It can also be challenging to find the Cruiser (35mm down) position on the way up without using your posterior to slow it down. Once you have tried an infinitely adjustable post it's difficult to go back, not to mention one with 125mm of drop, and a bike this nice deserves more.
The carbon Roval Control Trail SL 29 142+ wheels took a fair bit of a beating during the test without any complaints, and never felt squirmy. Mounting a set of Schwalbe Nobby Nic tires proved to be a real nuisance, however, and required so much force that I was actually worried that I might break the wall of the rim. Once the tires were on, they were fine. Something else that was a real disappointment was the Formula T1 Racing brakes. Every set of Formulas I've ever used feel blocky and lack modulation, and these ones weren't any different. I'd rather have a slightly heavier, less exotic brake that actually feels good at the lever.
The best part of the spec was undoubtedly the SRAM XX1 1×11 speed drivetrain. This particular version was built up with S-Works FACT carbon crankset with a one-piece spider/arm combo and PF30 bottom bracket with press-in bearings, mated up to a 32-tooth ring and an 11-42T cassette. This version of the one-by concept worked flawlessly. I would like to see some sort of boot on the carbon cranks to keep them safe from the occasional impact; they were looking a little worse for wear at the end of the test.
Suspension on the Camber was a mixed bag. As noted above, I found the Fox 32 Float CTD fork to be flexy; that probably would be much less of an issue for riders are under 200 lbs. The crowns also started creaking after a couple of months – a known issue with some Fox forks. They were replaced under warranty and were fine after that. I found that the Climb mode on the forks was very firm and Descend was very soft, but new model year forks I've ridden seem to have addressed these issues. The AutoSag feature on the Fox Float rear shock is brilliant. Pump up the shock to your body weight, sit on the bike, push the button and sag is automatically set for you. Very simple, and a big plus when it comes to setting up the suspension quickly. The front and rear suspension felt very supple and made for a solid, balanced ride and are definitely well suited to the Camber's intended trail bike application.
Final thoughts
I'll be the first to admit that I likely took the Camber places that the designers didn't really intend. But save for some flex in the fork, the bike was up to the challenge. The Camber is exceptionally capable, if you're willing to trust it, and a lot of fun to ride because of that. I rode what I felt like while I was testing the Camber, including plenty of black diamond trails, because I knew the bike could handle it. I didn't go as fast on the downhills as I would on a longer-travel bike, but I was able to ride the same terrain. I was definitely faster on the climbs, didn't have to work as hard on the singletrack and had more gas in the tank as the miles added up, from the simple fact that I wasn't dragging as much bike around. That makes all the difference when it comes to getting over those short, punchy climbs when you're at the three-hour mark of a ride.
Not everyone has the luxury of owning a quiver of bikes. If you're looking for an shorter-travel trail bike or are a fan of endurance riding events, the Camber is an excellent option. Changing tires and a few components would allow you to go between racing and regular / training rides, and still have a killer machine that's light and very capable on technical terrain. I tend to ride 5" 29ers on the Shore, but if I wanted to drop some weight and gain a little efficiency, I wouldn't look much further than the Camber. [One note heading into the new model year: there was only one change of note to the specs for the 2015 Camber S-Works, but it's important. XTR Trail brakes replace the Formulas. Good call, Specialized.] Is the S-Works worth the price of admission? Yeah, if you have really deep pockets and are a weight fanatic. If you don't or can survive a few extra pounds, Cambers start at US$2,000; carbon models start at US$3,800.
---
Is 110mm of travel enough (paired with 29″ wheels) for the riding you do?