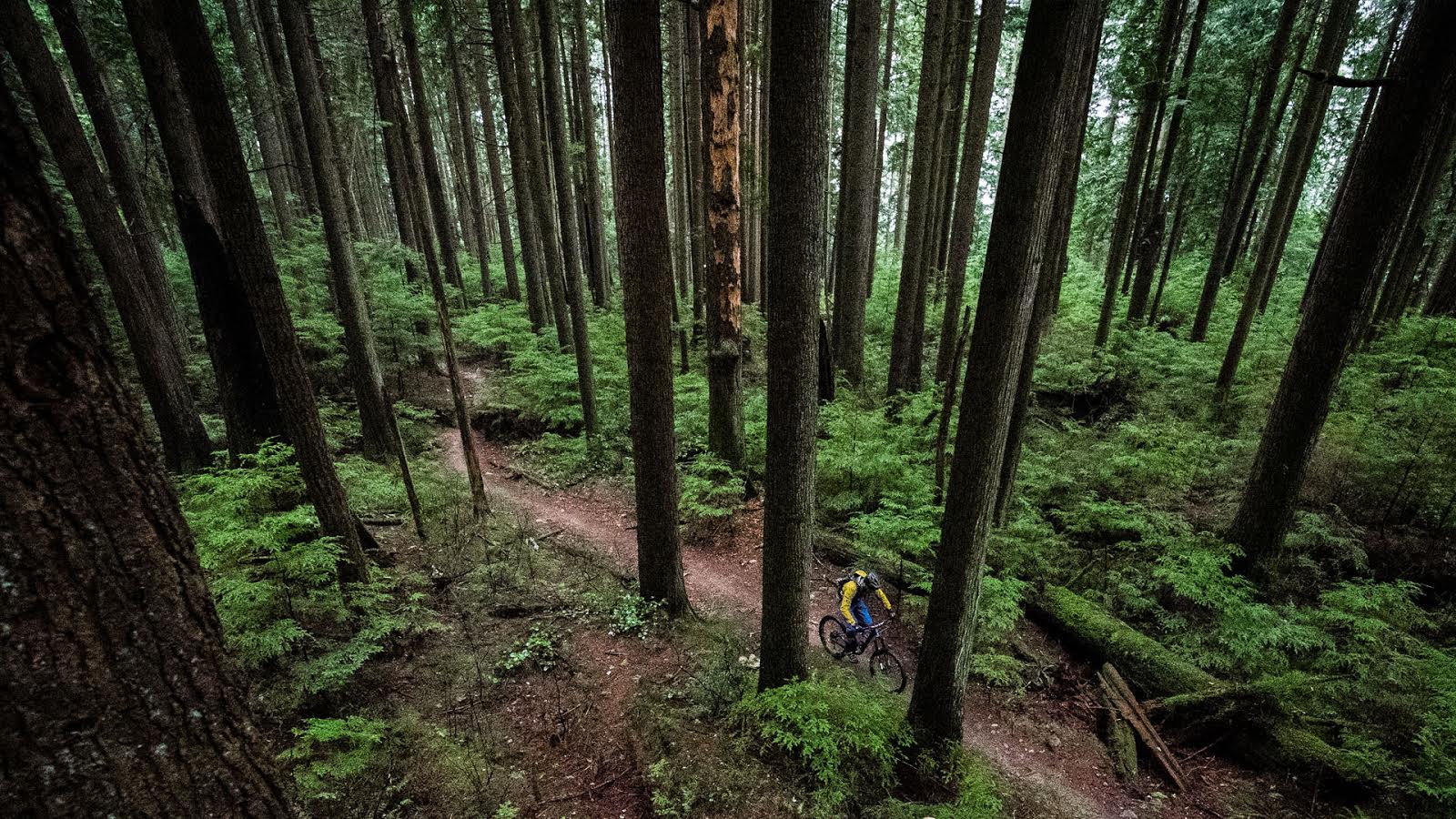 Long Term Review: Specialized Rumor Expert
When I was asked to test out the 2013 Specialized Rumor Expert, I have to admit that while I said yes, I already had preconceived notions as to how I was going to feel about it. I had ridden other 29" wheeled bikes and in general had felt they were just too big and cumbersome for me. I also couldn't help but ask, "why a 29er?" The average height of women in North America is 5'4", which means a heck of a lot of us are under that and many sit right around that mark. In general, bikes for the female crowd are small and 29ers by nature aren't.
I am one of those average height ladies (ok, so I'm truthfully 5'3 and ¾), and so I was thinking that this bike was going to be a big wheeled behemoth that I'd have to figure out how to tame. I also wondered why not a 650b? If you wanted some of the benefits of the big wheels without the larger disadvantage of the even bigger wheels, 650b seemed like a good way to go. Regardless of my skepticism, I was about to head out on a women's full suspension 29er.
Just previous to the Rumor I'd had to "loan" my Stumpy Evo Expert 26 out and had been trying a couple different bikes: one was a 650b and the other was a 29er, so I was happy to have some recent experience on bigger-wheeled bikes to compare this sucker to.
A little bit about what type of riding I like and where my perspective on this bike will be coming from: in my previous life I was an XC racer, so I have a little bit of that still in my system. Today however, I am much happier on a longer travel trail bike or a bike with more of an all mountain set up. I am a North Shore girl and ride Fromme a lot due to living at the bottom of it, but I am just as happy on a trail like Bridle Path over on Seymour.
The Ride
My first ride on the Rumor was a short, "local lap"… which means about an hour riding in a little park by my house chasing around my dog, Ms. Emma, a crazy german shorthaired pointer. I like doing this lap because I am super familiar with it and it includes some technical climbing and fun, rooty descending. I can also use it to dial in things like suspension and position.
While setting up the bike, the first thing I noticed was that had I been even a little shorter I would have had issue with getting the seat post low enough. And because it comes with a Command Post, you can't just go cutting it down, so if you have a shorter inseam, and you're riding the medium you will want to get the shorter 75mm Command Post.
But once I got on the bike, I realized what I like about Specialized: they just feel like home to me. The bike immediately felt right. Even though the reach felt a little short initially (and this I remedied by moving the saddle a little further back on the rails), it felt good. And, I was surprised! Having JUST come off a 29er that felt like I was always teetering on top of it, this bike felt like I was "in" it and I liked that.
As I mentioned before I used to race XC mountain bikes and race bikes feel good when you're "on" them. You want feel like you're controlling the bike from the top down, so that you're able to really feel the trail. But for trail bikes and all mountain-style bikes (as well as downhill and freeride bikes I suppose) I want to feel like I am "in" the bike, as though you're riding in the suspension and somewhat protected from the stuff going on around you.
This feeling of riding "in" a bike is achieved mostly through the length of travel and the angles as well and somewhat through the wheel and the tire selection. And amazingly the Rumor had this sense to it. Even though it is just 110mm of travel, the geometry and set up gives you the sense that you're riding more bike – in a good way.
The bike is light but balanced, so feels nimble and stable. The front and rear feel like they are acting in unison, so that on fast descents the bike is predictable. Also on descents, it didn't feel like you were exactly floating over things but it is solid and stable, so you weren't being bucked around. I do think that the sense of stability on this bike comes from the larger wheels and the wheelbase being longer, because the headtube angle isn't exactly slack on the bike at 70°.
The bike also gave me that sense that so many people talk about with 29ers. You often hear people say that they just roll over things. Some people say this in a negative way as though on a 29er you can just point the bike at square edged bumps and the bike will just eat it up like there's nothing there. Now, I wouldn't go that far, but I did notice being in some situations particularly on trails that were flat-ish, where I'd dropped a lot of speed and needed to get over a root or a rock, and I remember feeling handcuffed and thinking "damn, I don't have enough momentum to get over this". But instead of having to dab, the bike would actually just roll over it. And I'd think, "uh yes, that's what people like 29ers for!"
The headtube angle on this bad girl was a little bit steeper than I would have liked but if you're doing more XC, and less full on, longer descending, you won't be upset by this. The geometry means that punchy technical climbs are great on this bike. And this bike can climb. The balance of the Rumor front and rear also helps here. This is the one area that I've struggled with on the Stumpy Evo. While I love that bike and would NEVER give it up, I've struggled with body position on it for steep climbing. The long fork throws me off, but this bike, despite the wheel size, climbs really well.
While the chainstays aren't especially short, the front end is light, and you feel like you can easily pick up the front end or pop it over things. I was also pleasantly surprised with how nimble the bike felt. For a bike that has bike big wheels with more rotational mass then a 26" wheeled bike, I was expecting to feel hampered by the front end. I thought it would feel floppy and heavy, but it was light and accelerated quite nicely.
I have a pretty fast dog that LOVES to run and we (well, ok "I" as I am not sure she has any idea) play this game on flat sections where I kind of stop and then yell go and try to out sprint her. On the 29er I rode before she completely smoked my sorry ass – I didn't have a chance. The bike was so difficult to get up to speed. But on this bike, I felt quicker and it was just snappier. I could move the bike back and forth easily and felt like I could get up to speed quickly.
The wheel/tire combination on the Rumor Expert is definitely lighter than the 29er I was on previously and this makes all the difference. One thing is for sure, if you buy any 29" wheeled bike get as light a wheelset as you can afford/handle; this makes all the difference in the world. The Roval wheels are great – light enough that you don't feel your picking up a lead weight but stiff enough for me. I'm light and not super powerful, so light weight is generally where I like to go, but I ride my bikes fairly hard and demand a lot of them, and I've had no issues with the Roval wheels.
The bike also easily accepts a waterbottle. I don't often ride with one but on the occasions when I want one, it's a nice feature. The one issue I had with this though is that while the waterbottle does fit, because of how the frame has been designed to accommodate it, it feels like it's quite far away to get while riding. If you have ape arms, you won't feel this is an issue, but I guess because I have a negative ape-index (to borrow a phrase from Danielle Baker) this becomes an issue.
In all honesty, I wouldn't necessarily say that this is an issue on just this bike. I would say that the majority of small full suspension frames that try to accommodate a waterbottle, have this same issue. It looks like they end up dropping the down tube down at a steeper angle and then add a really gentle curve on the down tube at the bottom to mate up with the seat tube, but this brings the bottle further away from the seat. It's not a huge deal, just something that I noticed.
Aesthetics
I hate bringing this up… but the aesthetics of a bike ARE important. There is no denying that this is a huge draw or turn-off for anybody but can be even more important for us women. Well, overall the aesthetic – tube shaping and layout of the bike – is fine. I wouldn't say it's beautiful but I also wouldn't say that I think the bike is awful looking. To be honest, I've always found small 29" bikes a little bit odd looking, just like I've always thought really big (>19") 26" wheeled bikes also a little funny looking, so this one leaving me neutral on the whole aesthetic means a lot.
As for the paint job, I am left feeling pretty, meh? I figured for a women's bike that was being launched with a bit of fanfare, which I might add was great to see for a women's bike, I really expected the paint job to knock me off my feet. This is a very safe but completely uninspiring flat grey bike with white decals and cyan highlights. I was expecting shiny gloss black with loud rip roarin' red decals, or a gloss white bike with fluorescent green decals. Just something sexy that would grab my attention.
I know the challenges with graphics and colours on bikes, especially for women, so I am not implying that everyone would be happy with my colour and graphic suggestions. I know that many companies making women's products err on the side of caution for fear of losing sales because of colour, but I guess I was just hoping for some flash and fun!
Some stats…about the bike
The Rumor is 110mm (4.3") front and rear, features a Command Post, 2.3" tires front and rear, and a 680mm alloy bar. Fox fork and shock front and rear with the rear having climb, descend and trail modes. I have to admit that for me the rear shock had too many modes. If I could simply have climb and descend, I'd be more than happy. Too many positions and you forget what position is where and you end up either fiddling around with your hand dangling between your legs or you just leave it alone on whatever setting it's on. Either way you're uncomfortable for part of the ride.
Now about the Command Post, in theory I love this thing, but in reality the it never really behaves as I want it to. I have had a few and when they are working they are amazing. Other times, and I don't know if it's because of my weight or what, but I have one of two problems: either the post won't come back up, or if I add more air to it, I literally have to jump on the seat a couple times to get it to go down. Sometimes it works like a son-of-gun though, and it is at those times that I LOVE THE POST.
Ok, one final word… I was told to not complain about the colour of the bike or the saddle because these are totally personal choices… but since I've already complained about the colour, I figure I should just continue down this road of total abomination and say, I really disliked the saddle. Perhaps there's a woman out there that will love it, but for this lady's behind, I prefer the Ariel, though I am bummed they no longer make the Ti-railed version.
Overall, the Rumor was a pleasant surprise. I wouldn't give up my Stumpy Evo 26" for the riding I do, but if I lived somewhere that was more flowy and less steep technical, I would be quite happy to own the Specialized Rumor. Though, I'd want one in CARBON!
---
DISCLAIMER: It's likely that we've never had a tester as qualified as Eron Chorney, who has raced World Cup cross country and represented Canada at the World Championships. She is an engineer by training and she previously worked in that capacity designing bikes for Rocky Mountain. Following that Eron worked as a product manager for Specialized in Morgan Hill focusing on products designed specifically for women. Finally Eron worked in marketing for Specialized Canada. For the last several years Eron has been putting her training and expertise to work outside the bike industry, which is why we felt comfortable having her test a bike for us. We also think it should be mentioned that her husband, Gord Moreside, is the owner of Dizzy Cycles, which is a Specialized retailer. We're confident in Eron's impartiality, but in the interest of full disclosure, it merits a mention.
---
The 110mm 29er is becoming quite the capable little machine. Could the Rumor make its way into your garage?