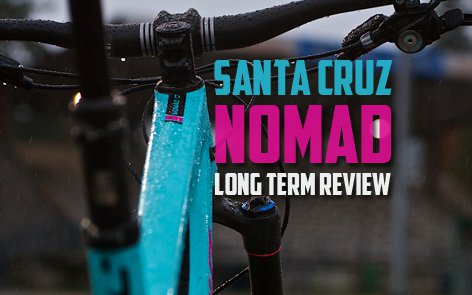 Long Term Review: Santa Cruz Nomad
Couldn't resist another shot from Chile. That's Santa Cruz staff photographer Gary Perkin. I think he's checking the light from a test shot. Yo Gary, the light's firing. Photo – Pete Roggeman
The new Nomad was already one of the most talked about bikes of the year before it was even released on April 1st. Between being a long overdue revamp of an aged favourite, coming on the heels of a very successful Bronson the year before, and the PINK and TURQUOISE colour scheme (you can also get it in a stealthy black), this was never going to be an understated launch. Hosting the media launch in Chile did nothing to detract from that. And while that was a great way to get acquainted with the new bike, I was curious to see how it rode on trails I was used to, with a thick coat of West coast loam all over it.
Hit the link above for the full run down of changes between the previous Nomad and the mk III, but here are the highlights.
Full carbon frame (including carbon dropouts and rear disk mount) with internal cable routing (molded full-length carbon tubes)
165mm of travel from SC's well-developed VPP platform
27.5″ wheels
Repositioned upper and lower links. Upper: pierces top tube for lowered top tube & low standover. Lower: raised for ground clearance & shorter chain stays
Accepts a 150mm Roch Shox Reverb Stealth post in all frame sizes
Collet axle pivots (no pinch bolts) with angular contact bearings
Carbon ISCG 05 tabs (but no front derailleur mount)
Threaded BB
Grease port on lower link
Bottle cage allows regular bottle to be used with piggyback shock
Aggressive geo: 65º head angle, 13.4″ BB height, 17″ chain stays, and a pedal-friendly 74º seat tube angle
Weight: 28.02 lbs (Large frame with XX1/Enve build kit, w/o pedals)
Geo charts for the Santa Cruz Nomad in Imperial and Metric. Some of these numbers seemed radical less than a year ago, but more and more manufacturers have adopted long, low, and slack geo.
Cotton Candy. The Miami Vice Bike. The Bubble Gum Bomber. Whatever you want to call the colour scheme, it gets looks and comments everywhere it goes. Every. Single. Ride. Photo – Pete Roggeman
Mixing and Matching Suspension
The Nomad I rode in Chile was equipped with a Pike on the front and a Vivid Air out back. Half the test bikes had the Rock Shox Monarch RC3 with what was then a new and larger DebonAir can, but I didn't jump on one in Chile – that would come later. The Vivid-equipped Nomad had my attention and I was happy with how it felt: supple if not buttery, with lots of traction in those tricky conditions, while ramping up smoothly for successive high speed hits or large impacts. It felt plush but not quite coil-like to me.
The Rock Shox Vivid Air seemed to be the perfect complement to the Nomad's hard charging style. Then the Monarch RC3 showed up to boogie. We've been getting down ever since. Photo – Pete Roggeman
We were informed that the Nomad is a picky beast to set up: get the air pressure wrong in either direction by 5 lbs and it could spike or sag pretty dramatically. The upshot of this is that you'll know when you're there or close to it, and I didn't find it a challenge to get it dialed in: start with body weight and add 10-15 lbs, then tweak.Once back in Vancouver, I found the Vivid performed better on our trails with ~5% less pressure than I was running for the higher speed, lower angle trails in Maitencillo. One thing we didn't do much of in Chile was climb, and it took some getting used to on the Nomad. With low speed compression cranked on the Vivid, the bike pedals confidently. The VPP shines here, stiffening under tension and responding well to inputs without losing too much sensitivity or traction.
The Nomad doesn't lack for confidence, especially if a little speed factors into the equation. Photo – Kaz Yamamura
If, that is, you could keep it up to speed. Once things slowed down and got technical, I felt the length and size of the bike under me. Over time I got used to it and learned to attack technical uphill sections. The Nomad climbs well for the burly AM bike that it is, but don't be misled: without a suitable combination of torque and technique, you may flail a bit. After about 3 rides I got used to it and started to be really impressed by its climbing, but anytime I had an off day, I was reminded that you have to be on your game to take down long, steep climbs.
Descending on the other hand, didn't take getting used to at all. The kitty-litter-over-hardpan of the trails in Chile always threatened to yank me down by the ear and rub my face into it, whereas the familiar dirt, roots, and granite back home gave me a better basis for comparison. Slow technical moves felt a bit like a 21 year old asking for a raise: the Nomad stumbled and stuttered a bit at first but got there eventually.
Chalk a bit of that up to acclimatization, though, because since then I've become as comfortable as ever planting my weight onto the 800mm wide bars with the binders on, peering down a chute to pick a line, and letting it rip. Or, the second time through, just sending a heater down the middle. It would be so cliché to say the Nomad begs to be ridden faster; instead I'll say that it has saved my ass more times than I care to count, and the reason is because I felt comfortable putting my ass on the line to begin with, time after time. I have never been more confident on a bike. Never hooted and hollered so much (mostly due to recovering from my back wheel trying to beat the front through a turn). Never had so many 'on' days in a row. Full tilt boogie down some downright nasty sections.
All those 'on' days make for a bit of wear and tear – and some close calls. The Rock Shox Pike has been flawless, especially when my technique hasn't been. Photo – Pete Roggeman
The Nomad is a long term test platform, and Cam took it to Moab for the Fox 36 launch, so it came back with a new front end. Once we got the 36 dialed in, it performed well, but never felt as good as the Pike. It's a bit of a nebulous thing to describe – traction, ride height, rebound, progressiveness – everything worked well with the 36, and it inspired confidence, but it just wasn't the same. It didn't match as well with the Vivid Air as the smoother feeling Pike did, and I couldn't find the sweet spot between higher pressure/less compression or the reverse relationship. It's a similar issue with the 36 on the SB6c we're testing, but this time we're going to let the gurus at Suspensionwerx play around with it a bit and see where we end up. Conclusion? The 36 is clearly a great fork and performance matches the Pike, but there's a preference issue that will be black and white for some, like Ginger v. MaryAnne. You might have a first pick, but either way you'd be a fool not to be stoked.
Fox's 36 is a helluva fork, I just wish I could get it to feel as sweet as the 36s of the past. I have faith it'll happen. Until then I'll think of it like a race car's suspension: tons of performance, just not what I'd choose for a mellow ride. Photo – Kaz Yamamura
Then the Rock Shox Monarch RC3 showed up, and it was time to swap out the Vivid, so I put the Pike back on as well. The Pike felt like an old friend, but the Monarch came strutting in like a young bull. I knew it was supposed to feel more playful than the Vivid Air – and it did – but it didn't give up much in plushness or sensitivity, and traction on the steep granite faces of Gargamel in Whistler felt better. In fact, it made the bike feel like it had just guzzled a gallon of coffee, but somehow avoided the jitters. By comparison the Vivid Air felt damped, even mellow.
One of the best riding days of the summer on Gargamel in Whistler. That was day 1 with the Monarch RC3, and it crushed the steeps and chundery sections. Photo – Kaz Yamamura
I took it into the Whistler Bike Park on the second day of the EWS and rode the Top of the World section on it. Long, rough and fast – generally DH bike conditions. The Nomad ruled. In fact it was more fun than the DH bike I rode down the same course a few days later.
There are a few other shocks that may get a bit of play time on the Nomad in the near future, notably a DVO Jade and a Cane Creek DB Inline. Different beasts altogether, but the former has been working well for some French guy, whereas the latter looks to turn some heads in 2015 and is gaining some OE spec.
Geometry
The suspension is the biggest story of the Nomad, but the geometry deserves more than a passing glance. The long front center of this bike (or almost any modern AM bike) takes a bit of getting used to, but once you've adjusted, it doesn't feel like a detriment at all – you just might need a little body english to get the bike to sing for you. You can't steer the bike from the back, it has to be ridden aggressively from somewhere over the middle of the long top tube or else it just won't comply. Get it right and you'll feel like a better rider than you deserve to. Over fast, stuttery sections, only DH bikes under me have felt so adept at skipping over rough ground at speed.
With a 13.4″ BB height, the down tube is right in the line of fire. Even if Santa Cruz don't want to extend the DT plate further up, it should probably reach from edge to edge. The rock that made that ding wasn't looking to take prisoners. Somehow it missed me. Photo – Pete Roggeman
Yes, the BB is low, and even the most careful pedaler will get a ratchet thrust wrong or get a little carried away and hit a low point after a compression and smack them from time to time, but the tradeoff is that, combined with the slack head angle and long top tube, the stability at speed is unmatched. It's not just a heat-seeking missile, though – this bike loves to go left and right. So many times I've found myself setting up the next move before finishing a corner, because I know the suspension has me covered.
Other Bits
I've deliberately avoided the pink and teal elephant in the room until now, because as with any new Carbon über bike, price is a big deal. And the bike as tested will cost five figures unless you buy one in Oregon where they don't have sales tax. One culprit are the Enve M70 Thirty wheels. So light, stiff, and sexy, and sofa king expensive, too. And the ones that came on the test bike were laced with DT Competition spokes, which are stiffer than the DT Aerolites that Enve recommends for use with these rims. The result? A cracked rear rim.
The Enve M70 Thirty wheels are responsible for $2k worth of upcharge to the Nomad. They rule, but the cost is understandably a non-starter for all but the truly dedicated, or well-heeled. Maxxis High Roller II isn't everyone's first choice for the shore, but they've been consistent across a wide variety of terrain. Photo – Pete Roggeman
Granted, that wheel had been ridden hard in Chile, the North Shore, Squamish, and Moab, and I rode hard on the cracked rim at least 10 times before the replacement showed up, but this bike and these wheels demand to be ridden hard, and they also come with 5 year crash replacement coverage. I believe Enve made an adjustment to the layup to accommodate that issue, and I haven't heard much about cracked rims since the very early days of the release of the M series.
So…almost 3 grand. Would ya? The wheels are phenomenal, and you do notice a difference in feel over alloy, but until the price comes down they will remain the domain of the wealthy, because it's hard to justify that premium, even if you do get 5 years out of them, or more. That said, damn it held up well even with a big crack in it. Some days I even forgot I was riding on a broken wheel. It was impressive.
Let 'er go – we've got this. Photo – Scott Robarts/scottrobarts.ca
The 150mm Reverb has been perfect, and that extra inch of movement is much appreciated. The XX1 drivetrain has been smooth and efficient and never uttered a single complaint. No cable tension issues, not a skipped gear. Pretty impressive after 7 months of hard riding. I did throw on a test set of Race Face's SixC cranks and took that opportunity to swap the stock 34 tooth ring to a 32. Around here a 30 wouldn't be a bad call, depending on your HTFU status.
Most of my riding has been decidedly AM: climb at a pace that won't have you tasting breakfast again, descend with the bit between your teeth while hound dogging the shit out of your buddies (or being hound-dogged). But there have also been days with long, steep climbs and lots of pedaling, and I never hesitated to tackle them with the Nomad under me. The descent always made it more than worthwhile.
The XX1 crank was great, too, but the RF SixC crank added a little hometown flash to the package. The 32-tooth ring has been a bit more manageable than the stock 34, but 30 is probably a better call if there are steep climbs in your area. Tucked away are ISCG 05 tabs. Not tucked away is a front derailleur mount option – Nomad is 1x only. Photo – Pete Roggeman
Selective internal routing keeps things tide, and the full length carbon tubes that house the internal cables keep everything quiet. The location of the ingress ports for the cables on either side of the head tube were chosen to prevent cable rub – it worked. Photo – Pete Roggeman
This bike is still so quiet. The internal cable routing is utterly silent and the rubber grommets that guide them in and out of the frame also keep them from slipping. The chain hardly slaps. The linkage is as laterally stiff and smooth as it was when new (I haven't yet injected grease into the port, and the collet axle pivots have kept everything snug). The loudest disturbance was the damper on the Fox 36 when it was on the bike, and that sound is a good reminder of how hard your fork is working for you. The paint is clearly durable – the only scratches were well-earned as a result of bike-body separation. There is no cable rub or other wear developing anywhere. These small things only become obvious as a bike racks up miles. The Nomad is still new, but will clearly age with grace.
Race Face's 35mm SixC carbon bar is simply perfect, although if you buy a Nomad now it will come with Santa Cruz's new carbon bar and Palmdale grips. At 800mm many will benefit from cutting a bit off each side. SRAM Guide brakes replaced the stock XTR that came with this tester. Like with the Fox 36 vs Pike, it's more of a personal preference: Betty or Veronica? Photo – Pete Roggeman
Waiting around for photo shoots are painful when riding fast is so damn fun. Photo – Kaz Yamamura
As modern a bike as it is, the 3rd gen Nomad actually hasn't changed in positioning from its first iteration – it just does what it's meant to do so much better than those that came before it. Of course it is a great choice for an Enduro racer – that is its pedigree after all. But it's so much more than that. If you're an aggressive AM rider, the Nomad should be on your list. Ditto if you have strong climbing legs but want to gain an edge when descending in rowdy terrain. There are bikes in its class that cost less. But very few of them can claim the Nomad's superlative descending and confident pedaling in such refined, well thought-out package.
The Santa Cruz Nomad starts at $7150 CAD.
---
So, Stealth Black or Teal and Pink?