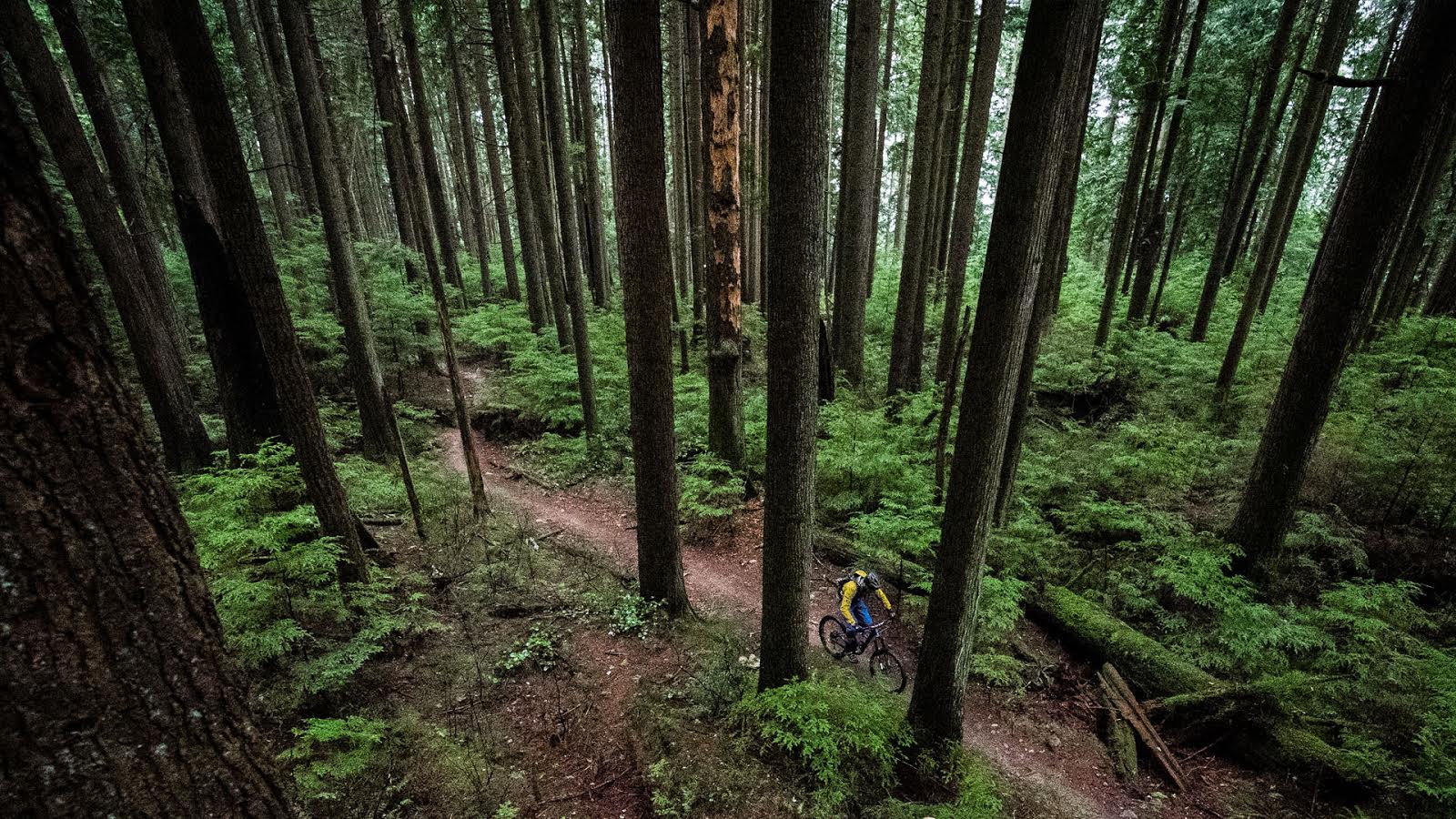 Review: Norco Range Killer B2
The 2013 Norco Range Killer B2 has done its time in the test stables here at NSMB. For our initial thoughts and spec info see HERE, and dig in below for an indepth long term review.
---
Even if you haven't spun a set of mid-sized wheels yourself, you've likely heard enough about them to start forming some impressions and opinions. The promise of the 650b wheelsize is that it provides some of the increased roll-overability of 29 inch wheels along with most of the playfullness of 26 inch wheels. When presented with the opportunity to review the new Range Killer B2 for NSMB, I admit it was mostly the new wheel-size that piqued my interest – but there's more going on on Norco's revamped All-Mountain platform than just a set of Goldilocks hoops.
The introduction of the Range line of bikes in 2011 was arguably a watershed moment for Norco. With the introduction of ART, the company stepped away from its long-standing reliance on run-of-the-mill FSR, adding some unique tweaks to come up with their own variant of the tried-and-true suspension design. Incorporating a host of new "standards", smart details, aggressive angles and eye catching paint jobs, Norco had a bike in the Range that could go toe-to-toe with the best 6" bikes on the (then?) hot all-mountain market, and perhaps help it shed its reputation as a value-brand of bicycles.
Though its design could hardly be called old or dated, the 2-year-old Range came up for revision for 2013, and Norco felt it was the perfect platform on which to go all-in and reap the benefits – performances and otherwise – of the up-and-coming 'tweener wheel size. However, though they're bound to receive top billing, the 650b wheels are only one of the standout features of the new Range Killer B. Before I get to my riding impressions, I want to discuss two other elements of the new bike that probably play just as big a role in how the Range rides and handles: Gravity Tune, and the newest iteration of Norco's aforementioned ART suspension design.
Gravity Tune
The way the engineers at Norco explain it, Gravity Tune was developed to solve a problem no one in the industry was really acknowledging the existence of: "With traditional frame designs, engineers adjust front-centre lengths for each frame size but use a single, fixed rear-centre length." Top tubes, seat tubes, head tubes grow longer and sometimes have their angles change as frame size increases, but chainstay length and other aspects of the back end of the bike typically remain the same through the size-range.
The problem Gravity Tune addresses makes intuitive sense, but would be difficult for an individual rider to appreciate. The solution Norco developed – increasing the rear-centre length of the bike's frame throughout the size range – purports to solve this imbalance in a simple and elegantly executed1 manner. The company's engineers do a great job of explaining the challenge they faced and the solution they developed.
Gravity Tune was introduced on the Aurum, Norco's DH platform; its incorporation into the mid-travel part of the off-road lineup – it's now found on both the Range and the Sight – suggests a confidence that whatever negative impact the design might have on a trail bike's ability to climb will be recouped in spades on the descent.
1Rather than building rear-triangles of different lengths for each frame size, Norco uses a universal rear triangle while varying the location of the bottom bracket and the mounting point of the lower-main pivot on the front triangle, reducing production costs and the chances the company could get caught out-of-stock when it comes to replacing or warrantying a frame's rear-end.
The new ART
Given its intended stomping grounds, the mid-winter timing of the Range Killer B2's arrival for review was less than auspicious. With six inches of travel, aggressive angles and a decidedly tech-friendly spec, the Range begs to be unleashed on the type of brutal, pedal accessed trails that, while abundant on the North Shore, are all too often inaccessible during the Winter months.
So my first few rides on the Range Killer B were perhaps a bit more pedally than than the bike was intended for, but gave me an opportunity to put its Shore XTC chops to the test. A few reviewers for other magazines have already weighed in with their thoughts on the Range, and a couple of them had singled out the bike's climbing performance as being less than stellar. In contrast, I found its climbing manners to be perfectly acceptable, on par with if not better than other bikes in its class. While climbing fire roads, I could hammer away without feeling like the bike was robbing me of power or energy; on more technical climbs, the Range's back end stayed active and planted while again not bobbing unduly or burdening me with noticeable terrain feedback.
Puzzled by the discrepancy between my experiences and those of other testers, I reached out to Norco's designers, and their reply definitely helped me understand what I was – or, more accurately, wasn't – feeling. The newest iteration of ART sees the suspension's rear pivot axle move further forward and lower.
According to Norco, this makes for a progressive suspension design, and a pronounced rearward wheel-axle path as the bike's back end moves through it's travel. A progressive leverage curve helps the suspension avoid harsh bottom-outs and is often cited as contributing a "bottomless" feel to a shock's travel. And a rearward axle path is supposed to help the rear wheel get "up and out of the way" when encountering obstacles, meaning the suspension will deal well with those dreaded "square edged hits" that can shake a rider loose.
But there's something else going on here that testers are responding to, that it turns out I was both well and ill-suited to assess. ART suspension design is intended to work with a shock that has little or no compression damping. Set up with the proper spring rate for a rider's weight, the progressive nature of the suspension and the rearward travel path cause the rear axle to sink to an optimized sag point in the shock's travel – at which point it is chain tension, through pedalling, which is supposed to keep unwanted suspension movement in check, while at the same time allowing the rear shock to remain active and responsive to trail input, even under power.
So if the Range's suspension is designed to climb and pedal efficiently, why are reviewers citing this as an area in which the bike performance falls short? Here's my theory. Norco's goal in tweaking their ART suspension design makes intuitive sense: pedal efficiently while remaining active. But like another intuitive feature of the Range – Gravity Tune – its a departure from standard industry practice: most suspension designs rely on some degree of low speed compression damping and/or a pedalling platform in the shock to climb or pedal efficiently. A design that relies on chain tension to rein in an undamped shock might feel strange to a rider accustomed to pushing against a platform built into the shock. I say might because a) I don't want to make assumptions about or cast aspersions on other reviewers, and b) I've spent most of the last 3 years riding a full suspension bike with a suspension design that works quite similarly to the new ART. As a result, I suspect my pedal stroke is tuned quite well to the peculiarities of this design, which makes it difficult for me to be objective with regards to the Range's pedalling character.
Again, I found the Range to be a capable climber. When you step on the gas in technical terrain with the shock in "descend" – which is where Norco's engineers suggest you keep it – the bike moves forward efficiently but there's a floating quality to its progress. According to Norco, attack the same terrain in the granny ring with the CTD shock in "trail" or "climb" and you'll notice "an inefficiency." Testers have complained that the suspension "bounces," "bobs" and "extends" during technical climbs. Maybe this is the shock's low speed compression damping fighting the chain-tension to control the rear suspension? Whatever the case, I wasn't able to replicate their experience. And with all the little tweaks and knobs designed in to mountain bike components these days, it was nice to be able to leave the shock in D mode full time and have one less setting to worry about when the trail's grade changed.
The Ride
Okay, enough about the Range's technical features and climbing chops2. Most rides on an All-Mountain (or is it Enduro?) bike will start with an ascent, but they really get started when the climb ends and gravity kicks in. And here I'll join in with the chorus of reviewers and riders lucky enough to have swung a leg over a Range Killer B and say: once you get it pointed downhill this bike flat out rips. As far as I can tell there are a number of factors contributing to the Range's descending prowess – to wit:
Suspension: once the shock is properly set up, the back end can take whatever the trail dishes out: in slow tech it is well mannered and doesn't get hung up; at speed it eats bumps and remains composed through choppy terrain.
Geometry: the 66.5º head tube feels slacker than that when it counts (maybe its the larger wheels and resulting increase in trail?) and inspires confidence on steeps and at speed, and the 13.5 inch (static) bb is perhaps as low as you would want to go – the bike feels planted in corners and stable at speed, but pedal-strikes were a not uncommon occurrence over the course of the review – on a bike with 6" of plush travel.
Length: there seems to be a movement towards longer top tubes on gravity oriented all-mountain bikes – the idea being that you can run a short stem to optimize handling on descents while still providing adequate cockpit space for climbing comfort – and the Range Killer B is at the head of it's class here, boasting a 1177 mm wheelbase and a longer effective/horizontal top tube than most of its peers:
Gravity tune? Maybe; I think it would be hard for a rider to know whether a bike's front- and rear-centre dimensions had been optimized without being able to change height and ride bikes of other sizes (I'd hoped to do this as part of the review, unfortunately my debigulator is in the shop). What I can say is that the bike felt well balanced fore and aft, neither too short in back to climb well or feel stable at speed, nor so long that it felt unwieldy in tight singletrack.
Mid size wheels? Again, hard to say. The Range Killer B definitely handles more like a 26" wheeled bike than a 29er: it loves to be thrown around and rewards a deliberate riding style. But there are times when the larger wheels are noticeable: they're a little more prone to find and follow their own line than a 26" wheel, provide impressive traction in technical terrain and corners, and a couple if times when things got a bit dicey and I expected to get thrown off line if not over the bars… the bike plowed right through. Nice!
2 If there was one feature of the Range Killer B that I found hindered its climbing ability it was the bike's slack seatpost angle. With its kinked seat tube, Norco lists the Large Range's effective seatpost angle at 72.8* – but I'd wager it's closer to the actual 69* when the saddle is at full climbing height.
The Spec
I spent more time thinking about and messing with the components on the Range than I would have expected. Norco nailed some parts of the bike, while others seem like potential weak links, required a bit of finicking or left me scratching my head.
The saddle, seatpost, stem and bars are all Norco house brand stuff. While this might raise some eyebrows on a bike retailing for more than 4k, it is a pretty smart move: all of these pieces are likely to be switched out by the discerning owner/rider, so why bring the price up by blinging up parts that aren't likely to stick around? That said, the parts themselves were well thought out: the stem was 70mm long, an appropriately moderate length for a bike that needs to both climb and descend; the bars were just over 29" wide, again a nice compromise between DH wide and XC narrow; and the stock seatpost is an in-line, two bolt jobbie, which I can't really comment on as Norco was considerate enough to swap it out for a Rockshox Reverb for reviewing purposes.
The wheels are likewise price-point conscious options – solid Sun Ringle rims on Formula hubs – but Norco went the extra mile for BC riders by wrapping them in Schwalbe 2.35" Hans Dampf tires, among the most aggressive mid-size tires currently available. While the HDs rolled slowly on dirt and seemed to drag on the climbs, their large volume, excellent tread and sticky Trailstar rubber provided comfort, confidence and boat-loads of traction on wet roots and rocks. I would definitely swap them out for something a bit faster and lighter for drier riding conditions or longer rides, though.
The Range's bouncy bits – a CTD Fox Talas up front and Float in back – worked well enough, but both struck me as a less-than-perfect spec. I was nervous that the fork, with its 34mm stanchions and 15mm axle, wouldn't be up for the kind of brutal trails a 6" bike should be able to handle. But the Talas, though it didn't quite have the chunder-taming, send-rocks-scurrying-off-the-trail-to-their-mothers moxy of its 36mm stanchioned big brother, proved a capable compliment to the Range's stiff back end. However, given the Range's already-low bottom bracket height and the fact that it seemed to climb just as well with the fork at full travel as it did dropped, I feel like spec'ing a set-travel fork for improved performance and reliability and lighter weight would have been the better call.
Out back, the Float CTD felt plush, was easy to set up and provided consistent service throughout the review period. But given that Norco's engineers designed the Range Killer B to ride best with little-to-no compression damping, spec'ing a shock with easily adjustable compression seems at best overkill, and at worst could see the shock ridden in settings that fought the bike's suspension design. At the very least, it might behoove Norco to let riders and prospective customers know about this aspect of the Range's design to forestall potentially negative rider experiences.
Initially, the SRAM/MRP 2X guide was a welcome sight on a stock build. It ended up proving quite frustrating at first, causing chainsuck and throwing the chain a few times until I dialed the guide as far clockwise as it would go. Post-adjustment it worked reasonably well, if not quietly… until it completely shit the bed a few rides later, with the plastic face plate over the pulleys exploding and rendering the guide little more than a glorified bash guard.
The X9/X7 drivetrain worked well and shifted smoothly, and the type-2 derailleur helped keep the bike quiet (though it did eventually fall victim to, but survive, what seems to be a common SRAM type-2 hyperextension issue). I was initially worried that the 2X10 drivetrain wouldn't provide a sufficient range of gearing for local conditions, but the 24 x 36 tooth combo handled the steepest climbs I could find. I haven't had the best luck with Avid brakes in the past, but the Elixir 5s proved consistent, quiet and powerful over the duration of the test – and the matchmaker clamps paired nicely with the shifters and Reverb lever to keep the cockpit neat and uncluttered.
Miscellany
Despite the lack of a label on the tires themselves, Norco assured us stock Dampf's were the stickier, Shore-friendly "Trailstar" variety… Though I usually find myself on the upper end of the "large" size on most bikes, I found the Range a bit too long and tall at first. Once I swapped a few steer tube spacers and the stock 70mm stem for a slammed, 50mm zero rise Thomson, the Range fit like a glove, with no decline in climbing performance… The low-slung top tube and ample standover helped keep the bike feeling maneuverable during tight, low-speed sections of trail despite its longish wheelbase…
Though it took us a few tries to get the hydraulic line routed properly, the Range has excellent provisions for a dropper post, with bolt-on cable guides on the frame and seatpost collar. Just make sure you route yours along the downtube to help prevent it from kinking when dropped, and be careful with the guides' cheese-tanium hardware… I can't imagine riding this bike without a dropper post, and thanks to Norco, I never had to. Though it would make sense to see the Range KB 2 come stock with a dropper post, keeping the price down and having buyers provide their own rather than be stuck with a potential lemon in the form of a stock budget option was probably the smart play…
A little bird told me that Norco had made a smart and needed change to their suspension bearing system for the Killer B lineup, which now uses tapered collet inserts in the suspension linkage pivots to reduce friction and prolong bearing life. Though I didn't have any problem with the suspension bearings, the Range did develop an annoying creaking sound under power towards the end of the test period that I was never able to isolate and eliminate.
The Bottom Line
So who should consider the Norco Range Killer B? The company's decision to sponsor a professional Enduro Team suggests one answer: I'd hazard their racers will be giving the Range the nod for the gnarlier tracks on the mountain biking's hottest new race circuit. Nick Geddes has been out collecting KOMs all over the Shore on his. And with models ranging from "tighten your belt for a couple of paychecks" through "fat tax return" to "still probably less than you paid for your car" price points, its bound to be a popular choice for Enduro and Super-D privateers, too. Or, really, anyone whose idea of a day well spent involves pedalling up fire roads or singletrack to get fast and loose on challenging descents…
Sound familiar?
---
The Range Killer B is definitely on the "big" end of the 650B scale at 160mm – too big, or just right?