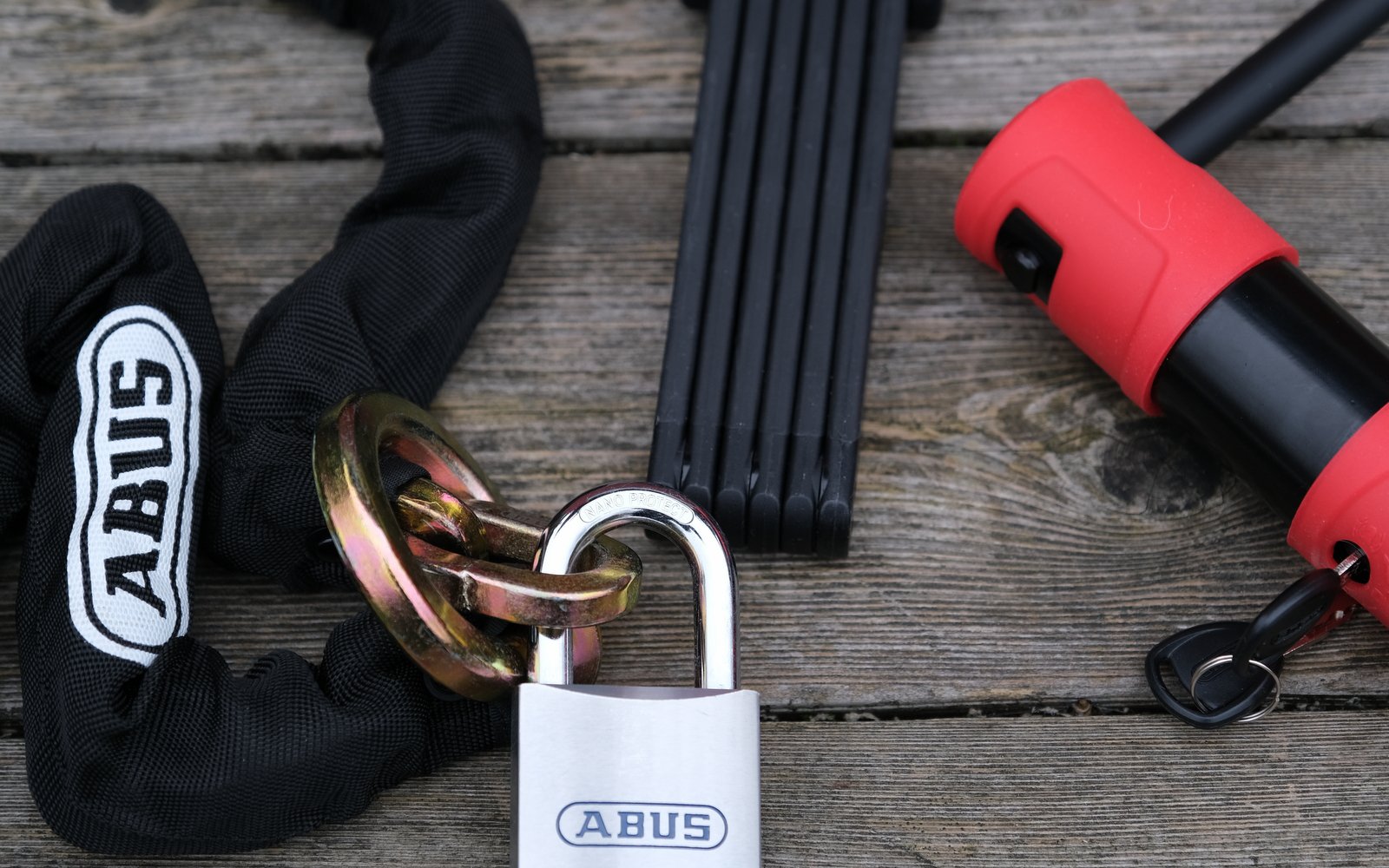 Bike Lock Review
Lock that Sh*t Up
Considering that we all ride mountain bikes, there are remarkably few experiences we all share. We ride different bikes, in different places, in different ways. We wear different clothes and different shoes. Yet, through all this clutter and argument and differences strolls one great equalizer that brings us all together. The Instagram post announcing the theft of a bicycle.
"STOLEN!!! If you see my bike call 555-SAD-MAN2!"
Stolen bikes go with mountain biking like sunburn and surfing, or like over-priced french fries and skiing. Sometimes a garage gets broken into. Sometimes a van gets a new door carved into its side. Often, it's just because somebody turned their back for a second to pay for their gas or tie their shoe. Just like a snowflake, every theft is special. For that reason, this care package full of locks that showed up at my door felt like as good an excuse as any to talk about different ways that you could be locking up your bikes.
I'm going to start with the lock for which I was the most skeptical, and which surprised me the most with its utility. The Hiplok ZLok ($12 US for one) is basically a re-usable cable tie that has a strange amount of acne and does secretive things in the locker room at the gym (is this too abstract? It's on steroids, people). It works just like any of the hundreds of cable ties you have buried in your toolbox, except it's easily removable with the provided tiny little key.
I wasn't exactly sure what to do with them at first, but I now find myself using them all over the place. Lock your helmet to your bike when you go to the beach. Lock your pannier to your bike when you go to grab groceries. But, most importantly, quickly and easily lock your bike to your car/truck/moped whenever you're driving to the trailhead.
These things are so easy to use I just leave a couple strapped to the bed of my pickup and I lock a wheel in place any time I'm transporting my bike. It's second nature now. If I stop for coffee/gas/take-out and I can keep my bike in sight, it's that tiny little bit of security that will prevent some guy from making off with several thousand dollars of getaway vehicle. I probably should be locking it with something more robust, but life is risk. These things are cheap and they're easy and they're a great tool for a little bit of peace of mind.
ABUS
Next out of the box is a few options from ABUS. First up is the Brooklyn Chain (MSRP US$ 99.99 with a 12-out-of-15 security rating). It offers 10mm links, and a protective non scratch casing, all in a handy-dandy choker style chain that threads through itself. Locking duty is completed by a skookum "Titalium" padlock that feels pretty durable, and that I certainly can't pick with my beginner lockpicking kit. I did try.
After that is the, somewhat gimicky, 440 Alarm U-lock (MSRP US$ 99.99 with a 8-out-of-15 security rating). I rolled my eyes pretty hard at the thought of an alarm lock, but further reflection convinced me that a nice little aural warning when my bike was getting tampered with might not be such a bad idea?
Also in the box was the Bordo 6000, which has been an incredibly useful lock for commuting around town, but that I haven't found a good use for yet with a mountain bike. It provides a similar opening size to a U-Lock, so the main benefit is how compact it is when folded up. For commuting, I'm now a believer. It's very easy to throw this into a backpack as it doesn't take up much space. Just like a camera, the best lock is the one that you have with you, so making it easier to bring along is definitely a bonus when riding around town, but less of a benefit for most situations faced by a mountain biker. The Bordo can be had for an MSRP between $119 and $129 US, depending on length, and has a 10-out-of-15 security rating.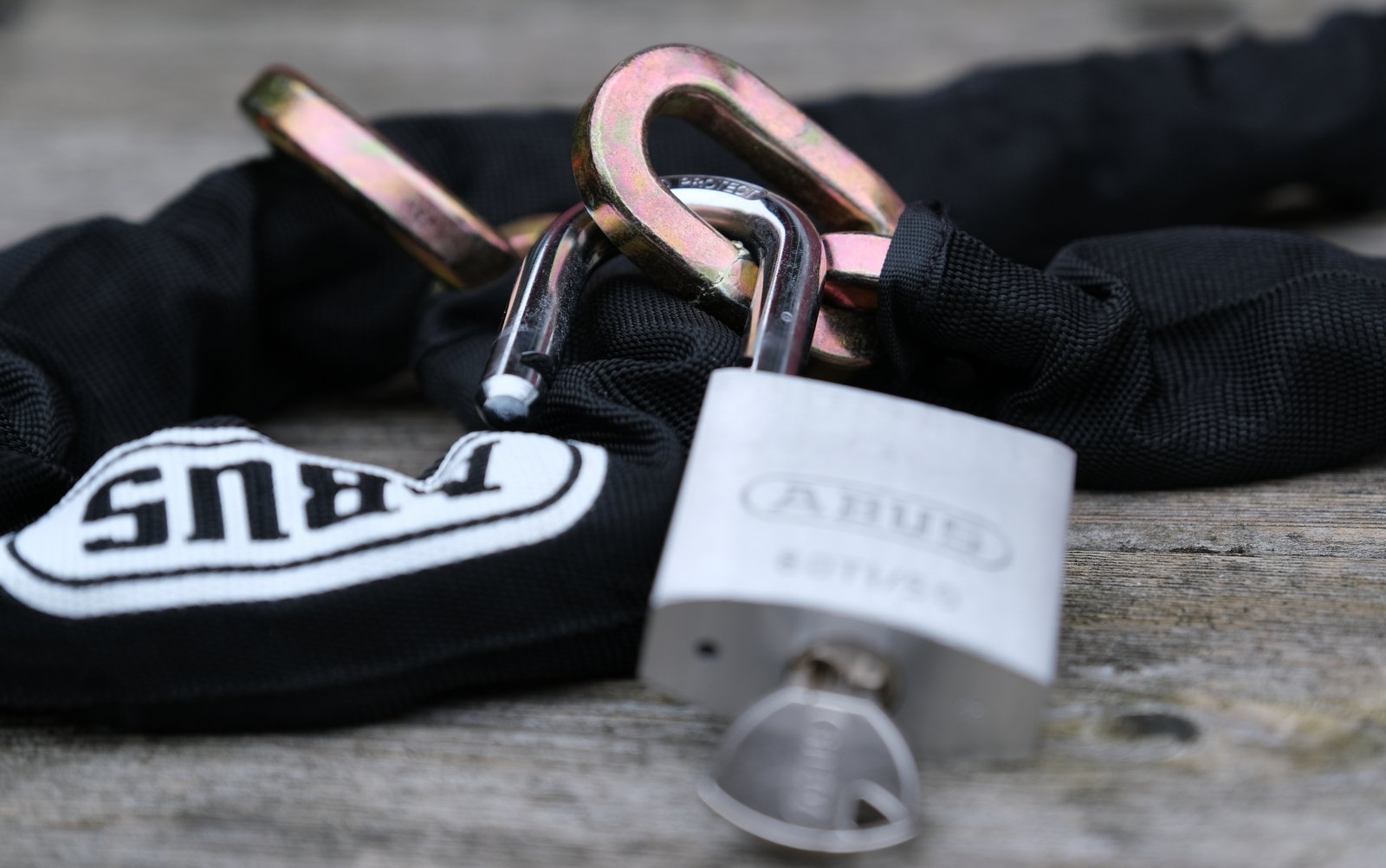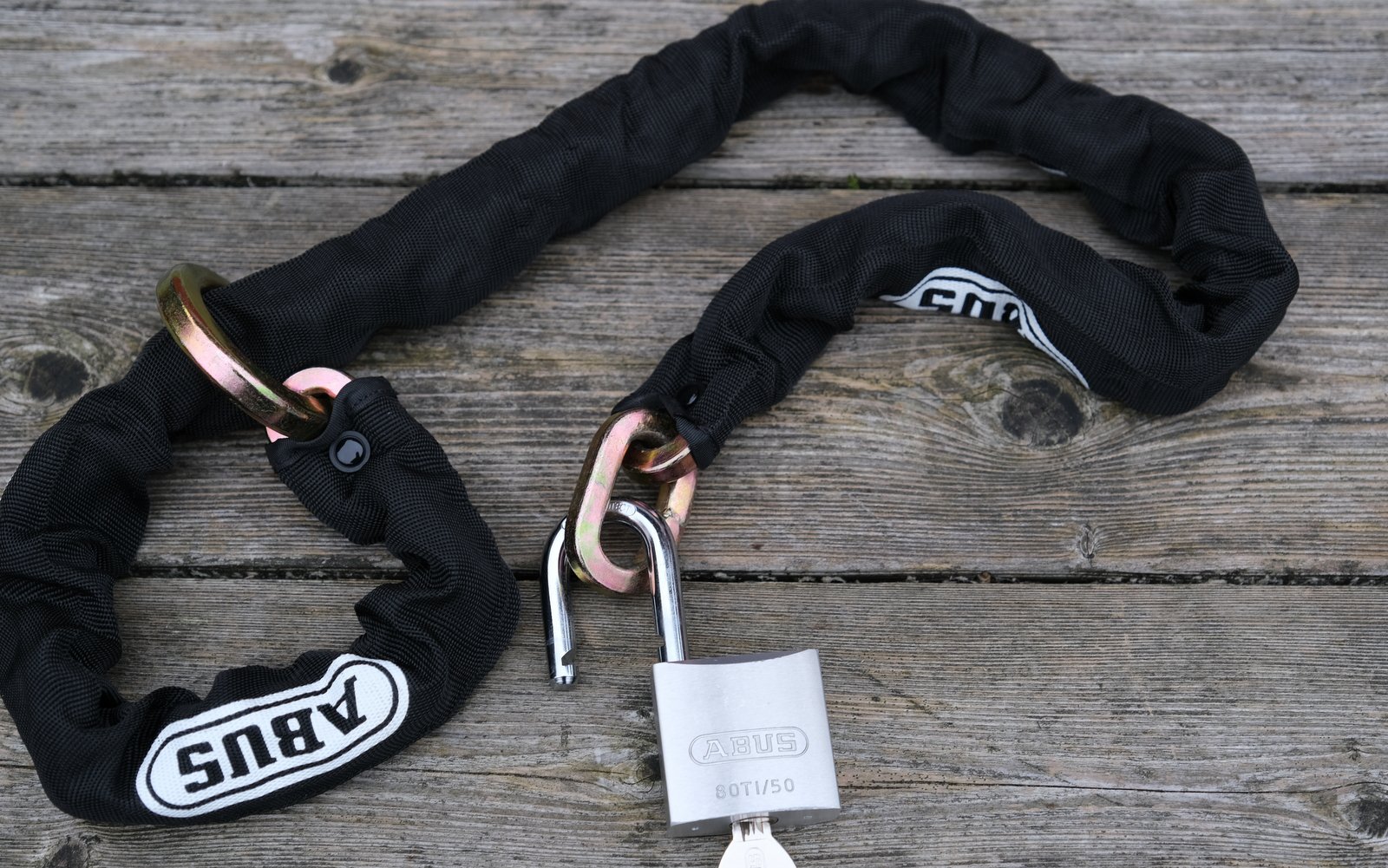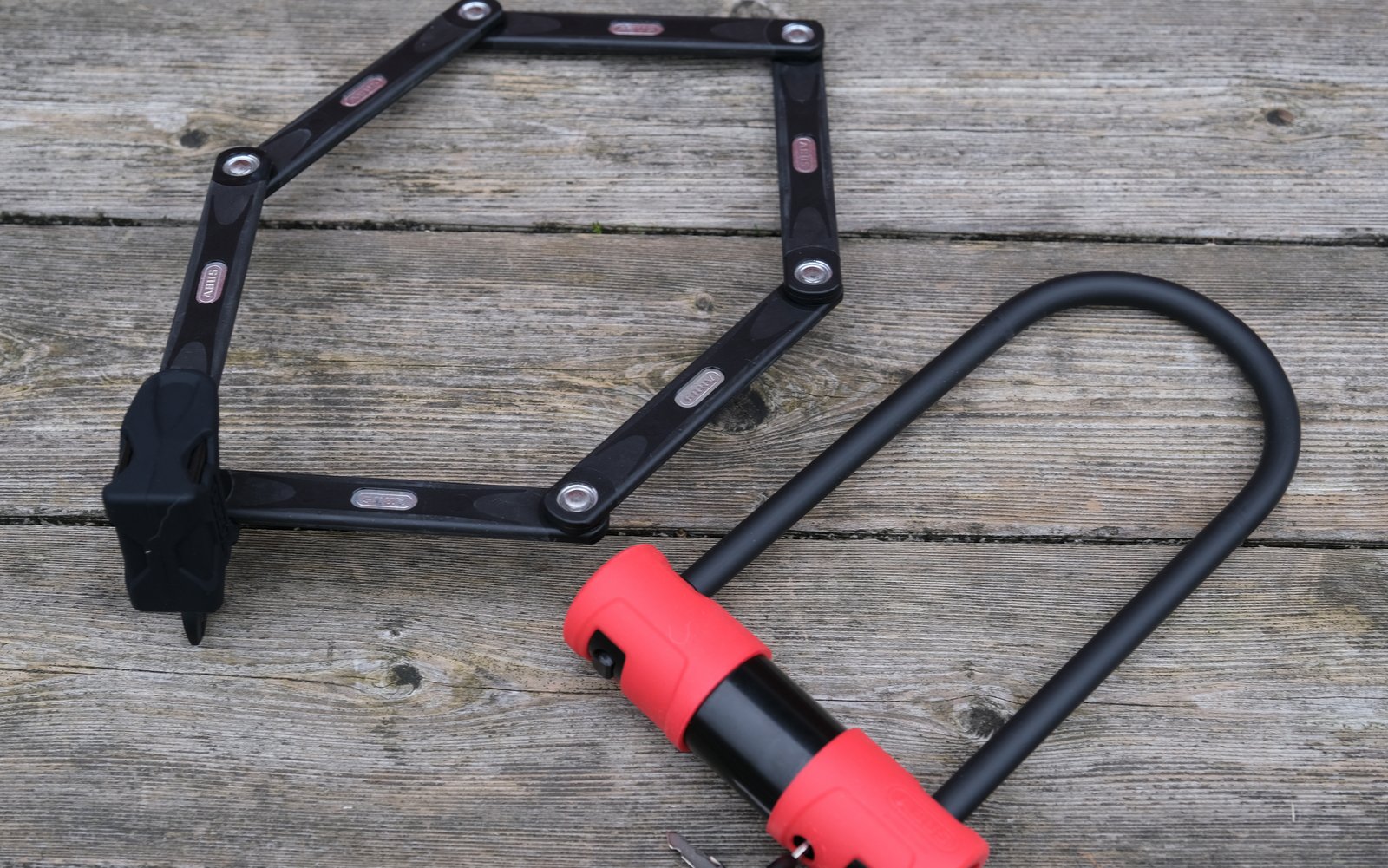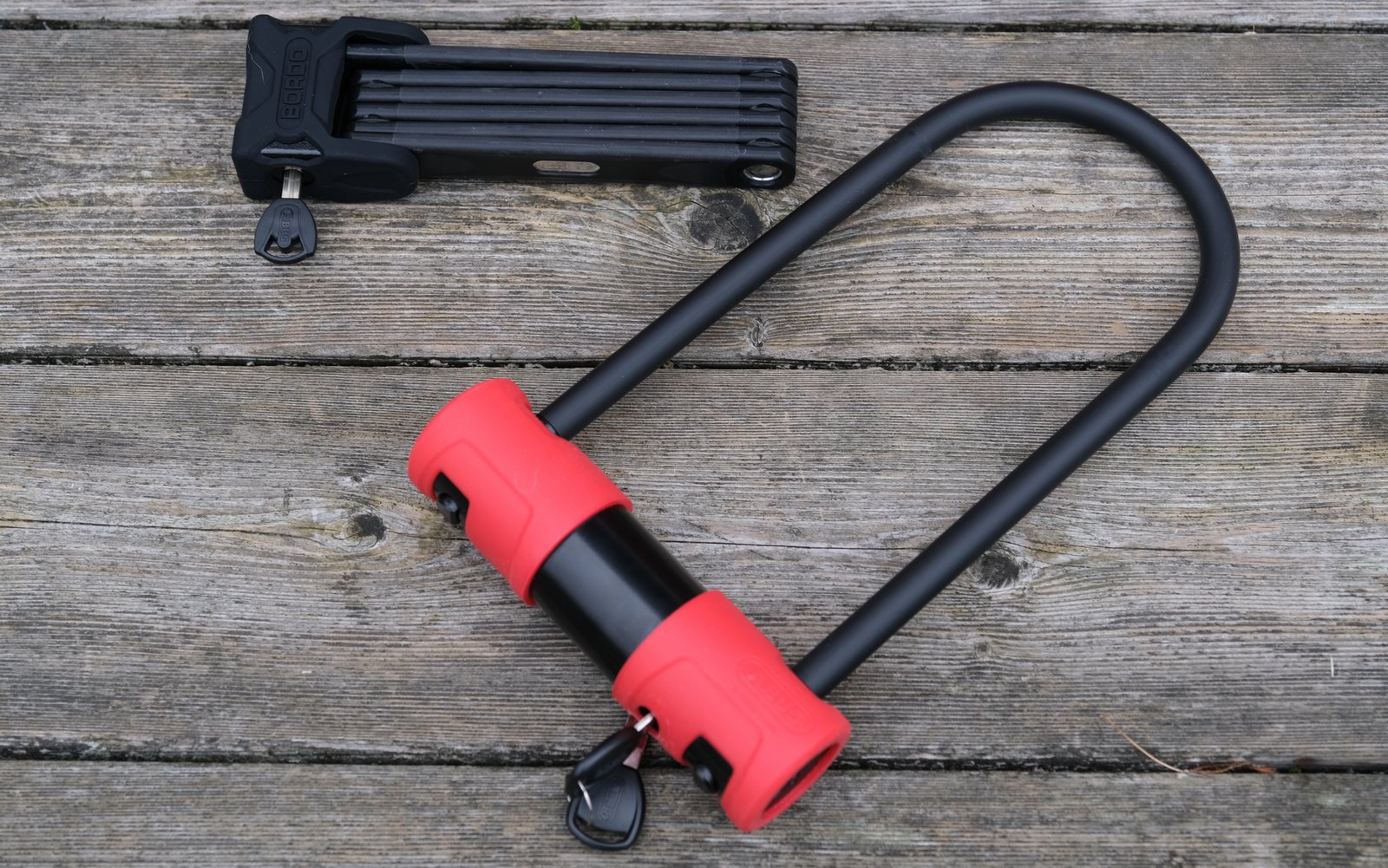 In the end, none of the ABUS products were perfect for my needs. That's not really a strike against ABUS. They make great products, and I've had one of their higher rated U-Locks for years and it has been faultless. But none of these were ideal. For example, it's hard to make use of all the functionality of the Brooklyn Chain with only a tiny padlock. I find that something a wee bit larger (like this style of disc lock from Kryptonite) makes this style of chain much more usable. It becomes much easier to lock this chain to something, rather than just to itself.
The alarm lock on its own wasn't perfect either. ABUS doesn't sell this as a high security lock, and I can understand why. It wasn't quite robust enough for me to trust it all on its own, and a U-Lock isn't the best tool for locking a bike to the back of a vehicle or rack.
What did work fairly well was to couple the alarm U-lock with the Brooklyn chain. The U-lock gives some additional flexibility to how you can use the chain, and the alarm allows me to drift a little bit further away from my bike, knowing that the chain will scare most people off and that the alarm would let me know if it didn't. Yes, I know, the system is only as strong as its weakest link, and the 440 U-lock is far less substantial than many U-locks on the market. This is not a setup that you can trust while you disappear down the street for a three course meal.
Now, about that alarm function. There's a couple of things to consider. First, if you're locking your bike in a high traffic location, you're gonna get some false alarms. The lock gives a few warning beeps if it is jostled, and then reacts more fully when it is moved around a few times. It might take other unsuspecting cyclists by surprise. It might even prove to be somewhat entertaining. The good/bad news is that the alarm isn't so loud that it will scare the living bejeebus out of them. It's more like an alarm clock that you've let ramp up a few levels when you go downstairs and forget to turn off than a piercing car alarm that will bring people running. For short term, close at hand scenarios, this might be enough to let you know that something is happening.
Do you need an alarm lock? Of course you don't. However, it's an interesting concept to consider. I think with a bit more experience and thinking, this could be a really great product, and I will be interested to see what they come up with after a few product generations. What I would really love to see is a lock that pairs with your phone and lets you know if somebody is fiddling with it. I'd much rather have a device that told me my bike was being stolen, rather than one that provided a minor annoyance to people in the vicinity. This world is so full of smart devices and this one might actually prove to be a useful one.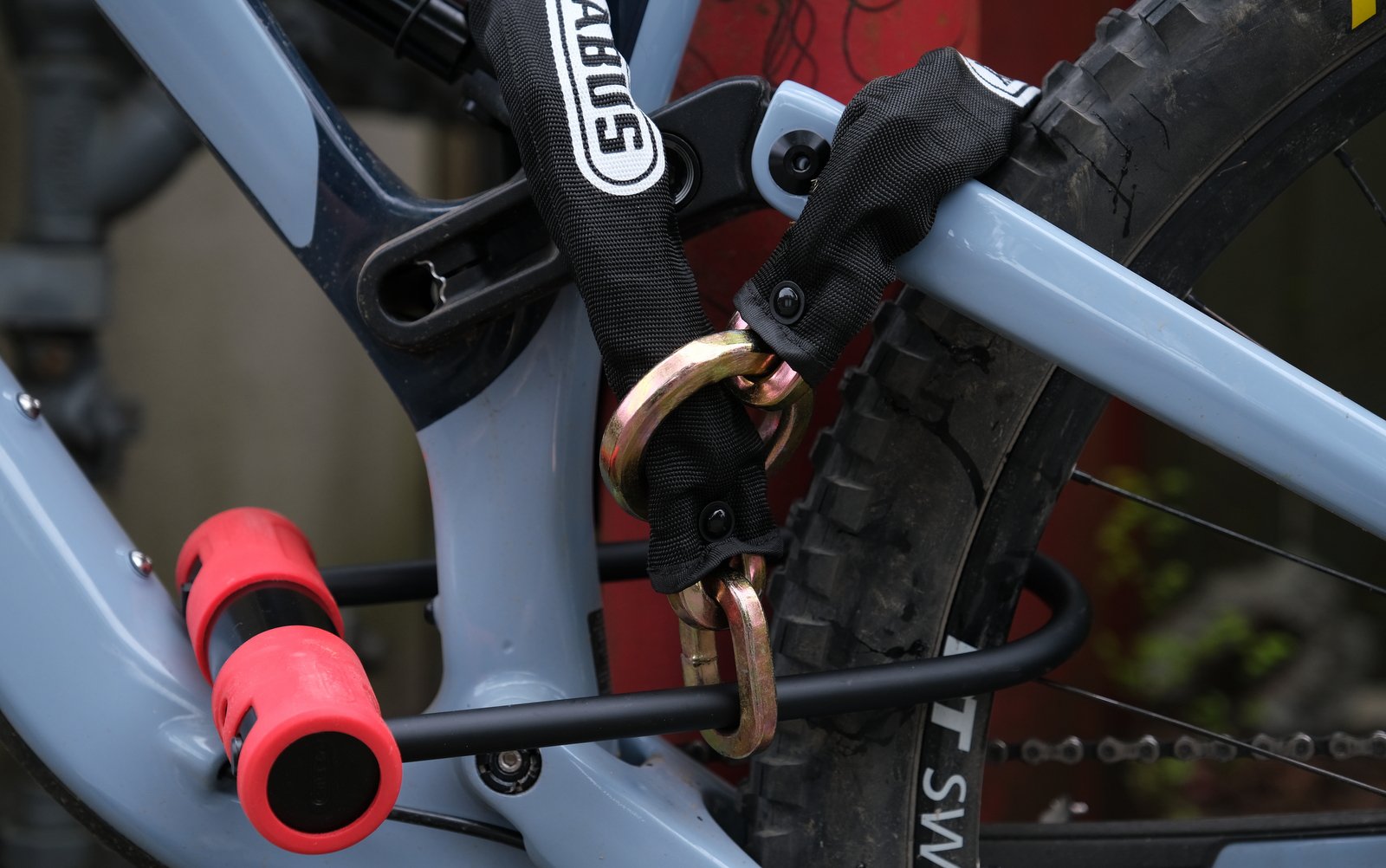 Conclusions
The first rule of not getting your bike stolen is to not leave your bike anywhere that it can get stolen. There is no perfect lock solution. If somebody really wants to steal your bike and you give them an opportunity, chances are pretty good that they can figure out a way to succeed. But we all have situations when leaving our bike is the only option, and a lock - any lock - is going to improve the chances that your bike won't get stolen. Be smart and you should be okay.
If it were my money, I'd probably put it into something like the ABUS Granit 58. For a bit more than the combined cost of the Brooklyn Chain and the 440 Alarm Lock, you get something that doesn't need batteries, and that will shrug off anything but the most well prepared bike thief. Throw that in your vehicle along with some ZLoks and you can approach most situations with some degree of certainty that your bike will still be there when you turn your back to buy some gas or pop into a coffee shop for a few minutes.
Beyond that, just don't do it. Your bike is gonna get stolen.