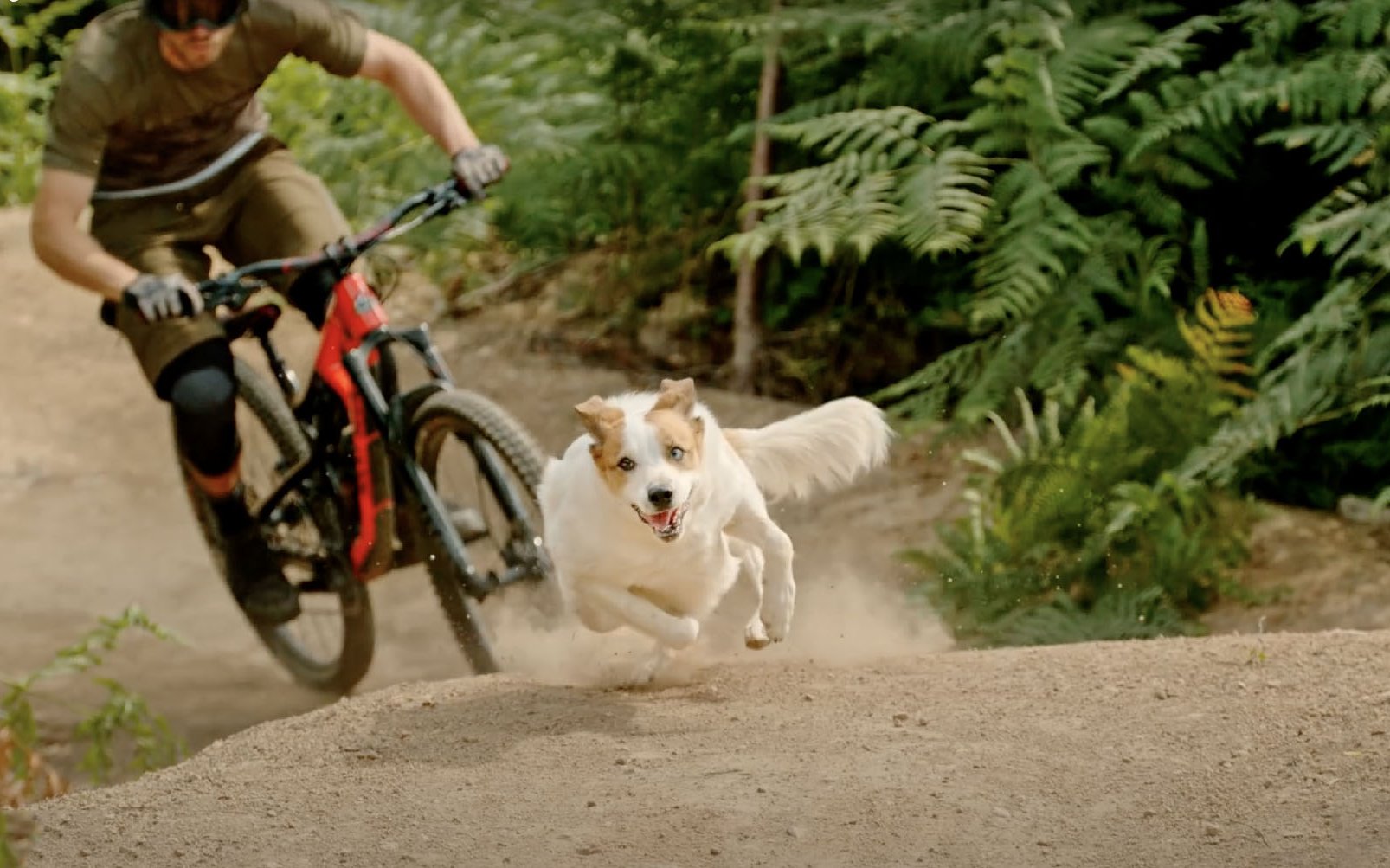 The Loam Ranger
The Loam Ranger Loves Dogs: Except on the Trail
The Loam Ranger is a moniker we've used over the years that allows contributors and readers to post anonymous editorials, either because they don't want to be outed for a controversial opinion, or to protect the innocent. Loam Ranger articles have been written by calloused builders, pro riders, magazine editors, industry insiders, former Prime Ministers*, and others. You've probably ridden or drunk a beer with at least one of them. After a bit of a hiatus, the Loam Ranger is back with something (controversial) to say.
Always remember that opinions expressed by the Loam Ranger** do not necessarily reflect those of NSMB.com or its editors - this is simply us providing a platform so that others can share their viewpoint. As an example, this week's column directly contradicts the opinion of most all of NSMB's current editorial team, as we all love riding with our dogs.
*may or may not be true
**the LR doesn't appreciate pedantry - their Loam Mommy and Daddy are the namesakes and 'the Duff Ranger' sounds super dumb, so just roll with it.
I love dogs, but I don't always love them when they come along on the ride. In fact, to be honest, I'd prefer it if you left your dog at home. I realize this is a controversial opinion, and that I'm likely to be crucified for it, but my rides are important to my sanity, and your dog might just be driving me crazy.
Your photos and videos are cute and they entertain me. I had a trail dog for 10 years and I love dogs most of the time… but I will quote a wise man (well a man) with 'dawg' in his handle, one who speaks truths at holy sites (#thedumpsters), 'There is no such thing as a good trail dog."
When a dog is on a ride the vibe changes no matter how good the dog. Maybe it is waiting at the bottom of a drop, maybe it will move, but will it move the right way? Will the dog move aside when the speed picks up, or is it like that dude who always thinks he's faster than you? Will the dog decide to cut across your wheel when you attempt a pass sending you cartwheeling into the rhubarb?
Whatever the outcome, it throws off my concentration and I focus on what the dog might do. Will the owner ask me to hold his dog while they attempt a challenging trail feature, or worse, ask me to look for their dog when it goes missing because the owner wasn't paying attention? Will there be a lot of yelling after the dog? Yes - always; I've never been on a ride when the dog's owner is not yelling at or for the dog. Maybe a submission hold and strong words are required to make the dog behave? This is always a mood killer.
That's the vibe I am getting at. I have been on so many rides where the owners are yelling at the dog to come, to stay, to get out of the way, to stop barking. None of this noise is present on dog-less rides. I prefer the sounds of buddies hooting and yipping for joy, talking tech, talking trash and talking – like humans.
A lot can go wrong on a mountain bike ride. The more riders you have, the more likely it is that something will go wrong. And when you add a dog? The odds go through the... roof. The dog gets hurt, the dog takes off, the dog poops and you ride through it, the dog bites the forest ranger, the forest ranger bites the dog; the potential for mayhem really is limitless.
My pet peeve about pets is owners insisting their precious rides in the vehicle during shuttles. I do not want dog hair all over my ride nor my gear and the same goes for me sitting in their stinky hairy vehicles. Am I allergic to dogs? More like allergic to dog owners. Yes your dog is cute. Yes, it's the most incredible dog I've ever met. Yes, I did see how fast it was on that curvy section of trail, until it saw a squirrel and cut me off. Yes, everyone loves your dog! But no, not everyone wants your dog along for the ride. Or at least not this guy.
I realize many of you will disagree with me, and that's fine. I don't really care, as long as you don't bring your dog along on the next ride we do together Sorry.