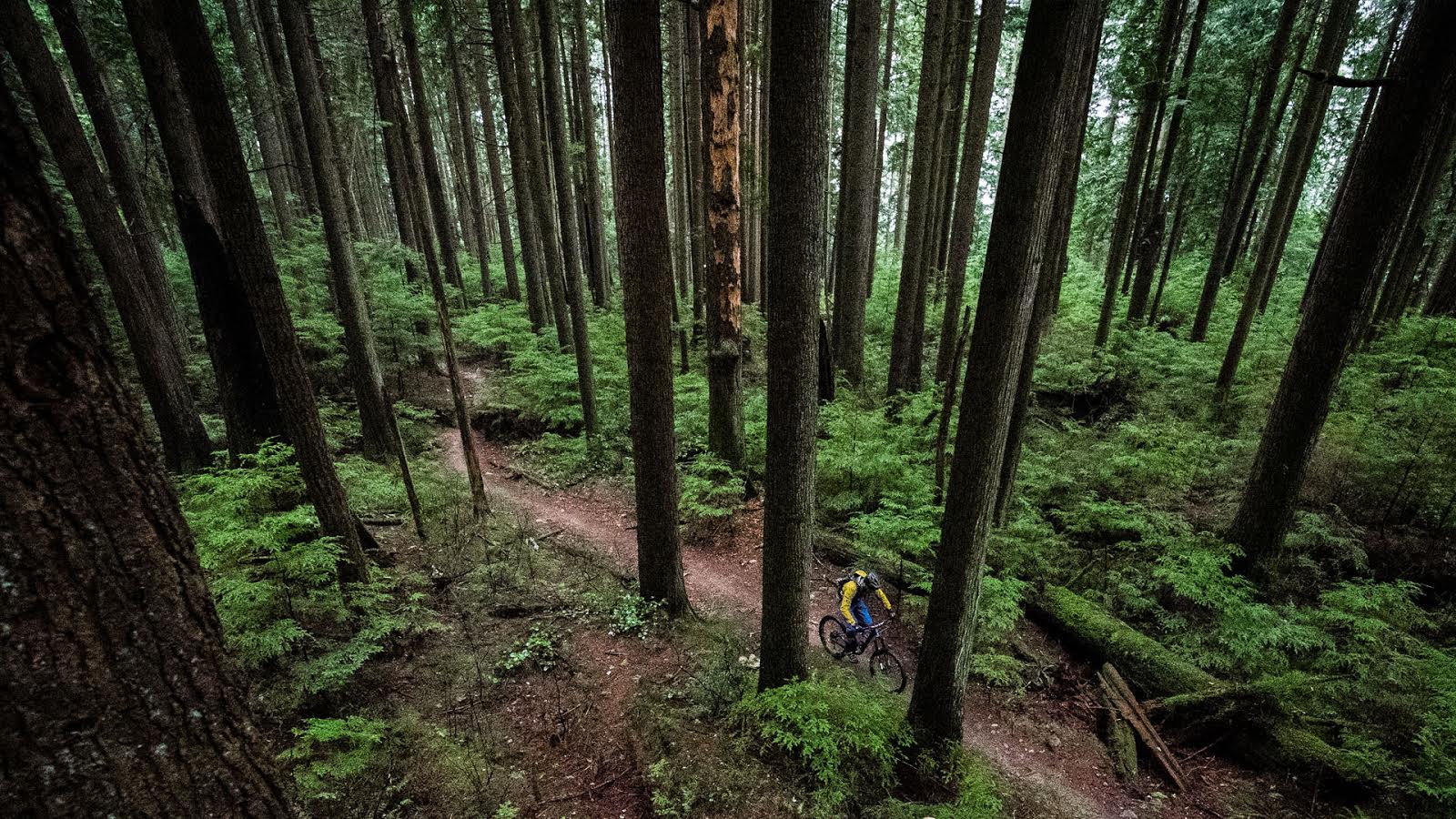 For A Living: Trail Builders
Trail Builders
No dig, no ride. Volunteer trail building on a huge scale supports amazing riding from North Vancouver to Wanaka, and a mosaic of places in between. It's skilled work designing grade reversals and flagging a trail back and forth to best use the available terrain. It's grunt work hauling buckets and digging for hours. It's sexy work splitting rungs and running a chainsaw. It's dirty work mortaring rocks together for hours only to cover them with a less intimidating sport surface of golden dirt. Trail builders make the world go round.
I still think that I am lucky to be one of the few paid builders in the Sea to Sky corridor and I'm so grateful" – Pat Podolski
I was stoked and knew I needed to work in the woods!" – Sean Gerke
If I could give a shout out to just every person that I know who has given up day after day of wicked riding to give back to the trails then I'd be here all week. Life's busy. If you make time to dig you know who you are. Thank You. If you don't, think about looking up your local trail association and helping out however you can. It's hugely, if quietly, appreciated by all trail users. Not just mountain bikers.
This piece is about two guys: Sean Gerke and Pat Podolski. Sean and Pat built their skills and reputations as volunteers and have made working as trail builders their careers.
For A Living
The bike industry is a bit like the army. Wait, hear me out. Pretty much any job you can do in civilian life you can do for less money and worse hours if you add bikes to the equation. No, I'm kidding. I'm sure bike industry lawyers do just fine.
I've met some amazing characters who wrench, sell, fit, spec, design, weld, build trails and perform other services in the world of bikes. You probably have as well. My goal with 'For A Living' is to highlight some interesting jobs that involve bikes and the friendly people who wear those hats.
Genesis
Did you come across riding on your own or were you introduced by a friend?"
Sean and Pat have a lot in common. They both worked in bike shops before transitioning to full-time digging. They both like long hours alone in the woods building trail. They both started working on trails at a young age. And they both love riding their bikes (not to mention being pretty damn good at it).
Being the lucky progeny of a mountain bike dad, Sean first pedaled off road at age 7. After moving from Vancouver Island, Sean's first taste of trail building was as a volunteer with the NSMBA at age 14. "The first time I rode the Shore was Upper and Lower Ladies at night with only handlebar lights. I had to light up rooty sections and remember the lines so I could wiggle my bars to ride".
Pat was introduced to mountain biking by his friend Rob Staines. "He had a North Shore style track in his back yard and it had elevated ladder bridges, skinnies, teeter-totters and drops set up. It was really awesome what his parents let us get away with." He came up riding a huge variety of Greater Vancouver trail systems that now fall under the umbrellas of the FVMBA, TORCA, and the NSMBA trail associations.
Start Digging
What was your first trail building experience? "
After joining the NSMBA Sean spent years working as a volunteer any chance he had. "I started working in groups and then I started doing little solo projects on trail days like rock armoring, drainage etc. Then after a while I became a group leader." Building, riding, working in shops his logical next step was taking his passion to school. In 2009 he graduated from Capilano University's Mountain Bike Operations Program.
Pat's first trail building experiences mirror a lot of kids I know. Grab your parents' gardening tools, head into the woods, dig, dig, dig, and ride. "Thinking back, we built it pretty well for a bunch of kids with our parents' tools. My first organized day was in 2007… I really enjoyed it and my volunteering just progressed from there. Like many of us do, to give back to the sport and the community."
Getting Paid
When did you start to think you might be able to build trails for a living?"
There doesn't seem to be a special recipe for previous work history when it comes to making a living on the trails. Pat spent years as a "mechanic/installer/fabricator at a custom truck shop" and after working in a shop while he was in high school Sean was a crepe chef in downtown Vancouver. Both builders volunteered as much as possible with local trail associations, rode their bikes, and then transitioned to working at local bike shops.
For Pat, his first paid gig as a trail builder came five years ago when three BC trail associations – NSMBA, SORCA, and PVTA – started employing him on a contract basis. "I knew as soon as I started doing it daily that this is what I want to do for the rest of my life. I definitely did not know if I could make it a full-time job that would sustain me financially. I still think that I am lucky to be one of the few paid builders in the Sea to Sky corridor and I'm so grateful."
In Sean's case he simply impressed the right person with his skills, work ethic, and interest in making bikes his living. The person is an iconic North Shore trail builder named Jeremy Power whose epic volunteer hours in 'the day' helped the CBC Trail on Mt Seymour sustain huge amounts of traffic.
"My first project was working for Jeremy on the Grouse Grind hiking trail for Metro Vancouver. Although it wasn't a bike trail I was stoked and knew I needed to work in the woods!"
Favourite Trails
What trail building experience do you currently find most satisfying?"
Sean and Pat are both solid riders with great bike handling skills and a preference toward more difficult trails. They also have both built trails ranging from beginner to as advanced as they come.
"I think since I've had kids my perspective on riding has really changed" says Pat. "I have really aimed to help newer riders and kids progress on trails that are suited for just that. Watching young kids at camps riding Roadside Attraction this summer while hooting and hollering really made it well worth the hard work. Thanks Giant Bikes for the support on the trail!"
Sean's highlights include building private, helicopter-accessed trails, and building with the NSMBA Trail Crew. "Getting to work with Digger on Ladies Only is an honour. Things coming full circle! Working with Pat and Lea was awesome! I like to build something that I have to think about to ride and scare myself from time to time."
In The Woods
Don't bite off more then you can chew. Dig, Pack, Shape, Repeat! Give back to the community in whatever way you can!" – Pat Podolski
Pat's favourite tool is a shovel where Sean is obsessed with chainsaws.  Pat's son Logan will be riding offroad any time now where Sean's headed off to a remote camp to build trails with a bunch of dudes. They are two very different guys that have a lot in common when it comes to their trail building preferences. They are both friendly champions of their craft honestly excited to share their knowledge with groups big and small. They are both perfectly happy building for hours alone in the pissing rain.
"I think when you are cutting in new trail or moving a lot of dirt it is really imperative and rewarding to have the horsepower to get it done" says Pat. "I think any day in the forest is a good day but with how busy the mountains have become I really appreciate rainy days when I don't see a single person. It's the small things like peace and quiet away from the city that make me love being out in the forest!"
Sean describes his dream days in the woods with a bit more brevity, but it sounds pretty familiar. "I like what can we accomplish with the people power of a volunteer trail day. Being alone in the woods working is pretty relaxing." The ideal dream day? "Sunny day, no people."
Oh course, a lot of time alone in the woods will make anyone a bit philosophical. Pat is channeling more than a few people I know when he says "we were taught as kids that if you didn't dig at riding spots you weren't welcome to ride. It might sound harsh but it really gives you a great appreciation for what it takes to build and maintain trails."
Last words
A big thank you to Pat and Sean for sharing their experiences. I dream of a day when every major bike company will account for full-time trail builders on their payrolls. I've seen first hand the difference having paid, professional, full-time trail builders makes in improving trails and maximizing the benefits of volunteer labour. Particularly on high traffic trail networks.
I'll leave it to the builders to sign off:
"Be nice to other trail users because the forest is a shared resource. Support your local Trail organization!" – Pat Podolski
"As Digger says: Thanks For Riding!!!"- Sean Gerke
For A Living: Know someone in bikes that other folks would be interested in reading about? Please feel encouraged to shoot me a message.
---
Are there paid builders where you ride?