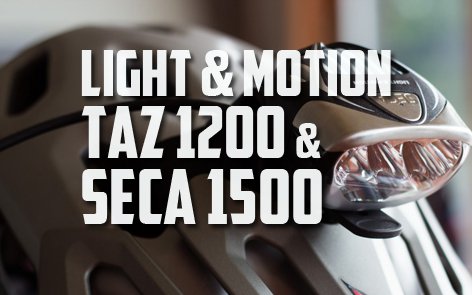 REVIEW
Light and Motion Taz 1200 and Seca 1500
Lights and carbon rims. Expensive stuff that riders are trying to save money on by substituting cheap knock-offs from China. And for some, it's working out. For a little while at least. But the other shoe always drops. It just does. So for those of you making do with cheap lights, I say good on ya, especially if your knockoff systems are making it through more than one season, hold up when you crash, don't short-circuit when it rains, or brown out in the cold.
However, the fact that a reliable set of lights will literally let you ride more through the winter makes them worth the cost – and for those with families, tight schedules, racers, or adventurers, reliability is key. Those carbon rims and cheap light sets do have a habit of failing the day before a road trip or in the middle of a ride, and for some that isn't worth the risk.
The conventional bar mount + headlamp setup covers the bases: the bar-mount provides the flood light in the direction the bike is traveling, while the head-mounted light follows your gaze. If you ride mellow trails, or not too fast, or without too many sharp corners, you could probably get away with one or the other (I used to ride with just a 15W headlamp, but that was in the days of wheelie drops and much slower speeds on the shore), however as soon as you introduce speed, technicality, or a lot of corners, you're going to need a dual setup. Some riders prefer more light from the bar, others want the big shiny on their dome. Either way, if you're tossing out a minimum of 500 lumens from your top and bottom light source, you're on your way (but you're going to want 1,500 minimum as the pace heats up).
Get Tested
Light & Motion is a premier player in the MTB light game, so they aren't a cheap option, however their products are well-engineered and full-featured. According to their site, they are the first lighting company whose products adhere to the FL-1 standard, which means that things like claimed lumen outputs and run times are verified. Here's some more detail about the FL-1 standard, which actually covers five different criteria (brightness, beam distance, run time, water resistance and impact resistance):
My own unscientific results back this up. Compared to other lights with similar/identical lumen outputs, the Light & Motion products hold up, and run times were consistent with their claims, even during last winter's two cold snaps which found me riding in -10º C more than once. If there was ever a time you don't want your lights to crap out, that was it. So if you're serious about riding or racing at night and want a rig that will give you years of reliable use, put L&M on your consideration list.
Taz 1200
The Taz family of self-contained (battery is in the lighting unit) bar-mounted lights numbers 2: the 1200 and 1500, and I have been using the Taz 1200 since last winter. Technically you could use it alone. You'd suffer in certain situations, like looking around tight corners, but it gives off so much light that you could get away with it if you had to. Your buddies will probably dust you, but you'll still be riding…at a medium pace.
It uses 3 LEDs: the bottom one covers an ultra-wide area low in front of you while the upper two project their beams higher and off into the distance. In a sense the Taz disrupts the typical bar-mount flood light standard by providing some flood and some spot coverage, enabling it to be used alone with decent results if you're on a budget or just dipping your toe into night riding.
The Taz has been subjected to cold temps, dropped, soaked, crashed on (3 crashes last night, in fact), and has always worked perfectly. 1200 lumens is equivalent to a car light and I should add that I used it while riding in the city a few times and at full intensity it is way too bright for oncoming traffic (primarily because it sits much higher than a car's headlight). Don't be a dick and run your headlight as bright as possible when commuting – drivers will hate you and be justified for doing so. Its mid setting gives off 600 lumens which is ample for both seeing and being seen when commuting.
Intensities and run times look like this:
Taz 1200 (tested): $239 | 216g | 2″ x 1.75″ x 4.2″
High: 1200 lumens / 1.5 hours
Mid: 600 lumens / 3 hours
Low: 300 lumens / 6 hours
Taz 1500: $299 | 216g | 2″ x 1.75″ x 4.2″
High: 1500 lumens / 1.5 hours
Mid: 750 lumens / 3 hours
Low: 350 lumens / 6 hours
The Li-Ion battery charges via included Micro USB cable – you can plug it into your computer or use any other USB-compatible charger, however your fastest results are achieved using an AC adaptor that'll kick out at least 1.8 Amps (Taz's max power draw) rather than the less powerful 1-1.5 Amp cube that powers your phone. An iPad has a 2 Amp charger, for example, so you're set if you have one or something similar. Charge times for the Taz 1200: 4/8/14 hrs (using 2/1/0.5 Amp adaptors).
In addition, the Taz is rated to be waterproof to 1 meter for 30 minutes, so you can use it in any weather and be confident it'll hold up. It has a race mode which allows you to switch between High and Low settings, and two orange side lights operated by a separate button (on/off only) provide visibility from the side when commuting. The power button runs green/orange/red indicating remaining battery power, and is easy to operate with gloves on, even while riding.
Waterproof, impact resistant, and full-featured, the Taz 1200 has the bases covered, including visibility from the side. Two orange lights are controlled by the rearward black button. The main front button indicates remaining juice with a green/amber/red colour.
The bar mount is compatible with all sizes (even the new 35mm standard) and a simple strap system requires nothing more than a good tug and a hook and eyelet. When mounted, you can fine tune the beam's throw by hand: up/down and left/right are easily tweaked, and the light stays in place once you set it, provided you get the strap tight enough.
The bar mount is easy and fast and works with all bar sizes. Here it is shown backwards (it rotates 360º) so you can see the strap, but in use you swing it around 180º so the excess (tidily handled) sticks out the back.
At $240, this is no cheap commuter light, but the performance and features already belie that fact. For such a powerful unit that is easy to swap between your muddy whip and your commuter, road bike, etc, and given its consistent performance in a small package, I would call it money well spent. If you only have the budget for one light, or aren't ready to commit to a full setup just yet, the Taz 1200 (or the $300 Taz 1500) will get you rolling at night, be more than enough power for commutes, and could also be an emergency light that would not only let you get out in the dark, but ride out comfortably. I have also run the Taz 1200 with L&M's wicked little $200 Stella 500 on my helmet, and it worked well. That Stella is another light that would work well on your bar as a commuter light. Options…
Seca 1500
Part two of your lighting rig is the headlamp. As I mentioned, if you're dipping your toe into night riding, something like the Taz 1200 is a good way to start, due to its versatility and lower cost. With that said, if I had to ride trails with only one light I would choose a headlamp since it illuminates where you're looking, not where your bars are pointed. You'll get used to either one, but the headlamp-only setup is more intuitive. Let budget and intended use be your guide.
The Seca 1500 mounts in about 2 minutes and stays in place without any fuss. The post-mount system makes micro adjustments easy so you can dial in the beam pattern based on the trail's pitch and speed. It's also light – you'll hardly notice it on your head.
The Seca series from Light & Motion are their high end headlamps, though you could mount them to your bar as well if you chose – however you would then need to affix the battery to your bike, rather than running it down your back into a pack or pocket. You can get a Seca 1500 (tested here) with a 3-cell Li-Ion battery, a Seca 2000 race for a $100 premium (more lumens, same battery), and a Seca 2000 Enduro for an additional $69, which upgrades your battery to a 6-cell unit, giving longer run times.
Really nice build quality. My one suggestion would be to make the button easier to feel while using gloves. It's large enough that you can fumble around and hit it while it's on top of your head, but it would be easy to improve upon.
I also got a chance to try the Seca 2000 and while I would never turn down more lumens, I can also say that the 1500 (which is equivalent to two motorcycle headlights) is more than enough for all but the fastest or most intense nighttime use. You'll know if you need the 2000, but the 1500 will be sufficient for almost all of us, particularly if you're supplementing it with a second light.
The head unit uses 6 LEDs and specially designed reflector to provide a wide, even beam pattern. The button on top of the unit is decent although I would prefer more tactile feedback since it sits flush and takes a bit of getting used to with gloves on since you can't see it on top of your head. The connector cable is nice and long and you can wind the excess around the battery and contain it with the integrated clip, which also allows the battery to be fastened to a belt or bag strap if you like.
The Seca's 3-cell Li-Ion battery has a small red LED to indicate that it is powered on. The rubber gaskets and fitment are super high quality and require alignment and a little bit of force to close, meaning they nicely seal out moisture and dust.
Bar and helmet mount hardware is included, as is an AC adaptor. This is a higher output battery that requires more power, so you won't be using a USB charger for your Seca. It does not have a waterproof rating, however I have used it in wet conditions without issue and the battery/plug interface's rubber gaskets are tight enough to require a small bit of force to connect. Like with the Taz, build quality is outstanding – these lights are built to last and the engineering and thought put into them is obvious.
Helmet hardware is solid and easy to setup. Again I have the strap mounted backwards here so you can see it mounted to the horizontal post. The silver fins provide cooling for the head unit.
Again like with the Taz, my Seca 1500 test unit performed as promised in terms of brightness and run time. Intensities and run times look like this:
Seca 1500 (tested): $399 | 343g | 2.4″ x 1.6″ x 2.2″
High: 1500 lumens / 2 hours
Mid: 800 lumens / 4 hours
Low: 450 lumens / 8 hours
Seca 2000 Race: $499 | same weight, size, and 3-cell Li-Ion battery as the Seca 1500
High: 2000 lumens / 1.5 hours
Mid: 1100 lumens / 3 hours
Low: 575 lumens / 6 hours
Seca 2000 Enduro: $569 | same head unit, 6-cell Li-Ion battery | 495g | 2.4″ x 1.6″ x 2.2″
High: 2000 lumens / 2.5 hours
Mid: 1100 lumens / 5 hours
Low: 575 lumens / 10 hours
Since I touched on the Taz's versatility, it is worth mentioning that a Seca with an available head strap would make it an incredible light for other activities like climbing or skiing at night. A specialized user group to be sure, but if you're looking to help justify the cost of these units as well as expand your range of nighttime activities, that would be a good way to do it. Having skied at night with MTB lights before, I can say that you don't need as much power as when riding since snow reflects light quite intensely, however you'll appreciate your full-powered setup while your buddy struggles with his cute little Petzl.
The whole shebang from the side. Matt Lee mentioned this the other day but I'll repeat: why the hell aren't light manufacturers using GoPro compatible mounting options yet? With integrated camera mounts on helmets, you'd think that's just around the corner.
Light and Motion Seca 1500: $399 CAD / $399 USD
Light and Motion Taz 1200: $239 CAD / $239 USD
---
Lights are an investment to be sure, but one that will let you ride more in the winter months, get into endurance racing, or provide security on long rides in remote areas. What are you running?