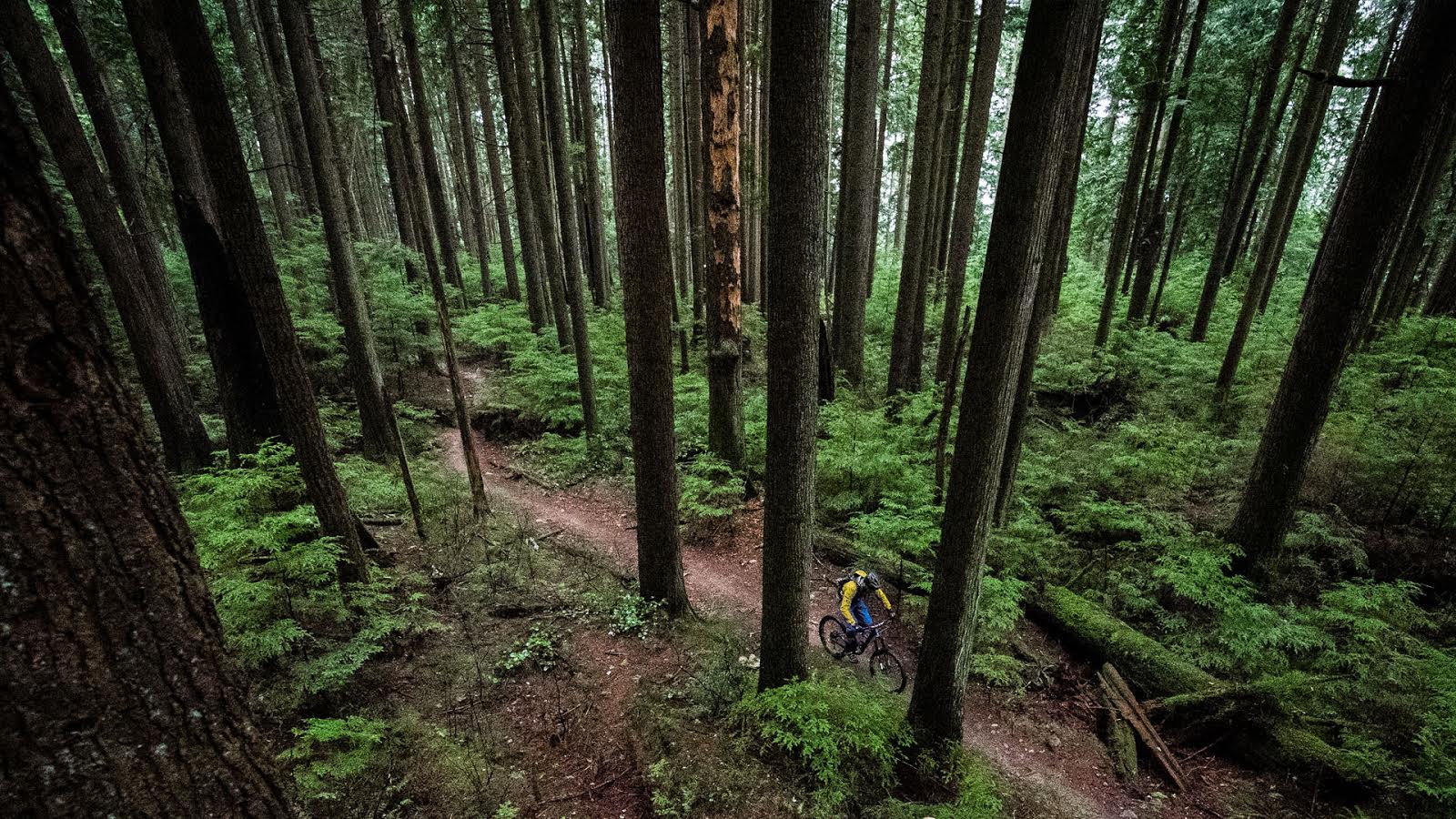 Lichen Bikes
I love flicking through the galleries of the handmade artistry at the North American Hand-made Bike show (NAHMBS) every year. I'm a sucker for handmade steel frames and builders up the ante every year with remarkable creativity and attention to detail.
This year I came across the Lichen Matchstick, a 6″ travel mountain bike standing out like a lighthouse on a rocky outcrop in a sea of 27.5″+ hardtails and gravel road bikes. I reached out to their founder, Devin Bodony to find out more.
---
NSMB – Tell me about Lichen bikes?
Devin – Lichen Bikes is Devin Bodony. It started as me and my buddy Roland, but he's had a lot going on in his life and hasn't had the time to put towards the Lichen project. We've been riding together literally since first grade.
NSMB – Where are you based?
DB – Indianola, Washington. Born and Raised. Indianola is a small town on the Kitsap Penninsula across the water from Seattle.
NSMB – How did Lichen Bikes come to be?
DB – It sort of happened after a road trip. You know how it goes, lots of miles clicked up on the odometer as the conversation roams from one thing to another to pass the time. Well the dominant conversation through this particular trip with Roland was building the ultimate bike, adjustable head tube angle, travel, BB height, all on the fly.  We came up with some pretty cool ideas; eccentric cam actuated head tube angle adjuster, etc. etc.  All pretty unrealistic stuff. Happenstance has a way of steering you some times and I crashed my bike while we were riding one morning and separated my shoulder.  The bummer was that I was unable to work for a month (or put on a shirt for a week) and I don't do well with sitting still and doing nothing. So to keep me sane and as there was nothing else that I could do I got stuck into the CAD and worked out the details of that linkage design.  Everything after that was just a bunch of hard work…
NSMB – What background do you have in building bikes and metal fabrication?
DB – My metal working experience is fairly extensive. My parents split when I was very young, and both my dad and step dad had shops. My birth dad had a furniture and instrument wood shop, as well as a basic metal shop. My step dad had a Goldsmith shop. I started learning to weld in fifth grade, and worked in the goldsmith shop in varying capacity from age ten to twenty-two. Seven of those years were full time goldsmithing.
In my mid-twenties I got interested in machine tools and working on sustainable technologies, specifically stirling engines for off grid combined heat and power with wood stoves. The stirling engines didn't go anywhere as a business, but they did teach me a heck of a lot about machining, and I transitioned my work to be in the shop full time doing machining, fabrication, and custom tool and machine design.
My bike building background is minimal, in that I didn't apprentice or work in another shop. I've visited a lot of shops and chatted with folks. And then there's the miracle of the internet. It's amazing what you can learn these days with a discerning mind and a functioning mouse hand.
NSMB – How did you conclude you can do better than the likes of Specialized, Trek etc?
DB – I don't know if better is really what I'm going for. There are a ton of amazing bikes on the market, and there's no denying that the big companies have put an immense amount of work in to get mountain bike technology to where it is now. I see what I'm doing as existing alongside what the big companies are doing, and I don't kid myself into thinking that I'm going to be pulling much of their business away, economies of scale are a real thing in this day and age.
I think what I have to offer to a potential buyer is twofold. On a very practical point, I can offer custom geometry that a big company simply can't do, because of that economy of scale thing. I've had numerous conversations with guys saying they'd really like a bike with this reach, and that head angle, and this chainstay length. But the bike simply doesn't exist. I think I can offer something special to those folks who have a very clear idea of what they want for the numbers of their geometry.
The second point is a little less practical. I guess you'd call it a matter of style. Mountain biking is very young, and doesn't have the history that you find in Road riding, or cars, or motorcycles. There are tons of people in all of those other disciplines that go out of their way to purchase something just because of the way it was made, not necessarily just for the end product. I think a lot of mountain bikers these days are a little like kids in a candy shop trying to figure out how much they can get for their $2.35. But I think as mountain biking evolves and matures, there's going to be more appreciation of artistry and craft, versus just straight technological ability. I hope to be able to offer a product to those folks that want something unique, hand crafted, and still just as capable as a technologically advanced big brand bike.
NSMB –  Why start building a FS bike? Wouldn't most builders start with a hardtail frame first to build a name for themselves and go from there?
DB – That's a good question. Honestly, I don't think I would have finished a hardtail frame, because it's not what I'm currently excited about. Building a bike is a lot of work, especially if you're building a lot of your own tools. It's the excitement that carries you through all of that work. I have friends who are frame builders, and I'd talked about building different road bikes and hardtails for years, but never got to it because the excitement wasn't there. Full suspension bikes get me stoked, and that's the excitement that carried me through.
In addition, I've always had a fascination with mechanisms, and teasing apart the mechanics/kinematics of the rider/bike system on a full suspension bike was incredibly intriguing. Also, when considering a business, I felt like the custom frame market was pretty flooded with people doing road bikes, gravel bikes, hardtail mountain bikes. I didn't want to try and be another fish in that pond, I would rather just do something else and maybe build a few frames for myself. But building FS frames is exciting in its own right, unique enough to stand out of the crowd.
NSMB – Other builders of custom FS bikes are doing simple single pivots or buying pre-fab rear ends to mate to a custom front end of their own. Again you guys seem to be going the hardest route with your own linkage design. What is it about this design that you feel has an advantage?
DB – Well this is twofold again. Honestly the initial impetus was just to do something unique and different because it's fun, and for the challenge. Through that process I've learned a lot more than I would have about kinematics than if I'd just borrowed from existing stuff. Not that I don't pull from what's already out there, because nothing is created in a vacuum, and ignoring what's been learned so far would be stupid. But building a straight single pivot seemed boring to me. That said, I may still do that at some point if I see a good application. It's the challenge that's exciting and keeps me involved in the process.
As to the advantage question, that's a tricky one. My dad's always asking me how my design is better. And I guess I'd say that it's not, per se. Every bike, every suspension design, is a collection of compromises. I'd say that this design is the collection that I like most, and has grown out of my riding style. I spent quite a few years racing road bikes, and I really appreciate good pedaling characteristics, but I also grew up on mountain bikes and love a DH bike. So I was trying to blend those two. I'd say my riding style is fairly planted and fast, and the linear/regressive suspension really lends itself to that style.
NSMB – Has the linkage design been patented?
DB – It has not. I'm kinda against the whole concept of patenting. I see that it's important, but I don't think I'd ever choose to patent something myself. I'm a proponent of free information. If someone wants to use my design, and actually takes the time to understand it, I'll take that as a compliment. I just made sure that no one could stop me from using my own design. I see my niche as being able to offer custom bikes more than my suspension design anyhow.
NSMB – So back in the early days of FS bikes we were told that steel would be too flexible or heavy to build a FS bike from, yet here you are planning to build a 6" travel FS bike out of steel. Why?
DB – Well you're an engineer right? So you know that Aluminum isn't actually any stiffer than Steel. Pound for pound they're about the same. So I'd say that steel is a very good material, it's just a question of putting the material in the right place. My theory as to why Aluminum is the material of choice for production bikes is that it's less work to make a competitive weight bike, but not necessarily a better material by any means. In many ways it's worse. I have a friend who's broken every aluminum FS bike he's had. My initial reason was that steel was more accessible, but in my prototyping process I've come to believe that steel is the material to use. I may mess around with Aluminum, but I don't think it's the be all end all.
NSMB – What steel do you use? Rumors are this large bike is built to under 30lbs with some fairly stock looking parts so you must be using some exotic tubing here.
DB – I use True Temper double butted tubing for the front triangle. Not the crazy light stuff, it's the second heaviest wall that they offer, and the tubes are larger diameter than what you see on most road bikes. That's both for aesthetic reasons, mountain bikers are used to big tubes, and also to gain some stiffness. The swingarm is made from straight gauge .035" wall 4130 box section tubing. Most of the weight savings came from putting a lot of thought into all of the machined components to remove every bit of material that wasn't necessary; lots of tight little radius's in all the corners. When you're used to seeing aluminum frames everything looks spindly, but I always have to remind myself that steel is so strong.
NSMB – What kind of riders do you think will be attracted to the Matchstick?
DB – I want the Matchstick to appeal to the majority of riders. That being said I think the majority won't necessarily want to buy a custom bike. But I think it's time that the hand built scene start addressing the fact that most mountain bikers don't ride the type of bikes being hand built. So I guess I'd say your typical mountain biker, who also appreciates artistry and having something made domestically.
NSMB – And what benefits do you think they'd get from going custom over an off-the-shelf wonder bike from the big manufacturers?
DB – Well if they want custom geometry, that's that right there. But for anyone that doesn't want custom for specific handling characteristics, or to fit their body, I'd say the pleasure in having something handcrafted, where they actually get to talk to the person who made it and go for a ride together. Knowing that it's made down the road from American steel. All the stuff that makes a person buy a Ducati instead of a Yamaha. They're both amazing on the track, some might say the Ducati has more soul.
NSMB – So how extreme will you let a customer go with the geometry? Are we going to see anything like that crazy Nicolai that's super long and slack built by you?
DB – Funny you should say that. I don't think I'll build one for the heck of it, because personally I'm wanting a little nimbler bike at the moment. But I know someone who I think might want something like that. I'm open to do whatever a person wants. I'm not gonna make claims on how it'll perform, and I probably won't design a bike like that to offer standard sizes. But that kind of work is also what got us to where we are now. So I'm in no way against it, but probably won't be doing that on my own time until the business is a little more established.
NSMB – The standard geo numbers look pretty contemporary do you think many customers will stray from your standard much?
DB – Not sure. A lot remains to be seen, because this is really a new segment of the market in many ways.   I tried to hit the numbers that I think will work well, and I think that'll be good for most people. Even so, one guy who's interested in a bike wants to run a 150mm fork instead of 160mm. It doesn't take much for me to adjust the frame to keep the HTA and BB drop the same, and a production bike can't do that. You might say 10mm isn't a big change, but being able to make little adjustments like that can mean a lot when they all add up. A little adjustment here and there can really change the ride feel of the bike.
NSMB – The aesthetics of the Matchstick are quite different to all the curvy swoopy carbon competition; I dig it because I like steel hardtails but what sort of reaction to you get out of riders you meet on the trail?
DB – I can't say I've ever got a negative reaction, but I'm sure there were people who kept it to themselves. Personally, I like a little swoop, but I think things have gotten a little out of hand. I like the aesthetics of straight tubes, and it's been a fun challenge matching the shape of the CNC parts to have some curvature, but not look out of place with the straight tubes. I want to do some tube bending on future designs, but keep it within reason. I'm not down with curve for its own sake.
NSMB – How many bikes/frame do you plan to build per year?
DB – I think twenty to thirty would be about the maximum I could handle without making some serious changes in my process. And I want to remain a one-man shop if possible. I really like being involved in the whole process. Except bookkeeping, I hate that part.
NSMB – Any plans to add other frames to the collection?
DB – At some point I'd also like to do an aggressive 29'er for big folks. My personal feeling is that 29'ers make a lot of sense for bigger people, not so much for smaller folks. And at some point a really nimble short travel bike for having fun in the super twisty stuff. That's a bit down the road though.
I also have a DH design in the works. A local shredder approached me about building a bike for him, and it was something I wanted to do anyhow. I've got the kinematics and basic layout done, now I need to do the CAD design on all the specific parts so I can start getting them queued up on the CNC.
NSMB – What about other materials?
DB – I've got an aluminum tube set, but honestly it's lost its appeal for me. I may use it to build myself this bike I've been thinking about for a while, the mountain biker's city bike. Small cassette, slick tires, short travel fork. Fun geo with short chain stays, and a dropper post. That way you can be cruising with the seat up making some miles, but drop the seat to manual down 1st Ave and hop curbs and stuff. I'd really like to build a Ti version of the Matchstick, but a lot of Billet got machined away to make all those parts. I'm going to have to wait till the business is seriously on its feet before I can plunk down the cash to buy the stock to machine all the parts out of Ti for a prototype.
NSMB – So tell us about the Kickstarter campaign?
DB – The Kickstarter campaign is to bring a few more pieces of equipment in house so I can be 100% in house from design to a bike rolling out the door on a ride. If I can do everything myself I don't have to order batches of parts and it keeps the overhead low, so I can customize more aspects of the bike. Also, it puts more money in my pocket, instead of a supplier, so I can keep the end price of the frames lower. Also, it's to get the word out there that I exist. I've been quietly prototyping out here in the woods by myself for some years now, but no one knows about it, so it's time to spread the word.
NSMB –  Where would Lichen bikes be in 5 years? 10 years?
DB – Hopefully demand is so high that I've raised my prices 😉 But seriously, the ideal situation would be that I have enough business to keep the shop afloat without doing outside job shop work, but not so much that I don't have the time to develop new concepts. If I can't stay relevant and keep it fun I might as well not be doing it.
---
I took a quick spin on Devin's personal steed shown in the photo above, but it wasn't enough to form an opinion. Look for more detailed ride impressions soon.
---
Clearly these bikes aren't for everyone, but are they for you?