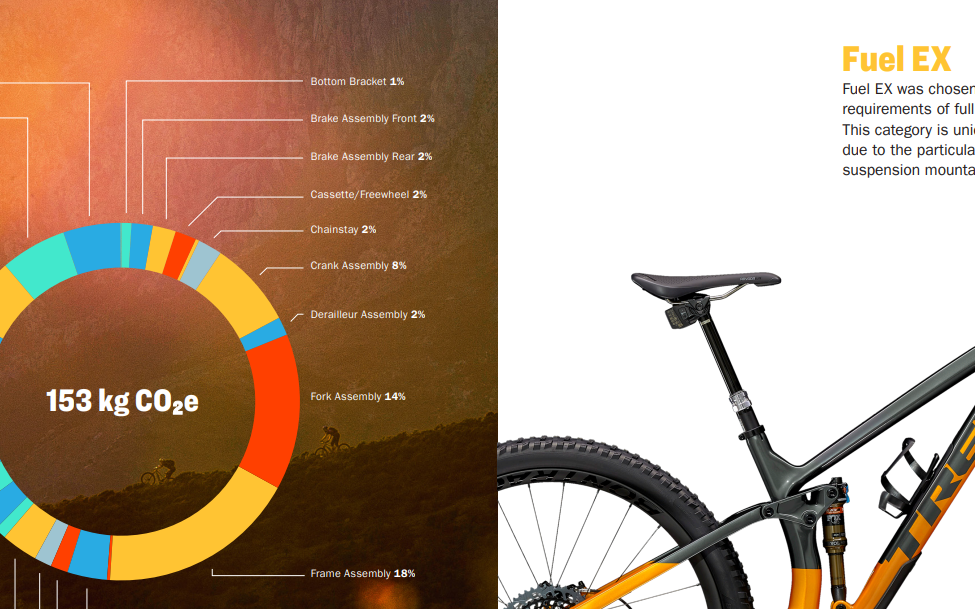 Uncle Dave
Lessons from the Trek Sustainability Report
Hands up if one of the consequences of the pandemic is that you're convinced that we may only have one-to-two years of normalcy left before we're forced to take to the ocean in rafts to escape the forest fires, anti-vaxxers and/or organ thieves? No? That's just me? Well, maybe you've found that you're eating more takeout, buying more online and throwing more things out? Perhaps that's a more universal sort of experience?
A brief aside. We've been bombarded by stories that recycling isn't worth it. Recycling in BC is actually really great! "It will just end up in the landfill anyway" is not a valid excuse for not recycling.
The pandemic has changed the way we deal with waste and the sort of things we throw out. Limiting transmissibility created new waste streams and increased others (masks and wipes were hardly a thing before hand, and single use items have gone up), as well as leading to a general increase in waste (more people working from home, more income directed towards goods vs. activities). The data suggests that this trend is real, and any reductions to fuel use and emissions seem to have been a short term trend.
This is fascinatingly ironic. In Canada, we've reached a point where in our most recent election, for the first time ever, all major political parties accepted climate change as real, and had at least some token items within their platform to address it. Public opinion supports the fact that global warming is a serious thing that needs to be dealt with, but our actions don't. We continue to burn more fuel than we ever have. We continue to generate more and more waste. How can we be more concerned about our environment, but more likely to be doing activities that cause it harm?
Bicycling itself seems to get a free pass on most of this. Being an environmentally sound form of transportation can do that. But consider that most of the bikes that we own and ride do absolutely nothing to offset our carbon intensive lifestyles. Commuting to work on a bicycle is a great way to reduce your carbon footprint. Driving to the trailhead to ride around in circles in the forest does the opposite. That's not to suggest that we should all stop mountain biking and entertain ourselves by constructing sculptures out of found materials rescued from the landfill. I'm just pointing out that mountain biking, and mountain biking purchases (or any leisure activity, really), deserve some scrutiny. Any carbon generated is an extra, no matter how green you make it.
The question is though, how much carbon does the manufacture of a bicycle create? Are there large differences depending on material? What parts contribute the most? What sort of things should manufacturers and consumers be concerned about? In all honesty, I know very little about these things, and I'm probably further over on the "cares about this kind of shit" side of the spectrum than most. But how in the hell can we even begin to have these conversations when we don't really know what we're talking about?
Thankfully, Trek has started the conversation that will help us understand these things a little bit better, with the release of their Sustainability Report. Not surprisingly, the release of this report grabbed less attention than any of their product launches. Or any product launch, for that matter. One can only get so excited about 39 pages full of infographics, I guess. But this is kind of a big deal! They say that you can only create meaningful change to those things that you are able to measure. This report is a pretty great starting point for understanding what goes into manufacturing a bicycle.
Of course, it's not perfect. I'm left with as many questions as anwers. Most importantly, where do Trek's calculations start and where do they stop? How far down the supply chain have they gone? I would love some more detail on what is included and how these numbers were calculated.
But still, I feel much smarter after reading this report than I did before. I did some quick Google searches and, as far as I can tell, no other bike company has put anything out that is this comprehensive. Just by putting this document out there Trek has announced that this is something they care about, and all of these numbers are there for us to keep them honest. As well, this gives some added context to their moves on bicycle packaging and ocean plastic. The existence of this report and the need to update it at a later date would be enough to drive most people towards action. So all sorts of kudos to Trek, and hopefully some other companies are able to also put their money where their mouths are. That saying doesn't really translate all that well from the singular, does it?
Here are my key takeaways from the report.
Lesson #1 – This is small potatoes. Sort of.
If you're already bored, the most important piece of information that you can pull from this report would be this:
"If you ride about 430 miles you would have otherwise driven, you've saved the carbon equivalent of what it took to make your bike."
Note that it doesn't say "if you drive to the trailhead and ride your bike for 430 miles" or "if you ride 430 miles of lift assisted trails". This is a fairly small number if you compare it to your car, but unless you're also using your mountain bike to commute to work, it's all just extra carbon you're creating when you buy a new mountain bike. But, there's an easy solution here! Do 430 miles of commuting to work on your mountain bike and call that sucker carbon neutral!
Lesson #2 – Infographics are hard!
In my professional life I often need to create charts to sell people on a complicated idea, so I know the pain of creating a meaningful, impactful and accurate chart. But my goodness Trek! What the hell is this thing? How are we supposed to interpret this thing when there are so many similar colours! With some close scrutiny, you can figure it out. But get out a stopwatch and time yourself on how long it takes to find data on a particular "fork assembly" on this chart.
Lesson #3 – Holy carbon fibre!
While I hate the infographic, I love the information. Within that hard-to-read-chart there is a lot to learn. Trek provides us with the detailed carbon footprint for several bicycles that are supposed to work as proxies for their entire line (page 5). The closest for us is probably the Fuel, so that's where we will keep our focus.
The first obvious point is that there's a really large gap between the footprint of the lower tier models (9.7 and below) and the upper tier models (9.8 and above). For the upper tier stuff, there's a huge jump and it primarily comes from the frame and the wheels. What gives?
Well, carbon fiber is what gives. The lower tier models are all aluminum and the upper tier are all carbon. This is the first really tangible look that I've seen at the possible impacts of an aluminum bike vs. a carbon bike. Where does this come from though? From the raw material? From the energy required to process? From the farts of all of that labour required to lay each frame up?
The gap between aluminum and carbon wheels is just as vast. There's a huge jump when the spec goes to carbon wheels, to the point where a carbon fiber front wheel has a bigger hit than an aluminum bike frame.
Lastly, suspension forks don't seem to add much to the footprint of a bike. It's the 3rd largest contributor on most bikes (after the frame and the wheels), but there's not much of an increase between the suspension fork of the Fuel and the (I assume carbon) forks on the Madone. I would have thought that all those small parts would come at a higher carbon price. As well, there isn't much of a difference between the aluminum and full suspension Fuel and the aluminum hardtail Marlin.
How much are we really talking, though? The high end carbon fiber Fuel 9.9 has a ~ 225 kg of CO2e footprint (about the same as burning 100L of fuel) versus the ~125 kg of the Fuel 8. Again, see point #1 for the relative scale, but there's a pretty good argument here that aluminum bikes are better for the environment.
Lesson #4 - If only we could manufacture locally
Page 4 has some interesting takeaways. First, it is noble that Trek includes a carbon calculation for employee's commutes to work. This is a pretty easy number to externalize and well done for taking ownership of this number.
Next, the actual production of bicycles dwarfs their other numbers, but transportation and distribution is next on the list. It would be interesting to have them include this within their bicycle specific breakdowns as, unless you live in Taiwan, it's pretty hard to buy a finished bicycle if you skip this step. Assigning the transportation hit to each bicycle would be a better way to understand the true impact. It's also interesting that the solution for this put forward by Trek is "use less air freight" and "consolidate shipments. It's interesting to see that "move our manufacturing closer to market" isn't presented as a realistic solution. If transportation carbon was included directly against each bicycle, perhaps this would have more appeal?
Lesson #5 – Those ebikes don't come cheap
Comparing the Rail 9.9 to the Fuel 9.9 gives us a pretty good idea as to how much extra carbon is produced when you add a motor and a battery to a bicycle. Unfortunately, it doesn't come cheap, especially if it's coupled with a lot of carbon fiber. The 225 kg of CO2e produced by the Fuel leaps up to around 320 kg of CO2e for a similarly equipped rail. That's a pretty big jump, especially on a percentage basis. But at the same time, you don't need to offset very much shuttling or chairlift rides before you're carbon neutral.
Lesson #6 – We think we're important, but we're really not
This has nothing to do with carbon footprint but I thought it was interesting, nonetheless. Trek was kind enough to break out the carbon hit for their benchmark models, and then a lump sum of carbon for all of the rest of their bikes combined. The scale of the graph on page 4 is totally crazy (it jumps from 0 to 21,500…and then to 25,000…and then to 37,5000…so each gridline represents 21,500, 4,500 and then 12,500 tons of carbon? okay). By my estimate (which is a shot in the dark with that graph, if I'm being honest):
Fuel EX – 7,000 metric tons of CO2e (153 kg CO2e per bicycle on average)
Madone – 2,000 metric tons of CO2e (197 kg CO2e per bicycle on average)
Marlin – 35,000 metric tons of CO2e (116 kg CO2e per bicycle on average)
Allowing for a large margin of error for the crazy graph scales, one could take the total carbon hit for each model and divide through by the average carbon per bicycle to create some broad estimates on how many bicycles Trek is manufacturing each year. If my guesses are anywhere close to accurate, it looks like Trek sold 46,000 Fuel EX's, 10,000 Madones and 300,000 Marlins! Some hardtail that I didn't even know existed outsells the Fuel EX 6 to 1?
Going a bit further, the remainder of their line was ~ 200,000 metric tons of CO2e (at an average of 174 kg of CO2e per bike), or 1.15 Million Bicycles! I'm going to assume the Fuel outsells the Slash, Remedy and Session by a fair margin, which suggests that the full suspension mountain bike market isn't how Trek butters their bread.
In Conclusion
Most of the report talks about how Trek will save the world by encouraging more people to ride bicycles. This is a fair goal! A bicycle is a far less carbon intensive means of transportation than an automobile, with emissions that are little more than farts and sweat. Pushing more people to bicycles would help us to dig out of our global warming hole.
If your focus is mountain bikes, this becomes a more complicated question. Throw in longevity and reparability and you could really do yourself in trying to figure out the most carbon friendly bicycle. I like that we finally have some numbers to think about and my key takeaway is that I should put more effort into riding my bicycle to work and to the trailhead.