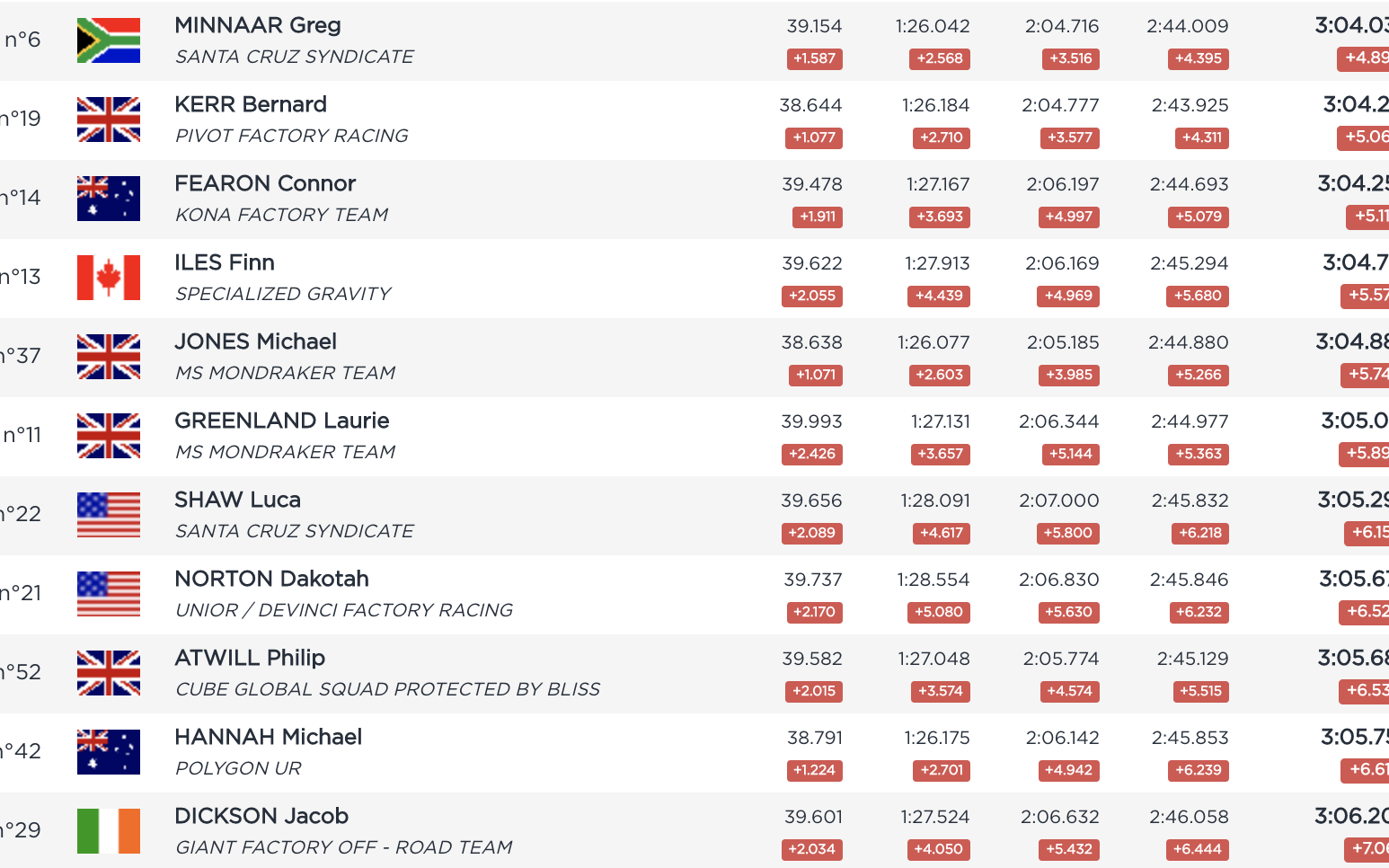 RACE NEWS
Les Gets World Cup DH Qualifying Results
Conditions have remained dry and dusty this weekend in Les Gets, France. The historical World Cup venue returns to the circuit for the first time since 2004 and it's brought classic downhill speed with it. Fast open grass sections are broken up with high-speed woods and although it's more one-line than last weekend's event, racers are really enjoying it.
Elite Men
In the men's qualifying race, Amaury Pierron secured the top spot, putting more than 1.5 seconds into his fellow countryman, Loïc Bruni. The ever consistent Troy Brosnan showed that his swollen knee—which he sustained in a high-speed crash during a final practice run last weekend—isn't holding him back. Third for the consistent Aussie, just 2.1 seconds back from Amaury and only about 0.6 seconds from Loïc.
Another consistent rider who for some reason flies more under the radar is Danny Hart. Danny has appeared on the podium at every race this season and looks strong to do it again this weekend. He;ll be fourth last to set off on Saturday after qualifying 2.67 seconds back. Rounding out the top five was Loris Vergier. Vergier and his fellow French mates continue to light the hills ablaze with blistering speeds. Will they go one, two, and three this weekend in France? They want to and it would be sick to see them do it.
Top 5 Men
Amaury Pierron – 2:59.143
Loïc Bruni – 3:00.735 (+1.592)
Troy Brosnan – 3:01.300 (+2.157)
Danny Hart – 3:01.817 (+2.674)
Loris Vergier – 3:03.177 (+4.034)
Elite Women
With Rachel Atherton out after a suspected ruptured achilles tendon, the race and series are wide open. Tracey Hannah comes into this round with her eyes set on the series overall but Marine Cabirou isn't letting her have it easy. Cabirou went fastest in timed training but wasn't able to back it up when the clock counted today. Hannah secured the top qualifying position, just 0.666 seconds ahead of the flying Frenchie. I expected to see Nina Hoffmann in the top five but it appears she had problems in her run, finishing more than 24 seconds back.
Instead the rest of the top five women was filled with fast ladies with an opportunity to shine. With three of their fiercest competitors out with injury, who steps up to the plate is interesting to watch. Today, it was Spanish rider, Mariana Salazar who was first to do so, landing in third place 7.9 seconds back from Hannah. In fourth was MS Mondraker pilot, Eleonora Farina less than half a second back from Salazar and 8.3 seconds back from Hannah. Rounding out the top five was Swiss rider, Camille Balanche, who finished 10.7 seconds back.
Top 5 Women
Tracey Hannah – 3:27.173
Marine Cabirou – 3:27.839 (+0.666)
Mariana Salazar – 3:35.088 (+7.915)
Eleonora Farina – 3:35.440 (+8.267)
Camille Balanche – 3:37.839 (+10.666)
Junior Men
The fastest junior men aren't immune to the injuries going around this season either. Series leader, Thibault Daprela comfortably secured pole position but it was uncertain how he felt after his big race run crash in Andorra just five days ago. His time would have secured him tenth place in the elite category. Canadian youngster, Seth Sherlock secured his best result to date, landing in second place, 5.25 seconds back from Daprela. Seth's been over in Europe for a few rounds now but apparently was waiting for the track speed to pick up before locking down a result.
Another fresh name in the top three men is Kiwi, Sam Gale. Gale was right on Sherlock and racing between them will be tight tomorrow! He was 5.78 seconds back from Daprela.
Top 3 Junior Men
Thibault Daprela – 3:04.856
Seth Sherlock – 3:10.105 (+5.249)
Sam Gale – 3:10.640 (+5.784)
Junior Women
Rumours surrounding Vali Höll's fitness after a crash a while back, haven't held her back from securing the top spot. She put more than six seconds into Anna Newkirk on the flat out track. Newkirk is becoming a regular in the runner up position and is no doubt hungry to show Vali that she's got what it takes. And it would be great to see her take a "W" over Vali, just to flip things around and light more fire beneath each rider. Squamish resident, Ainhoa Ijurko has gone on to secure her first top three qualifier in only her second World Cup start. She's a ways back from the two speedsters, Höll and Newkirk, finishing 21 seconds behind them.
Top 3 Junior Women
Valentina Höll – 3:33.523
Anna Newkirk – 3:39.844 (+6.321)
Ainhoa Ijurko – 3:54.769 (+21.246)