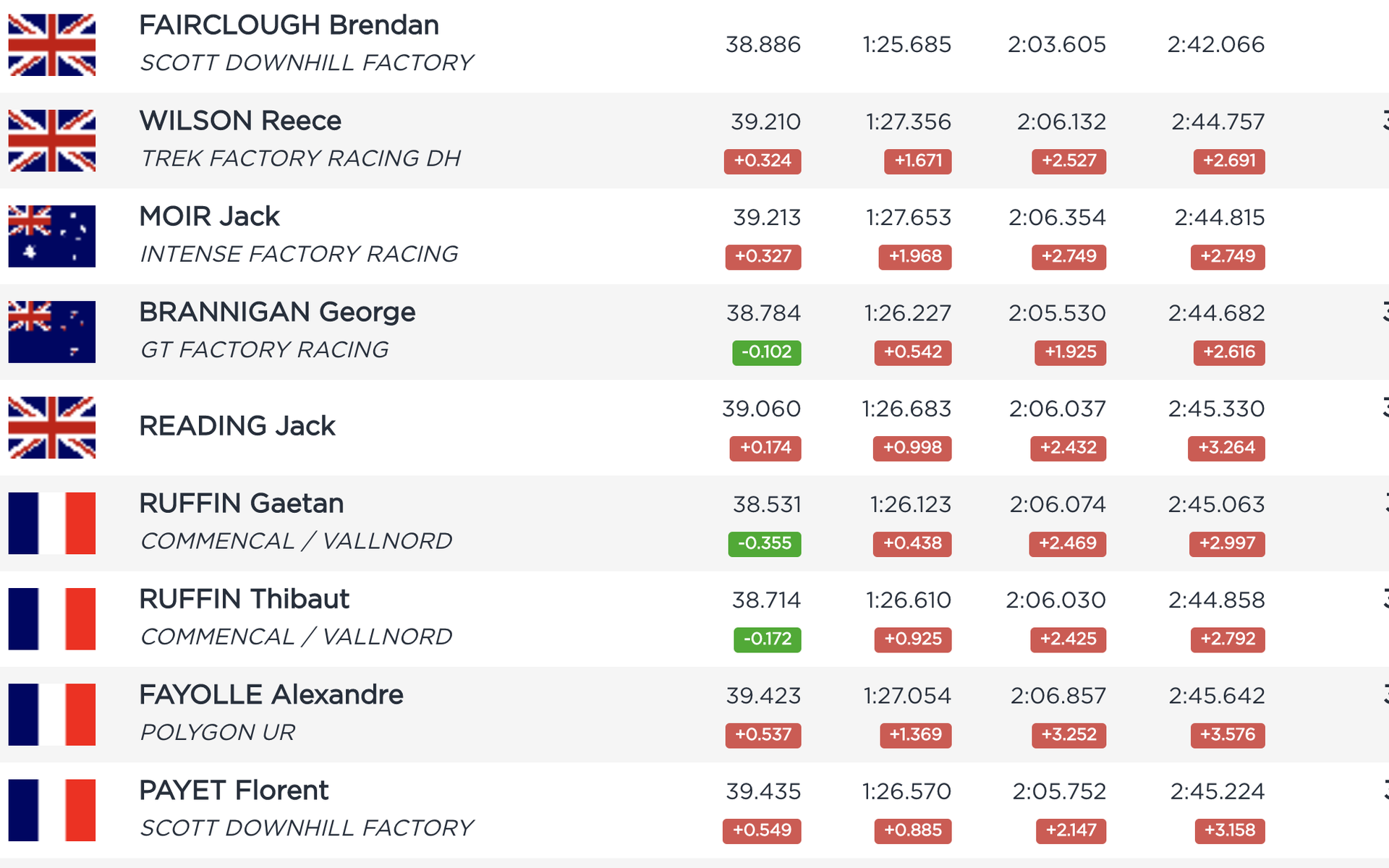 RACE NEWS/EDITORIAL
Les Gets World Cup DH Final Results
As predicted, the French fans were out in droves for the fifth World Cup Downhill of 2019 in Les Gets. Spread from top to bottom, they lined the track more than five deep by the finish. And they were a loud bunch too, with vuvuzelas, horns, and even the sounds of some sort of World War II bomb horn filling the air at times. This was shaping up to be a great race!
Elite Men
The men's race started with a rumour floating around that French rider, and one of the Three Muskateers (Bruni, Pierron and Vergier) was out of the final with an injury. Loris Vergier of the Santa Cruz Syndicate had what is being reported as a massive crash in his morning practice, snapping his handlebar in the process. A seperated shoulder was the suspected injury but when it came to the top 30, Vergier was at the top warming up with the rest of the riders.
On track it was Brendan Fairclough spending a solid stint in the hot seat this round. Brendon held a strong mid-section on the track that challenged riders who followed. He said that he was happy with how he felt during time training but rode too tight in qualifying yesterday. With that in mind he set himself a goal of 3:03 for his race run—four seconds faster than his qualifying time—and managed to pull a 3:01. His final time would have placed him in the top five in qualifying but would it hold for the finals?
Young French rider Thomas Estaque looks to be back on form and building. He looked to be on a good run and after the first three splits was up! But it wasn't to be, Estaque's chain blew off in the lower track, ruining his chance of taking the hot seat. David Trummer was next to threaten the hot seat. The latest member of the Team Racing Dudes outfit continues to show his worth with blazing fast race runs. Trummer remained within a second of Brendog's time the entire run and at one point was just 0.1 back. But he couldn't do it and the Austrian, trained by Markus Pekoll, slotting into second with 17 riders to go.
It wasn't until Laurie Greenland dropped, some 18 riders later, that Fairclough was to be ushered from atop the hot seat. Greenland is great to watch on flat out tracks like Les Gets and didn't disappoint. His run was wild and on edge gapping where he others didn't and holding lines with his foot out in the grass off-cambers lower down track. His run built as he descended, though by the smallest of margins. But that's what it took to win here and he went into the hot seat with a 1.2 second lead.
Greenland's run was solid, enough to prevent the likes of Loris Vergier from knocking it. If Vergier was hurting, he didn't let it show too much. His confidence was rattled though and he said he was going to 'take it chill'. If a chill run is that fast—and he said last week that his run was sloppy—then we should expect Vergier to win confidently in the near future. He went into second just over one second back from Greenland.
One rider after another, no-one was able to best Greenland's time. Mr. Consistent, Troy Brosnan wasn't even able to bump it. Troy did as he said in a pre-race interview and had a clean, fast run but it wasn't enough. Would Laurie Greenland upset the French on home soil? He'd definitely upset birthday boy, Brosnan.
Loïc Bruni wasn't having it though. He had an absolute screamer and came down to finish with the first sub-thee-minute time of the day. He put more than a second into Greenland but didn't even get to sit down before friend and fellow Frenchman, Amaury Pierron secured the win. Amaury's time was more than two seconds faster than Bruni's, which is incredible when the rest of the top ten were within three seconds. Amaury obviously likes to go flat out and claimed Les Gets as his mountain.
Top 5 Elite Men
Amaury Pierron – 2:57.008
Loïc Bruni – 2:59.360 (+2.352)
Laurie Greenland – 3:00.458 (+3.450)
Troy Brosnan – 3:01.145 (+4.137)
Loris Vergier – 3:01.514 (+4.506)
Men's World Cup DH Overall After Les Gets
With Amaury winning here in Les Gets, he bumps up to tie with Troy Brosnan in second overall. Bruni extends his lead.
Elite Women
In the elite women's race, the battle for a podium position was decided more than once by the sketchy flat landing gapper at the bottom of the track. It's the same hit that took out Rachel Atherton on the first day of practice—the impact is so harsh that Rach ruptured her achilles tendon. Veronika Widmann was the first competitor to see a major effect of the jump. At the last split she was up but her decision to take the ride around resulted in enough time loss that she couldn't bump Ninia Hoffmann from the hot seat. Hoffmann took the gap line specifically because she realized it would be needed to finish a good run.
Italian rider, Eleonora Farina built throughout her run. She was unable to take a single split down the course but did chew away time the whole way down. Farina was the first racer to take the gap jump well, clearing it easily and shrugging off the impact when landing. She crossed the line in the green and went into the hot seat. But she wasn't there for long. Mariana Salazar had the run of her life, flying through each split but keeping it stable so she could hold the lead to the finish. She crossed the line with close to four seconds to spare!
But French rider Marine Cabirou has been building all season and is now pushing series leader, Tracey Hannah. She would have loved nothing more than to take the win here in France but it wasn't to be. Her run was fast and she crossed the line 1.6 ahead of Salazar but with Tracey Hannah, the fastest qualifier, about to drop, all eyes were on the top of the hill.
Hannah rode a stable run, working with the smooth is fast mantra, she rode controlled to the bottom. She has a healthy points lead now that Rachel is out and realizes that she needs to ride smart. Throwing her best chance of an overall away now definitely would not sit well with her. And the controlled run was just fast enough. Hannah crossed the line with a similar gap over Cabirou as their qualifying battle, just 0.677 seconds up. She was ecstatic, pumping her fists in the air hugging fellow competitor Emilie Siegenthaler and, wait, what?
In what was clearly an emotional win after a tight fought battle, it was unfortunate to see only one competitor from the hot seat come and congratulate Hannah. Maybe the broadcast missed it but if it didn't, what's the story with that? Regardless, Tracey Hannah took a well earned win. Interestingly, this is the first time she's won two in one season.
Top 5 Elite Women
Tracey Hannah – 3:27.600
Marine Cabirou – 3:28.277 (+0.677)
Mariana Salazar – 3:29.771 (+2.171)
Eleonora Farina – 3:29.771 (+6.080)
Nina Hoffmann – 3:29.771 (+6.457)
Women's World Cup DH Overall After Les Gets
Junior Men
In the junior men the story remained similar to the rest of the season. Thibault Daprela won but his competitors were closer than ever, and they were Canadians. Patrick Laffey is riding on a confidence high after his second World Cup podium in Andorra last weekend. He secured his best result yet with a second place finish, just 1.6 seconds behind the flying Frenchman.
Canadian Seth Sherlock was able to secure his first World Cup podium but was unable to hold onto his second place qualifier. He still managed to better his qualifyingtime by close to four seconds.
Top 3 Junior Men
Thibault Daprela – 3:04.615
Patrick Laffey – 3:06.276 (+1.661)
Seth Sherlock – 3:06.420 (+1.805)
Junior Men's World Cup DH Overall After Les Gets
Junior Women
Like the junior men's race, it was a familiar affair with Valentina Höll taking the win. She put more than twelve seconds between herself and nearest rival, Anna Newkirk but what's more surprising is where she stacked up to the elite women. The top juniors—both men and women—are regularly posting times well into the top 10 of the elite field and in Vali's case, often on the podium. Today she showed she's more than ready for the elite ranks next year, and actually posted the fastest time of the day in the women's competition.
With a time that would have put her more than a second ahead of elite women's race winner, Tracey Hannah, it's not surprising to see her so far ahead of Newkirk. But Newkirk, like Höll, is on another level to the rest of the junior field. Between her and third placed Lauryn Chappaz was a massive gap of almost 17 seconds.
Top 3 Junior Women
Valentina Höll – 3:26.218 (Fastest women's time of the day)
Anna Newkirk – 3:38.996 (+12.778)
Lauryn Chappaz – 3:55.938 (+29.720)
Junior Women's World Cup DH Overall After Les Gets