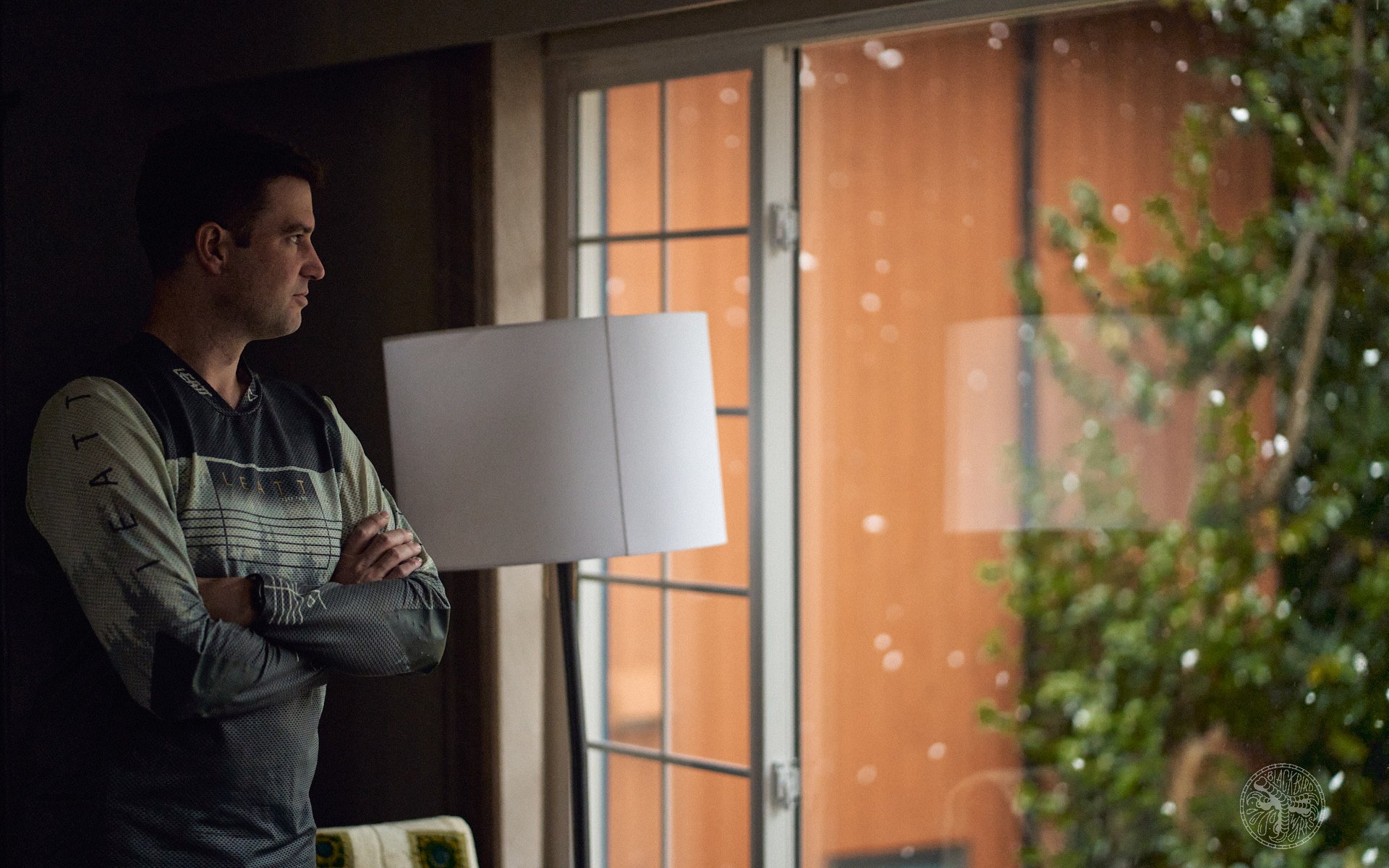 REVIEW
Leatt's Gravity Line: Jersey, Pants and Chest Protection
Deniz and I planned to shoot one Sunday morning. We woke up to 1°C and rain, conditions were a bit iffy. I packed up the car anyways, and went to Deniz's place. Riding seemed silly so we sat around complaining about the weather and having coffee.
Leatt MTB Gravity 4.0 Jersey
Starting from the top, the jersey. Leatt's MTB Gravity 4.0 Jersey is intended to be a light, well-ventilated, race-cut, stretchy jersey that will set you back $115 CDN. I rode in this jersey a lot this year, and I love it. It's become my favourite jersey in the collection. It has a wonderful combination of ventilation, stretchiness and comfort against the skin. It's just a joy to wear. As a bonus I think it looks great, and fits nicely.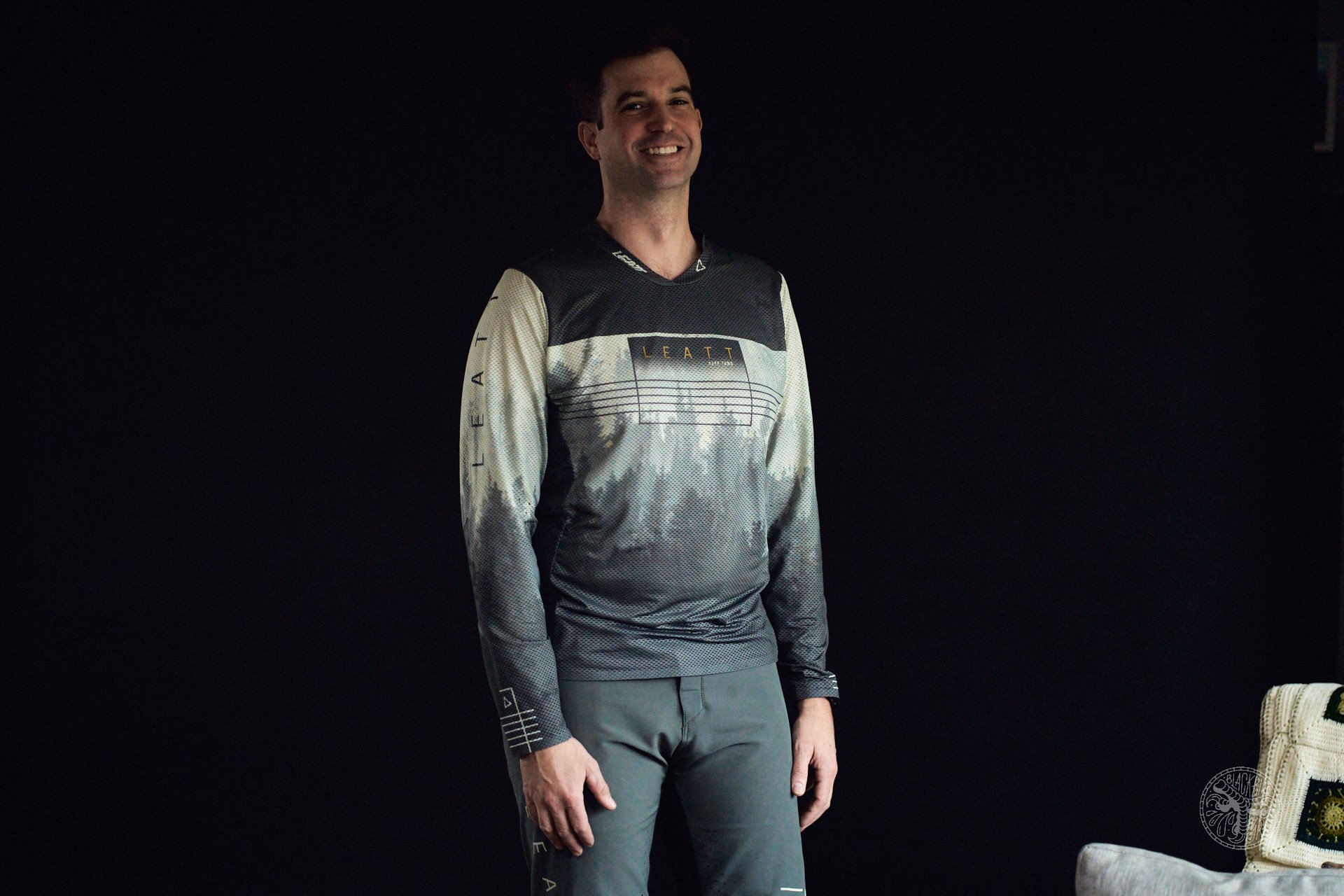 MTB Gravity 4.0 Pants
Leatt's Gravity 4.0 Pants are intended to be a lightweight, race-cut pair of pants, and retail for $215 CDN. These pants have a ratchet waist buckle, two hip pockets, and a rear waist pocket. The fit is a slim and they are made from a stretchy, comfortable, breathable material. The seat panels are made from 500D laminated, three layer, waterproof material to give a bit of poor weather protection to your rump.
I raced and rode in the Leatt MTB Gravity 4.0 pants most of the summer and fall. These are easily the most comfortable riding pants I've worn. They breathe well enough in the summer to help prevent overheating, yet offer enough coverage to keep me comfortable on colder and wetter days. These are on the thinner, more ventilated side, but I was impressed with how comfortable they were in the wet and cold. The waterproof seated area does a decent job of shedding rear tire spray. I really liked the third pocket for the phone above the bum; Bike Park Pass in the left pocket, wallet in the right pocket, and phone in the butt pocket. These fit true to size, and I really liked the cut. There is enough room for slimmer knee pads, but will be tight if you're using larger knee pads.
Leatt Body Protect Airflex
Leatt's Body Protector Airflex is a lightweight, ultra-breathable, two-piece chest, shoulder, elbow and back protector that retails for $420 CDN. The first piece is a zip up compression sock with soft impact protectors for the shoulders and elbows. The second piece is a full CE Certified chest and back protector that goes over the top. I chose to wear the compression sock under a jersey, and the chest / back protector over the jersey. The Airflex Body Protector is also available in a women specific cut / build that looks well thought out.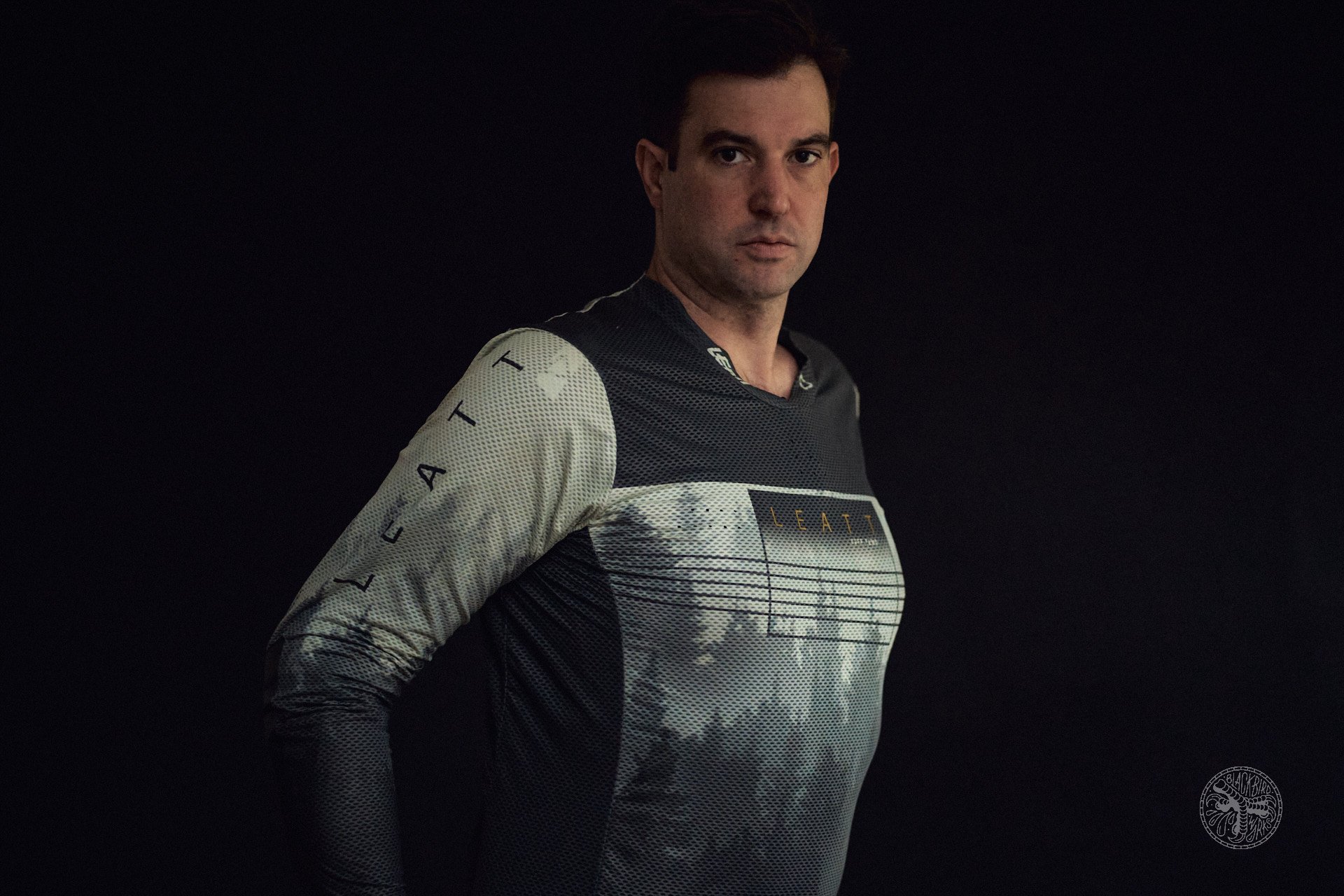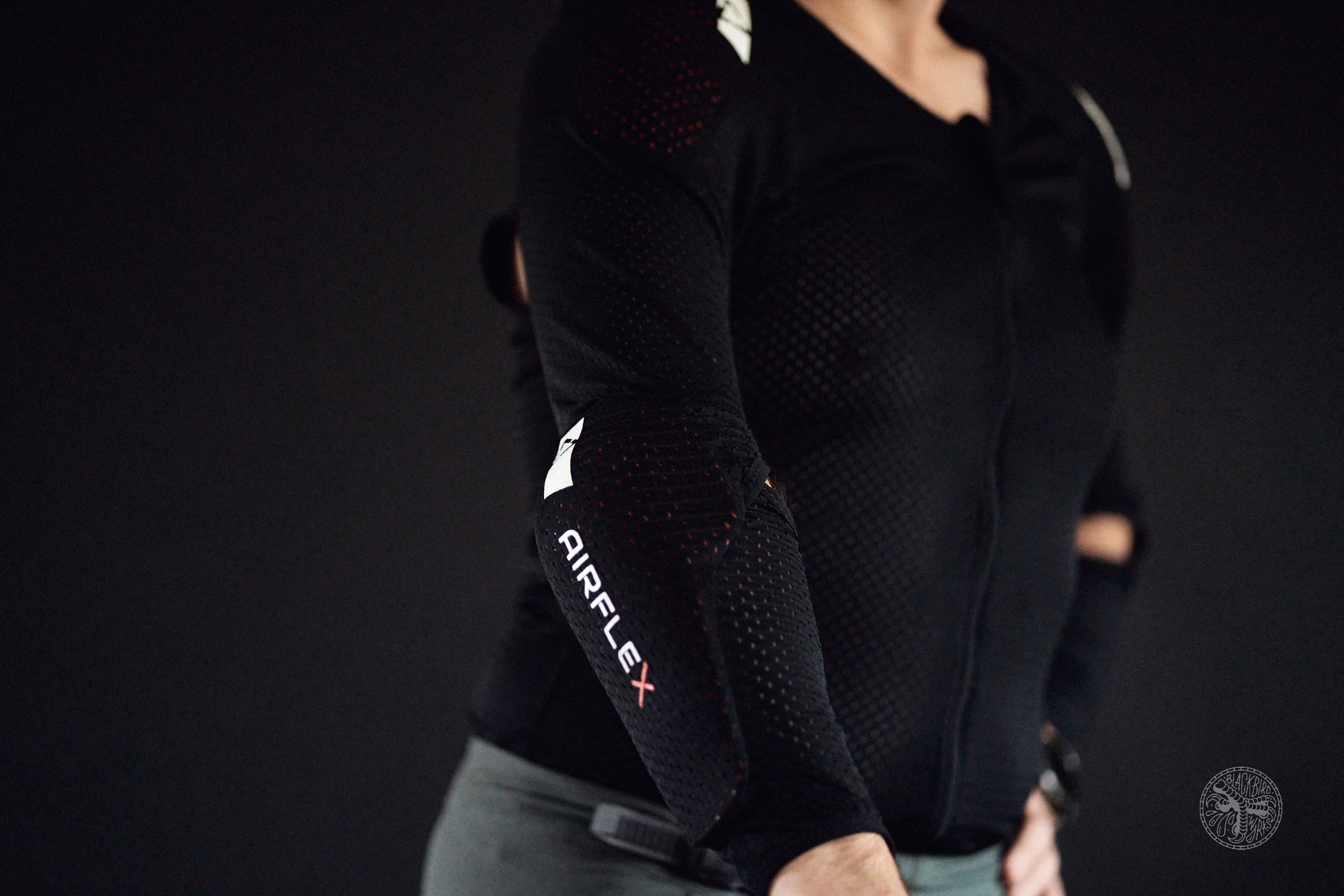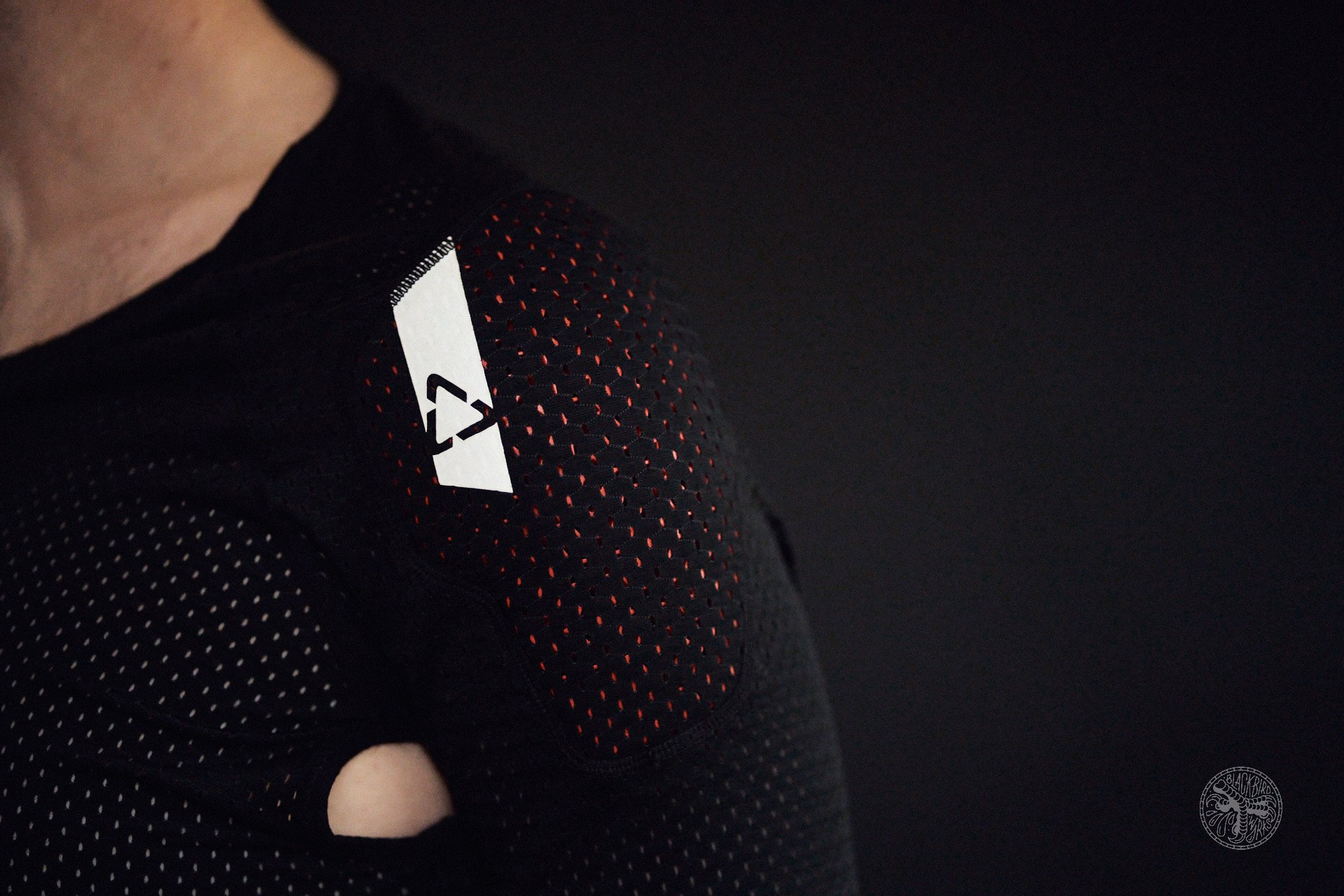 I went with the height sizing recommendation on the website that put me in an XL. I normally wear a medium or large shirt. I found that the length was spot on, but the compression fit a touch looser than I'd normally like. I'd recommend trying this on in a store if possible, or maybe going more with your normal jersey sizing than your height alone. That said, with it being under a jersey, the shoulder and elbow protectors all stayed in place well.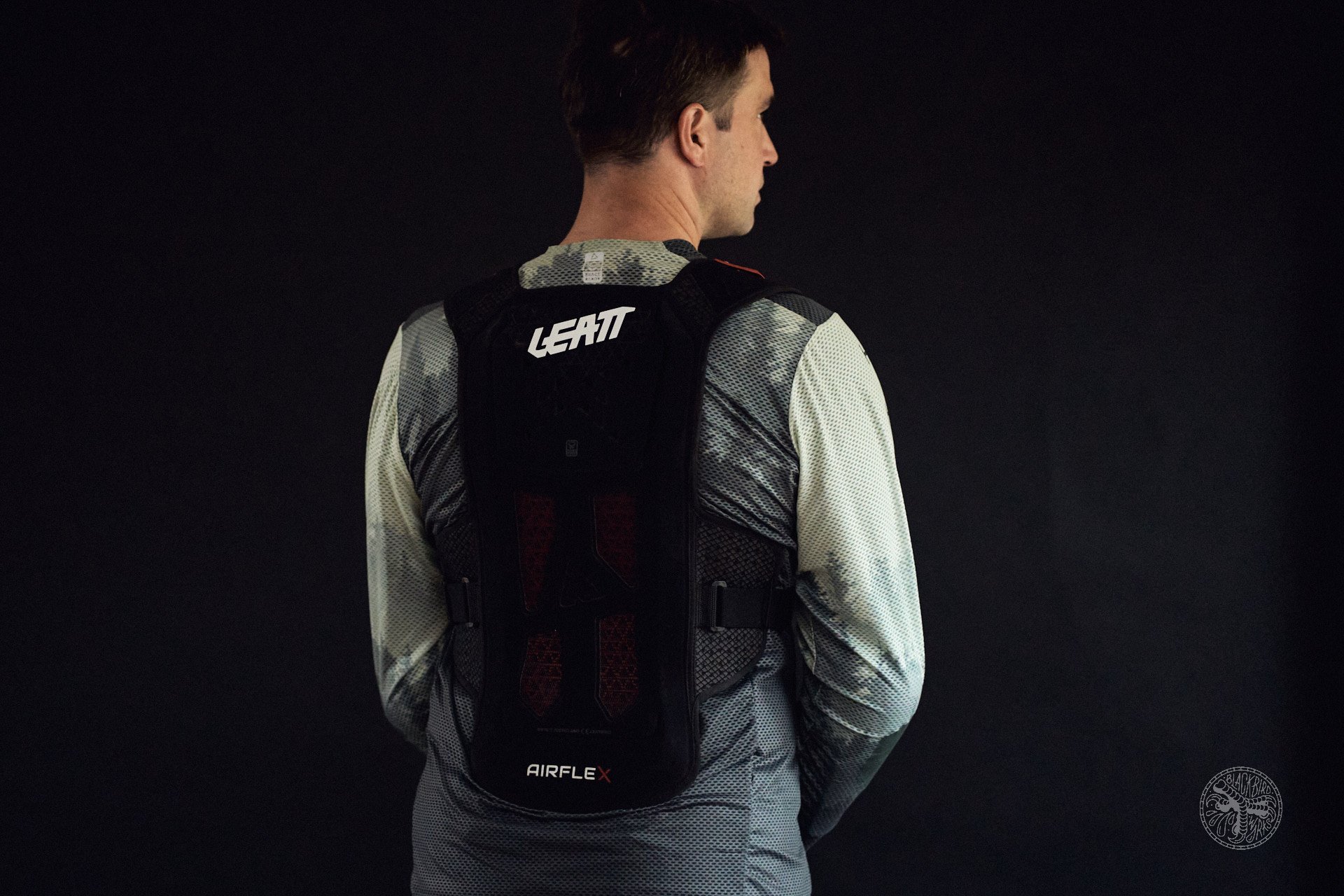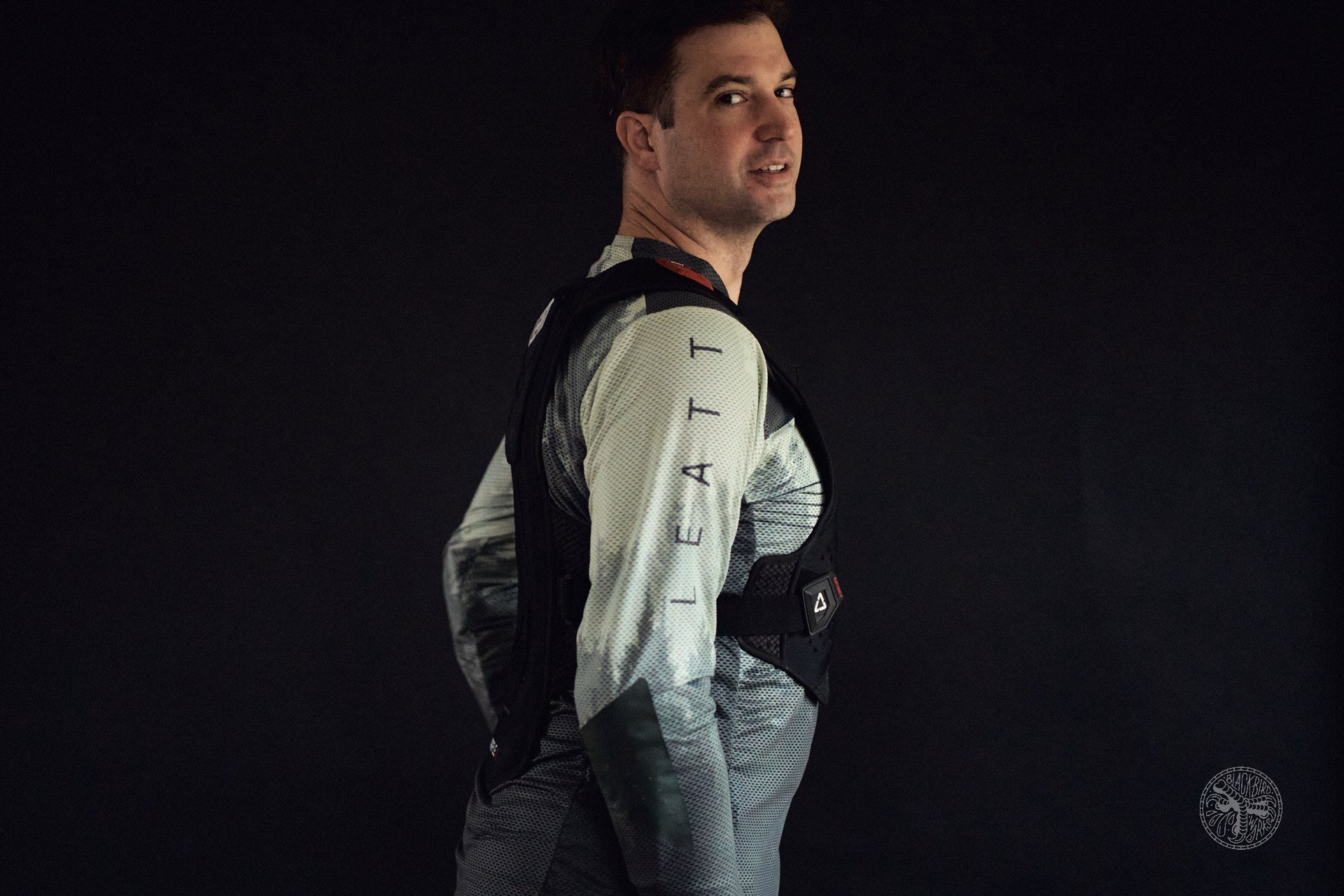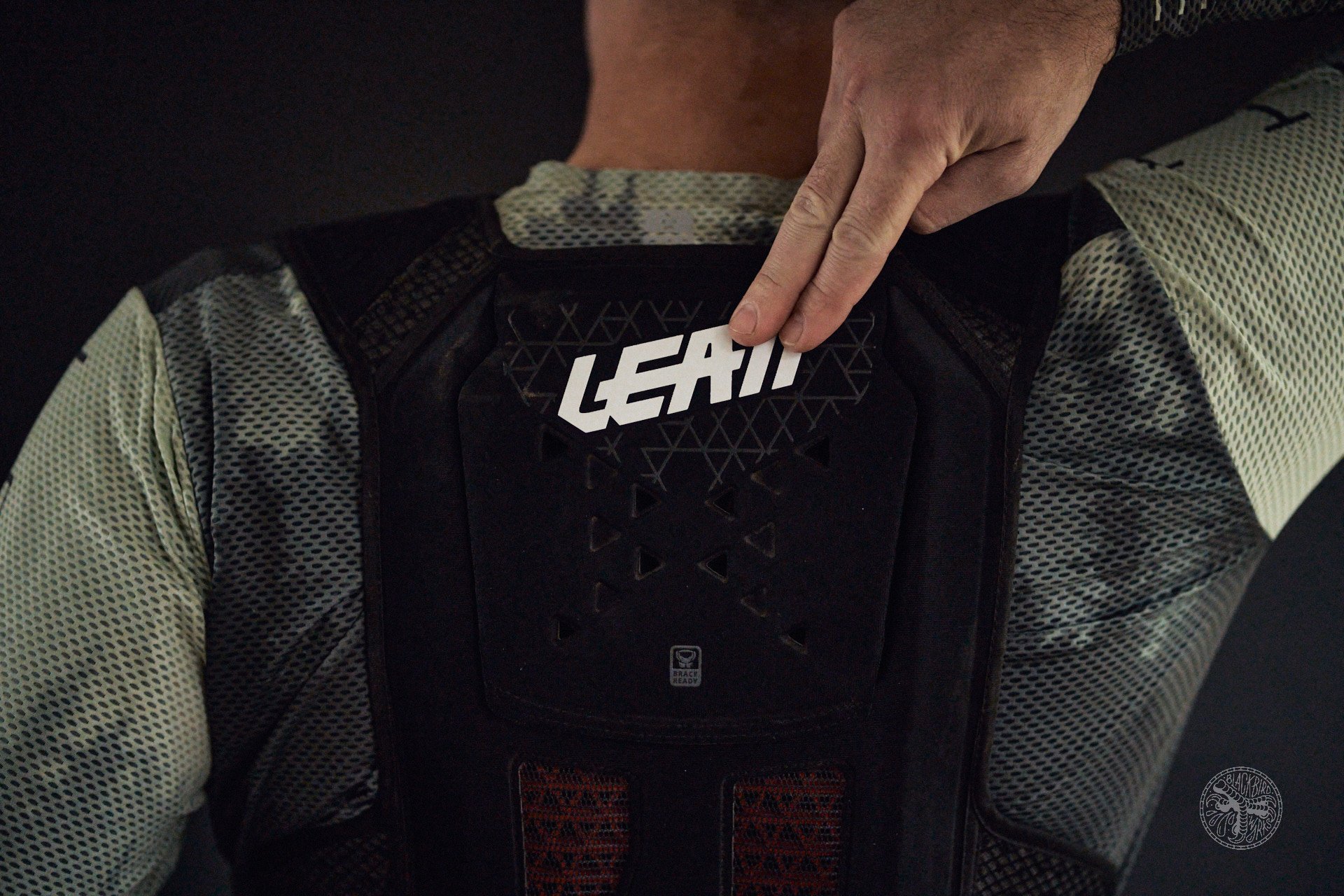 All in all I'm impressed with this combination of Leatt kit. All of the pieces fit true to size, are made of premium materials, and have held up flawlessly over a few months of riding. The jersey and pants are the most comfortable I've tried, and quickly became my favourite kit to ride in. I used the chest protector on its own on most bike park days because it was so comfortable to wear, and I felt like it would significantly reduce the severity of a chest / back impact in a crash. I used the additional elbow and shoulder under jersey protector on days when I was racing, and or pushing my limits. Thankfully I never tested the protectors in a big crash. I like how slim the Body Protector combination is, and seems to evaporate once moving on the bike. All three of these products aren't cheap, but I do think they're good value. The jersey, pants and body protector are all high quality products, that have held up well, are tastefully styled, and very comfortable to use. Two thumbs up from me on all three products.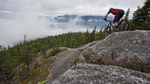 Tim Coleman
Age: 40
Height: 183 cm / 6'
Weight: 89 kg / 196 lbs
Ape Index: 1.055 / +10 cm
Inseam: 81 cm / 32"
Preferred Riding: Enduro and Downhill
Bar Width: 800 mm
Preferred Reach: 500 - 520 cm (but this is stack and head angle dependent)