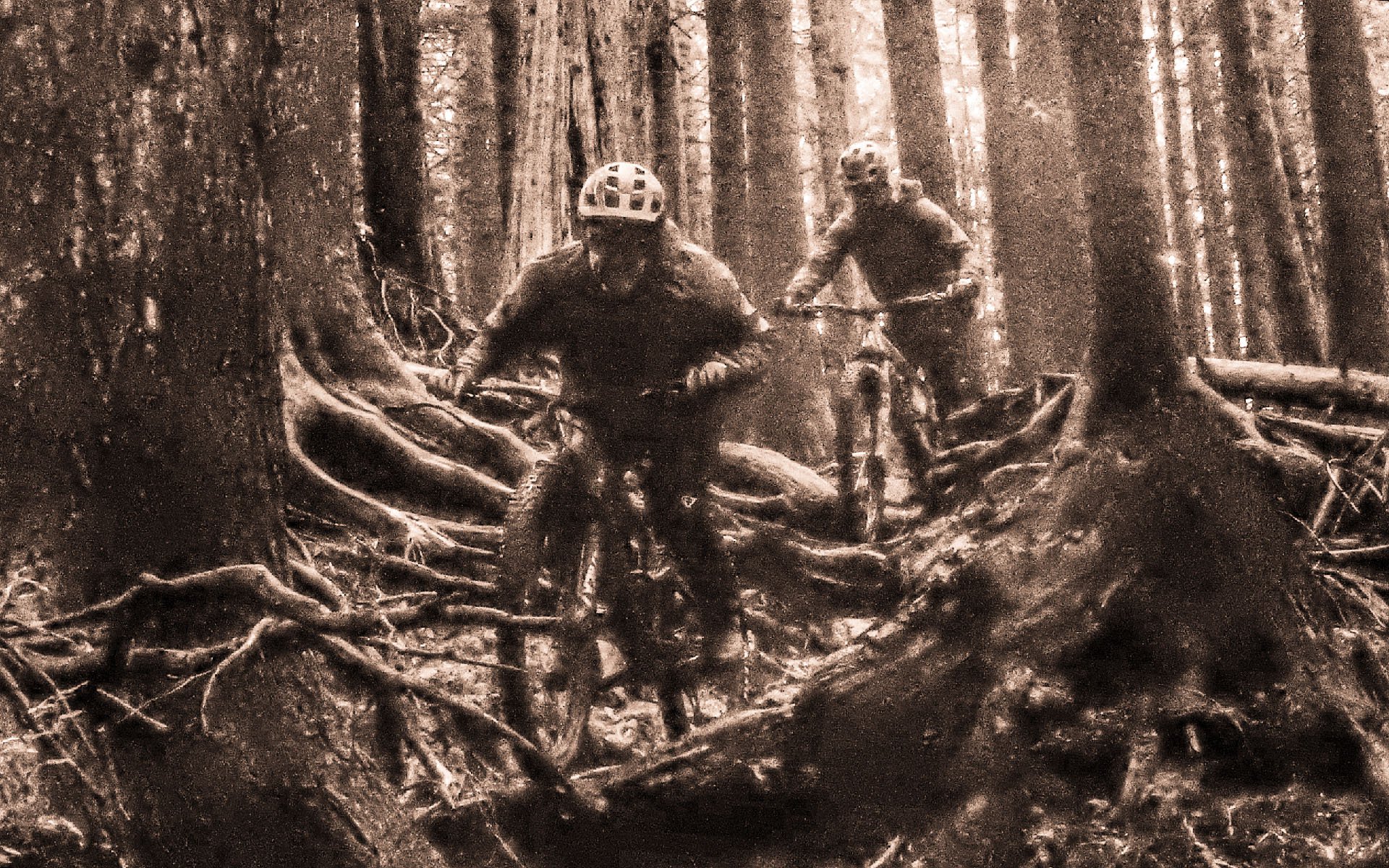 REVIEW
Leatt Head to Toe Review
Leatt MTB 1.0 Mtn V2 Helmet
When I was given this helmet to test, I was excited to ride with what appeared to be a high quality lid. When I researched and found out how inexpensive it was, I wondered about how it would perform, or more honestly, if my bike snob could be tamed to appreciate a budget bike piece. Yes I have sunk into the pit of highish-end bike gear. When I compare the lower end 1.0 to the slightly higher-priced 2.0 ($20 CAD more and reviewed by Andrew) there isn't a lot of difference. Furthermore, and for more than twice the money, the 3.0 only gives you 4 more vents for a total of 24 (14 vents 1.0, 20 vents 2.0) , a non-adjustable visor, (1.0 adjusts, 2.0 does not) it weighs in at 360 g, (320g 1.0, 300 g 2.0) has a Fidlock closure, and is arguably better looking. These discoveries muted my bike snobbery, and I began to enjoy the 1.0.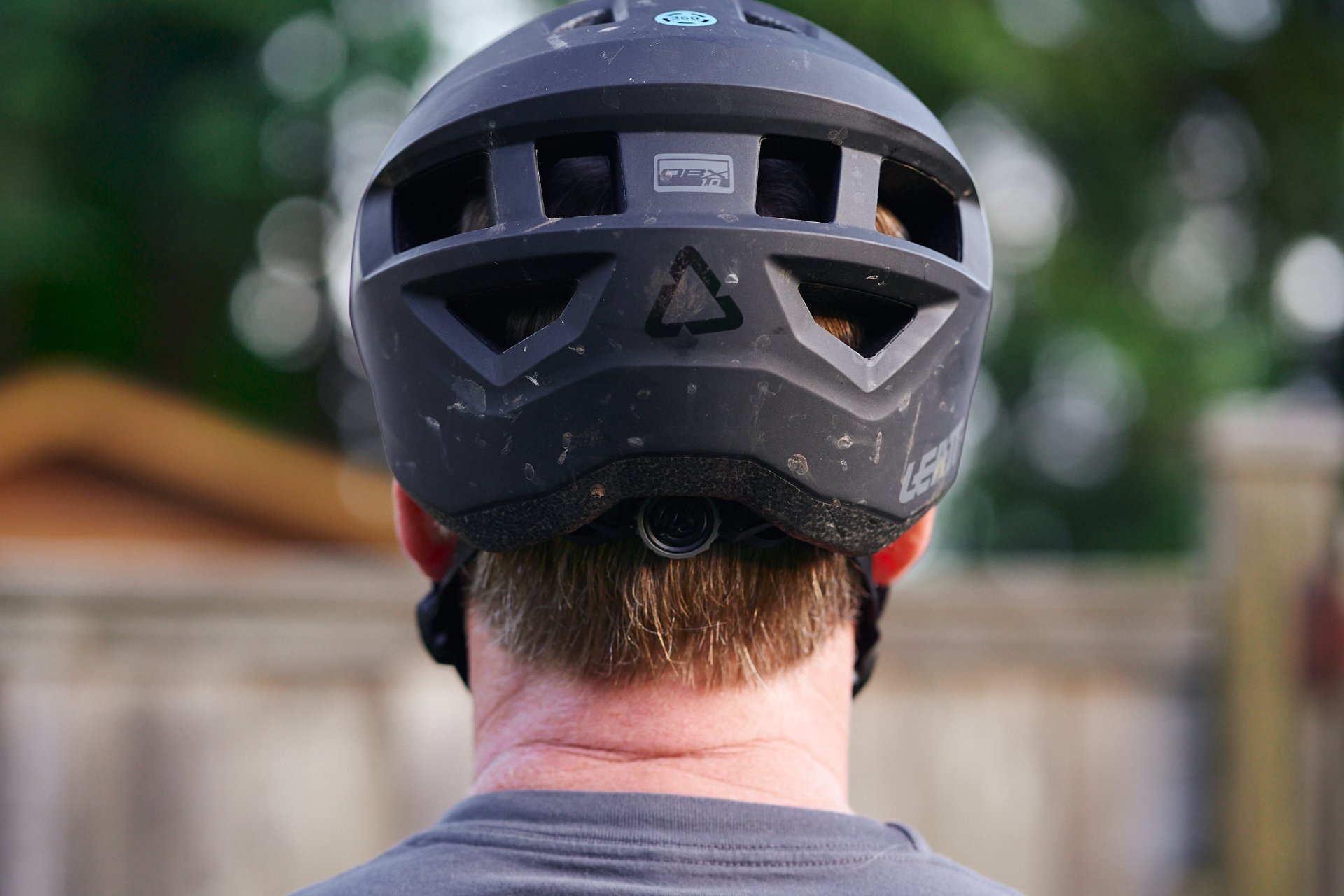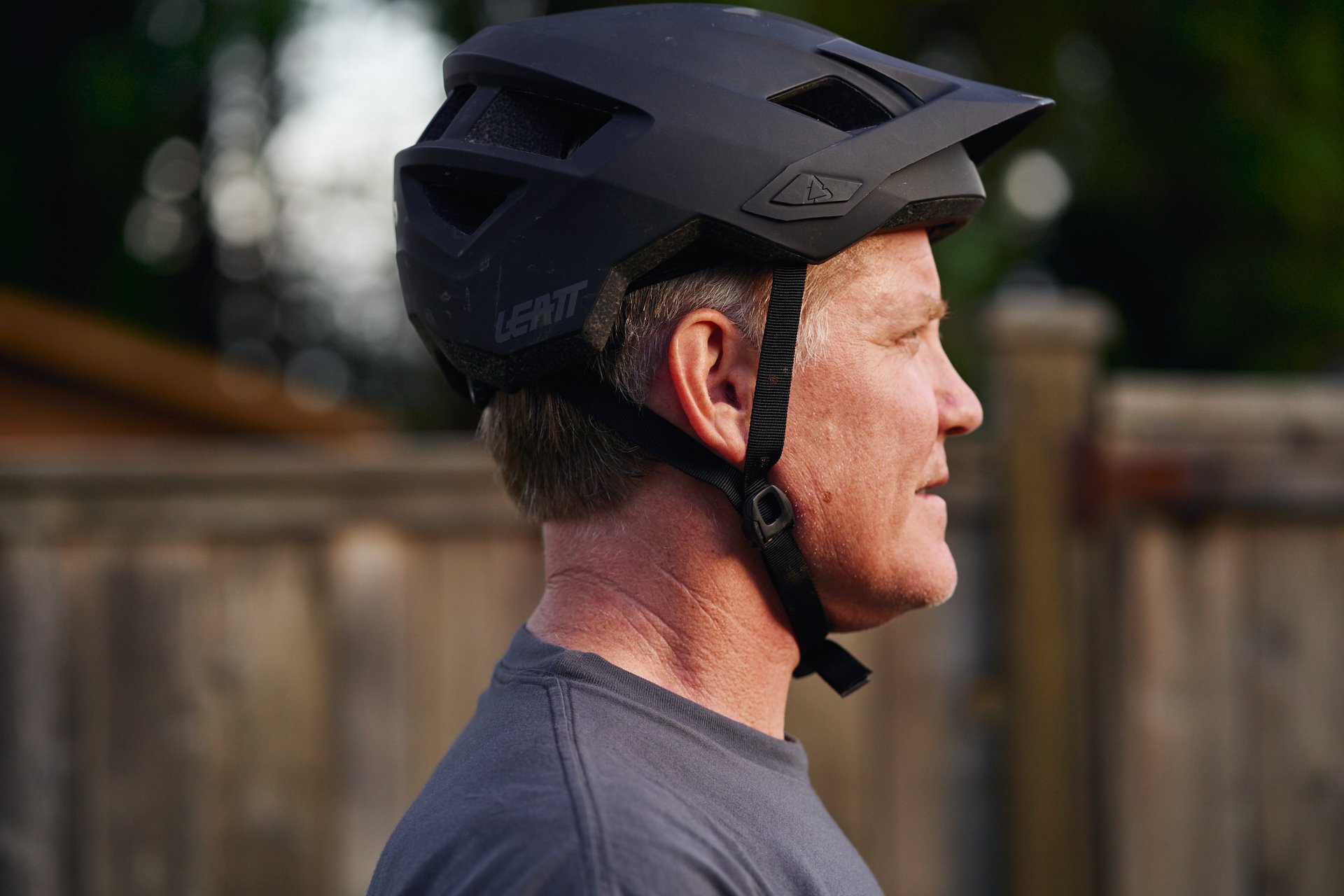 I didn't notice the weight of the helmet, which is what you'd hope for, and the retention dial in the back worked ok, although occasionally it was one second longer to tighten up with winter gloves because it sits higher and closer to the shell than most other brands. The vents seemed fine in the hot weather and I tend to overheat easily. The padding worked; it absorbed sweat, it felt comfortable and it didn't stink too much after many 6-day ride weeks in the summer. The straps and buckle were basic but they worked without any fiddling around.
The materials, the 360 Turbine Tech and energy absorbing foam, did not get crash-tested by my noggin so I cannot evaluate their efficacy. Leatt having had all the tests* performed successfully, boosted my limp confidence meter.
Overall this is an excellent value helmet at only $95 CAD
*AS/NZS 2063:2008, EN1078, CPSC 1203
Leatt MTB 4.0 Lite Gloves
Apart from all the features and special Leatt nomenclature like Airflex, FormFit, and NanoGrip, these gloves have been my favourites because of their soft feel, which gives me confidence gripping the bars in all conditions. There's that confidence again. They feel great drenched in sweat or rain, as well as in the dry. The Leatt term for the palm is NanoGrip and they call the needle work "FormFit finger stitching." The only issue I had with the gloves is that the stitching tore after about 40 or 50 rides. Not a big deal but I did feel my grips rubbing my skin through the holes on long descents more than before the holes (well ya...obviously).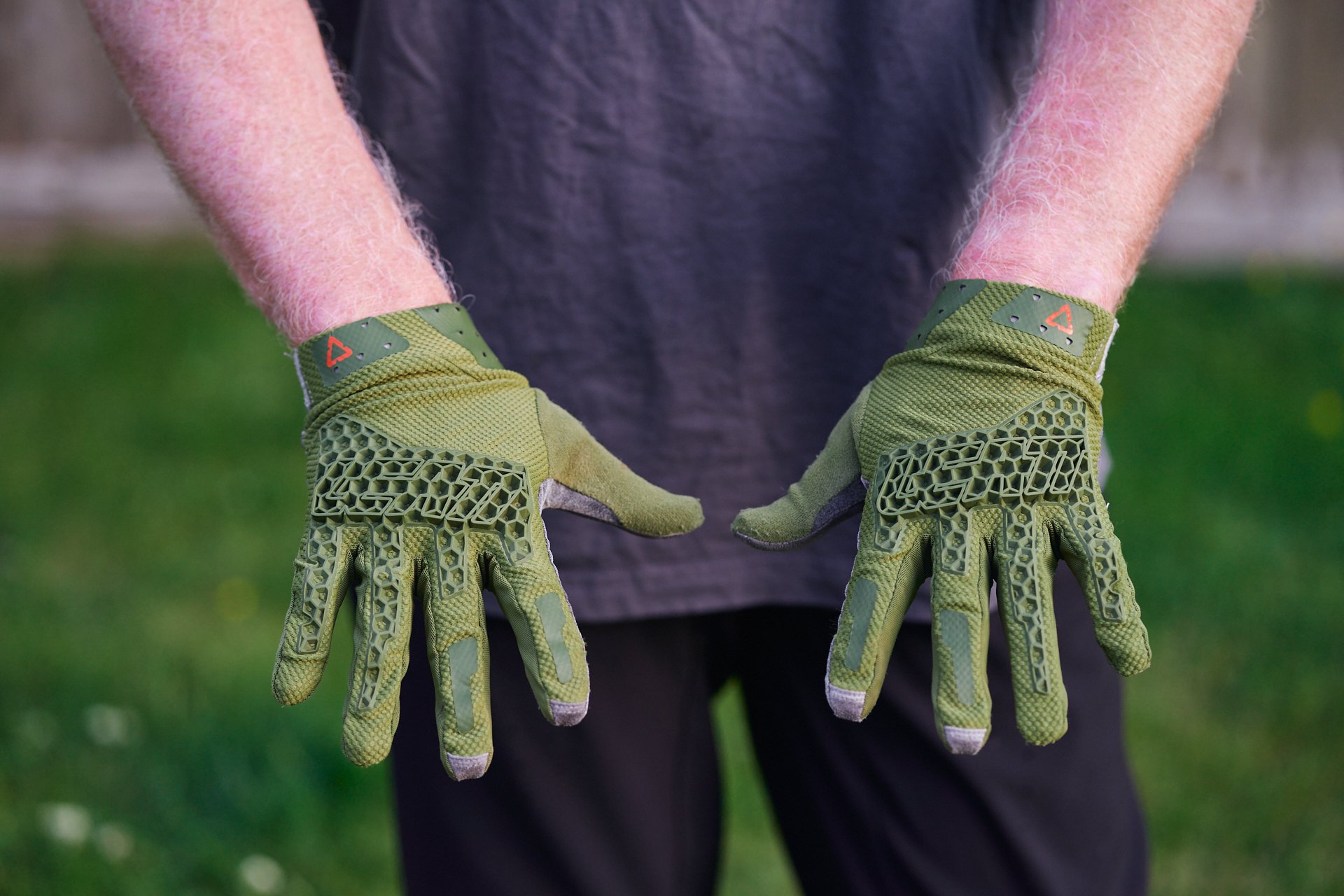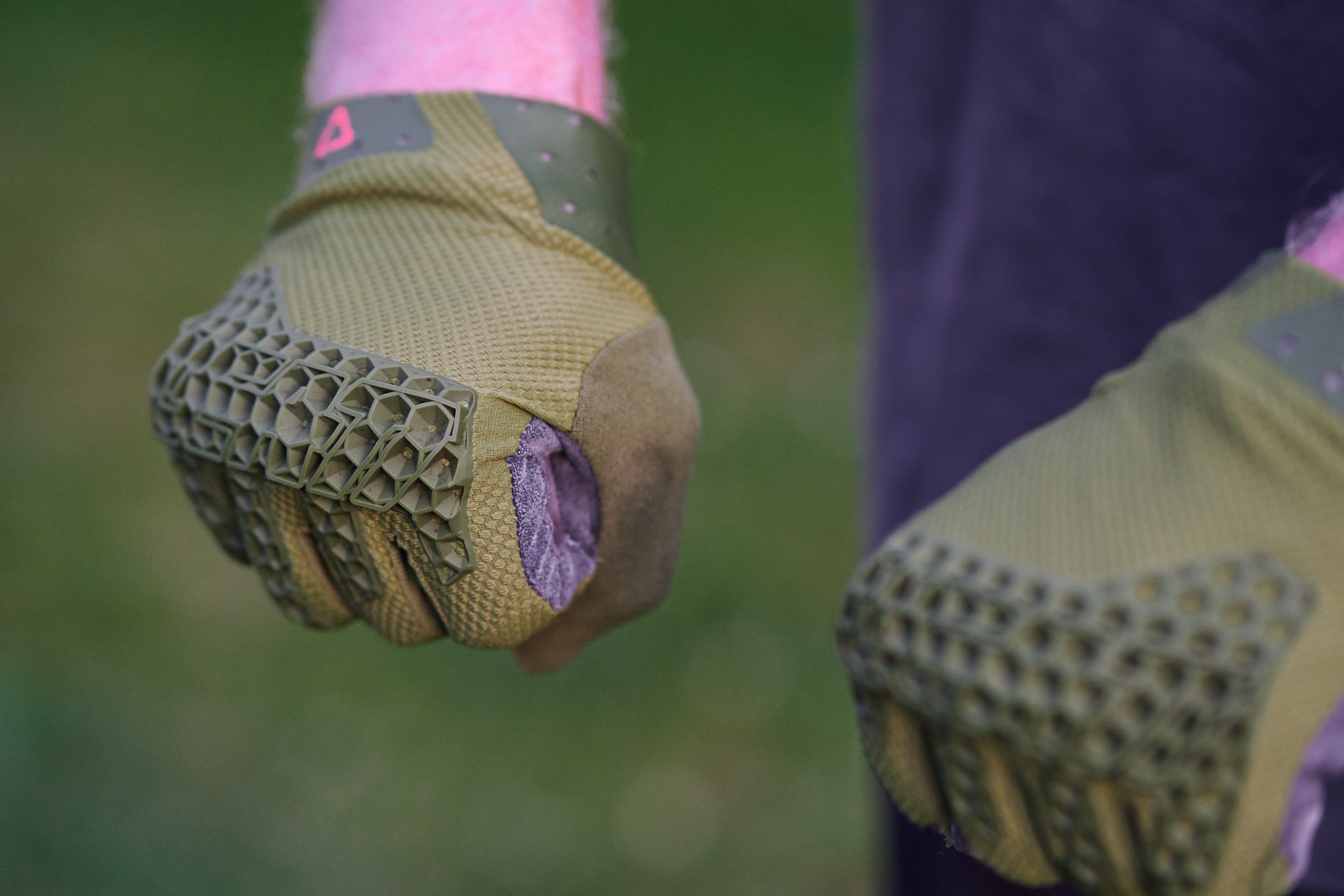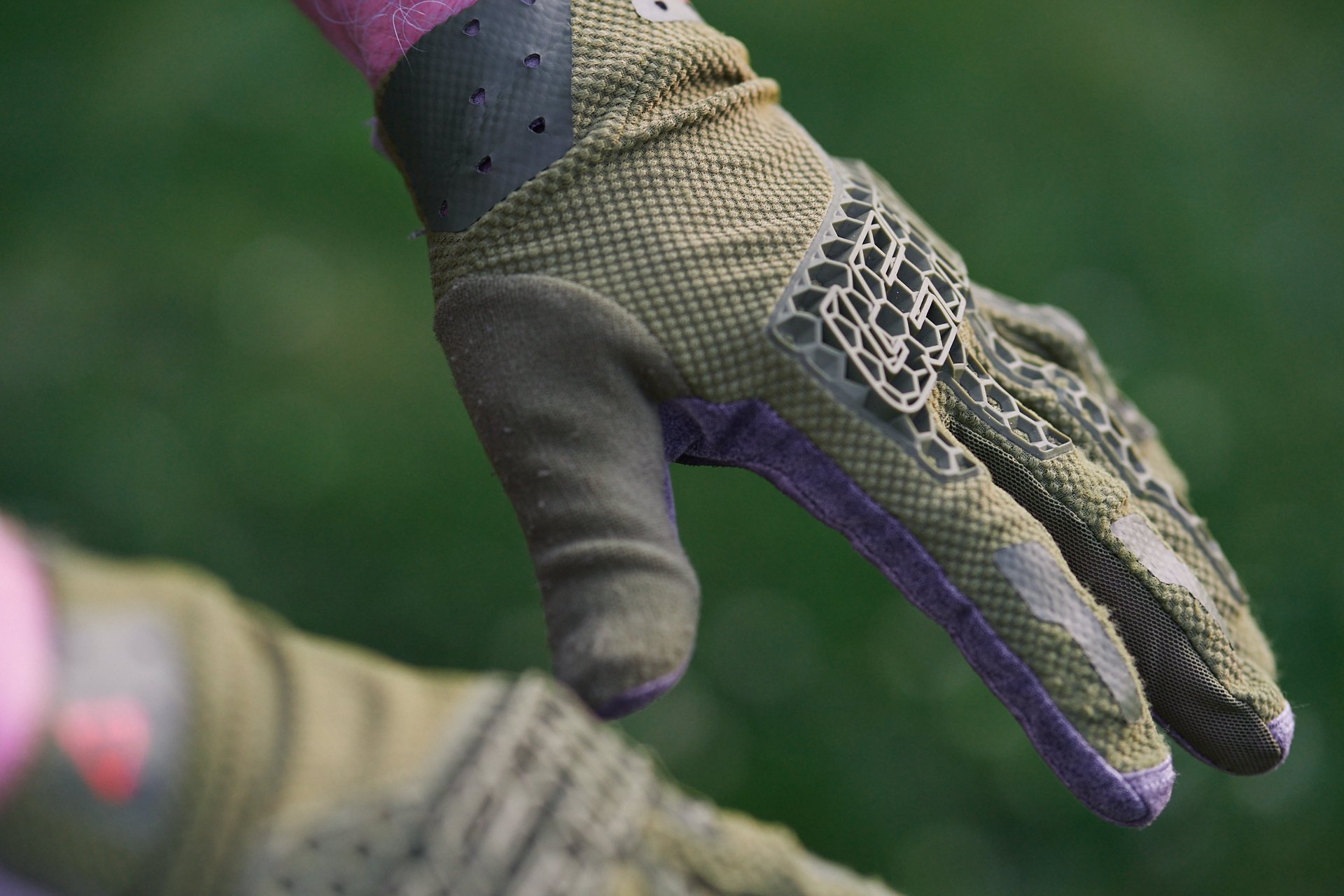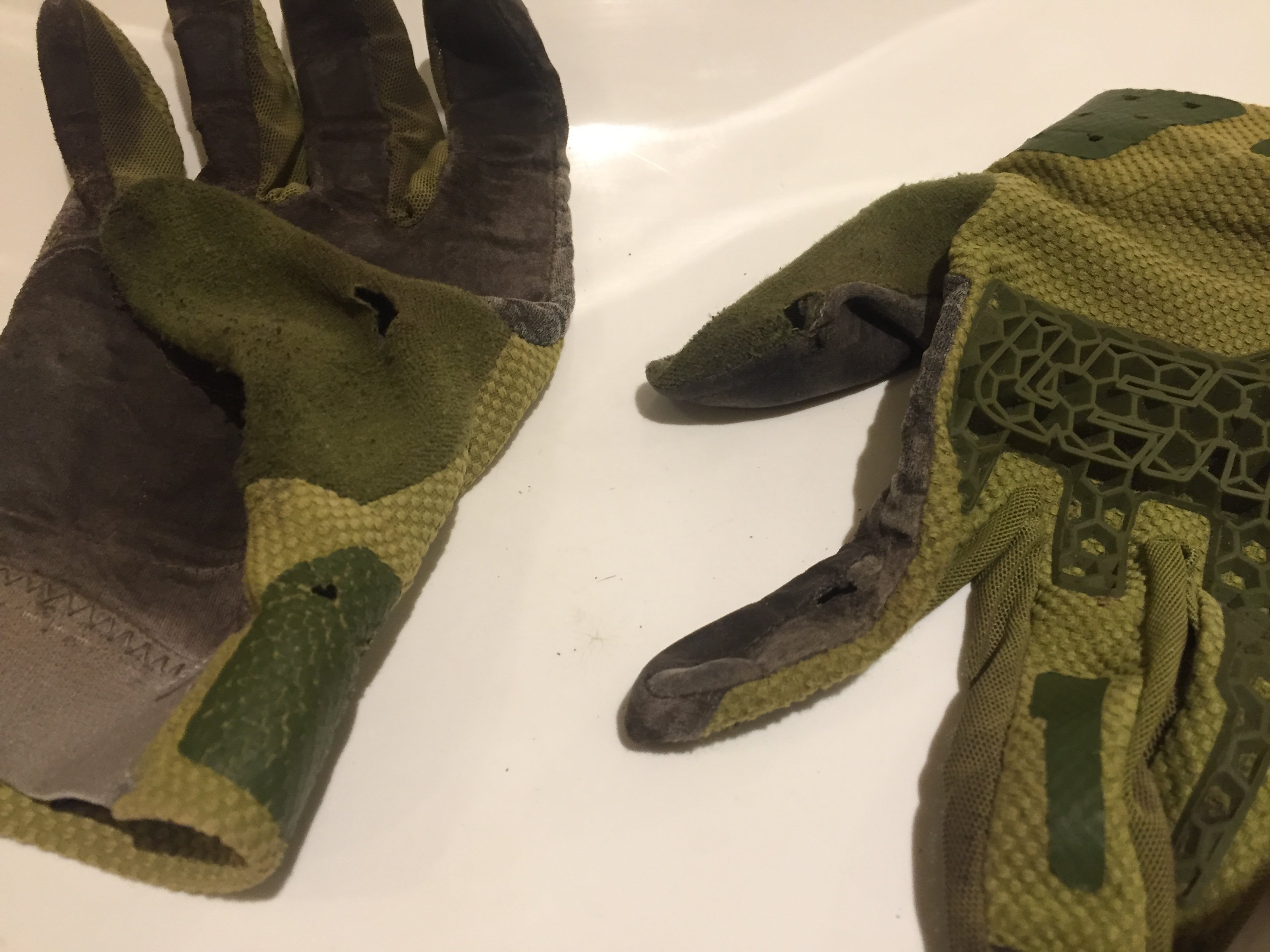 The gloves have AirFlex impact gel protection on the knuckles, third and fourth finger but that wasn't enough to stop my pinky from dislocating. I would have needed hockey gloves for that and even then I'm not so sure. The protection helped on a few tree grazings though. In addition the promo copy shows that the gloves are certified as PPE which I'm not sure what to do with. I guess all bike gear could be classified as personal protection equipment. Other than this pandemic I've never really thought of it that way. The gloves are not too hot in the summer but they kept my fingers warm in the early fall temperatures. The touch screen function wasn't anything special other than the finger fabric worked on my phone most of the time without any issues. The sweat wiper worked very well on my hot summer rides. Leatt calls the wiper a lens/sweat wiper but I would never use anything other than a dedicated lens cloth on my lenses as I have scratched and rubbed too many spots on lenses over the years to take any chances ruining a perfectly good lens. As a cool to warm weather glove these are good. They fall short of excellent for the tearing but all the other features are excellent.
Size: S-XL // $72.99 CAD
Leatt DBX 3.0 Flat shoes
My criteria for a flat mountain bike shoe are simple. Ranked in order of importance:
95% importance: grip that prevents my foot from get bounced off the pedal
3% importance: adequate protection and durability
1% importance: weight ( big 'ole Five Ten Impacts need not apply)
1% importance: cosmetics as in they can't be too dorky looking
0% importance: price – I don't really care because if these criteria are met I am willing to buck up
Sole
Five Tens have always had the best grip; so much grip that sometimes they are so sticky I have to sit on my saddle or transfer all of my weight to the other pedal to unweight my foot in order to adjust the other on the pedal. This isn't a big deal generally, but it's not as convenient as less tacky shoes that can be adjusted while weighted on pedals. I love my Five Ten Contacts with their flat climbing shoe tread that holds my foot in place over bumpy fast terrain, into and out of jumps and for all riding really... but they are ripped to shreds, lousy to hike in and discontinued (I am surmising due to the poor construction and materials). Even with all the holes in the toe box, I still wore them this summer when I wanted grip for super gnarly trails. I saved the Leatts for most of the other days even though I wore them on about 10 gnarly steep trails during the test.
The DBX 3.0s grip fine but they slip every now and then which gives me a bit of a confidence issue, to add to my other confidence issues (and to all my other issues). I don't trust them in certain situations, so I guess I have some trust issues now too. Man this review is starting to transcend shoe sole into my soul.
Back to the shoes. The sole material is a labelled RideGrip Compound. It must be scientifically formulated because RideGrip is all one word. Leatt has put a lot of detail in the sole design with heel and toe mud channels and a waffle pattern for pin placement that I found worked very well. The heel and toe help make this shoe a good hiker in either hike-a-bike and minor trail work situations. To get a grip on the analysis of sole behold the TToM (Trevor's Tread-O-Meter).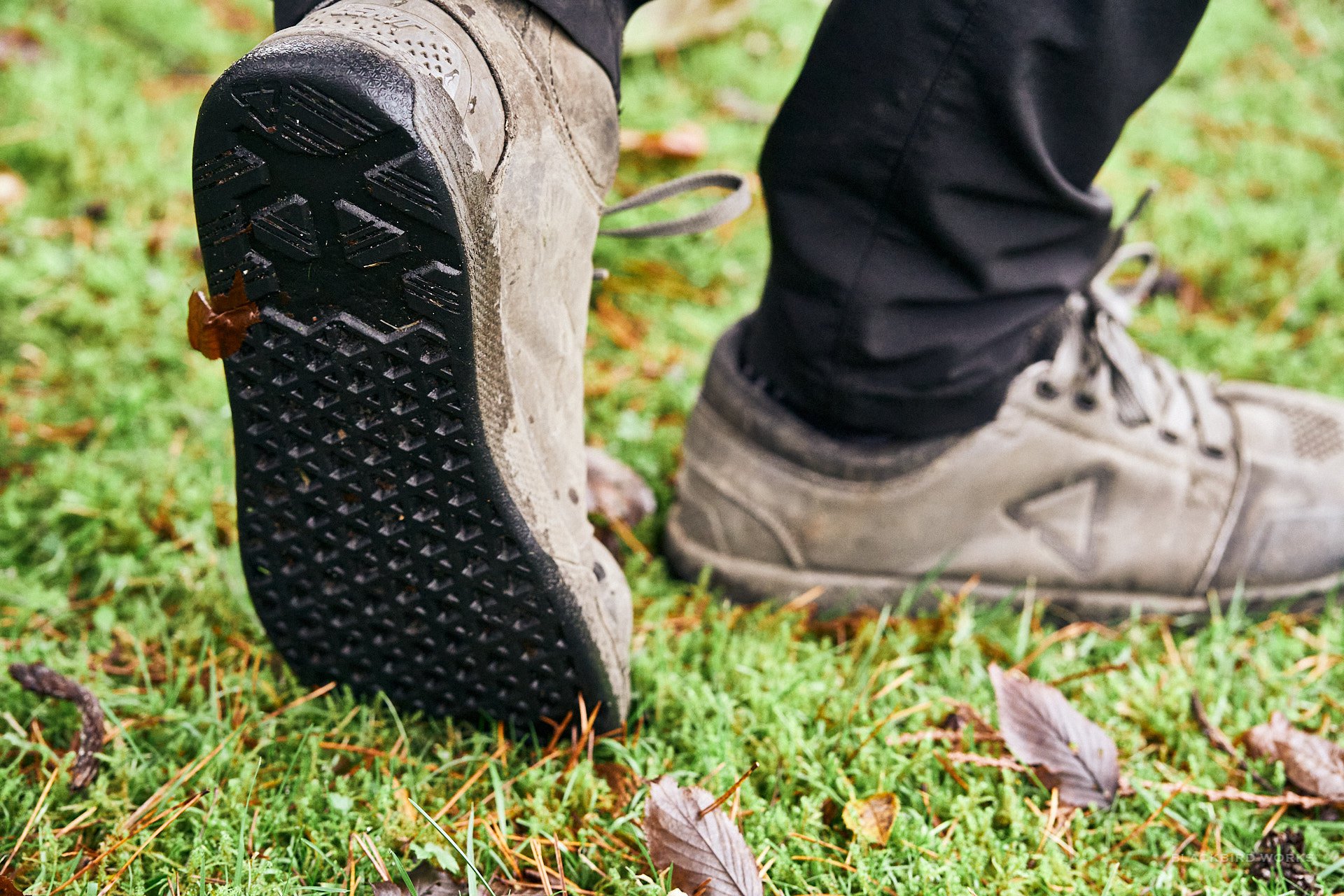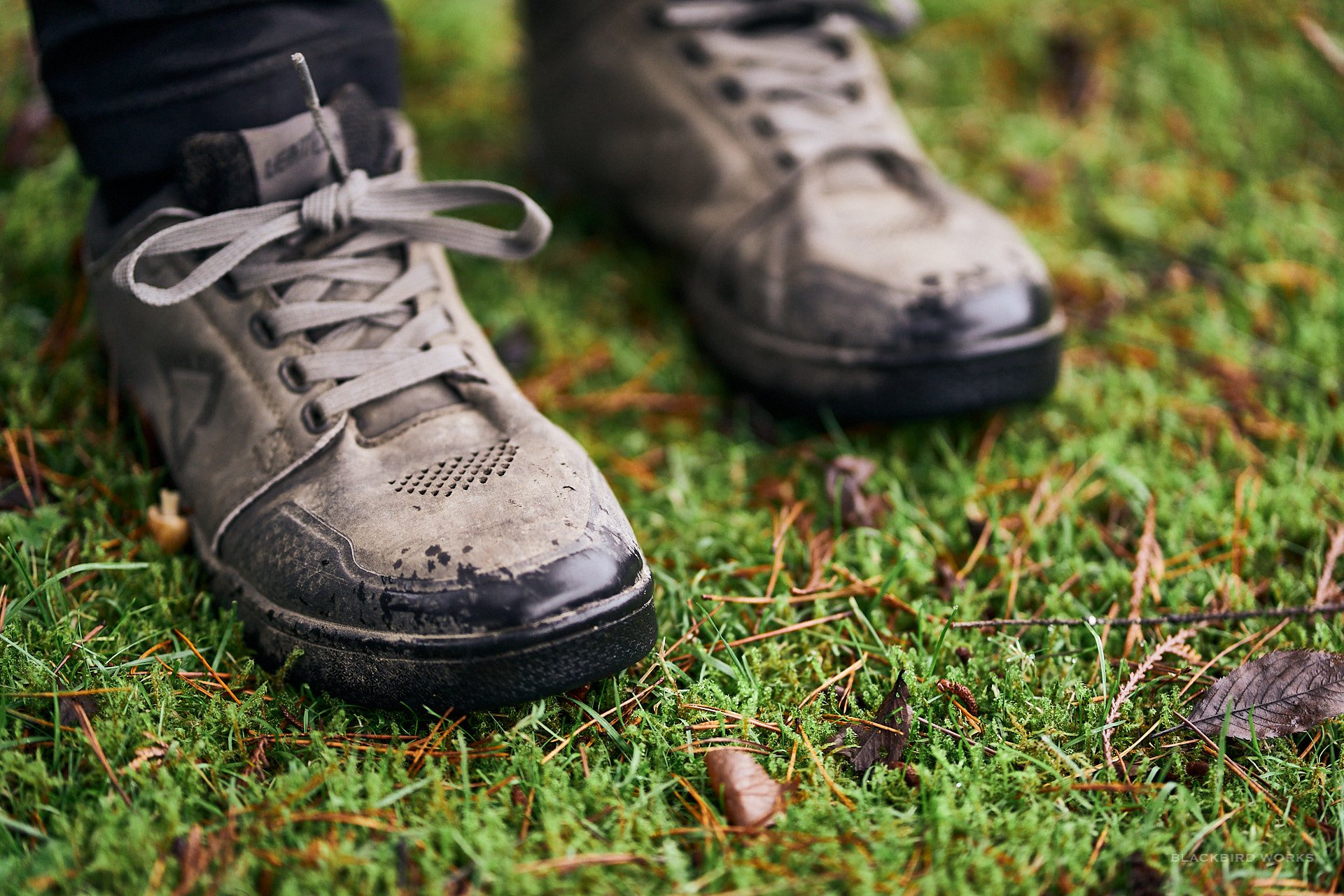 Trevor Tread-o-Meter:
Five Ten Contact 10/10
Five Ten Freerider Pro 9.5/10
RC Powerline 8/10
Leatt DBX 3.0 7/10
Shimano GR7 5/10
My 5-year-old Specialized 2FO 4/10 (based on reviews and friends riding the new 2FO Roosts that rating would go way up)
The Rest of the shoe
The other features make this an excellent shoe (if the grip was better I'd give them 9.5 stars). From the toe box with its vents, the waterproof (sort of) and breathable material, the reasonable weight, the ability to dry quickly, the solid heel retention without any constriction, to the Control Flex Shank being a good combination of stiffness and feel for pedal control and walking comfort...these tick all the boxes of excellent mountain bike shoes. But that run-on sentence is missing the most important tick: grip. Don't get me wrong, I still had good rides with these shoes. I just didn't feel like the feel there was enough friction for my grip confidence issues. You feel me?
Leatt DBX 3.0 Flat Pedal Shoes $140 - $160 CAD