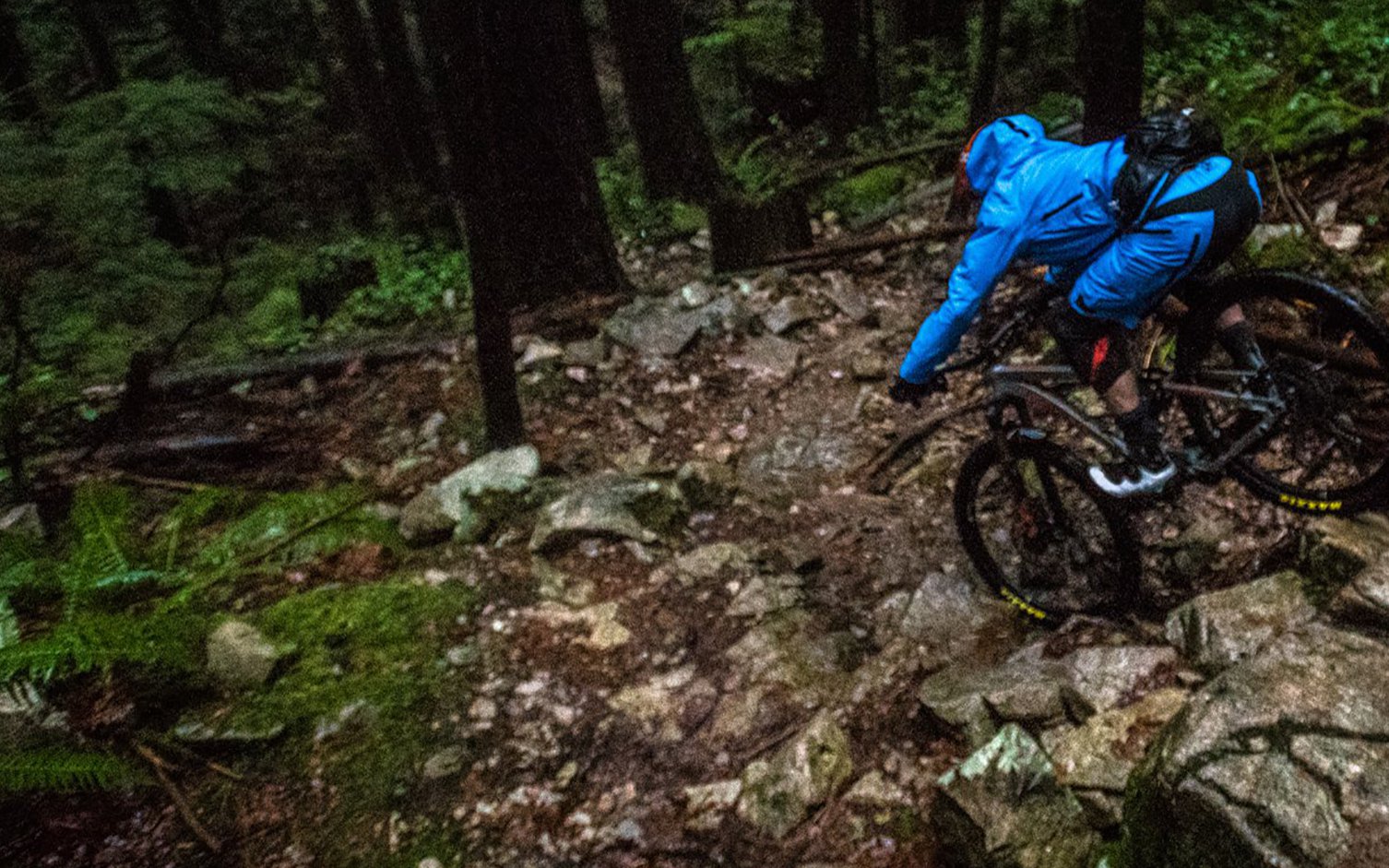 Wet Weather Product Review
Leatt DBX 5.0 Waterproof Jacket and Short Reviewed
I'm not going to whitewash it, but I love riding in the rain. The forest is never prettier, the trails are more challenging and interesting and even a crappy beer tastes like nectar of the gods once you are done. Even better is the feeling that you've beaten the elements like a hungry Viking and snuck one in when most folks are chilling with Netflix. 
The clean up of bike, clothing and gear sucks. Getting cold fingers and toes bites, having mud catapulted into your socket so hard that your eyelids peel back is nobody's idea of a good time and having your chamois feel like a solid diaper* gets old in about 90 seconds, but the good always outweighs the shitty for me.
*thankfully waterproof shorts have made that optional these days
Founded in South Africa as a neck brace innovator, Leatt has expanded into helmets, armour, and apparel rather seamlessly. But what do South Africans know about raingear fit for the rain forest? A little research (since I've never been) revealed that Capetown actually gets almost 150mm of rain in July, the wettest month. North Vancouver pushes 220 in December and January and in early November we were blessed with 125mm in a single weekend. So we can test some wet stuff. 
For really nasty days I prefer wet weather gear with a sturdier fabric, and the DBX 5.0 jacket and shorts meet this standard. They are somewhat heavier and stiffer than your average three layer Gore-Tex jacket, for example, but the kit fit me so well I found both ends very comfortable. For this year the fabric is now a softer last with a three-way stretch. It's almost a soft-shell fabric but the waterproofing numbers are unchanged. No matter how good the fit, stretch makes clothing much more comfortable. 
Fit with these two items was a little unusual last year. The shorts fit me fine but virtually everyone else with a 32 inch waist found them too small. The most common complaint was the short crotch to waist distance. I found the fit efficient and comfortable but unless the sizing has changed since last year you'll likely want to bump up. Just to keep things interesting the jacket is a very generous size medium. It fits my 6' 165 lb frame just fine but it's much more spacious than other size medium jackets I've worn recently. 
Aside from the fit everything else worked beautifully. Staying completely dry during the North Shore monsoon is only realistic for short rides but the jacket and the shorts did a great job keeping the water and muck out on multiple occasions. Breathability might not be up to the standard of Gore-Tex, for example, but the incredible pit and front pocket zips manage heat and vapour build up so well the performance was right up there.
The long rear-facing leg zips aren't for modest riders, but for me they work great. Maybe leave the G-string at home when it's pissing and wear some nice long riding shorts or boxers.  It would be nice to see some structure in place, in the form of some mesh or webbing, spanning the chasm left by the open zips. The counterpoint is that there is nothing there to to absorb moisture. Once the YKK zippers are closed waterproofing is restored. 
The jacket has quad venting in effect. The front of the jacket has two long zipper pockets with mesh inside that will scoop air in and when you are in a position to pedal, water ingress is kept to a minimum. 
I have sung the praises of waterproof shorts before, so just take my word that if you ride in the wet outside the tropics these will change your life. I had no idea how much I hated having a soggy chamois until the problem was eradicated. 
Leatt's entry into this category goes a little deeper than most. There are numerous panels around the knee to allow for excellent comfort and coverage over a kneepad. The side pockets are sized generously and the fancy zips keep your cargo dry. The saddle contact patch is an even heavier duty material and over the course of a year there are no signs of wear. 
In the end I grew to like the DBX 5.0 jacket and shorts much more than I expected to. The ample zippered vents allow me to stay cool enough even when the Pineapple Express brings sheets of warm rain and the sturdy construction, excellent quality and thoughtful features make these favourites for me. In fact both are so comfy and functional I'll wear them on days when it's cool but without any rain in the forecast. 
Last year's versions (tested here) can be found online at bargain prices. For the current models the jacket retails for 199 USD and the shorts are 120 USD. 
For more head to Leatt.com