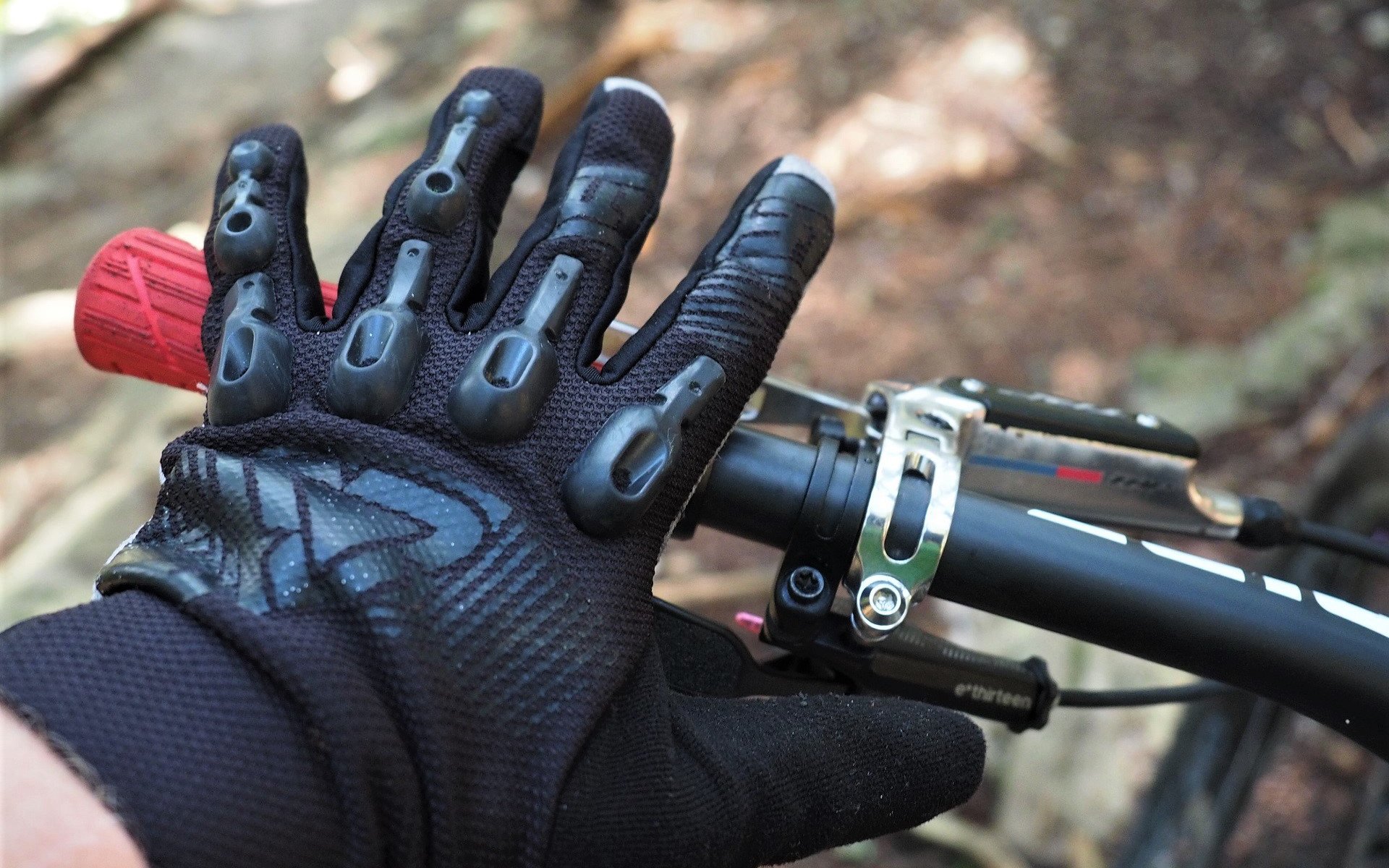 Two-Minute Review
Leatt DBX 4.0 Lite Gloves
Usable Features
I'm all kitted up for a short ride minus a set of gloves. On my workbench, there's a small pile of freshly washed favorites. On my floor, these Leatt DBX 4.0 Lite gloves.
The Leatts have just experienced two big days of nasty riding. They smell bad.  They look disgusting as the sweated-in-stiffness combines with a pre-curved cut to give them a rigid shape. They smell awful. I think for a moment that I should really get them into a rotation or I'm going to wear them out. They smell disgusting.  
I pull on the DBX gloves and head out the door pedaling my bike. 
The DBX 4.0 gloves are a prime example of ride-improving features in an otherwise simple pair of gloves. There are no features for features' sake. 
The Leatt NanoGrip palm is stretchy, thin, flexible and it feels great against my grips in wet or dry. That's without the addition of any stupid little rubber grippers that will wear off the first ride or wash. The molded finger protection goes completely unnoticed while riding but is a nice surprise any time I accidentally punch a tree or rock.
The fit is slightly tight for a size large, which works perfectly for me, and I love that there's no velcro closure to wreck my merino gear when I throw these gloves in the wash. Speaking of, they've been through the machine over thirty times without issue. 
Complaints? The gloves are pre-curved with a snug fit so they totally suck when trying to take a photo of your own hand. The grey palm is perma-dirty the first time you grab a grip. The 50 USD price tag might have turned me off a bit if I knew the cost before I put the gloves on but they're worth every penny compared to most every mitt I've worn. I'd like to try the Windblock version for the winter since these breathe well, even for someone who runs hot. 
Leatt sells the DBX 4.0 Lite under the tagline "try these bicycle gloves – you will like them!" and I completely concur. I'm genuinely considering buying a couple pairs and ditching all the other spring/summer weight gloves I own. 
There's more information here, but suffice it to say that if you don't have a glove you love these are quite possibly the one thing missing in your life. Yep, they're that awesome.