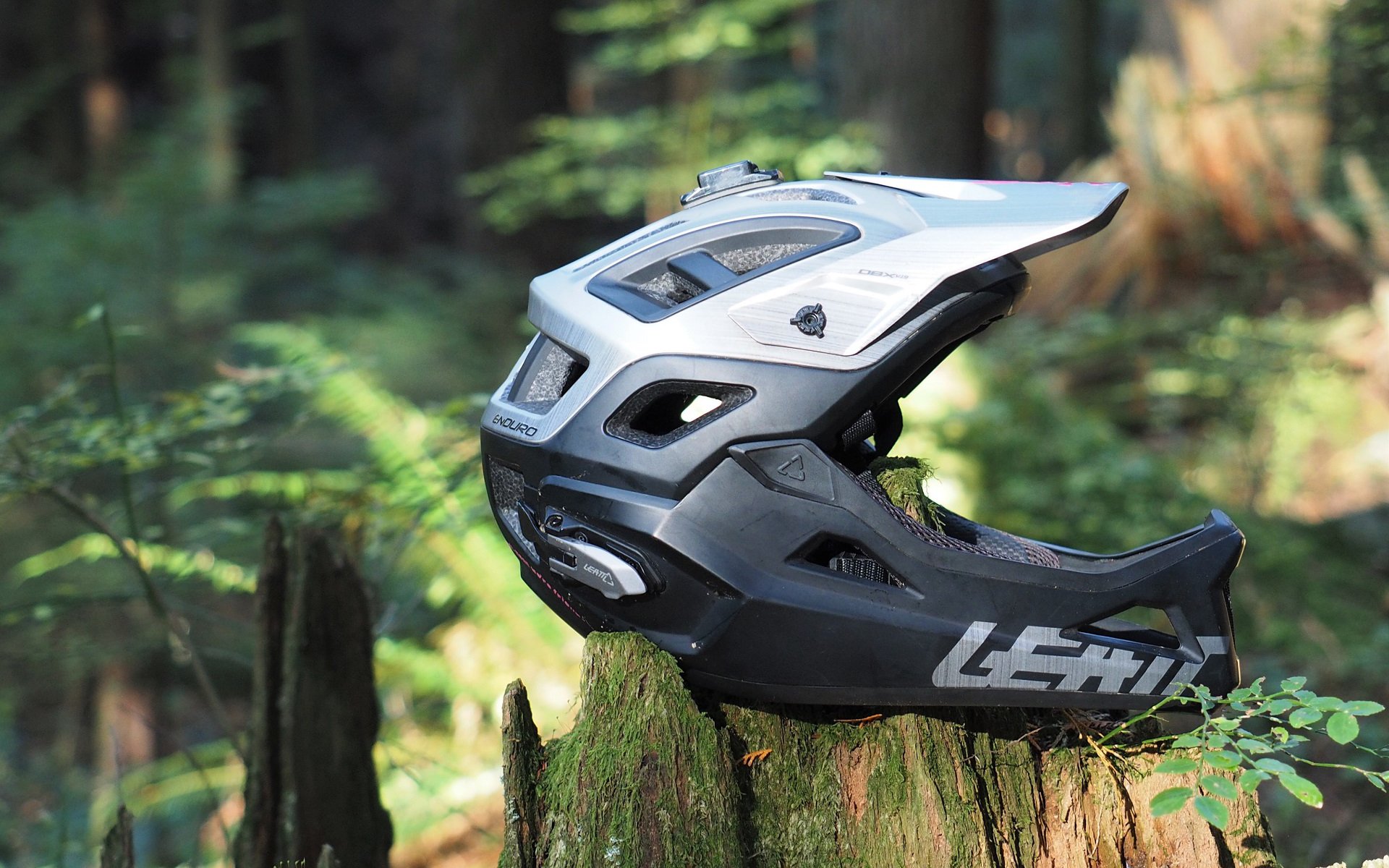 REVIEW
Leatt DBX 3.0 Trail+ Full Face Helmet Revisited
Buying A New Lid
How do you choose a new lid? It seems obvious that fit should be the prime factor at any price point but from there the conversation turns to prioritizing venting, materials, retention system, slip-plane protection, and so on down a checklist of features measured against price up to and including how it looks and what colours it comes in.
For the last couple of years, I've been wearing nothing but pad-fit helmets. That is to say, lids with no retention devices aside from the whole-head-hug of properly sized padding surrounding my noggin. There are a couple of reasons for this and they can be boiled down to cost and comfort. In the case of the Kali Viva and Giro Quarter MIPS the protection per dollar, with softer foam (at the cost of less venting) is a story that writes itself. With my own Kali Alpine full face and the 7iDP Project 23 I recently tested it comes down to comfort and fit in a hardshell helmet.
The comfort factor is straight forward. In most helmets with a retention system, I find myself getting headaches after an hour to ninety minutes. I previously attributed this to hydration, nutrition, and any number of factors but the only thing that solved it was a helmet that fit properly without the localized pressure of tightening a dial at the back of my head. I discovered this entirely by accident, wearing a helmet that quite obviously has a fit system, the Leatt DBX 3.0 (Ed note: for 2021, this helmet is known as the Leatt 3.0 Enduro V21).
The DBX 3.0 is a premium trail helmet with a 250 USD price tag to match its features from fancy bits like the magnetic Fidlock clasp to premium details like the really nice helmet liner material. There's no min-maxing story here as it isn't a true 2-in-1 lid like a Bell Super DH and riders hitting the bike park or doing shuttle laps are still going to want to own a proper DH-rated full face helmet. Even at slow-slow Andrew speed on some of the nastier North Shore trails, especially at night, I'll reach for a fairly light DH-rated full face. Even when there are long climbs - I just remove the chin pads.
In this case, the chin bar is like a Maxxis EXO+ sidewall situation, and rather than an Enduro lid or for comparison's sake some Double Down rubber, I've started thinking of the DBX 3.0 as being for Trail+. It's still a well-vented trail lid, it just has a boost in protection for a minimal weight gain meant to amp up confidence and provide a little extra protection.
The Leatt isn't as perfect for me as a true pad-fit helmet, especially if I run it for a long time without the chin bar or have a light mounted on the top, but for folks who don't have the same comfort issues, if the shape fits you well this could easily be the most comfortable lid you've put on. It has a lot of head contact with the padding and the added support of the cheek pads when the chin bar is installed, and that means I can run the helmet retention system quite loose and still get a great fit. Not having helmet headaches is the best!
Shopping My Own Bike Gear
The DBX 3.0 had been hanging from my wall in my little shop for a couple of years. I wrote a review that was pushed live in January 2018 and I most recently put it on during Easter of that year. Out of sight, out of mind as I simply was not wearing helmets that were not pad-fit. All that changed a couple of weeks ago.
First I decided to retire my Giro Quarter MIPS. The helmet pads were totally toxic no matter what I did to wash them. The rivets for the rear strap mounting points, which sit right against said pads, had rusted out significantly. I could have purchased new pads but the corrosion would have never sat right in my mind. That just leaves my Viva for bucket duty but I do enough back-to-back rides that it needs a bit of drying time and honestly I'm due for a set of pads in that helmet as well.
Then, my daughter was suddenly bit with the mountain bike bug and in order to figure out pads she ended up with a friend's size small Bell Super 3R. Packing the chin bar up, installing it, removing it; through the whole process I've come around to the idea that a lightweight removable chin bar lid is really the perfect piece of kit for a rider exploring their boundaries on Shore-XC rides and even when the time comes, the lighter-black trails, like 7th Secret, where sometimes sh*t happens. The chin bars weigh next to nothing strapped to a backpack or hip pack so the only real cost to using them is the little bit of time for removal and installation.
As we've progressed to trails like Bobsled, Claire feels more confident with her chin bar on and also with me wearing one and that's cool. I pack them both and we have a quick break for gummy bears and installation before we drop in. The helmets are still breathable enough for some pedaling and we can talk to each other and in general the confidence boost for my mini-me is worth any small inconvenience.
When I first reviewed the DBX 3.0 I don't know that I really appreciated its potential. The fit was great and with the chin bar installed it was a revelation on night rides where the extra surface areas of the cheek pads mean a helmet-mounted light stays put better without having to cinch down the retention system an extra couple clicks. The issue was, and is, that for most rides I'll either wear a regular open lid or a full face. And that's especially true these days as I find it quite comfortable to climb in a true full face with my chin pads out. Any extra boost of confidence from the chin bar isn't really notable on the trail in terms of riding more features or higher speeds.
It comes down to the fact that I don't need a Trail+ lid. I'm good with my open bucket until I'm not and then I'm down for a full-on hardshell full face. But I've noticed more and more Bell Super 3Rs - and indeed a few Leatt DBX 3.0 full face helmets - out in the woods lately and I think that's very positive. With so many more people riding in the mountains these days, pushing their boundaries a bit and exploring new terrain as we enter the greasy season, a bit of extra protection, that's really, really convenient to pack around, is welcome.