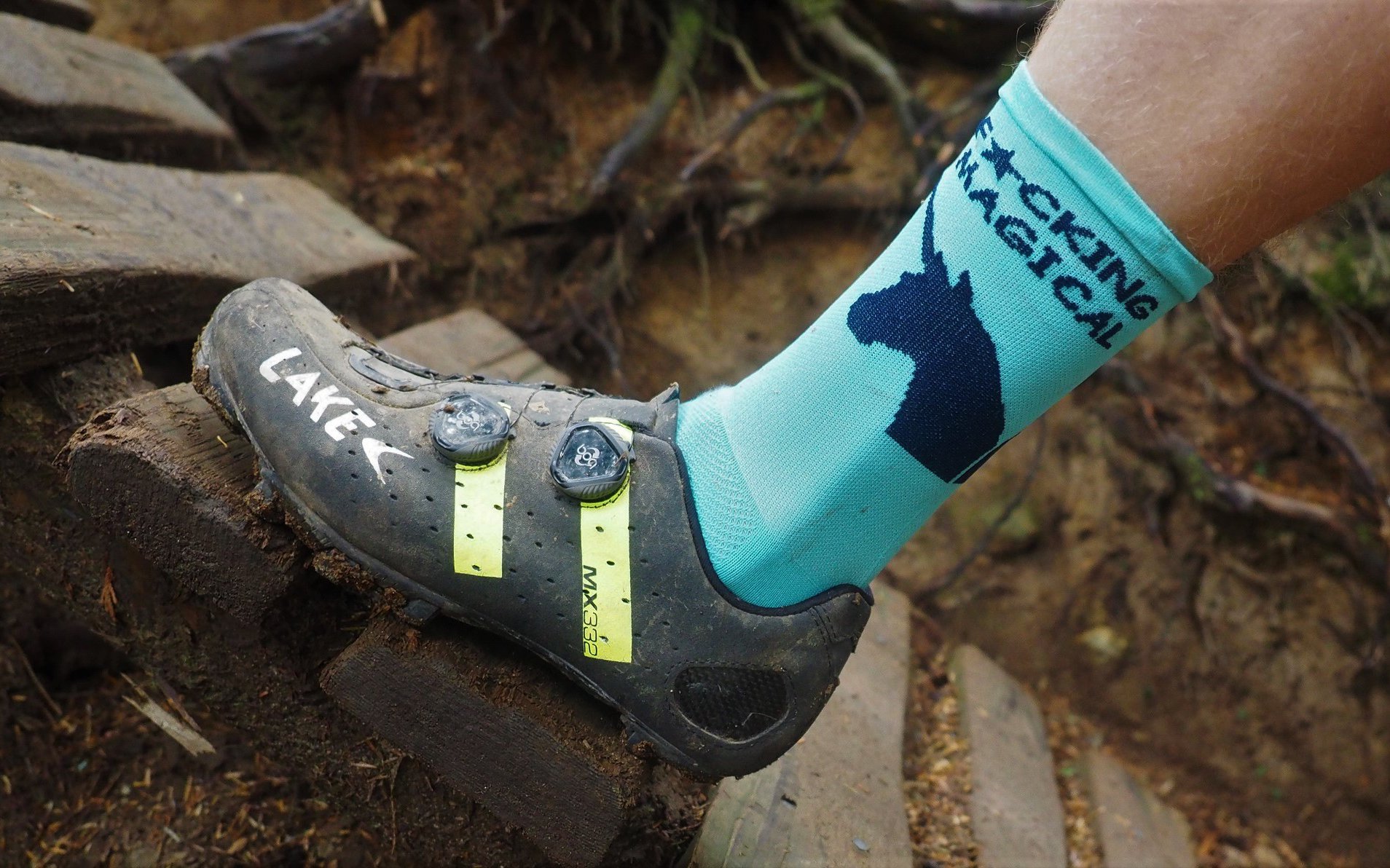 REVIEW
Lake MX 332 - Shoes For Wide Feet
Lake Cycling Shoes
Lake's shoe lineup is a decidedly unusual affair. They start with the $120 (USD) MX 161 and even at that price point their shoes come in size 36 to 50 in regular lasts and from 39 to 50 in extra wide. Even the regular width fits wider than other brands and there are a lot of riders with large, or uniquely shaped, feet for whom Lake is the only brand that fits. 
With shoes built on 11 different lasts, there is a great deal of fit difference from one model to another. If the MX 332 doesn't fit well in regular or extra wide it's likely you'll find a good fit in another model.   
These MX 332 shoes are at the premium end of Lake's lineup. They feature Helcor leather, dual BOA adjusters, a carbon sole and carbon heel counter and a natural rubber sole for a boutique price of $430 (USD). 
For gear nerds, the Euro-sourced Helcor leather is processed from the most durable and breathable split grain layer.  Helcor Leder Tec makes some fascinating definitely-not-vegan materials. 
Sizing
The MX 332 has a slightly smaller volume than other shoes in Lake's lineup being based on the 'Race' last. In the past I have been a size 42.5 in Lake shoes I've tried on but in this case I required a size 43.
For riders trying to order shoes without having the opportunity to try them on first, Lake provides detailed length and width measurements for all their shoes on their sizing chart so it is easy enough to ballpark the size. Lake is a really helpful company to communicate with if a rider is trying to make a choice between two sizes or to understand how the different lasts may affect their choice.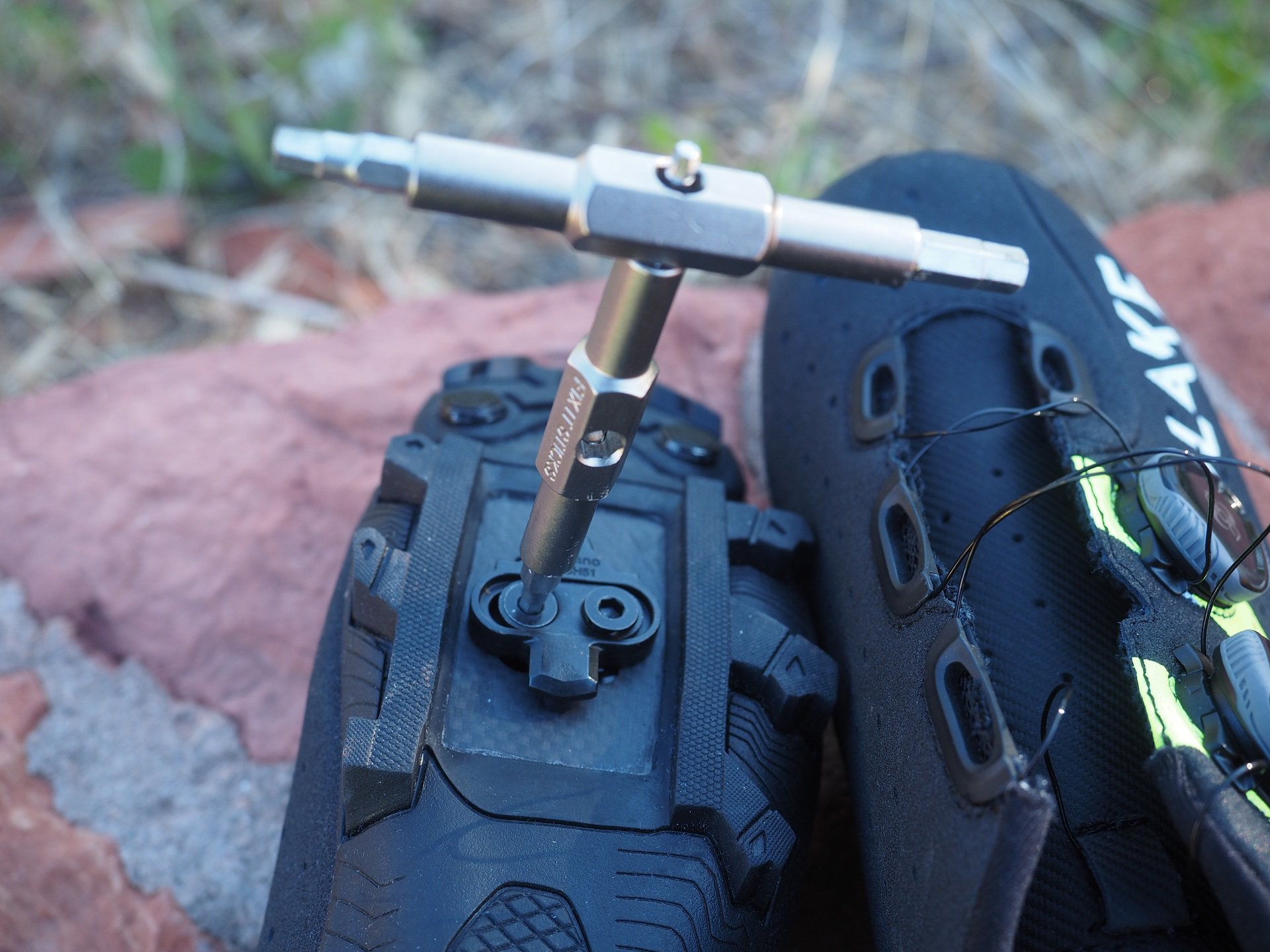 BOA
Lake uses dual BOA L6 adjusters which ratchet tight and then pop-up to release cable vs. the S2 system which ratchets both to tighten and loosen. In my experience the L6 is a significantly more durable and reliable system and as expected I haven't had issues with the adjusters on the MX 332. 
Soles
The only issue I've had with the shoes involves a small area around the cleat pocket. I do a fair amount of hike-a-bike and given I've been running these shoes mainly with my single speed they've had the brunt of it lately. 
Compared to most race shoes I've worn the natural rubber soles are surprisingly grippy. They aren't Five Ten flat pedal shoes but they are an improvement over most everything I've used when walking on greasy wood or rock sections. 
Performance
The MX 322 shoes are unapologetically stiff when laying down the power. How stiff? They're the shoes I wore when trying to discern a difference between the e*thirteen carbon cranks and Race Face Aeffect aluminum cranks I was testing because they enhance the difference. 
Impressively I didn't get any hot spots on long days, a problem I've had in the past with stiff shoes and they are actually reasonably comfortable to hike in. If I'm going on a ride where I know there is going to be a lot of third gear** going on I'd opt for the Mavic Deemax Pro but I'm not shirking from picking up my bike and getting my hike on when wearing the Lakes. 
So they're XC race stiff, comfortable, surprisingly pleasant to hike in and I should also add they're quite breathable. What about the price?
*Reasonably sticky compared to the market leader Five Ten. Compared to similar 'XC' shoes these are amazing. 
**The three gears of single speeding are: sitting, standing & walking