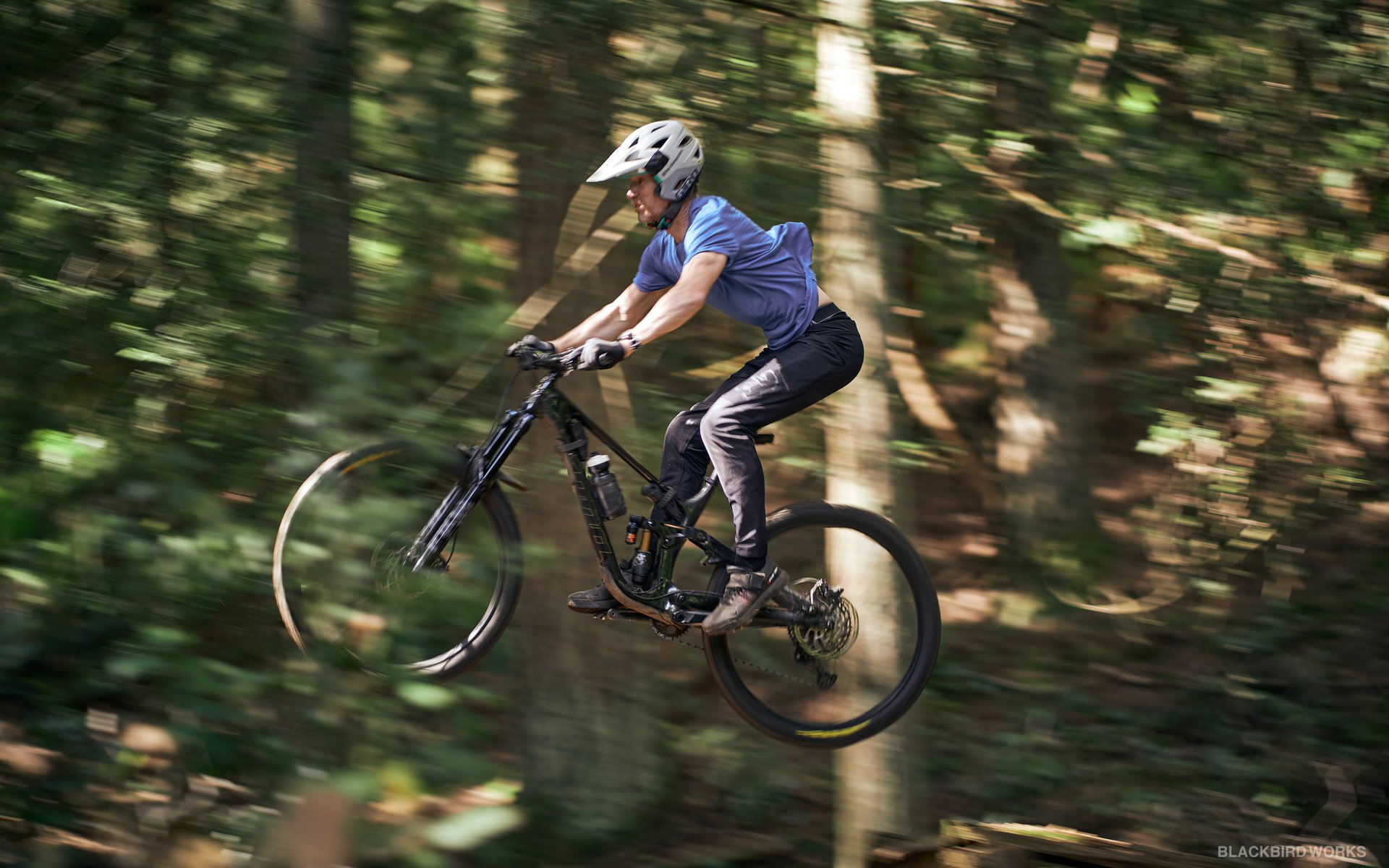 BIKE REVIEW
Kona Process X Long Term Review
The Kona Process X has attitude. It's not your friendly neighbohoor trail bike. Friendly neighbours are nice to have but you always end up remembering the neighbour who had the big house party 2 years ago where the cops showed up. The Process X is like the neighbour that always wants to go hard. If you like to party you will love that guy and if you don't, you may not.
In North Vancouver we have a variety of trails but there are certain zones where the trails are rougher and steeper and the hits are bigger. Those zones are where the new crop of long travel aggressive 29'ers, which includes Process X, really shine. A lot of the Process X reviews I've read conclude that the bike was a bit much, or more than needed for the tester's terrain. I am happy to report that for this review the Process X was almost exclusively ridden on this rough and steep terrain for which it is perfectly suited.
The additional benefit of riding truly nasty terrain, especially during a wet North Vancouver winter, is that these conditions are really hard on a bike, providing for a great testing environment. No animals were harmed during the testing but much to Cam's chagrin, I can tell I did go thru one rear rim, one hanger, two XT derailleurs, two pivot bearing swaps, 1 front tire, 3 rear tires, several sets of brake pads and a rear shock swap. I will get into this more later but the much appreciated silver lining is that this bike simply makes it easier to go faster... and with that speed comes increased wear and tear.
Geometry
Looking at the chart, there is an obvious sweet spot developing for this genre of aggressive enduro racing-inspired bikes. The Santa Cruz Hightower and Transition Sentinel are included in the chart for comparison as they are two excellent aggressive trail bikes but are by no means in the same enduro bracket. The Process X is on the progressive side of the Enduro bike geometry development. Wheelbase and reach are on the longer end of the spectrum and the head angle is definitely slack at 63.5 deg. The Process has adjustable wheelbase which adds a full 15mm length compared to the shortest setting.
Digging into the Parts Spec.
The Process X comes with Fox's Performance Elite DPX2 rear shock and Performance 38 fork (ie no Grip2 damper or Kashima). The brakes are Shimano Deore 4 piston and the drivetrain is a mix of SLX, Deore and XT.
Rims are WTB KOM Trail i30 TCS with DT Swiss 370 hubs. Dropper post is a Trans-X at a lengthy 210mm on the size large. Both tires are Maxxis with EXO+ casings. Assegai in front and DHR2 in rear.
The Process X is the cheaper of two available models. The Process X DL will cost an additional 3K Can$ and with that you get a RockShox Super Deluxe Ultimate rear shock, a RockShox Zeb Ultimate up front, mostly XO1 Eagle drivetrain, Reverb seatpost, DT Swiss 350 hubs and SRAM Code RSC brakes. Frame, rims, tires and seat are the same for both models.
The somewhat lower cost parts spec on the Process X is clearly chosen to hit a price target and to make the bike accessible to more riders. Walking the line between performance and cost on any mountain bike is difficult and trying to find the right balance on a hard charging bike like this is even more challenging. Plainly speaking, my belief is that most riders who buy these aggressive Enduro machines are looking for a spec that is going to support them in going fast. When I first looked at this Process X spec, as I mentioned in the first look, I had my doubts whether that had been achieved. So after a few months of smashing around the Shore, the rest of this article will talk about whether those doubts were well-founded or not.
The Fox Performance line of shocks and forks found here is actually very common at this price point. Caution is needed though when comparing. The Fox Performance fork uses the Grip damper ,while the Performance Elite uses the extremely popular and high-performing GRIP2 damper. Please read the fine print when making your purchase is the message here.
Set-up
The size large fit my 6 ft (183 cm) frame very well. I ran the bars at 780mm. With a relatively long torso I found the 490mm reach felt very natural both sitting and standing. The bike fit so well that I loved jumping back on it after riding other bikes and getting that satisfying 'fits like a glove' feel. The stem is 40 mm which helps get your weight over the front of the bike which is so critical with these modern geometries. The chainstays can be extended by moving the rear axle position backwards resulting in a 15mm longer wheelbase. As I was doing everything I could to set the bike up for stability at speed, I ran the longer position for most of the test. I didn't find it unwieldy at all.
Suspension Set-Up and Working out the Kinks.
Initial suspension set-up on Fox Performance level shocks and fork is fairly easy because there are minimal adjustments to work with. I am 170 lbs and I started with the fork at 85psi and the rear shock at 195 psi with the single compression adjustment at 6 clicks from fully open. This set-up worked well in the beginning but once I started to push the speeds on the rougher trails I struggled to get both the front and the rear suspenders where I wanted them. At speed in the rough I couldn't seem to find that planted and stable feel that should come with a bike of this aggressive enduro pedigree. I tried going from 2 to 3 spacers in the fork and dialing back the pressure 5 psi. In the rear I tried going from the stock 0.4 spacer to the 0.8 spacer and dialing back the pressure 10 psi. These changes didn't help. I would still get the jittery feel at speed that resulted in a bit of subtle front to back pitching. Adding several clicks of compression to the rear shock actually provided the most improvement in quieting things down. I think the lack of high speed compression adjustments on the fork makes it more difficult to tune out the feedback on the rough terrain. I ended up riding it this way for month or so.
On 75% of the terrain, and especially when riding smoother jump lines, the suspension worked well. It was however frustrating on the gnarlier terrain because I was sure the bike had all the attributes to be really fast, stable and confidence-inspiring but was being help back by damper quality. In the end we swapped the Fox DPX2 out for a Fox Factory Float X2. We debated this change quite a bit inside the downtown NSMB office tower as now you could argue I wasn't truly testing the bike as shipped. However I needed to know if it truly was the lower volume and lower cost shock preventing the bike from giving me that lovin feelin. The really good news, in my opinion, is that this change to the X2 was a huge improvement. Suddenly I was getting the planted DH bike feel I was lusting after and I was happy from that day forward. It should be noted that a lot of fast riders (Conner Fearon for example) are taking the shock change one step further and running a coil. I can only imagine this would turn the bike into an Enduro weapon. In a perfect world I would have tried the fork with GRIP2 damper to see if I could get the bike to an even happier place but we never got to that.
Climbing
The only real negative of the longer wheelbase was increased pedal strikes when climbing technical sections. I found that I had to be more aware of my foot position when grunting over roots and rocks than in the shorter wheelbase setting. The big win here for me though was the 78 degree seat tube angle. This made climbing quite comfortable and I didn't get that tell-tale urge to inch forward on my seat. Climbing traction was excellent and I am sure that was helped tremendously by the Maxxis Assegai on the rear.
Downwards
The combination of 29" wheels, long wheelbase, slack head angle and stiff Fox 38 fork make this bike very fast and therefore fun to ride on steep terrain. Much of the NSMB crew spends a lot of time on steep techy trails but this winter we found ourselves even going back to the old DH trails we used to ride on our DH and 'Freeride' bikes before the world went Enduro. I believe that our evolution in trail choice was 100% a function of the performance of this class of bike. I am not sure if the number of Covid gloved fist pumps are a measure of a bike's success but if it is then this bike rates extremely high. These modern aggressive Enduro bikes can absorb the hits without knocking you off your line but what I really grew to appreciate was this bike's ability to dive hard into a steep turn without losing composure. All of the attributes talked about before, like large wheel size, slack angles, stiff front end ,and that fact that you are weighting the front end due to the long reach numbers, all contribute to this stability under hard cornering forces. Speed is all relative of course and I am sure this stiffness would be even more appreciated and capitalized upon under a faster rider.
Tires and Wheels
I really love the Assegai as a front tire. The EXO+ casing is also good on the front. However I really didn't love the MaxTerra compound out front in the very wet and slippery conditions. It wasn't until I swapped the front tire for the same tire in a MaxGrip compound that I could really trust the the front end and start to dial in bar height and fork set-up. For the rear an EXO+ casing is simply not burly enough for me on the Shore. At least its not burly enough without an insert. The rear only lasted a couple weeks until there was a tear in it and I swapped it out for a DH casing Maxxis. After swapping from MaxTerra to MaxGrip compounds on both ends, the increase in rolling resistance was hugely noticeable. I expected some difference but not as much as was realized.
The WTB KOM Trail i30 TCS rims are unfortunately too soft for this type of bike. Even with the DH casing on the rear, the rim was steadily pounded into submission until I eventually had to replace its wobbly ass. After building up a new rim (and in an effort to stop Cam from yelling at me for wrecking stuff) I went with the Tannus Armour inserts front and rear in combination with Exo+ casings. The Tannus inserts and the 3-4 psi lower pressure they allow you to run in the wet were truly amazing.
This rim story doesn't really end well though as (even with the inserts and higher pressure) the new rear Trail i30 rim is looking very haggard (both flat spots and dents) after a few weeks of riding and will have to be changed out again soon. Having to constantly tension rims is so 2016.
Frame Pivots and Bearings
Something I want to highlight, as I thought it was a bit unusual, is that I had to change out the bearings on both of the large pivots. By this I mean the main pivot and the chainstay pivot. Both pivots run large 6902 bearings that were easy to replace and not expensive. However, even considering we had been riding in very wet and muddy conditions I was surprised at how quickly play developed. The pivot axles did not loosen as is often the case when dealing with pivot play. This meant that replacing the bearings was the only way to elimimate the play. As you can see here, the bearings appear more exposed to the elements than with some frame designs.
Drivetrain
I have one final complaint to lodge before getting back to how much I loved this bike. Although nothing to do with Kona really, I was not impressed by how easily bent and how difficult to straighten the new 12spd XT derailleurs are. Spending the previous few months on 12 speed SRAM, I had grown used to setting and forgetting. Based on the my experience, the GX and XO SRAM derailleurs are more durable than the Shimano XT.
Brakes
Good brakes are critical. Consistent brake feel, power and modulation cannot be compromised if you aim to ride well at high speeds in challenging terrain. The Process X comes with Shimano Deore 4 pistons and when I initially saw the Deore-level spec. I admit I was skeptical. These brakes turned out to be awesome though. In the first week I had some bite point movement on the rear but after a good bleed they stayed rock solid and peformed flawlessly all winter. The levers intially felt small in my hands after coming off Sram Codes and Magura MT7's but I eventually got used to it. I rarely had to adjust the lever throw even as the pads wore down. These are very good brakes and amazing considering the price point. More info on the Deore M6210 here.
To Mullet or Not to Mullet
It needs to be mentioned that the Process X has the option to run a rear 27.5 wheel while maintaining proper angles and BB height. This is intelligently achieved via a flip-chip at the top of the seat stay and the adjustable chainstay length. I never did test the bike in mullet mode because at 6 ft height I don't really believe it is necessary to run the smaller back wheel. However for shorter riders the smaller rear wheel would defintely provide much appreciated room to move around behind the seat without the terrifying seat to butt slam at the most inopportune time.
Summary
I really think this is a beautiful bike. I love how the top tube narrows down as it reaches the seat tube and creates a lean and stealthy stance. The seat stays have an interesting edgy look to them. The bike looks long and aggressive with the broad shouldered Fox 38 at the front and the gold and green metallic flake paint is really impressive in the sun.
For 5000 USD or 7000 CAD you get a very aggressive top level enduro bike at a reasonable spend. However the downside of this price level is that the rear shock and wheels are not up to the requested task. Wheel lifespan of course is very different from rider to rider so I would say that the most significant change needed for high speed enjoyment is the rear shock. Next in line in my opinion would be to upgrade the fork to a GRIP2 damper. No need for Kashima but the GRIP2 would make a difference. I have seen one or two upgraded versions rolling past our usual meeting spot.
The Process X is an Enduro platform you could really build upon and grow with. However if you are looking for immediate unrestricted high speed thrash-ability you will need to spend some additional denaros.