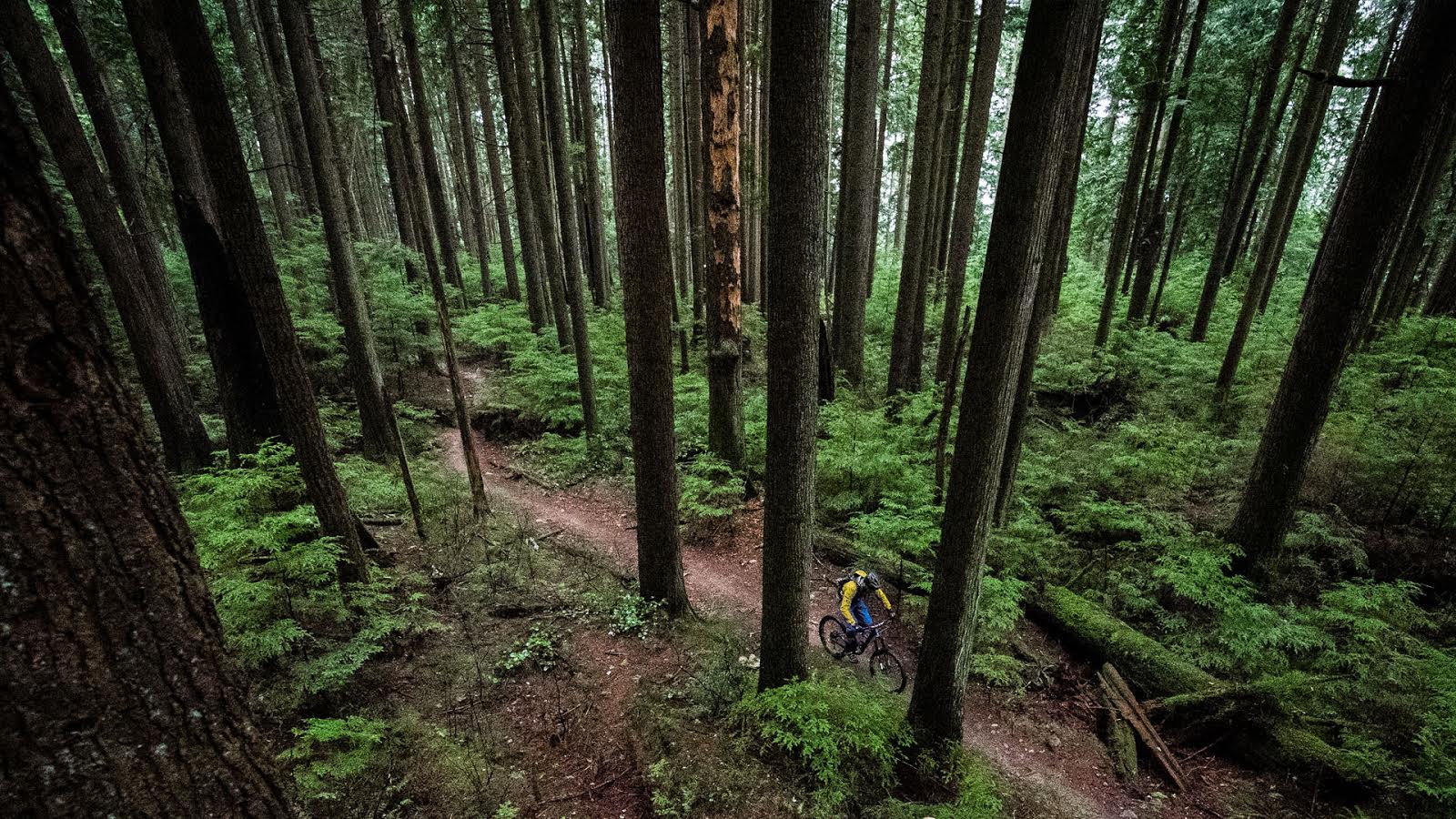 Kona Process 153 DL – Reviewed
I haven't made it a big secret that I prefer to ride small travel bikes or hardtails. When I found out I would be testing the Kona Process 153 DL, I was a little disappointed that I was getting a longer travel option (only now surpassed by the new 167). Fortunately for me, the 153 has been full of positive surprises. Not only did I thoroughly enjoy the time that I spent on this bike, I have begun to see how people can own just one bike. I didn't mean to test the Process as a "quiver killer", it just happened to be a fine choice for the vast majority of riding I do. I did everything on this bike; I KOM'd 20 minute technical climbs; pushed myself on unfamiliar steep descents, and even rode some sizable dirtjumps. That's not to say I didn't have issues with the bike, or that I am actually willing to get rid of all my bikes just to have this one. I simply want to state that I enjoyed riding the Process 153 DL on a far larger variety of terrain than I had expected to.
For spec and geometry details and more photos of the 27.5″ wheeled Kona Process 153 check in here.
The Kona Process 153 DL is a great mountain bike. It's playful, confident, and durable on descents, and I didn't struggle (ahem!) getting it up. Kona calls it enduro.
The Ride
The Process 153 has a different geometry than we're used to seeing. It's long, low, and was designed around a stubby stem. The bike put me into an attack position. As a result, I felt very composed charging down steep, rocky, and rooty sections of trail. In addition, I liked that I was able to get full leg extension on the climbs, but have a low stand over and saddle on descents. It made for a bike that was not only felt controlled at speed, but was also very maneuverable. It made the bike inherently fun to throw around corners, the air, and whatever else I felt like moving the bike around for.
The Process 153 never bothered me when I started to throw it around. Its low standover and saddle height make it a really enjoyable bike for me to get rowdy on.
The geometry can't be given all the credit for my enjoyment of the Process 153. I had anticipated 153mm of rear travel to create a very sluggish bike. PFFFT (fart sound) was essentially what I expected; I wouldn't feel any of the trails and I would have a hard time pumping. SURPRISE! Kona's Rocker Independent Suspension does nothing like that. I was blown away by the fact I could actually feel the features in the trail that I was rolling over without struggling to keep my feet on the pedals. To rephrase that: rough terrain didn't cause my feet to move around on the pedals (wearing loosely tied shoes with less grippy soles), but I was able to feel when I passed over a feature. When it came to larger impacts, the Process 153 took the hit without transferring any off it to my wrists or ankles. The Pike RCT3 and Monarch Plus RC3 paired nicely and provided a very matched platform that felt bottomless on all but the biggest hucks to flat.
Components didn't break, I'm not feeling the hit, and the frame has a limited lifetime warranty so let's go again.
When it came to pumping, jumping, and cornering, all of the above checked off as enjoyable. The Process 153 didn't get to the level of a small travel bike (or hardtail) when it came to pumping the trail for speed, but considering I was in more control at a higher speed, I can't complain about the response it did have. While it's no hardtail, the extra effort put into pumping for extra speed certainly wasn't wasted aboard the Process 153.
Getting my test bike airborne wasn't something I gave a second thought to. I was able to pop it off a jump or scrub for speed, and play around with the angle that the bike flew through the air. While I had the option to hit jumps different ways aboard the Process, the bike was predictable and consistent in responding to my movements throughout the jump lines.
Where's the fanny pack? All I see is fanny.
Cornering at speed, like everything else at speed aboard the Process 153, was controlled. The chain stays aren't so short that the bike ever felt unstable on the gnar, but were short enough that I could get the rear end to whip around a tight corner by losing traction in the back end. The bikes long and low design facilitated my composure blasting through flat, rough turns. Combining shorter chainstays with a long and low design and adding in a suspension platfrom that responds well to being pumped meant bermed corners kept me at pace aboard the Process 153 as well.
Keeping composure and looking far too serious doing it.
I also wanted to see how the Process performed in the wet. On the second day in a row of some major rain, I made sure to go get soaked through to the long johns to be able to tell you about it. It reduced my vocabulary to profanities in the best way possible. I got to the bottom of a rooty rocky turny fast section of trail and shouted "holy profanity!" for nobody to hear (because my riding buddy was so far behind). The bike felt like it was on rails. I pointed and the bike held it. I got aggressive and the Process said hell yeah.
It was the exact same in the dry. The Process 153 held my lines down whatever I wanted. I ended up getting away with looking down the trail further than normal and consequently going faster. The bike didn't complain when I blasted through/into/onto something rough and its overall maneuverability allowed me to pick a line that darted in all directions down the trail. In other words, the Process 153 is playful at speed.
Pedaling
The bike took off when I put power into the cranks in the big ring (both ascending and descending). I had expected some sort of bob or power loss when turning hard. There was still a slight power loss, but less than I expected. I mostly felt traction and an increase in speed. I say that I felt traction because even on one particular long, steep, technical climb that I had the strength to stay in the big ring for, I was surprised by how little the rear tire wanted to spin out.
The 2014 Kona Process 153A in all its green glory…
When I didn't have the strength to stay in the big ring, the little ring did it's job. I did find when I was out of the saddle grunting up something steep in the granny ring, the bike bobbed if I didn't flick the shock into its firmest compression setting. In the saddle, or even standing on a flat grade, I didn't really need to firm the compression up.
I tried to avoid firming up the compression because I often forget to put it back into the open setting. If I were to run a single ring up front, it's likely I would happily pedal the Process 153 around without ever moving the compression switch. I also could adapt to not trying to sprint up steeper hills while in the granny ring. Regardless, 3 compression settings are provided and the Process 153 DL and 2 are provided on the non-DL. Whether or not you choose to them is up to you. Either way, the pedaling platform on the Process 153 shouldn't disappoint.
It's not an XC bike, but I was able to comfortably pedal up every climb that I encountered (and I went out of my way to encounter some tough ones). I even posted some competitive Strava climbing times if that matters to you.
Spec
I thoroughly went through the Process 153 DL's spec in my preview article . I would like to add a few things though. First off, the bike's weight was 14.7 kg (32.4 lbs) with pedals after being converted to tubeless. I expected to feel it on the climbs. I didn't. I won't be in the lineup waiting for a carbon frame. I spent some extremely long days on this bike, and the thought of pedaling it back up the hill was never what sent me home.
I mentioned the bike came spec'd with inexpensive resin pads. The Shimano XT brakes performed very well with them. I never suffered fade, felt I had tons of power and modulation, and the pads didn't need to be replaced after a month of non-stop cycling. I don't recall any horrid squealing on the wet rides either.
The components held up well over my 1 month test period. 2015 sees improvements to the spec that would leave me with nothing to gripe about.
I was initially intrigued by the WTB Frequency Team i25 TCS rims. I hadn't ridden them before and they looked like a great aluminum option. The rims stayed true, but I did manage to put a couple dents in the rear. One of them I bent back out because the impact that caused the dent also popped the tube. The second one happened after I was set up tubeless and I didn't bother to fix it since it didn't disturb my tubeless set-up. The jury is still out as I had to give the bike back before I could do any more damage. If I were to purchase the 153 DL, I would run the spec'd rims and lace up something stronger if I did blow one up.
Potential Issues and Gripes
After reading Cam's latest Ibis review, I wanted to see if the Process 153 was one of the bikes that "floundered on things that are tight and steep" so I went and rode a new trail that fit that description. Due to my fear of momentarily not having traction on a steep, I didn't just break the rear tire loose to snap the back end around corners. As a result getting the bike around the corners was a little clumsy as it does have a fairly long wheelbase. Considering I don't ride trails like this, it's possible my unwieldy reaction to tight steep 180 degree corners is due to a pilot error. Even if it's not, I had to go out of my way to find these features and don't intend to go out of my way to find them again so the experience didn't result in me wishing the Process 153 handled any differently.
Bikes are looking cleaner all the time now that internal cable routing is becoming more common. Photo ~ Kaz Yamamura
When really pushing the bike in the dry conditions, I did start to feel why Morgan Taylor considers the 2.3 High Roller II to be a bit of a drifty tire. When the tires on this bike wore out, they would likely be replaced with something that bites a little harder. I will say I would be fine running them until that time. For 2015, Kona intends to save you this step by speccing the Process 153 (both DL and non-DL) with a 2.3 Minion DHF front and rear.
Wearing out the rubber. The High Roller II tires are slightly more drifty than other 27.5 options. Kona spec's Minion DHF's on the 153 for 2015.
I don't like changing gears. I try to remove as many shifters as I can on my personable bikes. If I can't, I follow Dave Tolnai's 12th rule to live by and opt for the Shimano option (and as few gears as I can). It comes as no surprise that the 2×10 SRAM drivetrain and I never really got along. I constantly had the chain falling onto the smaller ring when I back pedaled. It was also rare I was able to get the chain back onto the big ring when pedaling along despite my efforts getting the front derailleur really far out. For 2015, we see a 1×11 drivetrain on the 153 DL. This is an update I'd be willing to spend the extra money on. If you're looking for a Process spec'd with a Shinamo 2×10, you're looking at the 2015 134 DL.
Wallet Hit
The 2014 Process 153 DL on test came in with a $4999 CDN MSRP. 2015 sees the Process 153 DL go up to $5399 CDN. The upgrade to the 1×11 came at a cost, but I am happy to see the 153 DL offered with a single ring up front. The 2015 Process 153 (non-DL) comes in at $3899 CDN which doesn't look like a bad option to me (especially since I'm more partial to the color). However, I would definitely be making changes to the drivetrain.
R.I.P. wallet. I really like this bike. Actually, compared to all the plastic offerings, the Process lineup doesn't look too bad.
Final Word
The Process 153 DL was an extremely enjoyable bike to ride. I really like the long and low geometry, and Rocker Independent Suspension. The fact that I found a bike with 153mm to be playful blew me away. The bike put me in attack position on descents, but I was happy to climb it up everything. It didn't scare me away from speed, fling me into the bush after big hits, and reacted well to getting thrown around at any time. If I were in the market for one bike, I would definitely be looking at the new enduro bike offerings. It suited a wide variety of trail types and terrain. This experience has put the new 167 version of the bike squarely in my sights.
---
Sounds like Garrett had a fun time aboard his Process.