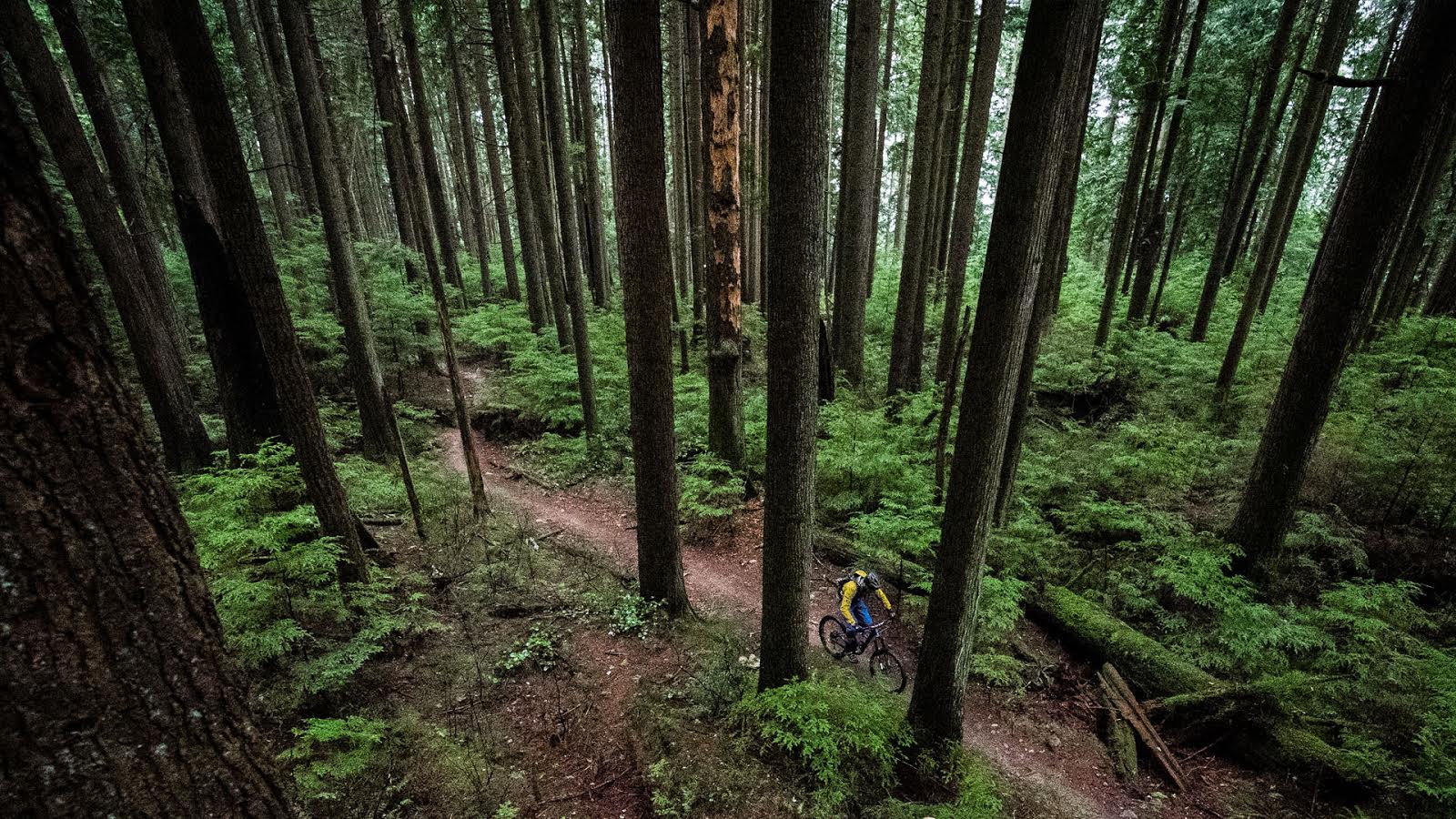 LONG TERM REVIEW
Kona Process 134 Supreme – Long Term Review
The Kona Process 134 Supreme is an easy bike to appreciate. No carefully nuanced pros-and-cons, needlessly complicated bicycle design, or over-enginerding [sic] to take away from the fact that this bike is tonnes of fun. Even the most cynical prick, happy to disregard every published review as easily bought and every owner review as post-purchase justification, has to admit that the positive feedback on the Process 134 is legion. And if that ultra-positive love-in seems overly rave to you then too bad. Too bad?
Yep, the 134 is an optimist; don't rain on its parade.
A true trail bike that can be enjoyed in a huge variety of terrain and conditions. Up or down, regardless of your skill level, the Process will surprise you.
Your riding buddies signed you up for the NIMBY or JABR (punishing local XC races)? Throw a semi-slick on the back and pedal 'til you puke. You probably aren't going to make it near the podium (is that the bike or the engine?) but take a few seconds to breathe before the descents and just try and ignore the bike as it screams "FASTER", "JUMP!", and "PEDAL GUMBY!"
This is a size large – but the generous standover means riders of many shapes and sizes could ride it. Photo – Kaz Yamamura
You want to hit your local Funduro races? Damn straight: get out there and support your local trail association. Unless the courses are on the tame side you probably want to keep an ear open for the local ripper pounding up behind you on their 6" or 7" bike but you aren't going to feel (any more) out of place in your goggles and half lid and nothing is going to hold you back from stomping some technical trails at race pace.
"Look ahead". The 134 takes care of the small stuff, but with 140mm of travel and a love of all things fast-and-loose you have to be ready for more technical trail features to shout "en garde" at any moment.
Epic multi-day adventure? Day in the bike park? Cruise around the Seawall? Beginner 'cross race? Slow Food ride? Pull the kids in the Chariot? Need a wingman for that coffee date? You get the point. If you are willing to put on a smile and do your best, then so is the Process.
There is of course a flip side to the happy-go-lucky "I'll try anything once; how about a beer?!" attitude of the 134. This bike is not for Eeyore. Sorry. If it's going to make you moan that your equally fit buddy on a 10k long-travel carbon XC bike has a few bike lengths on you at the top of your favourite climb, or you're going to whine that your nominally faster friend on their Super Enduro rig gets their camera out before you hit the bottom of that nasty descent then you're probably in the market for something else. Within Kona's lineup some combination of a custom Hei Hei Deluxe for more Shore-To-Sky XC riding and a well rubbered Process 153 for more aggressive terrain would be a better option for someone with the space and budget to be on the N+2 program.
Lots of top of the line parts – and a carbon bridge. Carbon frame coming next year? Photo – Kaz Yamamura
Living in a North-Shore-Special (that's <400 sq/ft per family member – including pets) with the budget for one nice rig and ready to put on your happy face and front the 'one bike myth' from a pedal-able perspective? Read on.
If The Bike Fits You Must Shred It:
Standing between 5'9" and 5'10" depending on the time of day (closer to the first number), I've ridden the Process 134 in both size medium and large. Prior to putting solid hours on the large, with a 40mm stem, I would have definitely purchased the medium and gone with a 60mm stem to get my preferred, long, cockpit length with a 785mm bar. That said, I recently swapped out to a longer stem and lower bar on my personal bike to match the fit of the Process and if I was buying a Process tomorrow it would definitely be a large. Your preferred Kona dealer will help you dial in the size that will work best for your terrain and preference and if you're a tweener definitely try both sizes if you can. Standover height, which is epic, will definitely not be a concern.
"Act naturally."
The stock WTB Volt saddle was very neutral and, unlike many bikes, I did not feel the need to change it for the firmer/flatter saddles that are my preference. Actually, without going into it too much — and recognizing that saddles can be a very personal choice — this is probably the best OE spec saddle I've come across in terms of making a wide range of riders happy.
I found the bar height to be perfect with no spacers under the stem and the stock RaceFace Atlas bar at 785mm. If you want to get your bar lower do be aware that a different headset top cap is available to drop the stack height, so you don't have to switch to a flat bar.
Is Drew smiling because of the bike – or is that a nervous grin as he flees the strange creature in the forest behind him? Photo – Jaclyn Delacroix
Probably best filed under too much information, but as someone with a very narrow pelvis/stance I notice that my calves would occasionally have light contact with seat stays. It was never an issue or annoyance but if you are also a narrow-standing heel rubber running your clipless shoes inboard (cleats outboard) it may be worth noting.

Head's Down; Seat Up:
The Process 134 is a great technical climber. But, it's also generally a hack-friendly bike (up & down). When you're trying desperately to spit your heart out of your mouth so you can fill your deflated lungs, while also not falling off an exposed switchback… hey, it goes forward with surprising efficiency. The suspension is aggressively smooth off the top but the mid-stroke support is such that even short standing efforts to get up and over steep and/or technical sections were rewarded with elevation gain. This is not an XC bike, and it does not pedal like an XC bike; however, it is entirely reasonable to pedal it to the top of whatever epic climb just popped into your head.
Wouldn't be a North Shore bike test without some greasy roots. Pick out a set of tires that works for you and your terrain as the Process 134 can adopt to many different locales/conditions just based on what rubber you hang on it.
The short stays are a dream when cranking around tight corners and the relatively long front center between the reach and slackish head angle never presented an issue in tight spots. There were definitely situations where a shorter top tube combined with a longer stem (medium frame) would have been better for technical climbs but a 140mm trail bike is always going to present some compromises.
Blue to match your NSMB.com socks; Orange to match your shoe laces (or your favourite jacket); Black to make the Kona logo pop (and also because it's timeless).
In my first impressions article, I noted the choice to spec the bike with a 34t ring and though I spend a lot of time in the 34t/42t combo I never felt the gearing was holding me back. It would be a great choice for many of the places I have ridden, but for the Shore-To-Sky I would purchase a 30t ring if I planned to regularly put in multiple laps of local heavy lifting.
The Monarch shock is of the three mode variety with an "open", "platform", and "lockout" setting. The lockout was fine for the road but once in the woods the bike performed best in the open mode all the time. In the platform setting there was a funky interface between the still-soft-off-the-top initial stroke and where you can feel the platform engage, and this was particularly apparent in out-of-the-saddle situations where you would think the platform would be helpful. The shock on this size large was valved very well for my weight (~185lbs) and, as per above, the Process was happy to be pedaled off road in the open setting in all situations.
That build, complete with Hope Hubs! Photo – Kaz Yamamura
Without pedals this size large example weighs 29 lbs (13.15 kg). The stiff aluminum frame and the Pike combine to make this a little heavier than many 140mm travel bikes. The WTB rims have a very reasonable weight and a reputation for durability and the overall package, with a SRAM XX1 build, doesn't leave anywhere that you can shed substantial poundage without hurting performance. The bike's a go'er if you have gas in the tank, but be aware of the fuel gauge if you are lining up with your XC buddies.
Head's Up; Seat Down:
Given the nature of my schedule, my first few rides on the Process 134 were in the dark. This was a first in terms of getting used to a new bike and definitely led to a few 'exciting' situations. The suspension feels awesome off the top, the bike is long and low, the bar is wide, the head angle rides slack enough, and the bike picks up speed quickly. A few meaty pedal strokes, push through a greasy corner, and the next thing you know your light is having a hard time keeping up as you rip down the trail. Then you get hard on the brakes and realize that you're on a 140mm bike, well into the available travel/traction, and you've already made it to that rooty section… I'm pretty sure those scratches were there before Cam gave it to me.
The long front centre and short rear centre, combined with a short (40mm) stem and wide-ish (785mm) bar, make Process an easy bike to love from a centred, neutral, position.
With a few shake-out rides under my bibs the Process 134 was an easy bike to love. If you ride it aggressively it changes lines with ease, picks up speed quickly, and is very balanced front to rear. If you're tired or simply not pushing the bike to your limit it moves along predictably, never surprises, and provides a confident platform to work your way down the trail. There are a lot of bikes that don't perform well in both situations.
This is a(nother) bike that proves static geometry charts only tell part of the story in terms of how a bike will ride. Once sagged the 134 feels similarly slack/aggressive to 140mm bikes I have ridden that list more aggressive numbers. In the right terrain the bike has a very 'mini DH' feel. The 'mini' factor proves more apparent the steeper and chunkier terrain gets and if your focus is more about surviving the ups to ride down this is where the 134's big brother the 153 starts to look really appealing.
That kickstand is extra. Photo – Kaz Yamamura
As many reviews have noted the 134 has a lot of pop and loves to get the tires off the ground. For a rider who is generally into more wheels-on-the-ground tech this was at first quite thrilling, then quite a bit spicy, and finally thrilling again. Very comfortable in the small amount of air it gets when I let it off the leash and confident when landing.
Life is short; buy the damn bike?!
There are so many good bikes these days, or at least – from Eeyore's perspective – so few truly bad bikes, that it can be nigh impossible to filter out what would be the best option for you.
The Process 134 Supreme with its full SRAM XX1 drivetrain, XT brakes, and Hope Hubs offers a lot of value if one can use a bit of license and apply that word to a $6000 (CAD) $5499 (US) £4799 (UK) bicycle.
Life's short, ride fun bikes. Kona constantly delivers the smiles with this series of bikes, even if Andrew was too focused to let his out.
The 134 is a smile-inducing ride in the vast majority of situations and the frame is the heart of that experience. It's available at a couple of lower price points as well if you're looking to maximize your experience per dollar and each model is backed by a lifetime warranty on the frame.
Or, to quote ecstatic Process owner Jamie Hamilton from his comment on our initial write-up: "And really at the end of the day, time is precious, so having a bike that extracts every ounce of fun out of each ride & leaves you with a sh%$# eating grin every time, is a winner."
Give one a pedal!
If you missed Andrew's first impressions article you can check that out here.
---
Are you up for Supreme?