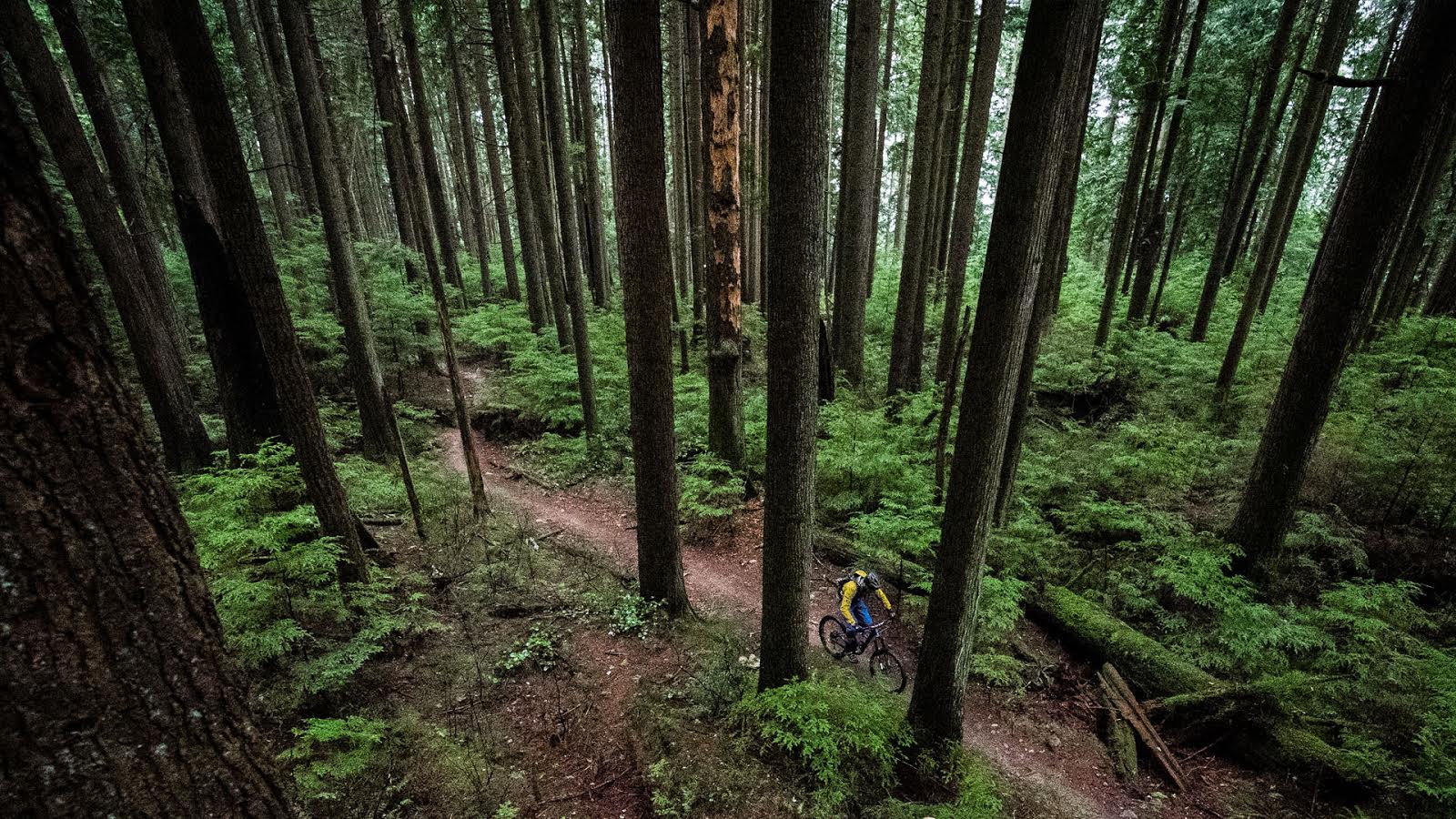 Kona Precept DL: Reviewed
Amidst the 6, 8, and 10 thousand dollar super carbon bikes we often review, many of you have been asking to hear about bikes that can be had if you're not on a surgeon's budget. Enter the Kona Precept DL.
As a grumpy and sometimes bitter cynic, I'm offended by recent trends in reading comprehension. You'll read a glowing review about a bicycle, where they note that they struggled with fork set-up, and inevitably the comments will be along the lines of "Whoah dude! Can't believe you trashed the bike like that!". If I'm trashing a product, you're going to know I'm trashing a product. Your meagre capacity for product trashing needs a recalibration.
Dave Tolnai about to tip the Precept over and see how it likes going left and right. Photo: Andrea Brown.
So as I wade through my copious amounts of notes and impressions on this bicycle, I realize that I'm going to have to do things differently. This review is going to degenerate into a laundry list of gripes and suggestions and complaints which some might misconstrue as "trashing". These comments are not because this is a bad bicycle. These comments are because it's a bicycle that retails for $2100. So let's get straight to the point.
THIS IS AN AWESOME BICYCLE.
It just happens to need a few things to get there.
Kona's house brand components took care of the business. Unlike the cockpits of certain bikes we've seen recently, the Precept's bar was an acceptable width.
Why is the Kona Precept DL an awesome bicycle?
This is an awesome bicycle because it is a hell of a lot of fun to ride. It's short and it steers quickly and it goes wherever you want it to go and it pumps and it turns and it rolls and it is a hell of a lot of fun to ride down a trail.
You can be in the middle of a corner and decide that you're not quite happy with where you're going and you just make a tiny little adjustment and you all of a sudden are going exactly where you want to go.
You can find a tiny little roller and pop and push and fly away like you're actually a decent bike handler.
It's fun. It's a fun bicycle.
What Dave Tolnai looks like, having fun on a bike. Photo: Andrea Brown.
It's also a lesson in not getting hung up on specific geometry requirements. You'll notice that the head angle isn't super slack. You'll notice that it doesn't have all that much travel. It doesn't matter. It's still fun and it still goes really fast.
The frame
I think part of the reason for this is because it is an incredibly well built frame. Nothing on this frame suggests it belongs on a complete bicycle worth $2100. The tubes are formed. The details are well thought out. The cable routing makes sense. It's a really nice looking frame.
One of the Precept's strengths was frame build and finish quality.
The suspension design is straight forward. It has a simple, low pivot which hooks up to a linkage that provides a relatively flat leverage ratio. It doesn't have much chain growth and if you're into anti-squat curves, it doesn't have much of that either. So, it does bob a bit on the way up. And the shock doesn't have one of those little "stop bobbing" switches on it so you're kind of stuck with it.
The Rock Shox Monarch R shock lacks "stop bobbing" switch and Dave couldn't get full travel out of it – but the entire bike costs less than an Enve wheel upgrade on a carbon superbike so the tradeoff doesn't sound so bad.
Things you need to change before you roll a Precept DL off the dealer's floor
There're a couple of things on this bike for which I cut Kona zero slack. I don't care what this bike costs, you need to fix these things immediately. If you're buying this bike you need to talk the dealer into helping you surmount these problems.
The first is the brakes. As sold, these brakes are absolutely terrible. I think V-brakes would be a better option. I think a plastic bag tied to the handlebar containing some screws and a couple of hunks of wood that you could attach to the bottoms of your shoes so that you could just drag your feet to slow down would be a better option. These brakes suck. I've heard that some people made them adequate by simply swapping to sintered metallic pads and suitable rotors, so it might not be a big deal. I ended up swapping the complete front brake and the rear rotor and things were fine.
Kona's site lists the Precept's brake caliper spec as simply "Shimano". Their performance had Dave mention the words 'V-brake'. Probably a mandatory upgrade if you're going to ride it aggressively.
Next is the seatpost. And the sizing in general. This is an incredibly small bicycle for a "large". Kona has made a big deal of this bike sharing the geometry with the Process. Which it does…sort of. The top tube is a lot shorter, and I thought the long Process top tube was one of the main selling points of the geometry? I guess people with a bit more money get a longer top tube? I'm tall and generally should be on an XL, but seldom have a huge problem riding a large. But this sucker is a small-ass Large, with a short top tube and a stubby seat tube. And a stubby seatpost. Even with a good couple of inches of post showing below the min insert line, I still couldn't get full leg extension. Chances are pretty good you might need to talk your dealer into throwing in a longer seatpost. Kona should spend the fifty cents to make this happen at the factory. And you should definitely at least give the bike one size up from your usual a spin around the parking lot before you spend your money.
Things that you might want to change
Next, we get into the things that you probably will really want to change, but aren't necessarily going to ruin your experience.
The first is the fork. This is actually a totally reasonable fork for a bike of this price. It sucks, but that is kind of par for the course in this price range. It goes up and down and has little to no adjustment and you will never bottom it out even when you run it super duper soft. An intermediate rider is probably going to be happy enough with it. It looks the part and has a smooth enough stroke. But it will hold you back under aggressive riding. This will probably be your first major upgrade. I threw a 160mm Suntour Auron on and never looked back. I have no idea whether or not Kona supports this length of fork on this bike, but I didn't notice much change in how it handled and the head tube didn't separate itself from the bike.
The Rock Shox Sector fork left a bit to be desired, but it'll suffice when you're getting started.
Next is the drivetrain. The (non clutch) SLX derailleur would have been all you needed a few years ago, but times have changed. It bounces all over the place and it sounds like an angry and broken machine is chasing you down the trail. And paired with the triple ring set-up, you will drop a lot of chains. The rest of the drivetrain components are an exercise in cost savings. The Alivio shifters are more "suggestors" than "shifters". Tell it what to do and wait for it to get around to shifting. The cassette looks like it's been scavenged from a scrap yard. And worst of all, because everything is 9 speed, it's not going to be very easy to upgrade. If you're putting money into the drivetrain, you're probably going to end up scrapping everything and moving up to 10 speed at some point. Or maybe not. I haven't shopped for 9 speed stuff in a while, but it's something to think about.
That's a triple ring. Depending on where you ride, you might be swapping out that big 'un for a bash guard, which would let you take out a few links…
…because the non-clutch SLX rear derailleur paired with a triple will cause dropped chains. A double/non-clutch won't be quite as bad, but if you break it, spring for a derailleur with a clutch – your bike will be quieter and won't drop as many chains.
The stock Ardent tires are reasonable, but I was too scared to subject them to wet roots. But seeing as North Shore winters are a thing of the past, you might get away with them. A little bit of upgrade meat felt pretty good though, but there aren't many bikes sold today that aren't in the same boat.
This winter hasn't been wet and gnarly by North Shore standards, but you'd still likely be happier with a little more meat on the front wheel at least. In drier conditions, however, the Ardent is capable.
And then we come to the rear shock. I'm not suggesting you will need to change it, but something was definitely up with the rear shock on this bike. Similar to the stock fork, it just never bottomed. I could run it butter soft and it still wouldn't bottom. I assumed there was something bent or some kind of hydraulic lock, but it cycled through full stroke with the air dumped. But riding it, there was always a good ¼ inch of shock shaft that never saw any action. Broken shock? Too small air can? Riding like a baby? Not sure, and in talking with Kona we never got to the bottom of it. Honestly, absolutely no pun intended, but I sit here and stare at that sentence and feel a need to leave it there.
Shimano Altus shifting was a tad sluggish, and we've covered the braking, but the cockpit was otherwise up to snuff.
And that's it. Everything else about this bike is pretty much good to go. The handlebar is wide enough and the bend doesn't suck. The grips lock on. The stem holds the bars in place. The seat…well, the seat's not great. But there's a lot going on that you really don't have to worry about.
Color-matched saddle? Nice touch, Kona.
Who is the Kona Precept DL intended for?
A lot of the comments in the pre-review were along the lines of "For that price I can buy blah blah, and it comes with blah blah, which is way better." This may be true. There are a couple of bikes out there that are priced similarly and that may or may not come with slightly better parts here and there. But these people are missing the point.
Granted, I have not ridden some of the other bikes that these people have suggested, but I'm going to go out on a limb and suggest that those other bikes aren't going to be as fun as this one.
The intermediate rider is probably going to be pretty happy with this bike. Do something about the brakes and then upgrade once your skills improve. This bike will easily advance along with your skills.
The "expert" on a budget could give this bike a sniff as well. Depending on how accommodating your local shop is, you should probably factor in $5-600 on top of the sale price of the bike.
Which makes me wonder. This is a great bike, but it requires a bit of work from the owner. I wish Kona would take it one step further. Why not mimic the Process geometry exactly? Why not provide brakes that will actually stop the bike? How much would something like the Suntour Auron add to the final price of the bike? With a few changes, this bike became as capable and as fun as bikes 3-4-5 times its price. It would be nice if it could be bought off the floor ready to go.
The Kona Precept DL retails for $2099 CAD. More details and complete spec can be found on the Kona website.
---
Wait until Dave sees what we have lined up next for him to review…