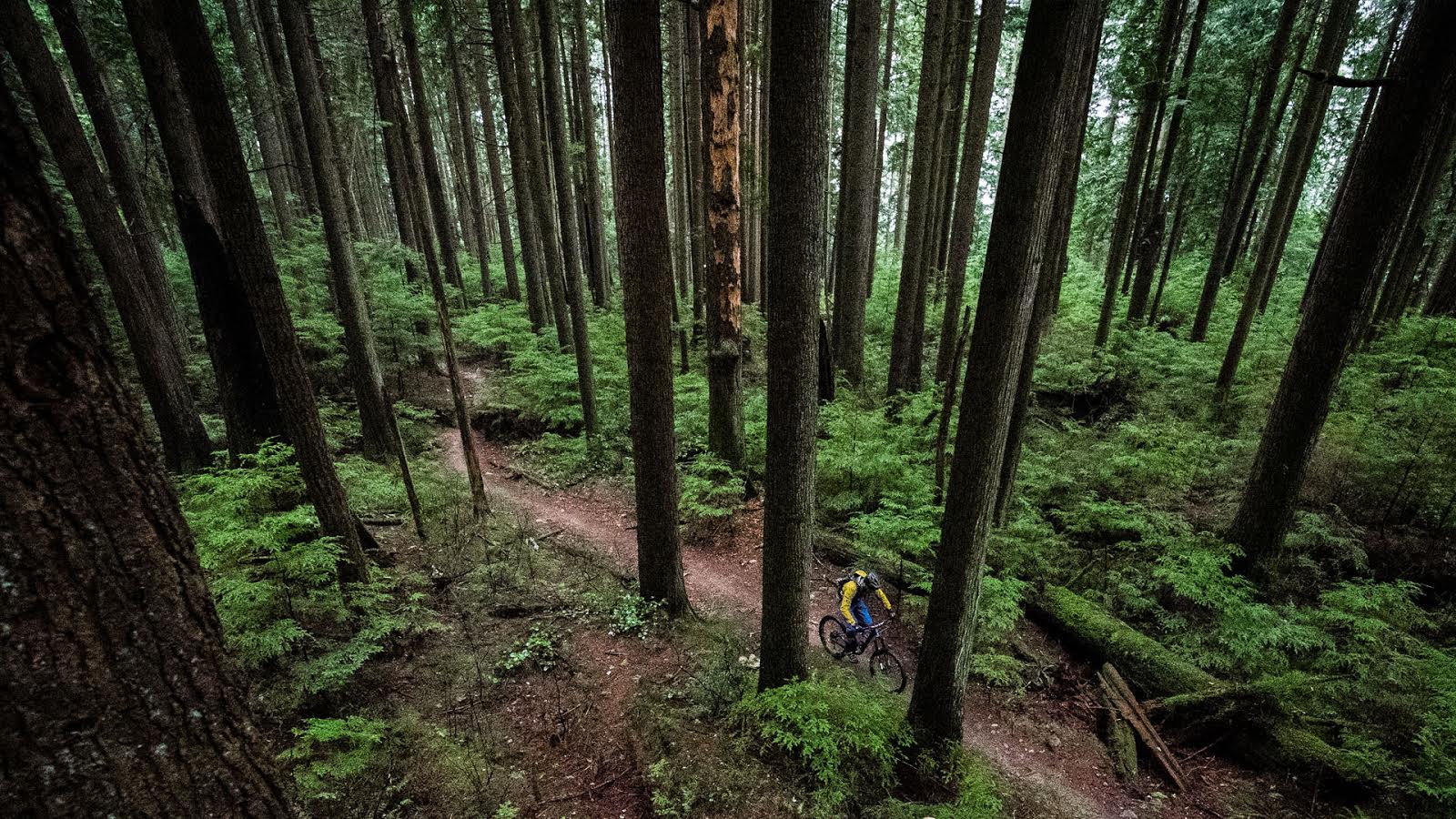 Kona Honzo CR Trail DL Reviewed
Kona hardtails have featured prominently in my stable since I started mountain biking. My first real mountain bike was a Lava Dome, in a sweet metallic green. A very XC-oriented steel Kilauea replaced it and ended up as a slicked-tired townie when its age outlasted its technology and geometry. I ended my Kona hardtail experience on an army green Stuff which I rode for a couple of years before moving to full suspension bikes.
My trusty Chromag Samurai65 has seen me through the last few seasons, and while I haven't ridden many 29ers I was pretty excited to try the Honzo in carbon form. I've talked with friends who've owned the metal versions, read the accolades about the Honzo platform, and its ahead-of-the-curve geometry piqued my curiosity. I received a pre-production bike in early May and have had the opportunity to push the bike in a variety of conditions and situations around southwestern B.C. This allowed my body to slowly adapt to a radical geometry shift from my go-to setup. Over the course of the test period, I rode it on quick lunch laps, toonie races, the Nimby Fifty, multiple South Chilcotins rides and over 90km and 3500m of climbing in WORCA's 52-card pick up trail riding event. There were actually very few times I rode my other bikes in the past couple of months.
For a refresh on this new Carbon Honzo line up, or for a memory refresh, have a look at my first look for a full scoop on all of the models, specs, and pricing. The pertinent details, however, remain the 2.95lb carbon frame, featuring a very long in class, 450mm reach in size medium (my test size). The short 420mm seat tube provides a ridiculous amount of standover clearance, while the 75° seat tube angle does its best to keep a bit of weight on the long front end. The wheelbase is an enormous 1140mm (44.9) inches, but the short 415mm chainstays help the Honzo retain some pretty snappy handling characteristics. While a small group of those that like sliding dropouts are not so impressed to see that feature dropped from the carbon design, I believe most riders will appreciate the stout, stiff, through axle design and the low profile derailleur mount.
A mid-range 68° degree head angle paired with a 120mm fork results in a bike with a pretty quick steering response. The bike I received featured a Rock Shox Yuri fork, though the production model will receive a Pike RSC. I believe the decision to go with a shorter travel fork actually holds this bike back somewhat. As a pure race bike it's definitely a smart spec and results in a quick-handling machine, as a trail bike, though, where riders will invariably find themselves in steeper and more technical terrain, 120mm really doesn't cut the mustard. It takes a solid rider to keep things from getting out of hand when speeds pick up and the hits come faster and bigger. I know not everyone is a fan of dual position forks, though I would love to try this bike with that option to open up its capability without sacrificing the lower front end for climbing.
The Honzo features a short 40mm Kona-branded stem and a 35mm Race Face Atlas bar that comes plenty wide. I chopped it back to 760mm for a better fit. About 3/4 of the way through the test period I decided to try a shorter stem. After a ride and chat with Ian Ritz of Chromag about all things modern hard tail geometry, he lent me the new 31mm Ranger stem. Raiding the old spare handlebar bin in the storage yielded a bar that featured a bit more backsweep, further helping me shift my weight back.
The Kona Honzo CR comes adorned with a fairly stock group set. Featuring a SRAM XO1 11-speed drivetrain, including cranks, Guide RSC brakes, and the 150mm-travel KS Lev Integra dropper seat post. These components performed flawlessly through the test period. The 32t front ring is an ambitious choice for those who live in big mountain areas. That's a stiff gear for most mortals on a 29'er. For bigger vertical days the fine folks at Chromag hooked me up with a 30t x-sync ring, although the 6mm offset, versus the 3mm stock, didn't leave much room for error in the chainstay area, but it wasn't ever a problem. While the wheelset featured some very nice Hope hubs, the retail rigs will feature SRAM XO. The wheels were shod with Maxxis EXO tires. The Minion F on the front was a welcome sight, the Ardent out back, less so. The Ardent was decent on harder pack, and really scary on wet roots and rocks or steep loose descents. It wasn't terrible in the right conditions, but in the wrong ones, things got loose fast. Set up tubeless they proved relatively durable, although I gashed the Ardent sidewall a couple of days ago.
The first thing I noticed when I went out for my first ride was how much it wanted to go fast. There was no hanging about; it takes your power and puts it directly into forward momentum, quickly and efficiently. This is a bike that absolutely excels in cross country singletrack riding. It doesn't want to lolly gag; it wants to go fast and seems to gain speed just coasting. The frame is super stiff laterally and there is little hint of any unwanted flex when you're putting the power down. Thankfully that stiffness doesn't result in diminished ride quality or cause any unwanted harshness transmitted to the rider.
The long front centre and short chainstays add up to a bike that gets through tight switchbacks with ease. I expected it to be a bear on climbs like Nimby in Pemberton, with its steep, tight switchbacks, but I was able to steer around obstacles midline and have the rear end pretty much just pivot in place and stay inside of the obstruction. A very nice attribute. That being said, there was no getting around how long this bike was when trails got narrow and twisty. While the Kona Honzo CR absolutely blasted flowing more open singletrack where it was easier to carry momentum, it could occasionally get bogged down when it got slower and tighter with more turns. On more open trails the Honzo really shines. The big wheels track fast and smoothly over rough surfaces, and the short rear end loves to be pushed hard into the corners.
There were a couple of situations where the Kona Honzo CR let me down, and unfortunately, my body physiology and science had more to do with it than anything. The long reach/wheelbase characteristics that made it such a fun singletrack slayer also meant that on steep, sustained climbs attempting to wrestle the front end became a massive chore. The front end didn't want to stay down and tended to wander back and forth across the trail. This is especially challenging 2 hours into a South Chilcotin climb where the trail gets steep, off-camber and narrow. Looping out and steering into cutbanks gets old. On the backside of the Nimby course, I struggled on the short punchy climbs where I didn't have enough torso or arm length to keep a nice balanced position between keeping the front end planted and maintaining weight on the rear wheel for traction.
There is nothing more I can do to fix it this problem other than drop down to a size small, but I'm not sure I really need another 5cm in standover to go with the shorter reach. While the shorter stem helped alleviate the problem, I began to wonder to wonder if it's just too long for me.
In the end, while I wish it had met a few more of my expectations on longer days with steeper and longer climbs, I'm trying to find a way to justify this bike in my life. Maybe with a longer travel fork, and some beefier rubber out back it would be more practical. I don't necessarily feel that it's as good as my 27.5 Samurai in tight fast turning terrain, or in steep gnarlier situations, but everywhere else it's a total gas, and has helped me find an extra gear or two in events this year where I've exceeded some personal goals by a good margin.
While some riders may have a hard time coming to grips with the long reach, I have no doubt that just as many riders will find this bike to be exactly what they've been waiting for. I already know a few friends have placed orders for theirs after hearing my experience. If Kona gave me back that 15mm of extended reach, they'd probably have an immediate sale. In the meantime, I'll just have to try and figure out a way to convince my self, and my wife, that we can find room for another bike somewhere in our already packed apartment…
---
Do you have a spot on the wall for a carbon hardtail?