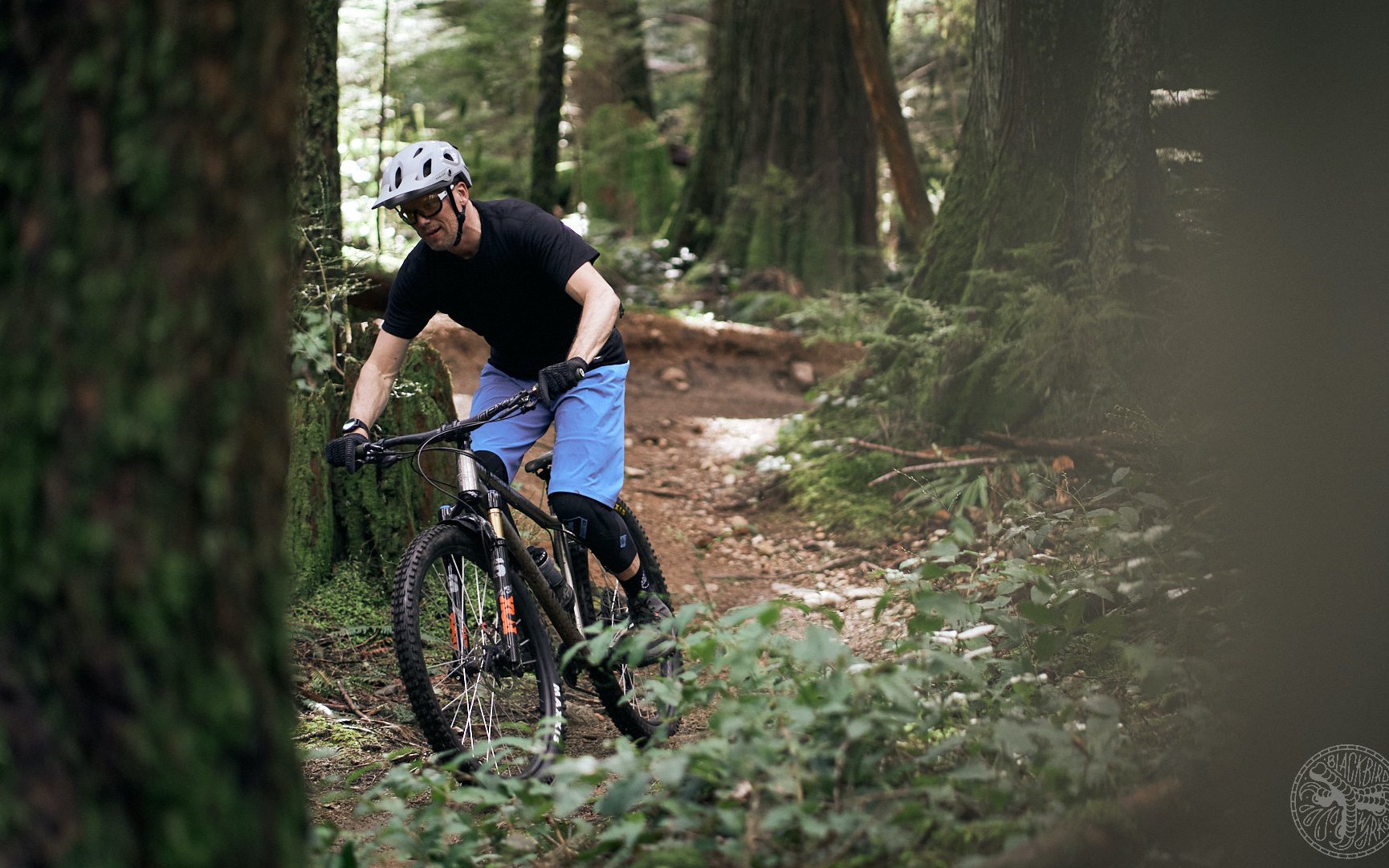 Not a Review*
Knolly Tyaughton Titanium Hardtail
Knolly Tyaughton Ti 'not-a-review'; the hardtail conundrum
TL;DR: ignoring all specs, components, and overly-pensive-commentary ahead, what you need to know is that the Knolly Tyaughton Ti rides fantastically well, will beat the living shit out of your body if you forget you're not on 160mm of squish, and is as impressively constructed as it is beautiful. It's not a hardtail for everyone, however. But for some, it's a bit of a goldilocks recipe that complements this new generation of trails and riding very well. It will certainly be seeing more regular rotation in my riding than any of my previous hardtail flirtations. That's right, I bought one. Should you buy one? Maybe. It's a hard question to answer without delving into the cult of hardtail more broadly.
*Why this is Not a Review
Normally we don't accept 'not reviews' from people who have purchased a bike for themselves. We made an exception here because
we have known Mark for 20 years and he has real world bike reviewing experience, and is aware of confirmation bias, an error all humans regularly make that reinforces decisions we have made, including purchasing decisions. We want to think our money was well spent so we favour information that confirms our biases and existing beliefs. If we buy a bicycle, we'll choose one that aligns with those biases and beliefs, so we are more likely to judge it positively for several reasons.
Mark is a smart guy and this is a very well-written ode to his Tyaughton Ti and we like it. - Ed.

...more friends started buying hardtails again, (that's weird) and more often than not they were a) having a lot of fun and bragging about it; and b) not inviting us FS guys to ride with them. Hardtail only club. Hmm.
The Tyaughton has been covered here (and elsewhere) before, but in case you missed it: it's a mostly modern/slack hardtail from a brand known for opinionated full suspension bikes and placing engineering principles above all else. The Tyaughton, with its 157Trail fixed dropouts, is certainly wearing its engineer founder's opinion on its sleeve, yet it doesn't push any boundary particularly hard, aiming instead for exquisite execution of what is on offer: familiar geometry designed around a real fork, with a feature set and price point that any competent product manager would have rejected immediately after the first consumer survey results came in.
I've got about 20 hours on the bike now, after having spent about 2 years on the hardtail sidelines after my Santa Cruz Chameleon was stolen. As fun as the Chameleon was in the right terrain (read: not steep), it was never going to be replaced, I thought. But as happens, newer/better bikes appeared, more friends started buying hardtails again, (that's weird) and more often than not they were a) having a lot of fun and bragging about it; and b) not inviting us FS guys to ride with them. Hardtail only club. Hmm. So I'll be honest: I made the decision to buy the Tyaughton without even seeing it in person, let alone riding it. In a moment of Covid-supply-chain FOMO I called my shop to order one the day I read about it after having almost bought a Chromag Rootdown or Kona Honzo ESD nearly every time I went into Kinetik Cycles. Buying titanium anything is an exercise in irrationality, so pulling the trigger on the Tyaughton was an entirely emotional decision backed by blind faith that Noel Buckley is incapable of building a bad bike.
As I write this non-review, then, the goal is to convince myself that I have not made a terrible mistake and while I'm at it explore where this bike fits and why more folks seem to be interested in going back to metal, back to basics, and broadening their cycling experience.
Let's start with "who is this bike even for?". The answer is that, in many ways, the Tyaughton is kind of a bike for nobody. Let me explain.
Like every human activity, mountain biking has many participating groups. If you're a bike company, you do deep thinking about which groups are concentrated where, and how you build a product for them. Categories like high-end hardtails have been around the longest and are sometimes the most opinionated, the most difficult to crack. Those people care about stuff. A lot. What group was the Tyaughton built for?
With fairly high confidence, I can tell you the Tyaughton was not designed for someone who has been spending a lot of time on steel hardtails for the last couple decades. The loyal hardtail contingent will tell you loud and clear in every comment section on the internet that the Tyaughton is a missed opportunity in the segment, because Knolly priced it wrong, used unexpected materials — why no aluminum?! — and the 157Trail rear hub spacing and lack of swappable dropouts is an inexcusable sin. The traditional buyer of bikes in this category will have to look elsewhere, mostly, I think.
What does the price point say, then? At roughly 7000 USD in Ti and adorned with XT components (steel frame and GX is $4000), it is "high end" yet I don't think many will shop it against a custom bike from the likes of Moots, Naked, or Seven. Down that path lies fanciful anodizing and the feeling of owning something unique and bespoke. Neither is it a rational "one bike to rule them all" solution in the trail bike category. Nobody is cross-shopping this vs a Transition Sentinel or Santa Cruz Hightower. Not me. Not anybody. Go buy a 150mm-ish trail bike from any brand as your one bike, and you'll be much, much happier.
So why did Knolly build this thing, then? Hardtail fanatics on the Internet won't like it, and it's not gonna replace anyone's full suspension, which is equally expensive. I've never talked to the Knolly folks, but I imagine this question would have amounted to something of a conundrum for them. The bike isn't from outer space, but also doesn't fit neatly into an expected category. It could have ended up being a bike that literally nobody wanted. Spoiler: they sold all of them. What it suggests to me is that Knolly isn't a design-by-committee kinda place, and they dreamed it up only after being dissatisfied by what the market had to offer and betting that their current customers might also feel that way, too.
Aside: to understand the Tyaughton, I think it's best to consider it alongside the Cache — the other new bike in Knolly's lineup — which is also a metal bike without rear suspension. The Cache is proudly, blatantly a gravel bike designed for mountain bikers. It turns out a lot of us are accumulating a lot of wear and tear on our bodies or maybe just don't want to ride the gnar every single weekend, and we've discovered that 3, 4, even 6 hours of pedalling along FSRs and simple smooth trails is good for both our bodies and our souls. Gravel is a major phenomenon right now, and the big brands are targeting their gravel products at road cyclists with everything they've got. Knolly isn't taking that approach. The Cache is a hit with mountain bikers, not roadies.
What I'm seeing amongst my friends is that riders are picking up modern geo hardtails as complements to their main trail/enduro bikes, but not because it allows them to charge hard down the gnarliest gnar like they were on a burly enduro bike. I mean, you could, but will you really? No, no, we're picking these bikes up to save our bodies, not destroy them. It's not dissimilar to the increasing cross-over between gravel and MTB, I think. Hardtailers are gravelers who live in the mountains and can't survive on FSRs alone!
Back to the bike: The Tyaughton is less clearly positioned than the Cache, but just as the Cache is a gravel bike for mountain bikers, the Tyaughton is a hardtail for mountain bikers. That may seem like a bizarre statement, but I, like most of you, ride an extremely capable full suspension bike with a slack head angle, steep seat tube, low BB, and miraculous suspension. This is what a mountain bike is now and as we've been saying for years they're so damned good. Knolly simply transposed their full suspension mountain bike geo and feel onto this hardtail, put the best fork they possibly could up front, made sure you can run proper tires and an acceptable chain line, and chose materials that the fine folks in Taiwan were already supremely capable of working with and therefore actually build and ship this decade. That's it. The end. It is, in most regards, not a particularly unique or ground-breaking bike. The result is a bike that not only every current Knolly customer is going to feel at home on the moment they throw a leg over it, but a bike that almost any modern trail/enduro bike owner of any brand of bike is also going to find intuitive and not have to spend time "figuring out how to ride again." There is nothing weird about this bike, and that is its calling card.
True to my expectations, then, what struck me on my first rides was just how familiar the Tyaughton felt compared to my Hightower. My position on the bike was uncannily similar. The difficult climb up Eagle Mountain on the technical singletrack we affectionately call Physiotherapy felt great and I wasn't struggling to adapt to a new style or hunting for traction. My back or knees didn't hurt from being in a new position. It just worked. Pointing down steeper sections of trails, where past experiences on hardtails were dominated by pucker factor, I was comfortable, in control, and not fighting the bike. I literally had a moment of confusion where I forgot I was on a hardtail and charged into a chundery section of trail with the kind of abandon you can get away with on a 150/160mm full squisher. The "I'm not even sure what's there, but I'm sure the bike will sort it out" approach. My ankles are still angry with me. On tight single track stuff the bike is really at home, loses grip predictably and evenly front/back, and rewards the same "in the pocket, elbows bent, stay tall, weight forward" position we now have to use on our other bike to extract any of the performance potential of these machines. The bike rides so well, I routinely forget it's not my Hightower. This is not news, obviously, but it's still kind of shocking to me how much better these new school hardtails ride vs the bikes of just a decade ago.
I've also logged a couple 25km+ B.C. cross-country rides with 4+ hours of actual pedaling. Again, no surprises. It's not an XC race rig at 30 pounds and 64.5/75 angles, but the miles go by with ease. Position is comfortable, it feels more efficient (but probably isn't, if we're honest) than the Hightower, but it helps the brain forget that the body is getting quite fatigued. Burning up miles on a hardtail is still rewarding, it seems.
I expected the front end to feel light and easy to get airborne but in fact it felt the opposite at first. The chainstays aren't particularly long at 427mm, but it takes some effort to raise the nose, and of course without suspension pre-load my timing was off and I badly tagged a few obstacles with the rear wheel on the first couple rides. Climbing switchbacks is a joy vs the long wheelbase Hightower, but the bike conveys a feeling of stability overall.
The fork deserves a mention, because fork choice is so critical on a hardtail that's going to be fun to ride in this part of the world, and so many brands cheap out to hit a price point. The fork is everything, really. Knolly deserves kudos that at every trim level, steel or titanium, they spec'ed a great fork: a 150mm Z1, Lyrik Ultimate or Factory 36.
Where the bike and rider get overwhelmed is when the speeds go up, which, ironically, its confident manner seems to encourage. I couldn't honestly tell you if the "compliant rear end" Knolly claims is better or worse than any other hardtail. For the record, I always felt that my aluminum Chameleon was more forgiving than the steel Spot frame it replaced, but I also felt like I could just be imagining that and I wouldn't protest if you called bullshit on any claims I could make regarding microscopic flex in the frame contributing to ride quality vs, say, the tires.. All I can tell you is that a high speed impact to the rear wheel will hurt. Sorry. If the bike has a fault, it's that it's so bloody good I keep riding it recklessly and paying the price.
The real gift riding the familiar, dare I say friendly, Tyaughton brought me was that I was left with only one thing to concentrate on when riding it: making myself light. Placement, line choice and weighting/unweighting the bike become so important, and so rewarding. The punishment for getting it wrong being so severe. Dial it back a bit dude, chill out, ride deliberately, and everything is right in the world. All the things the hardtail priests have preached for eons are still true on the Tyaughton. It is, after all, just a hardtail.
Are there things I would change? Precious little. I wouldn't touch the geometry even by a millimetre. Would it be cool to see Knolly develop an aluminum version? For sure, if it came out lighter and cheaper. Given that I took advantage of the swappable dropouts of my Chameleon and Spot hardtails exactly zero times over the decade plus of ownership, it shouldn't surprise you that I like the no-fuss-no-muss 157mm fixed dropouts. My bike came with a Maxxis 2.3 DHR EXO casing tire on the back which is such a bad choice it must be a supply chain issue on a bike otherwise so purposely spec'ed. I immediately pulled the 2.3 off to save it for summer rides in Bend or the Okanagan, and put a 2.5WT DHF in EXO+ casing with a Tannus insert back there. My god I hate dealing with inserts. Everything annoying about tubeless turned up to 11 but I admit the added insurance and that damped feeling of an insert does change the ride feel of a hardtail significantly, and for the better, I think. Of note, I don't ride inserts on the dually.
Which build? I can't imagine the titanium rides any different than the steel; it's just a touch lighter and a lot prettier if a raw finish is your thing. The steel GX build with a Lyrik Ultimate is probably the sweet spot any sane person would chose at $4000. That said, the Titanium frame is so meticulously well-crafted that everyone who takes a close look at the bike is shocked it's not a custom frame by a famous builder. I've literally never seen better welds, and I've had the privilege of owning frames by both Chris DeKerf and Mike Truelove. Both Ti build kits feature top-of-the-line forks. It would probably come down to personal preference of Rockhox/SRAM vs Fox/Shimano more so than the price difference for most folks. Did I mention how pretty the titanium is?
If you don't have a room full of wheels from existing/past bikes you want to use, or an itchin' to try single speed, I think you'll find the Tyaughton Ti one of the finest hardtail frames on the market today, at any price point. The build kit is spot on, and that's good because I believe this bike will appeal to folks who will buy it as a complete build, ready to rock, more so than frame alone. It rides great. The only place to go from here would be to get in line at a bespoke frame builder who can tweak every detail to be exactly what you want. Which can wind up being a tyranny of choice problem. Instead, I let Noel Buckley figure all those details out and I got to buy a copy of his personal custom titanium hardtail. Rad.
So it turns out a hardtail built for nobody (or more accurately, one guy) is probably a great fit for nearly everyone that rides mountain bikes. Those that just can't get enough riding in and are seeking a little variety in how they experience their forests and trails, want to slow down a little perhaps, and enjoy rides with like-minded friends. The essence of mountain biking, more or less, for me. Is it worth spending $7000+ on? Of course not. It's ridiculous and completely indefensible. But I can't think of a better way to spend money, if you have it, than on a well made bicycle that delivers magical moments on a misty winter ride with your best friends laughing at your dumb line choice. The lure of the hardtail is alive and well, and Knolly's produced a bike that makes me want to ride. A lot.