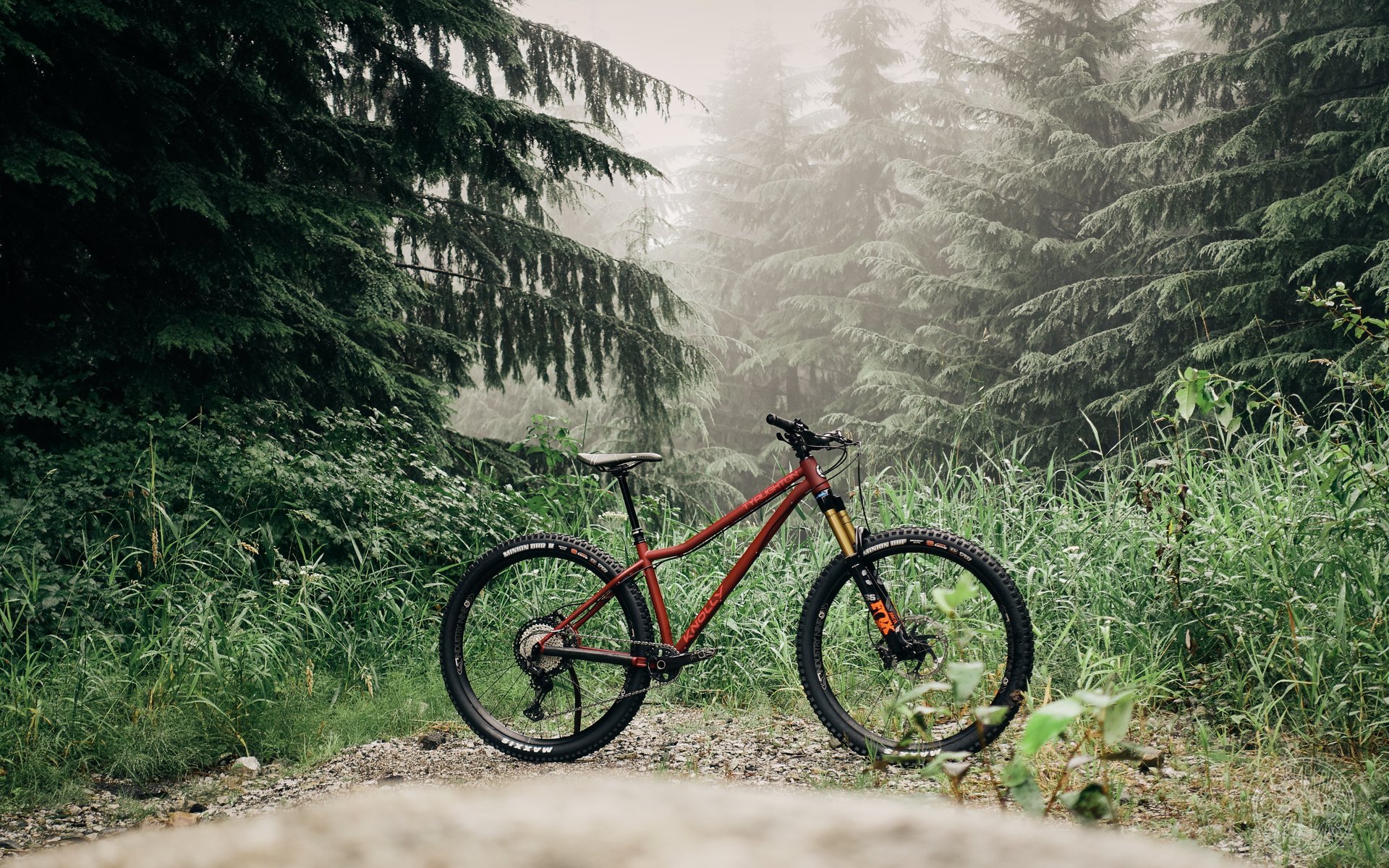 First Impressions
Knolly Tyaughton Steel & Titanium Hardtails
Veteran riders of the North Shore cut their teeth on hardtails long before long travel, idler dangling, 62° headangle, carbon beasts roamed the land. The awkward, janky, "dorp to falt" nature of the trails imposed a fight or flight response that only the hardcore could withstand.
I don't blame the "leavers" who decided to have healthier backs and ankles in their old-er ages and picked up golfing instead. But the few that stuck around were rewarded with excellent riding skills that made them some of the fastest women and men in the world on a bike.
Nowadays, when I talk about hardtails with new to the sport riders, they respond with a look of utter confusion as though I'm talking about a stiff-legged geriatric dog I rescued . Hardtailing is no longer a right of passage for most riders, instead it's usually a special edition extra curricular activity only a few sign up for. However, it's important to note that hardtails make you a better rider. Period.
Ansel Adams once said. "When you buy a camera, you are a photographer. When you buy a piano, you own a piano." Hardtails are the pianos of the bike world. Simple yet so complex in their operation. Requiring correct approach to both terrain and technique.
Build Options
NX Eagle
SRAM Guide RE brakes, SDG Tellis dropper, Marzocchi Z1 150mm fork, Oozy Hex 345 wheelset
$4299 CAD

GX EAGLE,
SRAM CODE R brakes, RockShox Reverb dropper, Lyrik Ultimate RC2 150mm fork, Oozy Hex 345 wheelset
$4899 CAD

SHIMANO XT,
XT 4 piston brakes, SDG Tellis dropper, Fox 36 Factory 150mm fork, Industry 9 Enduro S wheelset
$5999 CAD
Frame Only
Tyaughton Steel - $1299
Tyaughton Titanium - $3799
Knolly Tyaughton and Ti-aughton Hardtails
Not far from the North Shore, Knolly has been developing a second-look-worthy bike that is meant to be ridden hard. With a wide range of Fork travel allowance, the Tyaughton is highly versatile. You can use any fork within 130 and 180mm while Knolly calls the "intended use" 140-160mm. The Stock builds come with a respectable 150mm travel Fox, Marzocchi, and Rockshox products.
Like the Chilcotin and the Cache, the hard to pronounce Tyaughton is inspired by the adventurous, grizzly bear capital of B.C. Mountain ranges. It is really cool that the Knolly is inspired by the very landscape they are ridden in.
These bikes all come with proper tires. The EXO casing is light and spritely for the DHF, DHR II combo. On the Shore, during winter time, I may try something with beefier sidewalls or inserts front and back for more forgiveness for my old bones.
---
Knolly Bikes Talks about the Tyaughton (Press Release)
Tyaughton Steel frames use air hardened steel because it can be manipulated before welding and then heat treated to give high strength and durability. Our steel frames are also ED coated to ensure maximum corrosion resistance and painted with tough powder paints for longevity. All our steel tubes are butted so that the walls are thicker where it's welded and thinner in the middle which reduces weight while ensuring that the tube ends are incredibly strong. This model is designed to be affordable while performing at the highest level possible.
The Taughton Titanium has been created from a dream material. Titanium is light, stiff and long lasting, providing a premium quality ride for discerning riders. With additional features and significant weight savings, the Tyaughton Titanium is the ultimate expression of mountain bike hardtail performance .Tubes are butted so that the walls are thicker where it's welded and thinner in the middle which reduces weight while ensuring that the tube ends are incredibly strong.
CUSTOM TUBING
The Tyaughton Steel features a frame size specific butted, bent and formed tube set that blends production level repeatability and precision with a craftsmen level of manufacturing.
It features a size specific tube set (small frames don't get the same tubes as the XL and vice versa) and incorporates many of the titanium frame features including integrated ISCG05 chain guide tabs and a unique head tube.
The Tyaughton Titanium features a 100% proprietary Knolly oversized tube set with all frame tubes tapered, butted, bent and formed to the material's limits. This allows Knolly to achieve subtle Knolly-esque frame design emphasizing stability and compliance. This model also features a unique frame size specific tubeset to ensure riders of all sizes can get the maximum performance gain possible from this material. Large frames get the largest diameter tubeset to compliment larger statured riders, while smaller frames get reduced diameter tube sets to match rider size and weight while providing matching compliance.
Steel and Titanium frames have a unique head tube shape designed to maximize strength to support forks up to 170mm. Tubesets flow into custom CNC machined dropouts, yokes and access ports (Titanium-only) so that stress risers are minimized. Even the included ISCG mount attaches cleanly into a recessed CNC machined pocket on the chainstay yoke.
/Knolly Press Release
---
More on Geo/Set Up
The Knolly Tyaughton is a product of patience and research rather than a gap filler. Hardtails make the most sense when the geometry complements the intended terrain. The 64.5° headtube angle is on point for the 150mm fork as because that angle only gets steeper with compression. At full bottom out, that is 72°. The Tyaughton has generous reach numbers with my size medium coming in at 468mm at static height and likely around 470 with the fork at sag.
Speaking of sag, I like to set my hardtail forks on the stiffer side. The recommended 80psi for the Fox 36 was on the low end of supportive for faster riding. I ended up at around 86psi and 3 clicks of HSC and planty of LSC to keep the bike from diving at bigger impacts. These are by no means final settings; more fiddling to come.
Titanium Exclusive Features
-CNC engraved head tube
-Full Internal dropper post routing with an access hatch on the underside of the down tube
-Brushed finish
-Fully 3D formed seat tube (butted, tapered, bent and formed)
-Oversized tapered top and down tubes
Titanium and Steel Features
-157Trail rear hub spacing
-Custom head tubes
-Proprietary and size specific main triangle tube sets.
-Fully integrated ISCG05 chainguide mounts
-73mm BSA threaded BB
-12 x 157mm rear end with DT Swiss RWS
-Knolly CNC dropouts
-Knolly CNC chainstay yoke
-Dropper post insertion length: 175 Small, 175 - 210mm Medium, Large and X-Large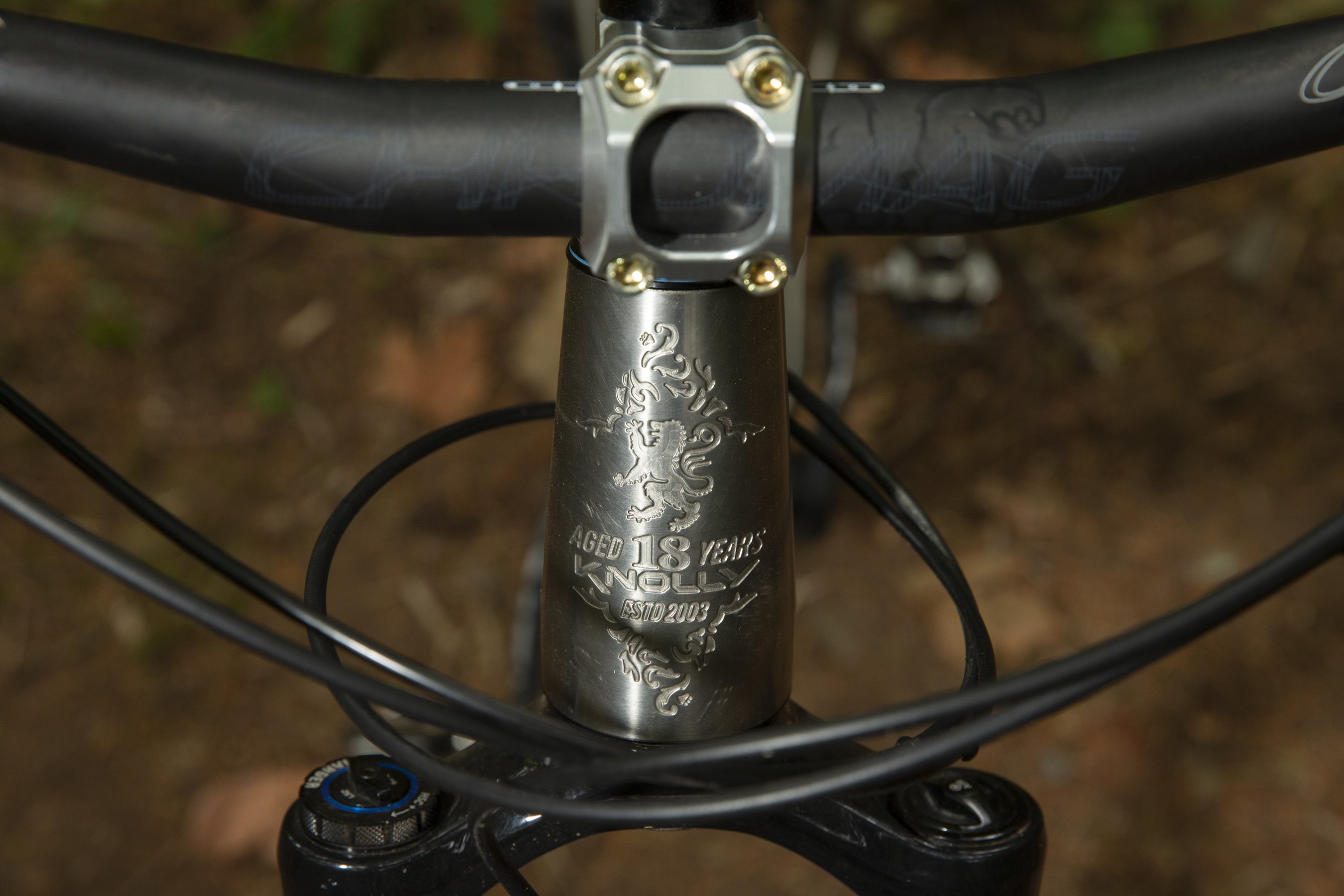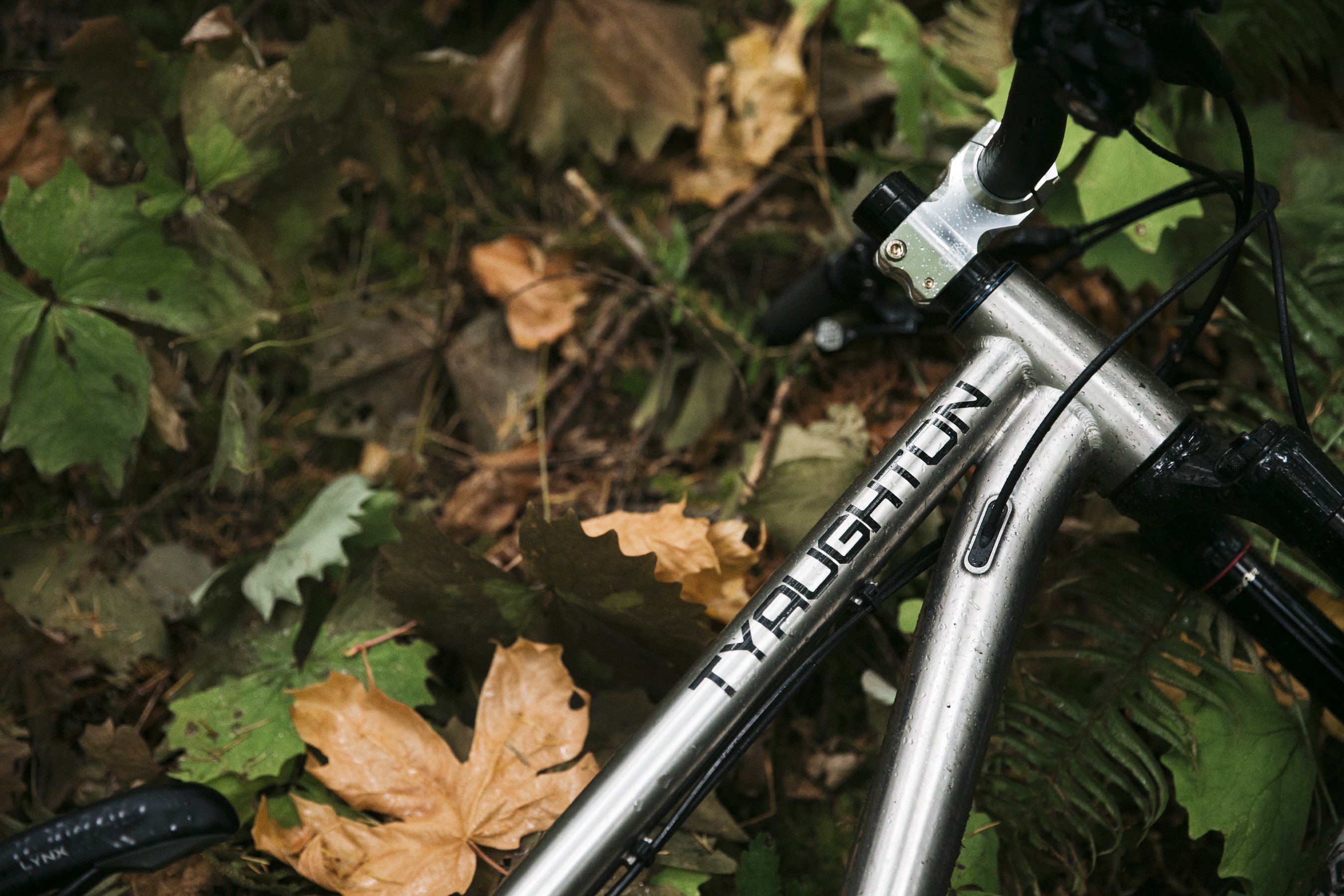 Riding the Tyaughton
My medium bike came with a RaceFace cockpit that I opted to change. The Next R bar is a stiff steering stick and the 60mm stem was a little too long even for my longish arms. I swapped these for a set of 40mm Deity bars and 780mm Chromag Fubars in 31.8 for a more familiar cockpit. Immediately the fit of the bike felt more natural and as close to my Forbidden as possible. The Ty put me in a great position to attack the trail ahead without the worry of missing suspension underneath me.
The direct response of the hardtail on the climbs was a welcome change from the usual bob and sink feeling of long travel bikes. The short rear-end was a delight to pivot around tight uphill switchbacks while the XT drivetrain and brakes are like my favourite icecream; comforting with every scoop. I9 wheels are on every bike in my household and the sound they make is a lullaby to my soul. In terms of frame-mount options, there is a spot for your water bottle holder and that's it. I hoped a frame like this would provide more mounting options for all the things you'd want to carry into the Cholcotins.
Overall the Ty has been a delight to get to know. I am hoping to receive a Titanium version of this bike for a direct comparison full review in the upcoming months. Keeping the build kit identical, it will be a great experiment to distinguish the subtle differences of the frame materials. Stay tuned for that.